This post is sponsored by STAR FINE FOODS, maker of awesome Olive Oils, Vinegars, glazes, capers, anchovies, onions, and the list goes ON and ON! Thank YOU, friends, for supporting the brands that make Diethood possible!
One Sheet Pan Garlic Roasted Salmon with Brussels Sprouts – Incredibly delicious, garlicky, super flavorful one-pan dinner with oven-roasted salmon and brussels sprouts.
My favorite fish and my favorite veggie are now together, as one. Happy Happy Joy Joy!
Also? Happy Happy Sunday! Let's make it a great one!!! I'm starting to sound like Tony Robbins.
P.S. I always wanted to be a motivational speaker. My dream job, right after THIS job.
Would it be okay if I told you that right now, at this very moment, I am snacking on a Lean Cuisine breakfast meal because for the past 4 days I haven't cooked a damn thing? You know why? I'll tell you why.
I have been busy with a 3-year old that decided to catch strep on the FIRST DAY OF PRESCHOOL!!! She was there ONE day, you guuuuys! *insert crying emoji*
3 days after her first day of school, I was in the ER at 3 a.m. because other than the fever and the painful throat, she was covered in these nasty bumps, and it all happened within like 3 hours!
Oh my goooooosh! Did you notice how this "3" thing keeps repeating itself? It might mean something! I'm very superstitious. Send me some healing thoughts, okay? She's feeling waaaay better now, but still. ON the FIRST day of preschool… SMH.
But, before all this sick kiddo drama happened, I had a few good days of blog-cooking and this One Sheet Pan Garlic Roasted Salmon with Brussels Sprouts was one of those delicious results.
I need you to know that this. is. YUMMY. Yes. This Garlic Flavored Olive Oil from STAR is beyond words. I have used it to make salad dressings, marinades, I've dipped my bread in it, even grilled some shrimp with it. This time around, the robust flavor of the garlic olive oil paired with the salmon and brussels sprouts proved to be as amazing as you can imagine. Dare I say, drool-worthy.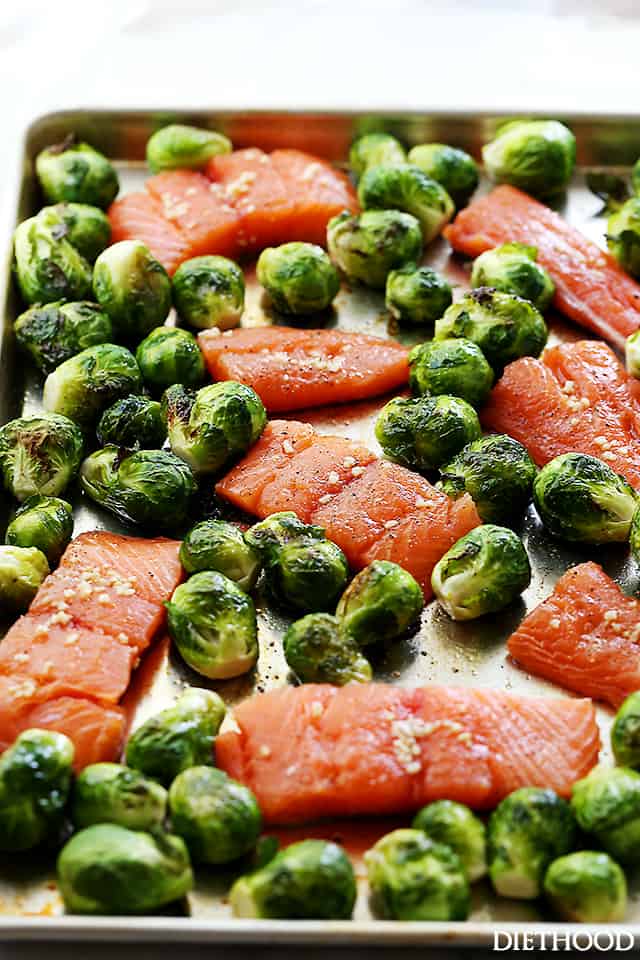 So often I will make something, take it out of the oven, place it on the counter, taste it, AND then I end up "tasting it" until half of said deliciousness is gone. This was definitely one of those times. I just could.not.stop.eating.
Not sure if you fancy brussels sprouts? Well, give this a try, I think it will most definitely change your mind. Please believe me! Just do it! It's worth it! I'll stop shouting now.
This is also incredibly easy to make. You'll need one sheet pan for the entire meal + one cutting board for all the prep stuff.
Go get yo'self a bottle of Ferran Adria's (HE is a Michelin Chef!! Just sayin'… credibility and stuff.) Signature Series Garlic Flavored Olive Oil and get to cookin'!
Have an amazing Sunday!! ♥
ENJOY!
For more information on STAR Fine Foods Products, please check them out on Facebook,Twitter, and Pinterest.
STAR Ferran Adrià Garlic Olive Oil – STAR Ferran Adrià Signature Series Garlic Olive Oil is available exclusively at select Safeway and Vons stores.
CRAVING MORE? SIGN UP FOR THE DIETHOOD NEWSLETTER FOR FRESH NEW RECIPES DELIVERED TO YOUR INBOX!
FOLLOW DIETHOOD ON FACEBOOK, TWITTER, PINTEREST AND INSTAGRAM FOR ALL OF THE LATEST CONTENT, RECIPES AND UPDATES.
WATCH HOW TO MAKE SHEET PAN SALMON WITH BRUSSELS SPROUTS
One Sheet Pan Garlic Roasted Salmon with Brussels Sprouts
Incredibly delicious, garlicky, super flavorful one-pan dinner with oven-roasted salmon and brussels sprouts.
Ingredients
FOR THE BRUSSELS SPROUTS
2

pounds

brussels sprouts

, ends trimmed

3

tablespoons

STAR Garlic Flavored Olive Oil

1/2

teaspoon

salt

1/4

teaspoon

fresh ground pepper
FOR THE SALMON
2

pounds

salmon fillet

, skinned and cut into 6 portions

1

tablespoon

STAR Garlic Flavored Olive Oil

3

to 4 garlic cloves

, minced

1

tablespoon

dried oregano

1/2

teaspoon

salt

fresh ground pepper

, to taste
Instructions
Preheat oven to 450F.

Lightly grease a rimmed baking sheet with cooking spray and set aside.

In a large mixing bowl combine trimmed brussels sprouts, olive oil, salt and pepper; mix until well combined.

Transfer brussels sprouts to previously prepared baking sheet; arrange in a single layer and bake for 15 minutes, stirring once or twice during cooking.

In the meantime, prepare the salmon.

Drizzle salmon with olive oil.

Evenly divide and press minced garlic on top of each fillet.

Season with oregano, salt and pepper.

Remove baking sheet from oven; move the brussels sprouts around, making 6 empty spots for the salmon fillets.

Place salmon in empty spots and bake for 10 to 12 minutes, or until salmon is cooked through.

Remove from oven; let stand 2 minutes and serve.
Recipe Notes
Inspired by EatingWell
WW SmartPoints: 9
Nutrition Facts
One Sheet Pan Garlic Roasted Salmon with Brussels Sprouts
Amount Per Serving
Calories 366
Calories from Fat 171
% Daily Value*
Fat 19g29%
Cholesterol 83mg28%
Sodium 492mg21%
Potassium 1345mg38%
Carbohydrates 14g5%
Protein 35g70%
Vitamin A 1215IU24%
Vitamin C 128.9mg156%
Calcium 98mg10%
Iron 3.7mg21%
* Percent Daily Values are based on a 2000 calorie diet.
Want To Save This Recipe?
SIMILAR RECIPES:
Grilled Salmon with Pineapple and Piquillo Peppers Salsa