A quick sear and a short time in the oven are all that these Oven Baked Bone-In Pork Chops need! The result? Tender, juicy chops with garlic butter sauce, ready in half an hour!
Looking for more easy pork chop recipes? Try my Air Fryer Pork Chops recipe!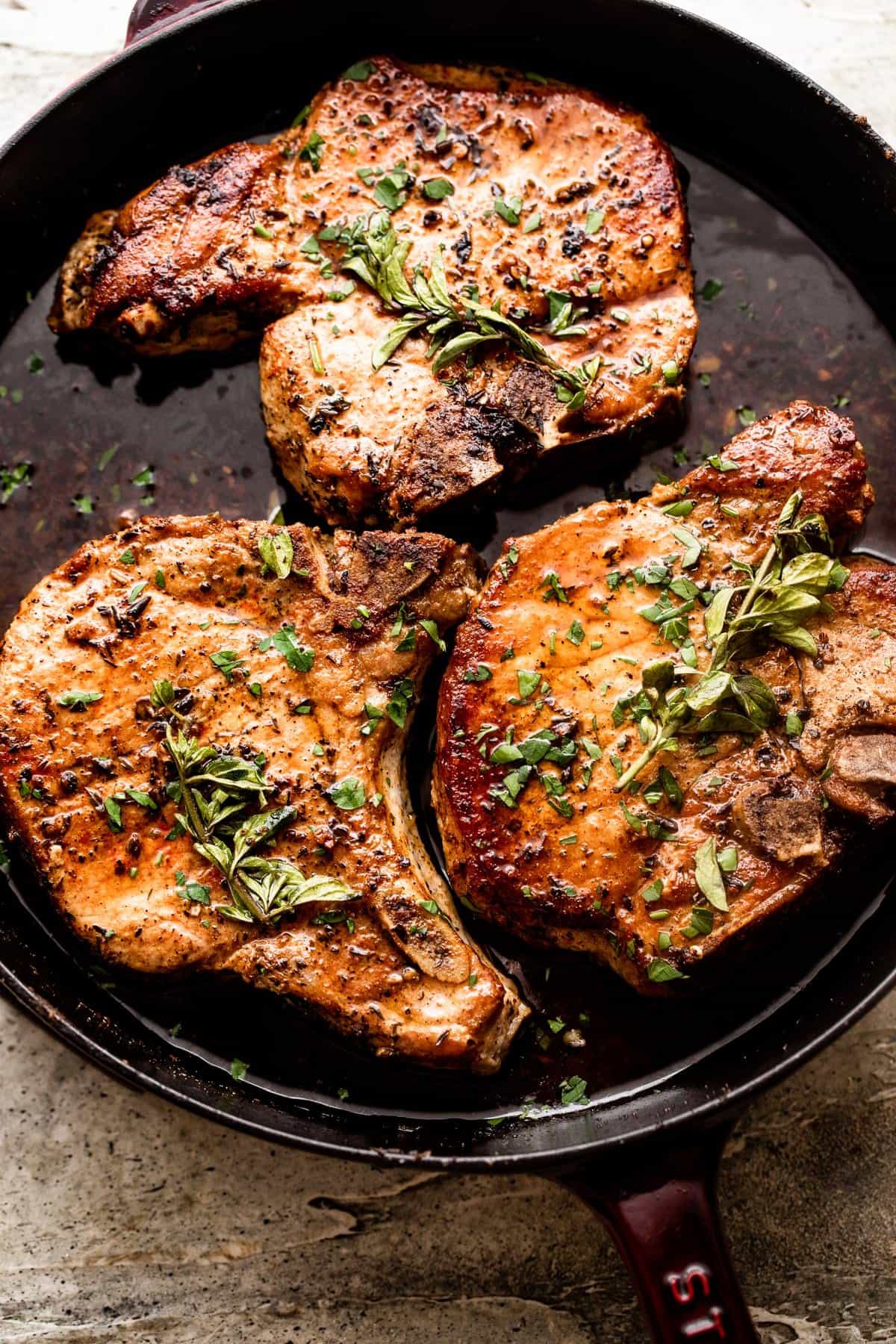 Juicy Pork Chops Cooked in the Oven – So Easy!
Need a family-pleasing dinner option that's easy to make? Look no further! This simple recipe for baked pork chops is a classic, delivering tender and juicy chops every time. Even picky eaters will love the balanced, buttery flavor profile, with simple dried herbs and fresh garlic.
This is a great pork recipe because the prep is very minimal, most of the cooking is done in the oven, and it's fast! You can have a wholesome, old-fashioned meal on the table in just about half an hour, depending on the sides you choose!
So, keep this recipe in your list of weeknight menus. Baked bone-in pork chops are one of the best quick dinners for fulfilling your cravings, even when you're short on time.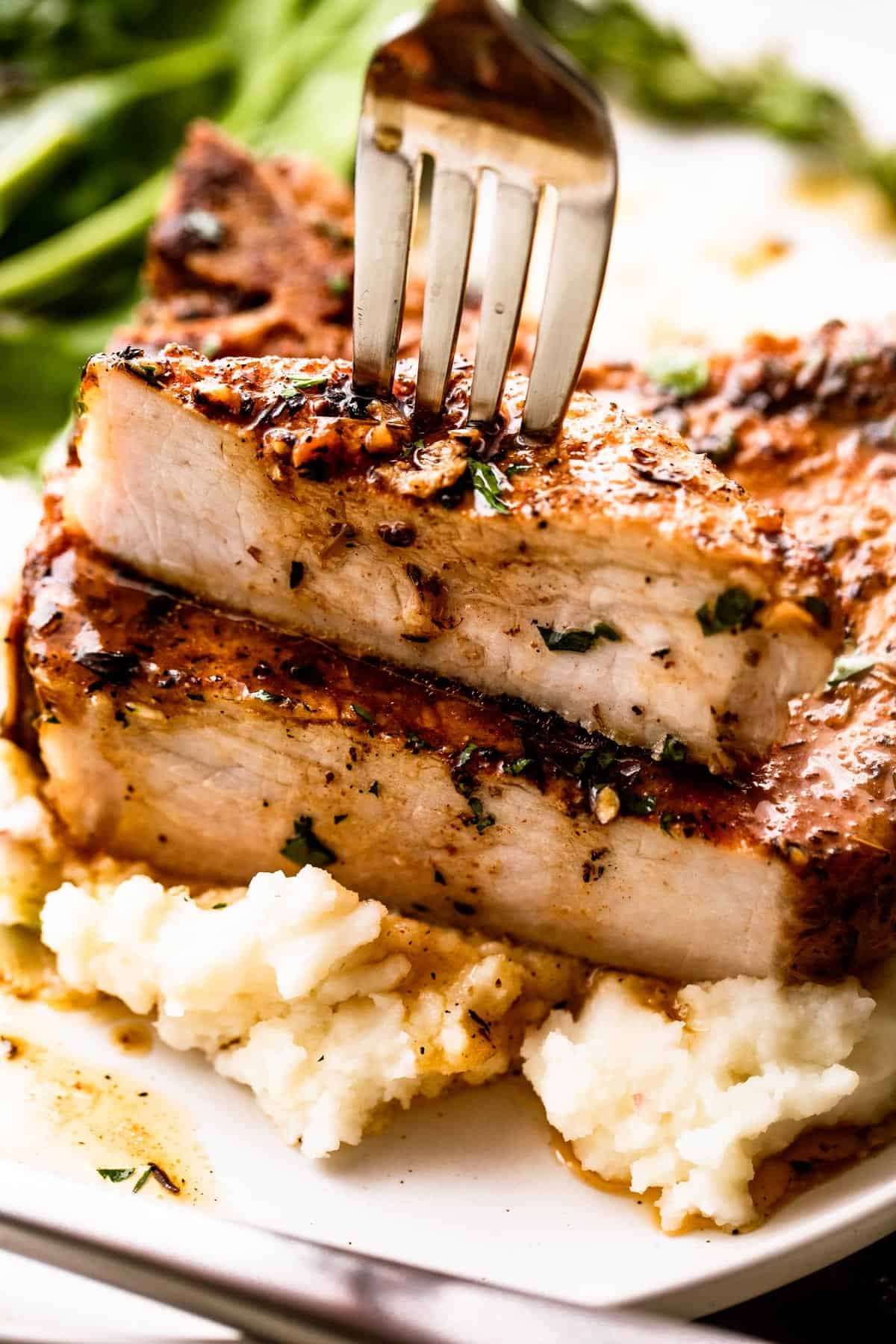 What You'll Need
For this recipe, the chops themselves are seasoned with a wonderful blend of herbs and spices, to bring out the natural sweetness and satisfying umami notes in the pork.
Oil: Olive oil is my go-to, but feel free to substitute any good oil for sautéing.
Pork Chops: Bone-in pork loin chops are flavorful and moist.
Salt and Pepper
Spices: Just onion powder and paprika. The garlic is in the garlic butter sauce!
Herbs: Dried oregano and dried thyme add a pungent, earthy note, perfect for pork!
Butter: Melt the butter in the microwave or in a small saucepan.
Fresh Garlic: The garlic should be minced or pressed in a garlic press.
Parsley: Chopped fresh parsley makes a great garnish.
What Kind of Pork Chops Should I Use?
For this recipe, I like to use bone-in pork loin chops. You could also use rib chops, or center-cut chops. Boneless loin chops are okay, but be careful with them, as they tend to dry out faster than bone-in pork chops, and need less time to cook.
Avoid sirloin chops and shoulder or blade chops – they are better for cooking slowly to tenderize.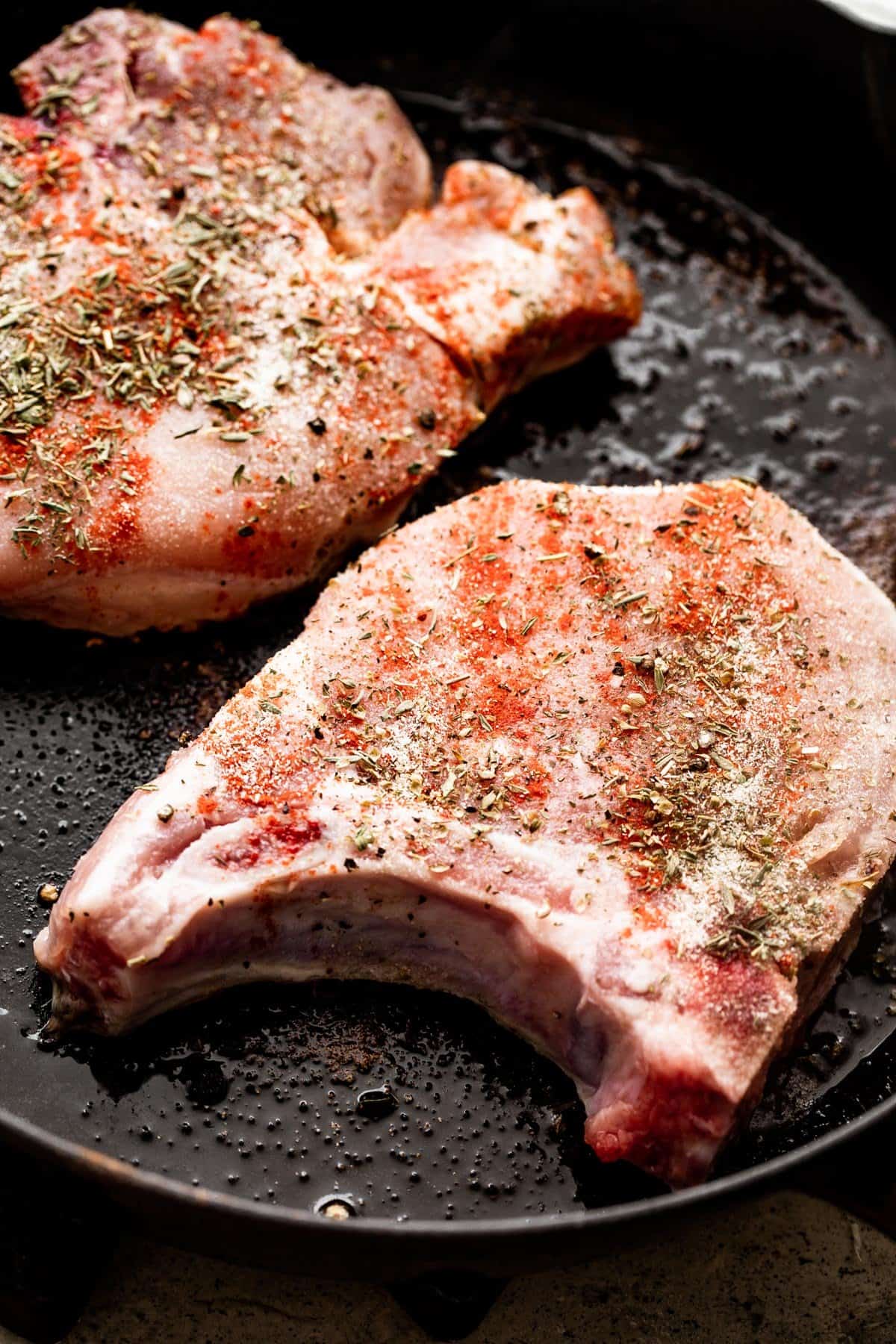 Let's Bake Some Pork Chops!
Okay, time to get into the step-by-step baking procedure! I have to confess, this is… ridiculously simple! All you have to do is sear the chops, and then bake them until done. Here's the rundown, in detail:
Preheat the Oven and Quickly Sear the Pork Chops. To begin, preheat your oven to 375˚F. Next, set an oven-proof skillet over medium-high heat. Add the oil, and let it heat for a moment while you pat the pork chops dry with paper towels. Season the pork chops with salt, pepper, onion powder, paprika, and the dried herbs, and then place them in the hot oil to sear. You want to leave them in the pan for about 3 minutes per side.
Top the Seared Chops with Garlic Butter. Next, mix the melted butter and garlic in a small bowl. Take the pork chops off of the heat, and gently pour the garlic butter over them.
Bake. Bake the chops for about 12 to 15 minutes, basting them with the butter sauce halfway through the baking time. They should reach an internal temperature of 145˚F; if not, bake them a little longer.
Rest and Serve! When the pork chops are done, take them out of the oven and let them rest on a serving plate for about 5 minutes before garnishing and serving.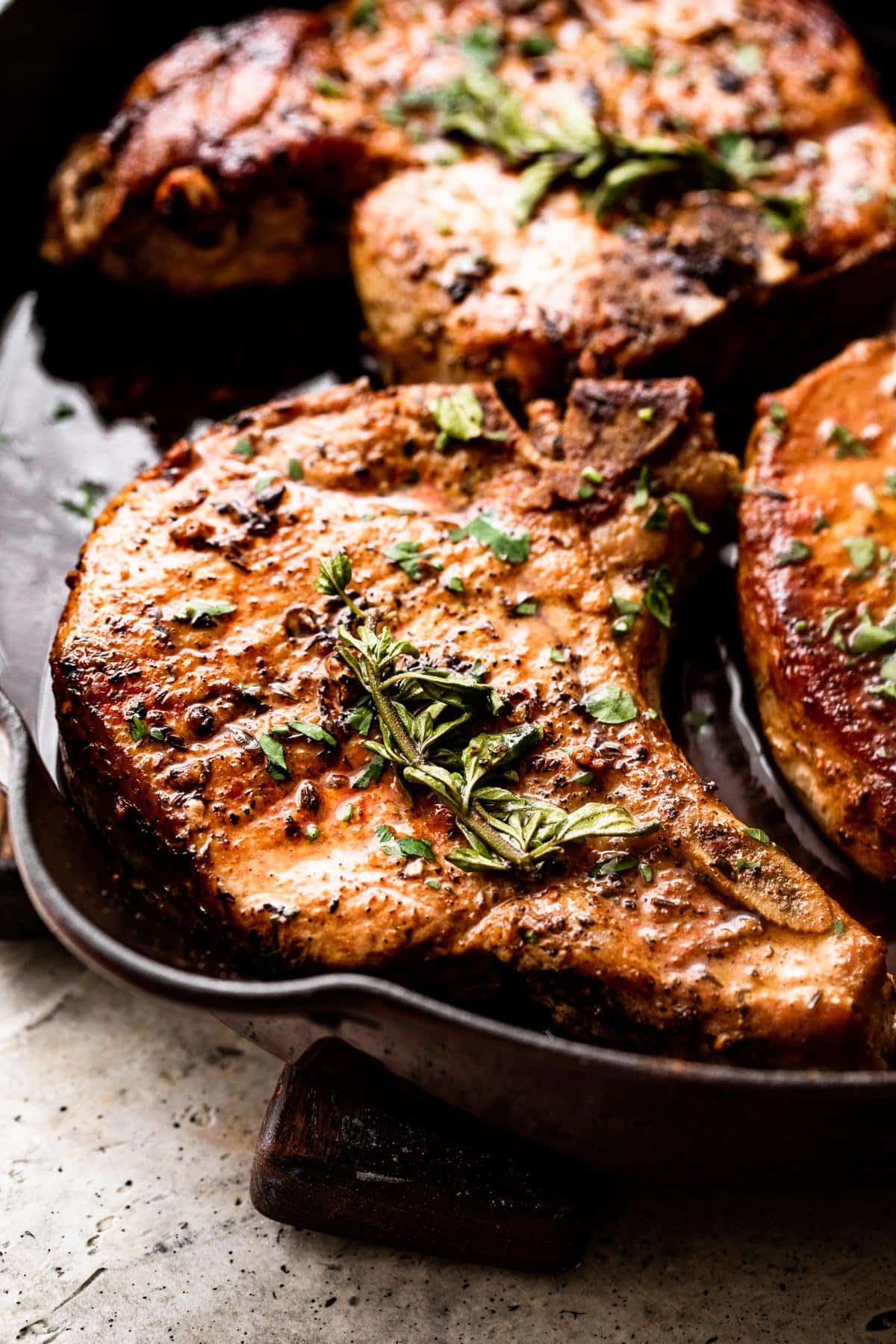 How Long Do Pork Chops Take in the Oven?
Great question! The answer depends on how hot your oven is and how thick your pork chops are. Also, since we are pre-searing the chops, they will need slightly less time in the oven. In general, plan on 5 to 6 minutes for searing, and 12 to 15 minutes for baking at 375˚F.
My brand new oven had these done in exactly 12 minutes.
How Do You Know When Pork Chops Are Done?
The best way to be sure that your pork chops are done is to use a meat thermometer, which should register 145˚F when inserted into the pork chop, not touching the bone. If the chops are thin, though, it can be hard (or even impossible) to insert the meat thermometer enough to get a reading.
In that case, look for three things: the chops should be firm and springy to the touch, not soft or mushy; if you cut into the chop, the meat should be white, or have the faintest tinge of pink – no dark pink or medium pink; and the juices of the pork chop should run clear.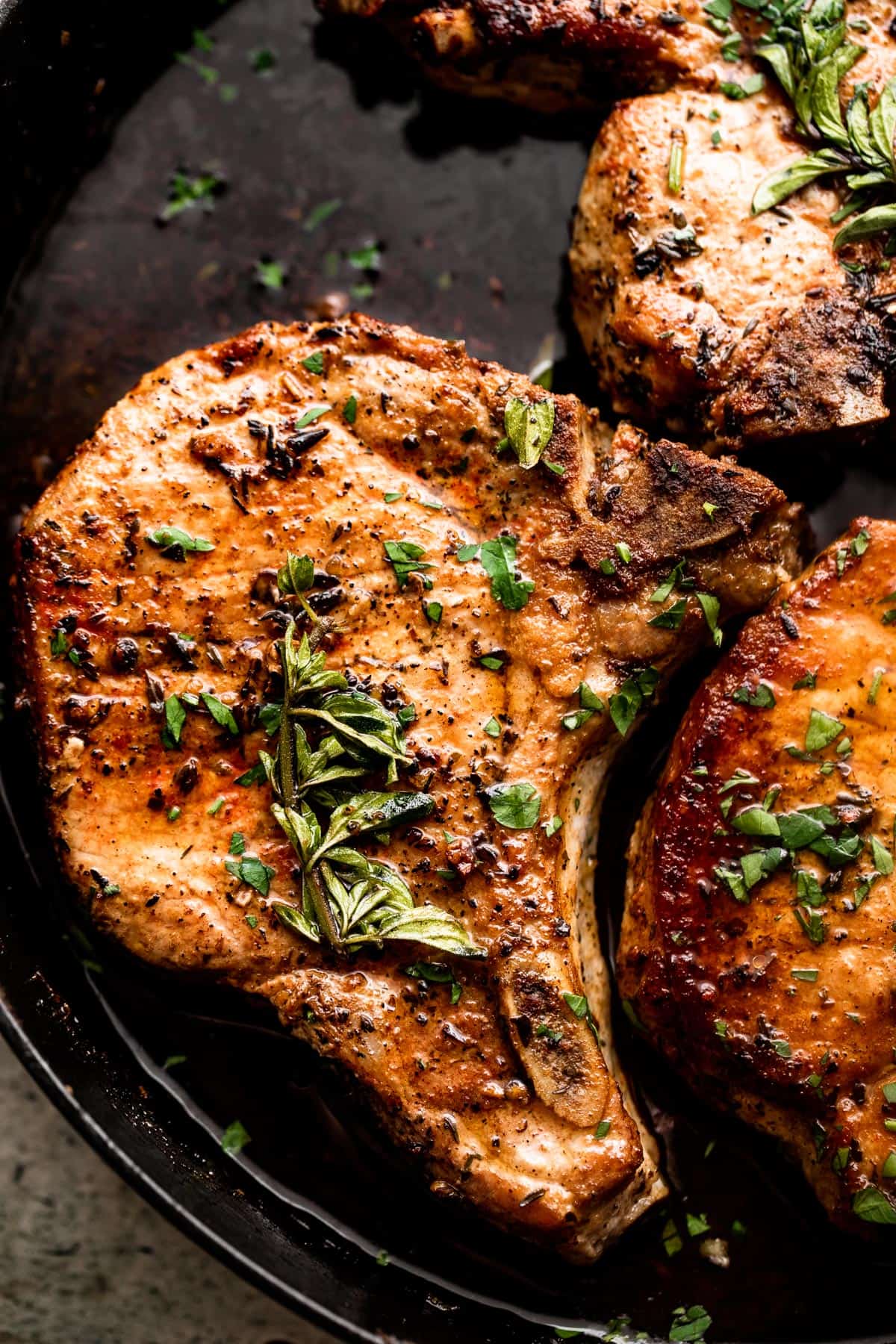 Tips and Tricks
The last thing you want when making pork chops is to have them turn out dry! That's why I'm sharing these helpful tips for getting a moist, juicy result, every time. Enjoy!
Brine the Chops: If you have an extra half-hour or so, try giving your pork chops a quick brine! Brining helps meat stay juicy when cooked. Just add a few tablespoons of salt to a quart of water, and soak the pork chops for 30 minutes. If you like, you can also add extra flavorings like herbs, cracked black pepper, or lemon slices.
Rest the Pork Chops: Before you slice into your freshly-baked pork chops, let them rest for 5 to 8 minutes. This allows the pork chops to stay juicy!
Thick Chops vs. Thin: For this recipe, I recommend buying pork chops that are about an inch thick! Very thin pork chops can be difficult to cook without drying them out.
Pan Size: Don't use an overly large baking dish or pan when making pork chops in the oven. Choose a pan that fits the pork chops comfortably, not too far from each other. Too much space may create dryer chops.
Easy Ideas for Serving
To serve these juicy pork chops, try making a classic side dish or two! Salad and garlic bread are easy choices, or you could try one of these tasty options!
Roasted Veggies: Easy roasted vegetables are always a good side! I like to make this flavorful combination of Garlic Brown Butter Roasted Brussels Sprouts and Carrots. The nutty depth of brown butter perfectly complements these hearty veggies!
A Colorful Salad: This Chickpea Salad is a flavor explosion! You'll love the tender, mild chickpeas mingled with creamy feta, crisp chopped vegetables, and a mouthwatering dressing.
Pasta: Everyone loves a creamy pasta side. I think this Creamy Lemon One-Pot Pasta is a great choice with pork chops!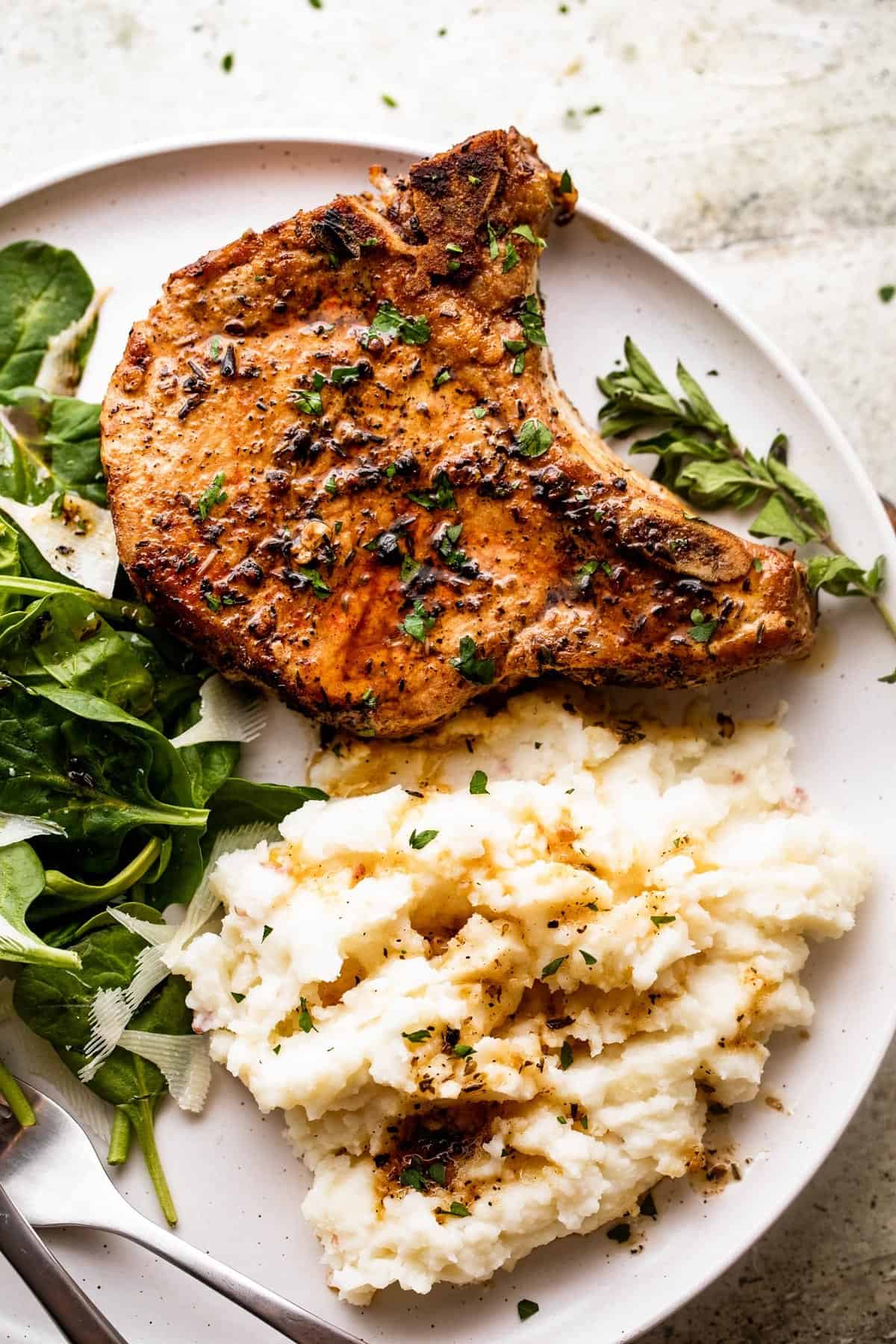 How to Store and Reheat Leftover Pork Chops
Leftover pork chops should be refrigerated in airtight containers or food storage bags. They will keep for 3 to 4 days.
To reheat, place the pork chops in a covered skillet over low heat, with a tablespoon or two of the juices (or water). Heat on low until the pork chops reach a safe internal temperature of 145˚F.
Can I Freeze Cooked Pork Chops?
Sure! You can place your cooled, leftover pork chops in freezer bags, and press out as much air as possible before sealing. Mark with the date, and freeze for up to three months.
Thaw overnight before reheating.
ENJOY!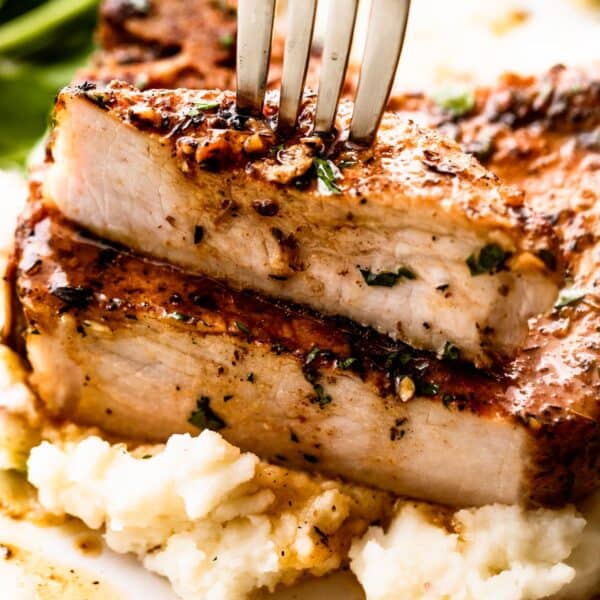 OVEN BAKED BONE-IN PORK CHOPS
A quick sear and a short time in the oven are all that these Oven Baked Bone-In Pork Chops need! The result is tender, juicy chops with garlic butter sauce, in about 30 minutes.
Ingredients
2

tablespoons

olive oil

salt and fresh ground black pepper,

to taste

1

teaspoon

onion powder

1

teaspoon

paprika

½

teaspoon

dried oregano

½

teaspoon

dried thyme

8

tablespoons

butter,

melted

4

cloves

garlic,

minced

chopped fresh parsley,

for garnish
Instructions
Preheat oven to 375˚F.

Heat the olive oil in an oven-safe 12-inch skillet (preferably cast iron skillet) set over medium-high heat.

Pat dry the pork chops with paper towels.

Season the pork chops with salt, pepper, onion powder, paprika, oregano, and thyme.

Sear the pork chops for about 3 minutes per side, or until browned.

DO NOT crowd the skillet with the pork chops while browning them. If skillet is too small, brown the pork chops in batches.

In the meantime, combine the melted butter and garlic in a mixing bowl.

Remove skillet from heat and pour the garlic butter sauce over the pork chops.

Cook in the oven for about 12 to 15 minutes, or until cooked through, and internal temperature registers at 145˚F.

Cooking time will vary depending on the thickness of the chops. Baste with the butter sauce halfway through cooking.

Remove from oven and transfer the pork chops to a serving plate; let rest for 5 minutes before cutting.

Spoon butter sauce over the pork chops, garnish with parsley, and serve.
Nutrition
Calories:
479
kcal
|
Carbohydrates:
2
g
|
Protein:
29
g
|
Fat:
39
g
|
Saturated Fat:
19
g
|
Polyunsaturated Fat:
3
g
|
Monounsaturated Fat:
15
g
|
Trans Fat:
1
g
|
Cholesterol:
150
mg
|
Sodium:
266
mg
|
Potassium:
539
mg
|
Fiber:
1
g
|
Sugar:
1
g
|
Vitamin A:
961
IU
|
Vitamin C:
1
mg
|
Calcium:
31
mg
|
Iron:
1
mg
Nutritional info is an estimate and provided as courtesy. Values may vary according to the ingredients and tools used. Please use your preferred nutritional calculator for more detailed info.
Categories:
More Simple Pork Chop Recipes