This better-than-takeout Moo Shu Chicken is a sizzling hot stir-fry of thinly sliced chicken, cooked egg, and veggies all coated in a delightfully savory, slightly sweet sauce. Forget Chinese takeout! Make it at home.
Easy Moo Shu Chicken Recipe
I love getting inspired by a Chinese takeaway classic and figuring out how to make it in my kitchen. It allows me to skip many unknown additives, extra sugars, oils, and what-have-you found in most takeout food. The best part is I get to share it with you! ❤️
Moo shu chicken is made with thinly sliced chicken marinated in a delicious sauce and cooked to golden brown deliciousness. It is sauteed with chicken and veggies, including a colorful slaw, crunchy mung bean sprouts, umami shiitake mushrooms, and a smattering of chopped scrambled eggs. The sauce that ties the whole dish together perfectly combines the wonderful flavor of sweet and savory.
This moo shu chicken was so fun to make, and it only took 15 minutes of active time. 🙌 I hope you will enjoy it as much as we do!
What Is Moo Shu Chicken?
Moo shu chicken – also known as mu shu chicken, moo-shu chicken, or mushu chicken – is a traditional Chinese entree comprised of a protein (most often pork), eggs, and veggies stir-fried together in a savory, slightly sweet sauce. It's won the heart of many American Chinese-food lovers and might be one of the most popular dishes ordered for Chinese takeaway here in the States.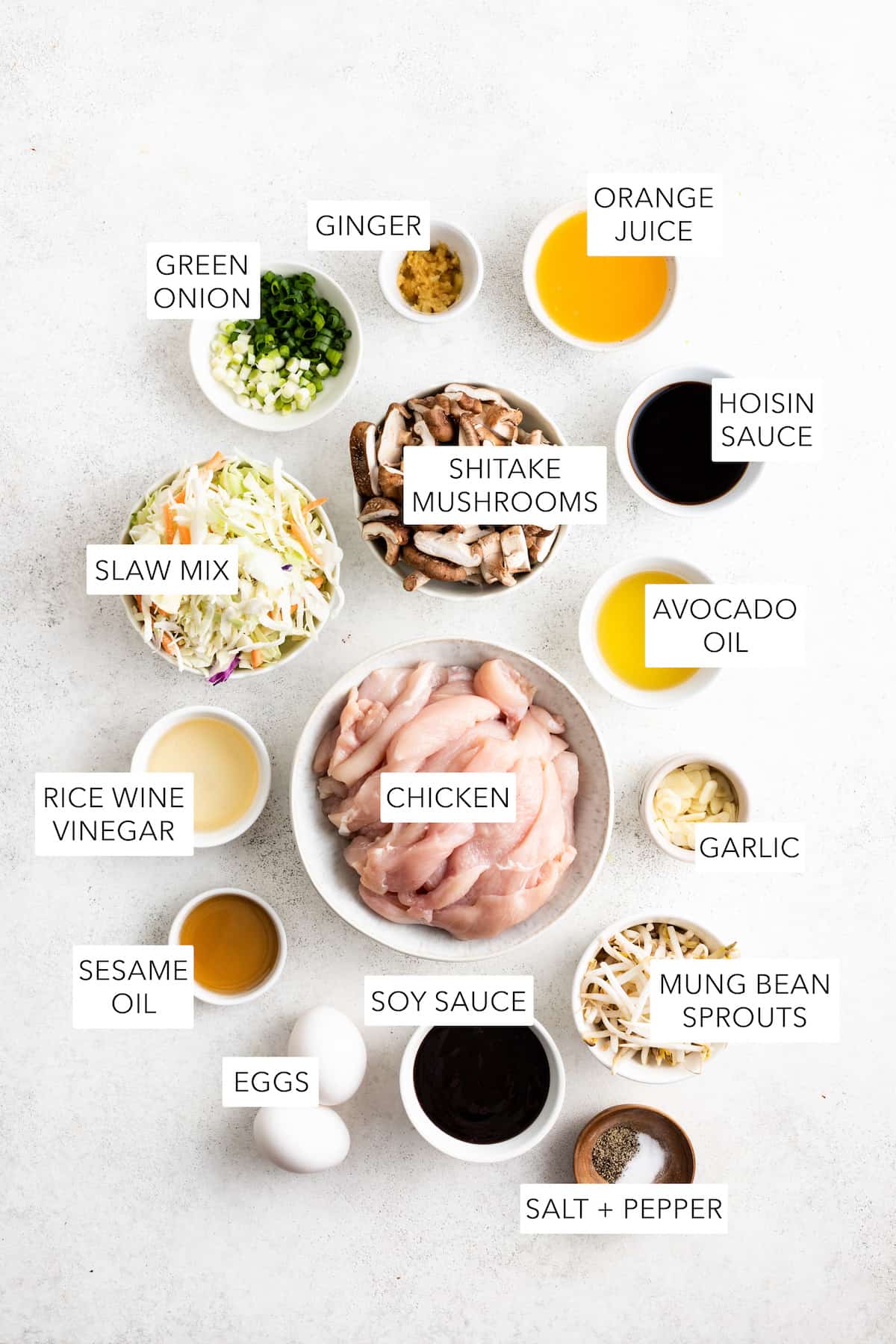 Recipe Ingredients
You need a fair number of ingredients to make moo shu chicken. Don't be daunted, though. You can easily find all of these at your local market. Here's a list of what you will need to make this Chinese takeaway recipe. Make sure to scroll to the recipe card below for detailed measurements.
For the sauce/marinade
Hoisin sauce
Rice wine vinegar
Orange juice
Soy sauce: If soy doesn't agree with you, use coconut aminos instead.
Toasted sesame oil
Grated ginger
Garlic
Boneless skinless chicken breasts: Feel free to use boneless chicken thighs or an entirely different protein. Mushu is commonly made with pork, but chicken, beef, or turkey are good alternatives. Vegetarian? Try tempeh or firm tofu.
To Cook the Moo Shu Chicken
Avocado oil: You can use vegetable oil, refined coconut oil, or light sesame oil if you prefer. Do not use olive oil.
Eggs
Shiitake mushrooms: Can't find them? Sliced crimini or baby bellas will work here too.
Slaw mix: Try to find one that contains only carrots and cabbage. If you can't find a slaw mix, grab some carrots and some cabbage and shred them yourself. You can use a cheese grater or a sharp knife to achieve the desired texture.
Sauce/marinade: The same you used to marinade the chicken. Reserve it. It will be the sauce for this dish.
Mung bean sprouts
Scallions
Sea salt and ground black pepper
How to Make Moo Shu Chicken
You might need several ingredients to make this delicious Chinese takeaway recipe, but it's surprisingly quick and easy to put together. Here's a basic rundown of how to make mu shu chicken. Remember to scroll to the recipe card below for more detailed instructions.
For the sauce/marinade
Make the marinade. Mix together the ingredients for the sauce.
Marinade the chicken. Coat the chicken in the marinade and place in the refrigerator for 30 minutes.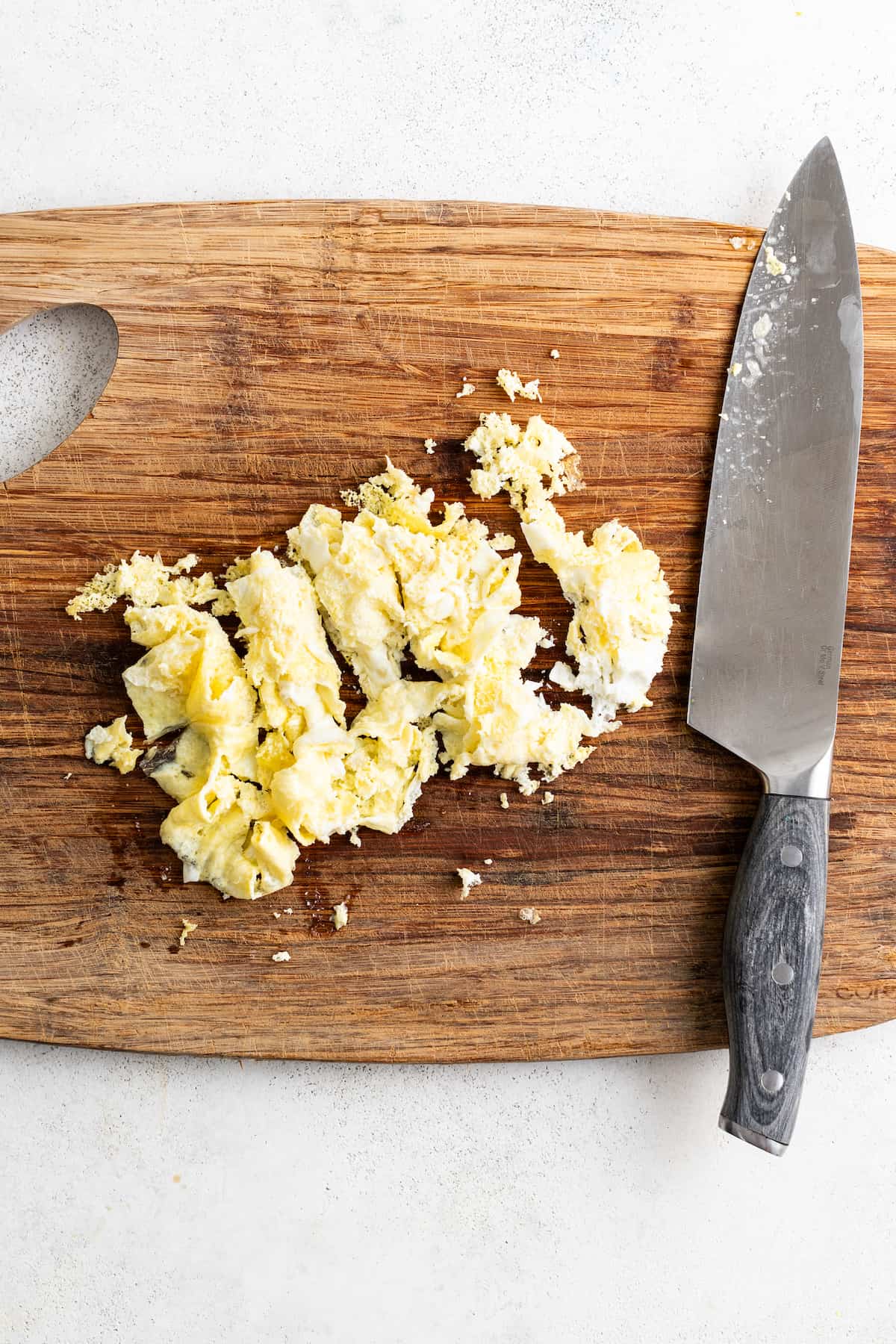 Cook the Moo Shu Chicken
Cook the eggs. Heat avocado oil in a heavy-bottomed pan and cook until they are no longer runny. Chop and set aside.
Brown the chicken. Heat the oil in the pan, add just the chicken pieces, and saute until browned. Make sure to reserve the marinade.
Saute the veggies. Add the mushrooms and sauté until brown before adding half of the slaw mix.
Add the sauce/marinade and stir until it boils.
Finish it off. Stirring continuously, add the bean sprouts and the white parts of the scallions followed by the rest of the slaw mix, the cooked eggs, and the green parts of the scallions.
Season with salt and pepper.
Recipe Tips & Variations
This is a simple recipe to make once you have all the ingredients. As usual, I have some tips and tricks to set you up for success. Plus some fantastic ideas to play with if you want to divert from the norm.
Prep everything ahead of time. Because you are cooking at high temperatures, you will find that everything will move very quickly once you start tossing things in the pan. Having all of your ingredients sliced, diced, and ready to go before turning up the heat is beneficial.
Cook over high heat. High temperatures allow the ingredients to cook rapidly and maintain their natural, bright flavors. When it comes to meat, too low of temperatures will (a) inhibit the chicken from browning properly and (b) cause the chicken to release its juices, ending you with a tough, dry finished product. So don't be afraid to turn the heat up!
Don't crowd the pan. When browning the chicken, don't crowd the pan. The meat will not only fail to brown properly, but it will also release its juices, ending you with boiled but dry meat. If your pan is too small to fit all of the chicken pieces comfortably (with a little room to breathe), take an extra moment and brown it in batches.
Try a different protein. It is acceptable to use a different protein here. I suggest using thinly sliced pork, beef, or turkey. You can even use ground chicken, beef, pork, or turkey. If you are vegetarian, I suggest using tempeh. Firm tofu would work, too, but it might fall apart.
Add extra veggies. The slaw and the mushrooms give a pretty hefty dose of vegetable matter but feel free to throw in some thinly sliced bell pepper, broccoli, or another veggie of your choosing.
Spice it up. Are you a spice person? This dish is not spicy by nature, but you can easily add a splash or two of your favorite hot sauce to the marinade. I like siracha.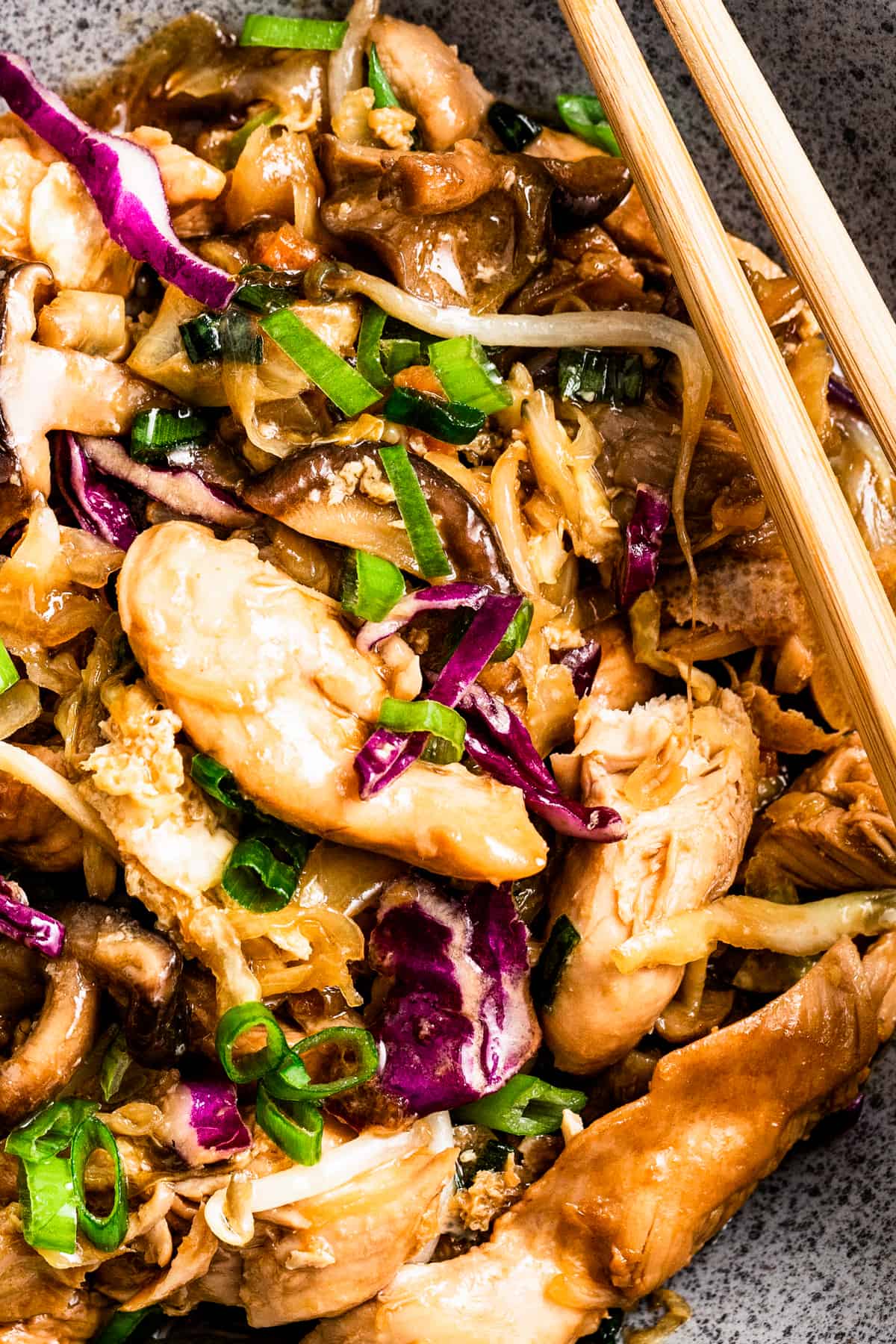 Serving Suggestions
While you can certainly enjoy this moo-shu chicken on its own, I highly suggest serving it with a yummy side or wrapped up in something tasty. Here are some of my favorite ways to serve this Chinese classic.
A light, refreshing vegetable side. I love serving my moo shu chicken with this Spicy Asian Cucumber Salad but you could go with blanched or roasted green beans or even asparagus.
Steamed white rice. Spoon some of this delightfully savory dish over a bowl of steamed white rice. You'll think you ordered Chinese takeout. You could also serve it over my Easy Chicken Fried Rice. Just leave out the chicken in the fried rice recipe!
Lettuce cups. Treat your body to a light, refreshing meal by scooping this moo shu chicken up with some crispy leaves of romaine or butter lettuce.
With scallion pancakes. This might be my favorite way to do it. Serve this stir-fry in scallion pancakes—taco style. You can find them in most Asian markets. Flour tortillas would make a fine substitute here.
How to Store & Reheat Leftovers
Fridge: Moo shu chicken makes for great leftovers. Allow the dish to cool completely before placing it in an airtight container and storing it in the refrigerator for up to 4 days.
To reheat: Heat a bit of avocado oil in a heavy-bottomed pan over medium-high heat, add the mu shu chicken, and saute until heated through.
More Chinese Takeaway Recipes
Had your fill of moo-shu chicken and still craving Chinese takeout? You're in luck. I have a few other delicious recipes for you to try: 👇
ENJOY!
Moo Shu Chicken
This better-than-takeout moo shu chicken is a sizzling hot stir-fry prepared with chicken, veggies, and eggs, all coated in a savory, sweet sauce.
Ingredients
To Cook
4

tablespoons

avocado oil,

divided

2

large

eggs,

whisked

2

cups

sliced shiitake mushrooms

1

cup

bean sprouts

6

scallions

sliced, whites and greens separated

sea salt and freshly ground black pepper,

to taste
Instructions
For The Marinade
In a large bowl, mix together the hoisin sauce, rice wine vinegar, orange juice, soy sauce, toasted sesame oil, ginger, and garlic; mix until well combined.

Add the chicken to the marinade and toss to coat.

Cover and let marinade in the refrigerator for 30 minutes.
To Cook
Once the chicken is done marinating, remove it from the refrigerator and let it sit at room temperature for a few minutes.

Meanwhile, heat 1 tablespoon of avocado oil in a heavy-bottomed pan over medium-high heat.

Add the eggs, cover, and cook until they are no longer runny, about 1 minute.

Transfer the cooked eggs to a cutting board, roughly chop, and set aside.

Add the remaining avocado oil to the pan and heat over medium-high heat.

Remove the chicken pieces from the marinade and add them to the pan, stirring continuously to brown evenly. Reserve the marinade.

Add the mushrooms and sauté until they begin to brown and shrink down a bit, about 3 minutes.

Add half of the coleslaw, mix, and stir.

Add the reserved marinade and stir until the sauce comes to a boil.

Add the bean sprouts and the white parts of the scallions; stir.

Add the rest of the coleslaw mix, the cooked eggs, and the green parts of the scallions and stir.

Season with salt and pepper. Taste and adjust if needed.

Spoon into bowls and serve.
Notes
Chicken: I used boneless, skinless chicken breasts for this recipe. You can also use boneless, skinless chicken thighs or a different protein, like pork, beef, or turkey.
Mushrooms: If you can't find or don't have shiitake mushrooms, sliced crimini or baby bella mushrooms are also okay to use.
Vegetables: Besides the coleslaw and the mushrooms, feel free to stir in thinly sliced bell peppers, broccoli florets, or another veggie of your choice.
Mise En Place, aka, have all your ingredients ready to go. Prep your ingredients beforehand because when cooking at high temperatures, having all your ingredients sliced and diced is a must.
Serving Moo Shu Chicken: Serve with scallion pancakes, over cooked rice, on its own, or in lettuce cups.
Nutrition
Serving:
8
ounces
|
Calories:
461
kcal
|
Carbohydrates:
32
g
|
Protein:
34
g
|
Fat:
23
g
|
Saturated Fat:
3
g
|
Polyunsaturated Fat:
4
g
|
Monounsaturated Fat:
12
g
|
Trans Fat:
0.02
g
|
Cholesterol:
167
mg
|
Sodium:
1556
mg
|
Potassium:
1065
mg
|
Fiber:
6
g
|
Sugar:
16
g
|
Vitamin A:
422
IU
|
Vitamin C:
30
mg
|
Calcium:
74
mg
|
Iron:
3
mg
|
Net Carbs:
26
g
Nutritional info is an estimate and provided as courtesy. Values may vary according to the ingredients and tools used. Please use your preferred nutritional calculator for more detailed info.
Categories: