A little sweet, a little spicy, and flavored with fragrant Chinese five spice, this classic Salt and Pepper Chicken recipe is a quick and easy takeout-style meal you'll crave!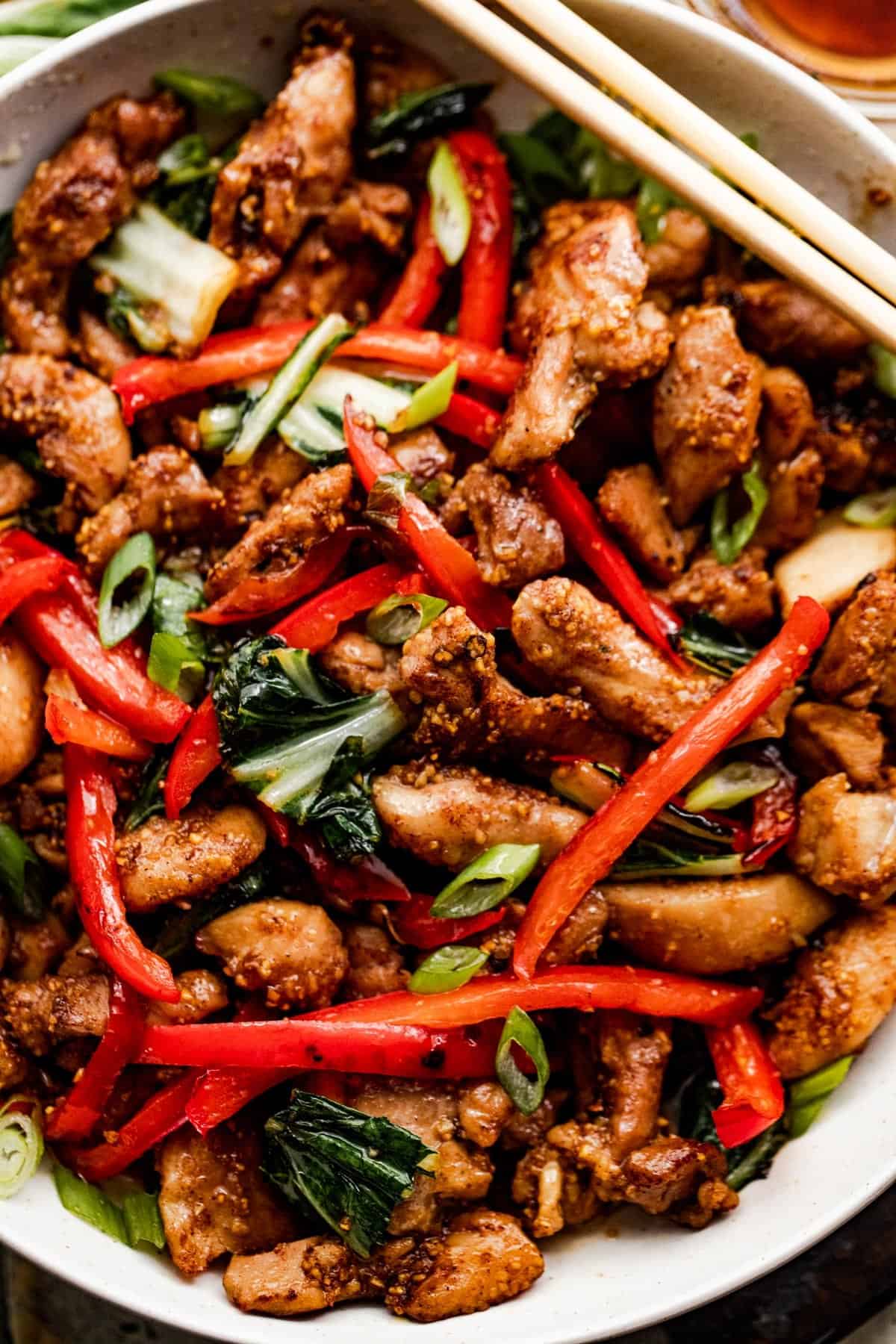 A Crispy Salt and Pepper Chicken Recipe
Have you ever ordered salt and pepper chicken before? It's a fantastic Chinese stir-fry dish that's ready in about half an hour, and really easy to make at home. A generous blend of salt and freshly-crushed peppercorns gives each bite plenty of flavor, while Chinese five spice adds an unforgettable spicy fragrance and taste.
Lightly breaded and pan-fried chicken is the star, with bell pepper, bok choy, and green onions to round things out.
Additionally, this is a stir-fry made with chicken thighs, and who doesn't love chicken thighs? Chicken breast can be juicy and wonderful, but let's face it – you have to watch it closely, or it dries out super quick. Not fun. Thighs on the other hand? Much more flexible. Even if you cook them a little longer than intended, they will still taste juicy and flavorful. This is because dark meat contains more fat and connective tissue, which melts into the meat and keeps it nice and moist. Coated with spices, it's the perfect protein for this amazing stir-fry.
More Favorite Chicken Thigh Recipes
What Is Salt and Pepper Chicken Made Of?
Let's zoom in on the ingredients you will need to make your own salt and pepper chicken at home. It's really simple, even the sauce! Here's the list, in detail:
Chicken: You'll want boneless, skinless chicken thighs.
Salt and Pepper: Sea salt and whole peppercorns are ideal, but if you don't have those (or don't have a way to crush the peppercorns yourself) you can use freshly-ground salt and pepper from store-bought grinders, or regular salt and pepper.
Cornstarch: A little bit of cornstarch makes an ultra-light "breading" for the chicken.
Chinese Five Spice: This seasoning blend is easy to find in the spices and herbs section of most grocery stores. You can also order it online.
Oil: I use vegetable oil, but feel free to use any neutral high-temp oil that you prefer.
Red Bell Pepper: Core and thinly slice one red bell pepper.
Green Onions: Thinly slice a few green onions on the diagonal. Separate the white parts (for the stir-fry) from the green parts (for garnish).
Bok Choy: The green parts of bok choy wilt down quite a bit, so you'll need three cups of raw bok choy to start with. It will seem like a lot less after cooking!
Soy Sauce and Honey: A little bit of soy sauce (or tamari, or coconut aminos) blended with honey finishes the dish with a touch of salty-sweetness. Yum.
Cooked Rice: For serving.
Toasted Sesame Seeds and Chopped Cilantro: For garnish, optional.
Is Chinese Five Spice Spicy?
It is definitely spicy in the sense of being full-flavored – this beloved Chinese spice is made of fennel, cloves, cinnamon, star anise, and Sichuan peppercorns! That's a lot of spice in one ingredient! But, it is not spicy-hot. None of these ingredients have much of a kick, although the Sichuan peppercorn adds a bit of a tingle.
Step-by-Step Instructions
So how do you actually make salt and pepper chicken? It's super simple! If you can heat up oil in a pan, you can definitely make this dish. Here's the scoop:
Coat the Chicken in Cornstarch and Spices. Cut the chicken into strips or bite-size pieces, whichever you prefer. Then move the chicken to a bowl or zip-top bag or mixing bowl. Crush up the salt and peppercorns in a mortar and pestle. Mix the salt, pepper, cornstarch, and Chinese 5 spice together, and then pour them into the bag with the chicken. Seal and shake to coat the chicken pieces.
Pan-Fry the Chicken. Next, set a wok or a big skillet over medium-high heat. Add your oil, and let it heat until shimmering. Then add the chicken pieces and cook them for 5 minutes or so, or until the chicken is golden-brown on all sides and cooked through. You will need to stir it as it cooks so that all the sides get done.
Cook the Veggies. Move the chicken to a clean plate, and set it aside while you work with the vegetables. In the same wok, heat another tablespoon of oil. Then stir in the bell pepper, and cook that for a couple of minutes. Add the white parts of the onions, and the bok choy. Cook that for two more minutes. While it cooks, stir together the soy sauce and honey.
Finish the Dish. Finally, return the chicken to the wok. Add the honey-soy sauce mixture, and cook everything together for a couple of minutes to let the flavors blend.
Enjoy! Serve your salt and pepper chicken over rice, garnished with green onions, sesame seeds, and cilantro.
How Do You Make Salt and Pepper Chicken Crispy?
There are two ways that this dish becomes crispy: using cornstarch, and using the right amount of heat on your stove. First of all, the cornstarch. Like flour, cornstarch will turn a slightly crisp golden-brown when fried.
However, the most crucial thing is the heat. It's really important to cook the chicken at a fairly high, sizzling heat. This way, when the juices of the chicken hit the pan, they'll evaporate almost instantly, leaving the chicken frying. If the heat is too low, the chicken juices will simply collect in the pan and create a steamy, moist cooking environment – not what you want for crispy chicken!
Tips for Success
So that's it – a highly-flavored, easy to make, classic Chinese takeout recipe, all in from the comfort of your own kitchen. You're guaranteed to love this one, especially if you take a minute to read these helpful tips:
Chicken Substitutions: This recipe can also be made with chicken breast, but keep in mind that chicken breast cooks up a little quicker and is more easily dried out. You can also use this recipe to make incredible chicken wings! Make sure to cook them long enough for them to get done down to, and including, the bone.
Add Heat: Many salt and pepper chicken recipes call for hot peppers or chilies, and you should feel free to add some if you like things hot. Sliced jalapeno pepper is a good choice.
Veggie Swap: If you don't have (or don't want to use) bok choy, broccoli makes a nice substitute. Really, though, you can use whatever veggies you like.
Vegetarian Version: Firm tofu with the water pressed out of it is a great vegetarian protein option, and it works well in this recipe.
Serving Ideas
Once you make this, you'll be tempted to gobble it down right out of the wok! And hey, I support that choice. But if you want to wait a little longer and make some side dishes, well, that's a good choice, too! I recommend a cold beer with this salty, spicy chicken, and maybe one or two of these yummy sides:
Steamed Rice: Stir-fry and rice are a match made in heaven, of course – so why not treat yourself to this Instant Pot Jasmine Rice? Jasmine rice's unique and subtle fragrance is perfect for this recipe (or honestly, just about any recipe!).
Egg Roll in a Bowl: Skip the deep frying and rolling – cut to the chase with this super-healthy recipe for Egg Roll in a Bowl. It's an crave-worthy recipe that works for a main dish or a hearty side.
Shrimp Fried Rice: Another restaurant fave, Shrimp Fried Rice is fun and easy to make at home. Serve it alongside your salt and pepper chicken for a takeout-at-home feast!
Storing and Reheating Leftover Salt and Pepper Chicken
To store, put your cooled leftover stir-fry in an airtight container, and refrigerate. It will keep for up to 3 days, if stored properly.
To reheat, you can microwave your leftovers, or place them in a covered skillet over low heat until the chicken is heated through.
How to Freeze
Freezing this recipe is easy! All you have to do is cool the stir-fry down, and then pack it into a freezer bag. Press as much air as possible out of the bag before you seal it, and then freeze it for up to 3 months. Thaw in the fridge before reheating.
Keep in mind that the veggies may turn out a bit limp or mushy after freezing and thawing, so you may want to take them out and freeze just the chicken.
ENJOY!
Salt and Pepper Chicken
Sweet, spice, and flavored with fragrant Chinese five spice, this classic Salt and Pepper Chicken recipe is an easy takeout-style meal you can make at home!
Instructions
Cut the chicken into strips or bite-size pieces.

Place chicken in a ziploc bag and set aside.

In a pestle and mortar, crush the salt with the peppercorns. If you don't have a pestle and mortar, you can combine fresh ground black pepper with fresh ground salt.

To the salt and pepper add the cornflour and Chinese five spice; mix to combine.

Add the salt and pepper mixture to the chicken in the bag; seal the bag and shake well to coat.

Heat 2 tablespoons vegetable oil in a wok or a large pan set over medium-high heat.

Once the oil is shimmering, add in the chicken.

Cook for about 6 to 8 minutes, or until all sides are golden brown and chicken is cooked through. Stir frequently.

Transfer cooked chicken to a plate and set aside.

Return pan to the burner and add 1 tablespoon vegetable oil.

Stir in the sliced peppers and cook for 2 minutes.

Add the white parts of the green onions and the chopped bok choy; continue to cook for 2 more minutes.

In the meantime, in a small bowl combine soy sauce and honey and whisk until incorporated.

Return chicken to the skillet.

Stir in the honey and soy sauce mixture; continue to cook for 2 to 3 more minutes, or until everything is well coated and cooked through. Remove from heat.

Serve over rice.

Garnish with green onions, sesame seeds, and cilantro.
Nutrition
Calories:
279
kcal
|
Carbohydrates:
18
g
|
Protein:
34
g
|
Fat:
7
g
|
Saturated Fat:
2
g
|
Polyunsaturated Fat:
2
g
|
Monounsaturated Fat:
3
g
|
Trans Fat:
0.03
g
|
Cholesterol:
162
mg
|
Sodium:
1025
mg
|
Potassium:
567
mg
|
Fiber:
1
g
|
Sugar:
10
g
|
Vitamin A:
1105
IU
|
Vitamin C:
40
mg
|
Calcium:
40
mg
|
Iron:
2
mg
Nutritional info is an estimate and provided as courtesy. Values may vary according to the ingredients and tools used. Please use your preferred nutritional calculator for more detailed info.
More Easy Asian Recipes