Crispy oven-roasted Brussels sprouts will wipe away any childhood memories of bland, boiled sprouts! You'll love this easy Brussels sprouts recipe, with caramelized sprouts tossed in flavorful honey balsamic glaze. It's one of my favorite healthy side dishes.
Crispy Honey Balsamic Roasted Brussels Sprouts
Who else grew up shoving icky, boiled Brussels sprouts to the side of the plate? I was once a sprouts skeptic, too. That is, until I had them oven-roasted. You're going to LOVE these cabbage-like veggies once you've tasted this version! With this simple recipe for crunchy, sweet-and-salty sprouts, you'll have everyone begging for seconds. These Brussels sprouts are so addictive. It's nearly impossible to resist plucking them straight from the sheet pan. You'll see.
Why You'll Love This Healthy Brussels Sprouts Recipe
Easy to prepare. Oven-roasted Brussels sprouts are quick, easy to make, and so versatile. They're a nutritious and tasty vegetable side dish whether you're cooking them on a weeknight or during the holidays. And leftovers are just as good!
Crispy and caramelized. Say it with me: no more boiled, soggy Brussels sprouts! The best way to cook Brussels sprouts is a hot, fast roast in the oven. This gives the natural sugars inside the sprouts a chance to caramelize, for crispy, sweet edges.
Full of flavor. I coat these Brussels sprouts in olive oil (essential for crispy roasted sprouts!). The oven-crisp sprouts are then tossed in a delectable glaze made from honey, balsamic, and a sprinkle of brown sugar. It's next-level!
Are Brussels Sprouts Good for You?
Brussels sprouts have SO many healthy benefits (there's a reason our mothers always insisted we eat them, despite our protests!). Of course, it always depends on how they're prepared. These little green cruciferous vegetables are closely related to cabbages, broccoli, and kale, and they're packed with nutrients. According to Healthline, Brussels sprouts are rich in antioxidants, phytonutrients, vitamin K, and fiber. They're great for digestive health, reducing inflammation, and boosting the immune system!
How to Trim Brussels Sprouts
You can roast Brussels sprouts whole or in halves. If you're working with larger sprouts, I recommend trimming and halving them. To trim your Brussels sprouts, use a sharp knife to trim off the bottom stems, then remove and discard the outer leaves. Afterward, cut them in half lengthwise.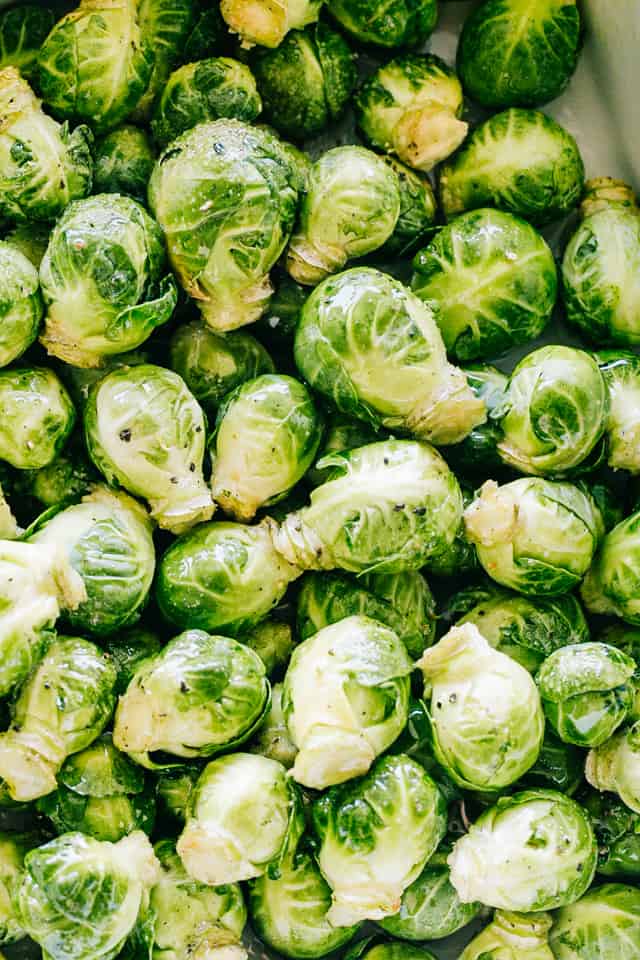 How to Roast Brussels Sprouts in the Oven
The first time I roasted Brussels sprouts, it was a total "aha!" moment. That ugly duckling of a vegetable can turn into a golden, crispy swan?! Yes, it's possible! Here's my secret to perfectly roasted Brussels sprouts. Be sure to scroll down to the recipe card for a full ingredient list and detailed instructions.
Prep the sprouts. First, while the oven preheats to 400ºF, spread your trimmed Brussels sprouts in an even layer on a baking sheet. Afterward, toss them with olive oil, garlic, salt, and pepper to coat.
Roast. Roast the sprouts at 400ºF for 30 minutes, until they're tender with a slight char on the edges.
Make the glaze. While your sprouts are in the oven, whisk together honey, balsamic, and brown sugar in a saucepan on the stovetop. Bring the glaze to a simmer. After about 10 minutes, the glaze should be thickened enough. Don't forget to stir!
Toss and serve. Take your roasted Brussels sprouts out of the oven and pour over the glaze. Toss to coat, then top everything with freshly shaved parmesan and serve.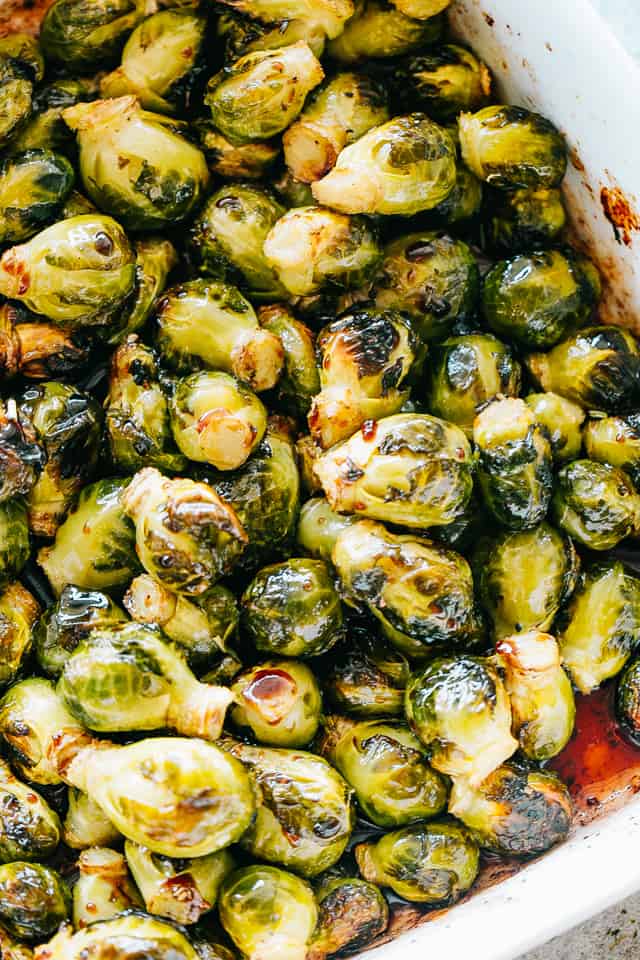 Tips for Success
See how easy it is to make perfect roasted Brussels sprouts?! Just wait until you've tasted them. In the meantime, here are my final tips for perfectly oven-roasted Brussels sprouts:
Trim the sprouts. Don't forget to remove the stems as well as any yellow, discolored leaves before you start. You can do this a day ahead and store your trimmed sprouts airtight in the fridge.
Don't overcrowd the pan. As with any roasted vegetable recipe, the secret to the best, crispiest roasted Brussels sprouts is to give them space to breathe. Overcrowding the pan will lead to steaming, not roasting. Make sure to spread out your Brussels sprouts in a single, even layer.
If your Brussels sprouts are large, I recommend cutting them in half. You can leave them whole if they're on the smaller side.
Have the cut side facing downwards. If you do cut your Brussels sprouts in half, this is the best way to maximize the surface area that gets crispy and golden. Before roasting, take an extra minute to flip the sprout halves so that the cut side is against the pan.
If you're in a hurry, use your air fryer to make perfect air fryer Brussels sprouts!
Recipe Variations
I don't know about you, but my obsession with Brussels sprouts is alive and thriving. Here are more ways to enjoy oven-roasted Brussels sprouts, seasoned to your liking:
Roasted Brussels Sprouts with Bacon. Add diced bacon to your roasting pan for a rich, flavorful twist.
More Veggies. You can roast Brussels sprouts alongside vegetables with similar cooking times. These roasted Brussels sprouts and carrots with garlic butter are a holiday favorite.
Protein. Add protein with similar roasting times, like this recipe for Andouille sausage with Brussels sprouts and sweet potatoes.
Lemon. Top your roasted Brussels sprouts with a squeeze of fresh lemon, or mix lemon zest into the olive oil for a pop of bright citrus.
Spicy. Add a pinch of red pepper flakes over the sprouts.
Herbs. For a hit of aromatics, add fresh thyme.
What to Serve With Oven Roasted Brussels Sprouts
I'll warn you now: these oven-roasted Brussels sprouts tend to disappear as soon as they hit the table. There are so many ways that you can serve them as a healthy side dish, any time of the year. Try these ideas:
How to Store and Reheat
Fridge. Once completely cooled, place roasted Brussels sprouts in an airtight container and refrigerate for up to 4 days. Leftover Brussels sprouts are great to serve cold over salads, or you can reheat them in the oven at 350ºF for 10-15 minutes.
Freezer. Cooked Brussels sprouts tend to become soggy when they're frozen and thawed, so I don't recommend freezing them. In a pinch, you can store your leftovers airtight in the freezer for up to 2 months. Let them defrost overnight before reheating.
More Ways to Cook Brussels Sprouts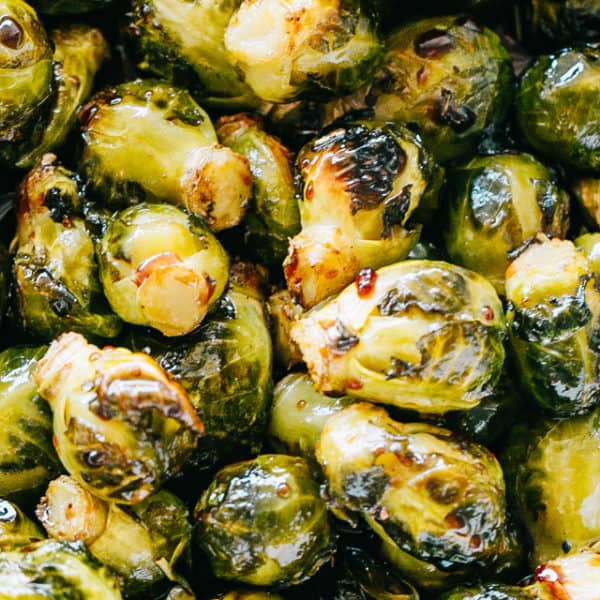 Oven Roasted Brussels Sprouts
Crispy oven roasted Brussels sprouts are the ultimate healthy side dish! This is an easy method for flavorful Brussels sprouts with perfectly caramelized edges, tossed in honey balsamic glaze.
Ingredients
FOR THE BRUSSELS SPROUTS
2

pounds

brussels sprouts,

bottoms cut and outer leaves removed

3

tablespoons

olive oil

4

cloves

garlic,

minced

salt and fresh ground pepper,

to taste
FOR THE HONEY BALSAMIC GLAZE
1

tablespoon

honey

3/4

cup

white balsamic vinegar

2

tablespoons

light brown sugar

freshly shaved parmesan cheese,

for topping (optional)
Instructions
Preheat oven to 400F.

Place cleaned brussels sprouts on a sheet pan and set aside.

In a small mixing bowl stir together olive oil, garlic, salt and pepper.

Pour olive oil mixture over brussels sprouts and mix until well combined.

Roast for 30 minutes, or until tender and slightly charred.

In the meantime prepare the Honey Balsamic Glaze

Combine honey, vinegar, and brown sugar in a saucepan.

Bring to a simmer over medium-high heat; simmer for 10 minutes or until thickened, stirring occasionally.

Remove from heat and let cool at least 5 minutes.

Pull brussels sprouts out of the oven and transfer to a large bowl or platter.

Pour prepared honey balsamic glaze over the brussels sprouts and toss to combine.

Add freshly shaved parmesan cheese over the brussels sprouts and serve.
Notes
The brussels sprouts can be made 2 hours ahead.
HOW TO STORE ROASTED BRUSSELS SPROUTS
Place completely cooled brussels sprouts in an airtight container; close and refrigerate for up to 4 days.
Reheat in a 350F oven for 10 to 15 minutes, or until hot and internal temperature reaches 165F. Stir sprouts halfway through heating.
WW FREESTYLE POINTS: 6
Nutrition
Calories:
183
kcal
|
Carbohydrates:
26
g
|
Protein:
5
g
|
Fat:
7
g
|
Saturated Fat:
1
g
|
Cholesterol:
0
mg
|
Sodium:
46
mg
|
Potassium:
631
mg
|
Fiber:
5
g
|
Sugar:
14
g
|
Vitamin A:
1140
IU
|
Vitamin C:
129.1
mg
|
Calcium:
79
mg
|
Iron:
2.4
mg
|
Net Carbs:
21
g
Nutritional info is an estimate and provided as courtesy. Values may vary according to the ingredients and tools used. Please use your preferred nutritional calculator for more detailed info.
Categories: