These crispy Parmesan Air Fryer Brussel Sprouts are garlicky, cheesy and so easy to make! Cooking brussel sprouts in the air fryer will be your new favorite way to make a quick side dish.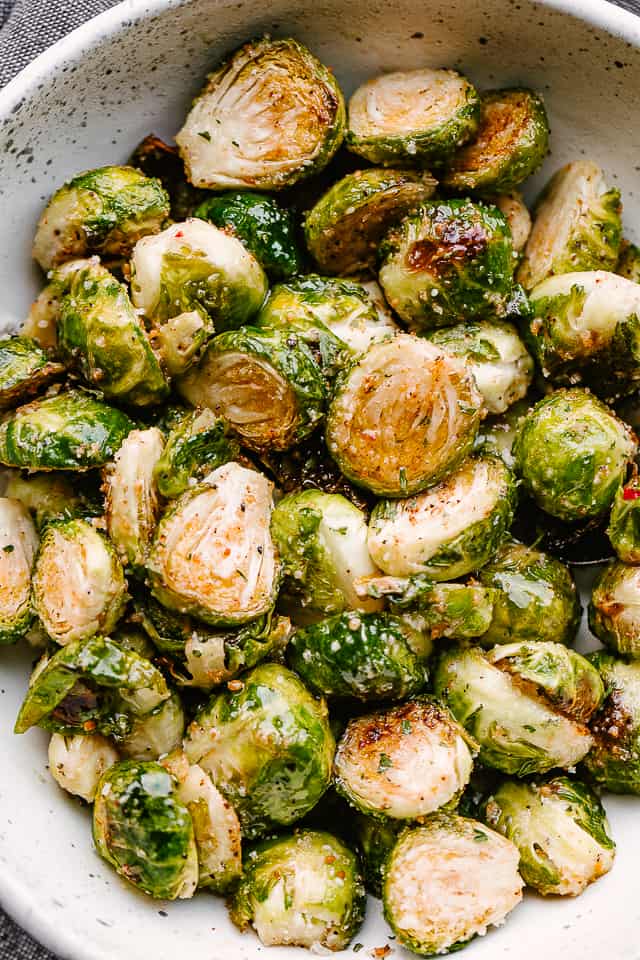 Crispy Parmesan Air Fryer Brussel Sprouts
If you've ever been the victim of a soggy, bitter brussels sprout, you may think you just don't like them. But crispy, caramelized, crunchy brussel sprouts are in a whole different universe! Caramelizing these healthy little veggie bites gives them such an addictive taste you must try, and I have found the best way to make the crunchiest brussel sprouts ever: AIR FRY THEM! These are truly crispy and have the best flavor. Tossed in just a bit of olive oil, pork panko crumbs, and parmesan cheese, they're a satisfying low-carb, healthy side dish that everyone will love, even if they're not limiting their calories and carb intake.
My air-fried Brussels Sprouts soak up delicious garlic, olive oil, and parmesan flavors while cooking to create a lip-smacking combination. With just a little amount of prep work and a handful of ingredients, this recipe comes together in under 20 minutes.
Why You'll Love This Brussel Sprouts Recipe
Easy Air Fryer Method: Cooking brussel sprouts in the air fryer is not only hassle-free but also results in the perfect crunch and texture that'll keep you coming back for seconds.
Addictive Flavor: Caramelizing these healthy bites gives them an irresistible taste that's worth trying, especially when paired with a hint of olive oil, panko crumbs, and parmesan cheese.
Quick Preparation: With minimal prep work and just a handful of ingredients, this recipe comes together in under 20 minutes, making it a fantastic option for busy weeknight dinners.
Are Brussels Sprouts Healthy?
Brussels sprouts are packed with healthy fiber and vitamin C, vitamin K, folate, calcium, and iron, so they are definitely good for you! And air-frying them in heart-healthy olive oil adds some healthy fats and prevents the sprouts' nutrients from leaching into cooking water.
How to Make Air Fryer Brussel Sprouts
Everyone's not a fan of these green little cabbages, but again, that is where this sprouts recipe comes into play. Not only does this cooking method deliver the best taste and texture, but it's also really simple! You can easily whip this up as a side dish for almost any meal with minimal fuss.
Ingredients You'll Need
Brussels Sprouts: This recipe makes one pound of sprouts. Trim the ends, remove the outer leaves, and then cut them in half from top to bottom.
Olive Oil: Extra-virgin has the boldest taste, but regular is fine, too.
Garlic Powder: Garlic powder adds a ton of flavor with no hassle.
Black Pepper: Freshly ground if possible.
Panko: To keep things low-carb, reach for pork panko bread crumbs.
Parmesan: Grated parmesan is the perfect complement to brussel sprouts.
Directions
Prep the Sprouts: Before you start, trim the ends off the brussel sprouts, remove any loose or discolored leaves, and cut the sprouts in half lengthwise.
Season the Brussels Sprouts: Next, place the sprouts in a bowl, and add the olive oil, garlic powder, salt, and pepper. Give them a stir or toss them with your hands to coat them evenly in the seasonings and oil.
Partially Air Fry the Sprouts. Place the brussels sprouts in the basket of your air fryer. Cook them for about 6 minutes at 400˚F.
Add the Parmesan and Panko, and Finish Air Frying. When the 6 minutes are up, open the air fryer, give the brussel sprouts a stir, and sprinkle them with your parmesan cheese and pork panko crumbs. Air fry for an additional 5 to 7 minutes, or until crisp-tender.
Enjoy! Taste test the sprouts, and sprinkle with a little extra cheese, if needed. Serve right away.
Tips for Success
I hope you're feeling inspired to make some crazy-good Brussels sprouts – but before you start cooking, take just a second to review these helpful tips for success.
Don't Overload Your Air Fryer: This recipe as written, with one pound of Brussels sprouts, fills up the basket of my Cosori 5.8 qt. If you have a smaller model, you will have to cook these in batches. DO NOT pile them up on top of each other, because they won't be crispy if you do! Air fried food needs to cook in a single layer, with some room around the ingredients for the air to circulate.
Watch the Cooking Time: Cooking time does vary, depending on different factors. You might need to cook them longer if your sprouts are bigger, or depending on your air fryer's temperature.
Panko Options: If you don't have pork panko crumbs, you can leave them out. If you aren't following a low carb/keto diet, you could use regular panko bread crumbs.
A Saucy Addition: You can also add a drizzle of balsamic vinegar and maple syrup at the end of cooking for a sweet and tangy sauce.
What Goes with Brussels Sprouts?
Wondering what to serve with this brussels sprouts recipe? It's the perfect side dish to serve with all kinds of great entrees, from a big bold steak to a vegetarian pasta dish.
Steak: You could go with a perfect ribeye, or make these family-friendly Garlic Butter Steak Bites. They're perfect for sharing, and so juicy!
Chicken: To set off the garlic and parmesan in this recipe, serve something lemony! I recommend this easy recipe for Grilled Lemon Chicken. It's healthy, simple, and bright – a surefire win at dinnertime.
Pasta: Speaking of lemon, a pile of Creamy Lemon One-Pot Pasta makes a beautiful vegetarian entree, and served with these brussel sprouts, it's a complete, healthy meal!
How to Store and Reheat Cooked Brussels Sprouts
Store completely cooled sprouts in an airtight container and keep in the fridge for 3 to 4 days.
Reheat your air-fried brussel sprouts in the air fryer at 400˚F, just until heated through.
More Great Brussels Sprouts Recipes
ENJOY!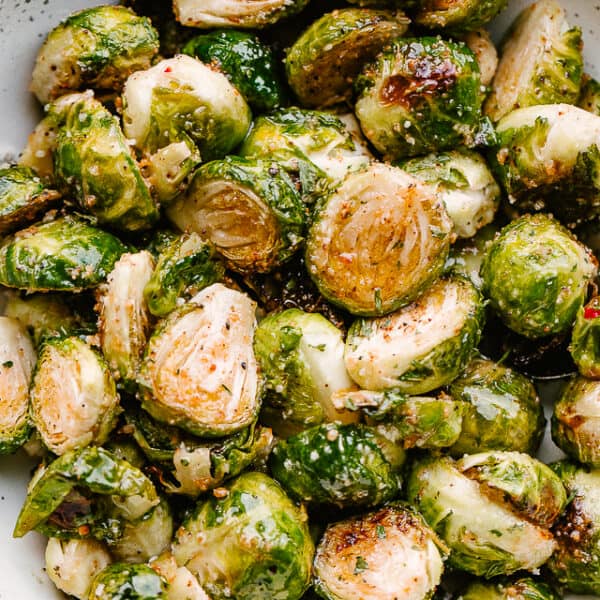 Air Fryer Brussel Sprouts
Whip up these Crunchy Parmesan Air Fryer Brussel Sprouts, bursting with garlic and cheese flavor, in no time!
Ingredients
1

pound

brussel sprouts,

ends trimmed, outer leaves removed, and cut in half, lengthwise

1

tablespoon

olive oil

½

teaspoon

garlic powder

¼

teaspoon

salt

⅛

teaspoon

ground black pepper

¼

cup

pork panko bread crumbs

¼

cup

grated Parmesan cheese
Instructions
In a large bowl, combine halved brussel sprouts, olive oil, garlic powder, salt, and pepper; stir until thoroughly incorporated.

Transfer the brussel sprouts to the air fryer's basket and cook for 6 minutes at 400˚F.

When time is up, open the air fryer, stir around the Brussel sprouts.

Sprinkle sprouts with parmesan cheese and pork panko crumbs.

Arrange in one layer and continue to air fry for an additional 5 to 7 minutes, or until crisp tender.

Remove sprouts from air fryer.

Taste for seasonings and adjust accordingly.

Serve.
Notes
Don't crowd the Air Fryer basket: This recipe uses a pound of Brussels sprouts, perfect for a 6 qt. Model. For smaller models, cook in batches, avoiding overcrowding for crispy results. Air-fried foods require a single layer for optimal airflow.
Monitor Cooking Time: Varying factors like the size of the Brussels sprouts and air fryer temperature may require adjusted cooking times.
Panko Alternatives: Regular breadcrumbs or panko breadcrumbs work just as well.
Flavor Boost: Add balsamic vinegar and maple syrup drizzle for a sweet-tangy finish. It's delicious!
Nutrition
Calories:
118
kcal
|
Carbohydrates:
11
g
|
Protein:
7
g
|
Fat:
6
g
|
Saturated Fat:
2
g
|
Cholesterol:
7
mg
|
Sodium:
302
mg
|
Potassium:
441
mg
|
Fiber:
4
g
|
Sugar:
3
g
|
Vitamin A:
909
IU
|
Vitamin C:
96
mg
|
Calcium:
117
mg
|
Iron:
2
mg
Nutritional info is an estimate and provided as courtesy. Values may vary according to the ingredients and tools used. Please use your preferred nutritional calculator for more detailed info.
Categories: