This Air Fryer Salmon recipe couldn't be simpler, and when it's coated in a zesty mustard dressing, the flavor is out of this world! Everyone raves over these crispy, juicy salmon fillets.
Love making salmon in the air fryer? Try this air fryer salmon with a brown sugar glaze.
A Quick & Healthy Way to Cook Salmon in the Air Fryer
It's a life-changing day when you discover a really easy way to make one of your favorite dishes. Thanks to the uber-popular air fryer, those life-changing days are getting more and more frequent! Air fryers are just magical, and it doesn't take long to go from making some nice crispy frozen french fries to cooking bacon, broccoli, and even steak in there.
And it's all absolutely delicious. ?
That's why I'm happy to share this recipe for cooking salmon in the air fryer. Armed with some salmon filets, a killer mustard sauce, and a few minutes of cook time, you can have a healthy, home cooked meal on the table that even seafood haters will want to devour.
How Healthy Is Eating Salmon?
Salmon is famously healthy, in moderate amounts. Experts recommend 2 to 3 servings per week, or 8 to 12 ounces total. For most people, as always, check with your healthcare professional to find out what's right for you personally. Here are just some of the health benefits:
Protein: Salmon is a good source of protein, which your body uses to repair and rebuild damaged tissues.
Omega-3s: A good balance of Omega-6 fatty acids and Omega-3 fatty acids will help your body fight inflammation, promoting brain and heart health among many other benefits. It can be hard to get Omega-3s, which is why salmon is considered so healthy – it's a good source of them!
Vitamins: You'll find plenty of Vitamin A and a good source of B-Vitamins in that crispy salmon fillet, which is great! Both of these are very good for your health for all kinds of reasons, from energy to eye health.
Antioxidants: Salmon contains astaxanthin, a potent antioxidant that helps fight harmful free radicals in the body, reducing inflammation.
What You'll Need
The secret sauce of this recipe is, well, the sauce! Cooking salmon in the air fryer guarantees a crispy, perfectly-cooked fillet, and this easy sauce recipe guarantees tons of flavor.
Salmon: Look for fillets about 4 to 6 ounces each, skin on or off. I like to keep the skin on for easier handling.
Salt and Pepper: Freshly ground pepper gives the strongest, freshest taste, so reach for one of those pepper shakers with an attached grinder if you can!
Lemon Juice: Fresh or bottled.
Olive Oil: Extra-virgin olive oil will have the most flavor, while virgin or regular olive oil will have a milder taste. You can use either one.
Mustard: Look for a good wholegrain or stone ground mustard – or substitute a different kind, according to your taste.
Garlic: Peeled and minced.
Herbs: Dried thyme and rosemary.
Garnishes: Chopped fresh parsley and lemon slices work well for serving this dish.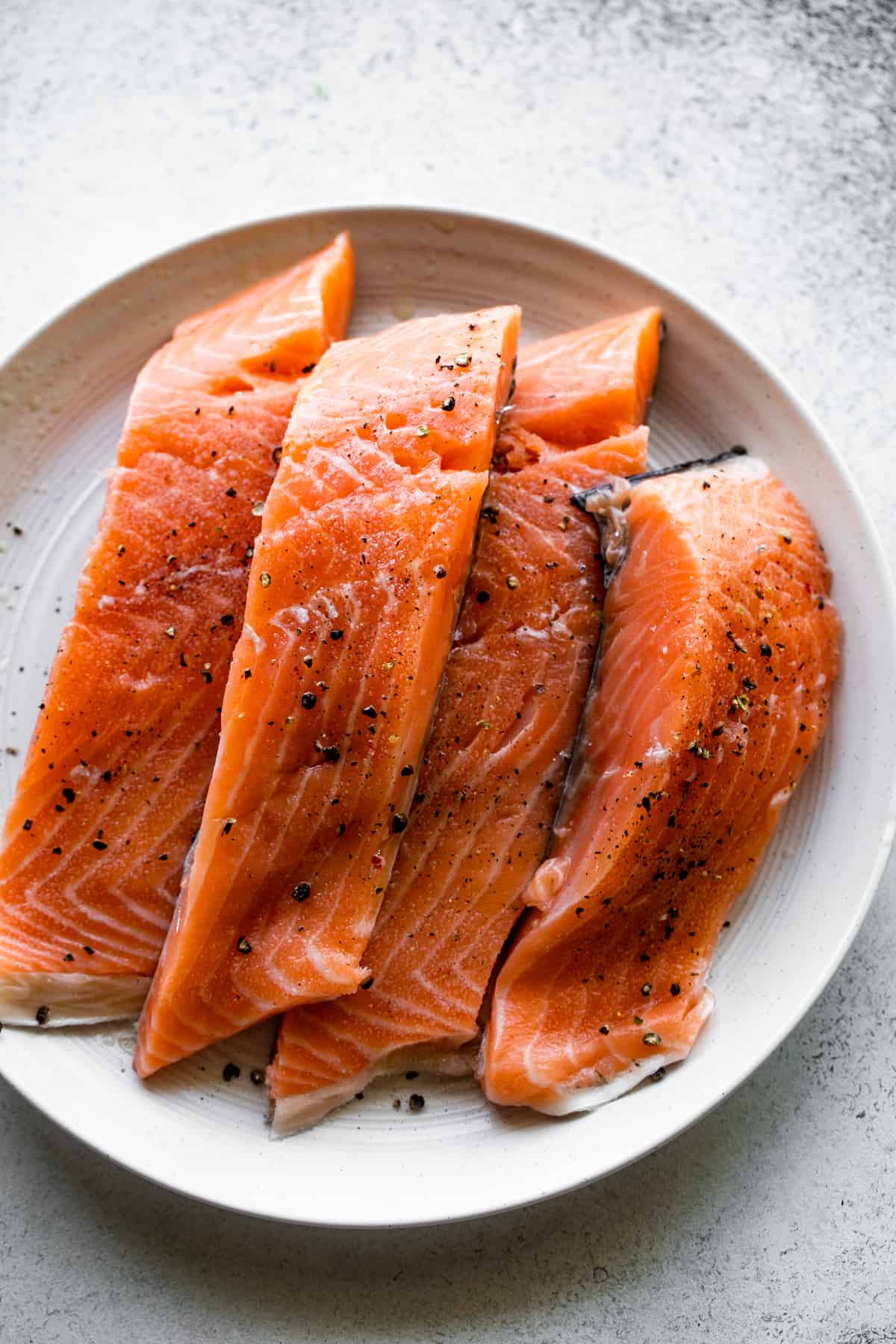 Can I Use Frozen Salmon?
Sure! Although it might seem strange, some of the best seafood available is right in your freezer section. Frozen seafood is usually caught, cleaned, and quickly frozen, keeping it fresh until you defrost it yourself. The seafood behind the glass counter is defrosted by the fishmonger or butcher at the store, and may sit there for hours and hours before someone buys it.
Let's Make Salmon in the Air Fryer!
Now we get to the fun part: the cooking! And cooking salmon in the air fryer is so quick, you guys. Dinner will be on the table in about 20 minutes, from start to finish – just enough time to throw together a salad or some other simple side dish. If you have a double basket air fryer, make my Air Fryer Roasted Broccoli.
Prep the Air Fryer. Preheat the air fryer to 375˚F, and lightly grease the basket with cooking spray. Make sure to use a non-aerosol spray or spritz. Aerosol can damage your air fryer basket's finish over time.
Prep the Salmon. While the air fryer preheats, pat the salmon fillets dry with a clean paper towel. Sprinkle each one with salt and pepper, and set them aside.
Make the Mustard Sauce. Next, get out a small bowl, and mix together the lemon juice, olive oil, mustard, garlic, thyme, and rosemary. A spoon or small whisk works fine for this.
Cook the Salmon. Spread the mustard sauce over the fillets, and then give each one a little spritz with your cooking spray. Place the salmon carefully into the air fryer basket, not touching, and cook them for 14 minutes. It's not necessary to flip the pieces – they'll cook evenly thanks to the air fryer's convection heat.
Check for Doneness, and Rest When done, the salmon should flake with a fork easily, but it should not be too dry. You can also use an instant read thermometer to check for doneness. Salmon is done at 145˚F. When done, place the fillets on a serving platter, and let them rest for 5 minutes.
Tips for Success
Cooking salmon is really easy for the most part, and knowing a few helpful cooking hacks makes it practically impossible to get wrong. These are my best tips for perfect salmon in the air fryer:
Use an Instant Read Thermometer: You can always flake salmon to check the doneness, but an instant read thermometer is a busy cook's secret weapon. That little gadget makes it so much easier to make perfect salmon, every time. Salmon is done when the thickest part of the fillet has an internal temperature of 145˚F.
The Salmon Pieces Should Be the Same Size: Approximately, of course. Salmon pieces that are different thickness or size won't cook evenly in the air fryer – some will be overdone, and others will be underdone.
No Crowding: This is an important rule for all air frying. As you arrange the food in the air fryer basket, be sure to leave room around each food item for air to circulate. The hot air is what gives your air-fried dishes their crispy exterior. If you crowd the basket, the food will steam and be soft. I cook two fillets at a time.
What to Serve with Air Fryer Salmon
Salmon is a versatile protein that goes with everything from pasta to salad to a simple baked potato. These side dishes are some of our faves!
Lemon Parmesan Risotto: If you have the time, making this creamy Lemon Parmesan Risotto is so rewarding! You'll love the flavor profile of lemon, parm, rice, and fresh green asparagus.
Roasted Potatoes and Carrots: These hearty veggies are roasted with olive oil, black pepper, and garlic, for an easy side that everyone will love. Try this recipe for Roasted Potatoes and Carrots, and enjoy!
Roasted Radishes: A simple low-carb side that goes with everything, these simple Roasted Radishes are lightly caramelized on the outside, but steamy and tender on the inside. If you've never roasted radishes before, you've got to try these!
Storing and Reheating Salmon
Cooked salmon should be stored in the fridge, of course – and for food safety purposes, it's important to have it packed up and in the refrigerator within two hours of cooking. Store it in an airtight container or zip-top bag to prevent food odors from getting in or out.
To reheat your salmon, just place it in a covered skillet over low heat for a few minutes, until heated through. Don't overcook, or the salmon will be dry and tough.
Can I Freeze the Leftovers?
Yes, you can freeze leftover salmon. Keep in mind that the texture and flavor will be somewhat different after freezing and thawing. To freeze safely, store cooled salmon in freezer bags or in an airtight container, and keep it in your freezer for 2 to 3 months.
ENJOY!
Air Fryer Salmon with Mustard Sauce
Air Fryer Salmon cooks in just 10 minutes and comes out perfectly tender on the inside with an amazing crust on the outside. The delicious mustard topping makes this one of our favorite salmon recipes.
Instructions
Preheat Air Fryer to 400˚F.

Lightly grease the air fryer basket with cooking spray.

Pat dry the salmon filets with paper towels; season with salt and pepper, and set aside.

In a mixing bowl whisk together the lemon juice, olive oil, mustard, garlic, thyme, and rosemary.

Spread the mustard mixture over the filets.

Lightly spray the tops of the salmon filets with cooking spray.

Transfer salmon to air fryer basket and cook for 10 to 12 minutes, or until cooked through. Salmon is cooked through when internal temperature registers at 145˚F.

DO NOT crowd the basket; cook the filets in batches, if needed.

Remove salmon from air fryer; transfer to a serving plate and let rest for about 5 minutes.

Garnish with parsley and serve with lemon slices.
Nutrition
Serving:
5
ounces
|
Calories:
220
kcal
|
Carbohydrates:
2
g
|
Protein:
26
g
|
Fat:
12
g
|
Saturated Fat:
2
g
|
Polyunsaturated Fat:
4
g
|
Monounsaturated Fat:
5
g
|
Cholesterol:
70
mg
|
Sodium:
243
mg
|
Potassium:
650
mg
|
Fiber:
0.3
g
|
Sugar:
0.3
g
|
Vitamin A:
60
IU
|
Vitamin C:
4
mg
|
Calcium:
25
mg
|
Iron:
1
mg
Nutritional info is an estimate and provided as courtesy. Values may vary according to the ingredients and tools used. Please use your preferred nutritional calculator for more detailed info.
Categories:
More Scrumptious Salmon Recipes