This recipe for delicious Air Fryer Steaks is a snap! Sirloin steaks are rubbed with a homemade, flavorful seasoning blend and then air-fried to tender and juicy perfection! It's an easy dinner idea you'll make again and again!
The Best Air Fryer Steak Ever
There are so many wonderful ways to cook and serve steak. From grilling to broiling, to making it into stir-fry, it's just a tasty meal that's very versatile. But, I have to admit, I was a little skeptical about making it in the air fryer. 🤔
After trying it, and testing it a couple of times, I'm finally a believer. Turns out that the air fryer's high convection heat turns a good cut of steak into perfectly-browned deliciousness with practically no effort from the cook! Win-Win!
Why Use An Air Fryer?
You might be asking yourself: sure steak may cook up wonderfully in the air fryer, but why should I bother? I already know how to make a killer steak on the stovetop or in the oven! Well there is nothing wrong with making steak either of those ways, but here are some benefits of using your air fryer:
Your steak cooks perfectly every time. Unlike a skillet on the stovetop, an air fryer has consistent heat surrounding your entire steak. The air fryer's fan will move the heat around your steak, resulting in a juicy perfectly cooked steak.
Frees up your stove or oven for other things. While your steak is cooking up you can use your other appliances to make a tasty side dish without having to worry about juggling too many things.
Perfect for hot weather cooking. On hot summer days when you don't want to stand in front of a flame or heat the whole house by turning on the oven, the air fryer is your answer.
Recipe Ingredients
These ingredients are very simple and very flexible! If you prefer to use a steak other than sirloin, go for it! Try to choose a tender, well-marbled steak that's about one inch thick.
Steak: You'll need two sirloin steaks, around 10 to 12 ounces each, about 1-inch thick, and at room temperature. It's important to let the steaks come to room temperature before cooking them in the air fryer, or any other cooking method.
Olive Oil or Cooking Spray: For rubbing and/or spraying the steaks.
Salt and Pepper
Garlic Powder and Onion Powder: These helpful basics really add a punch of flavor.
Paprika: You can use sweet paprika here, or smoked for a smoky and savory touch.
Dried Herbs: Any dried herbs that you like will be fine! Dried Italian herbs, herbes de Provence, and plain dried rosemary are all great options.
Butter and Fresh Chopped Parsley: For garnish.
Should I Use Frozen or Fresh Steak?
Well, it sort of depends on who you ask! It's generally agreed that the very best steak is steak that hasn't been frozen at all, everrrr. This is because freezing the meat causes ice crystals to form, and those ice crystals affect the texture slightly.
However, frozen steak can still be extremely good quality, and it can even be cooked on the grill or in the oven with good results. For this recipe, I recommend using fresh or completely thawed steak.
How to Make Air Fryer Steak
The Air Fryer method for steaks is very simple! You basically place the steaks in the fryer and let them go.
Keep in mind that the steaks should not overlap in the air fryer basket, or they won't cook very well. If your air fryer can't comfortably hold both steaks at the same time with a little space in between, then it's best to cook them one by one. That's exactly what I do, and my Air Fryer is quite large. I just won't chance a good steak going to waste, ya know?
Prep Air Fryer & Steaks: Preheat the Air Fryer to 400˚F. Combine all the seasonings in a small bowl. Rub both steaks with olive oil and then with the seasoning mix.
Place Steak in Air Fryer: Place one steak in the air fryer basket and cook for six minutes. Then flip it and continue cooking for about five more minutes. If you can't comfortably fit both steaks with a little room in between them, it's best to cook one steak at a time.
Check Temperature: Check the steak for doneness using a meat thermometer. For RARE steak, the temperature should register at 125˚F to 130˚F. For Medium-Rare, you'll need a temperature of 135˚F. (If the steak isn't cooked through, return it to the air fryer for another minute or so.)
Rest, Garnish, and Serve: When the steak is finished cooking, let it rest for about ten minutes before garnishing with a pat of butter and chopped parsley.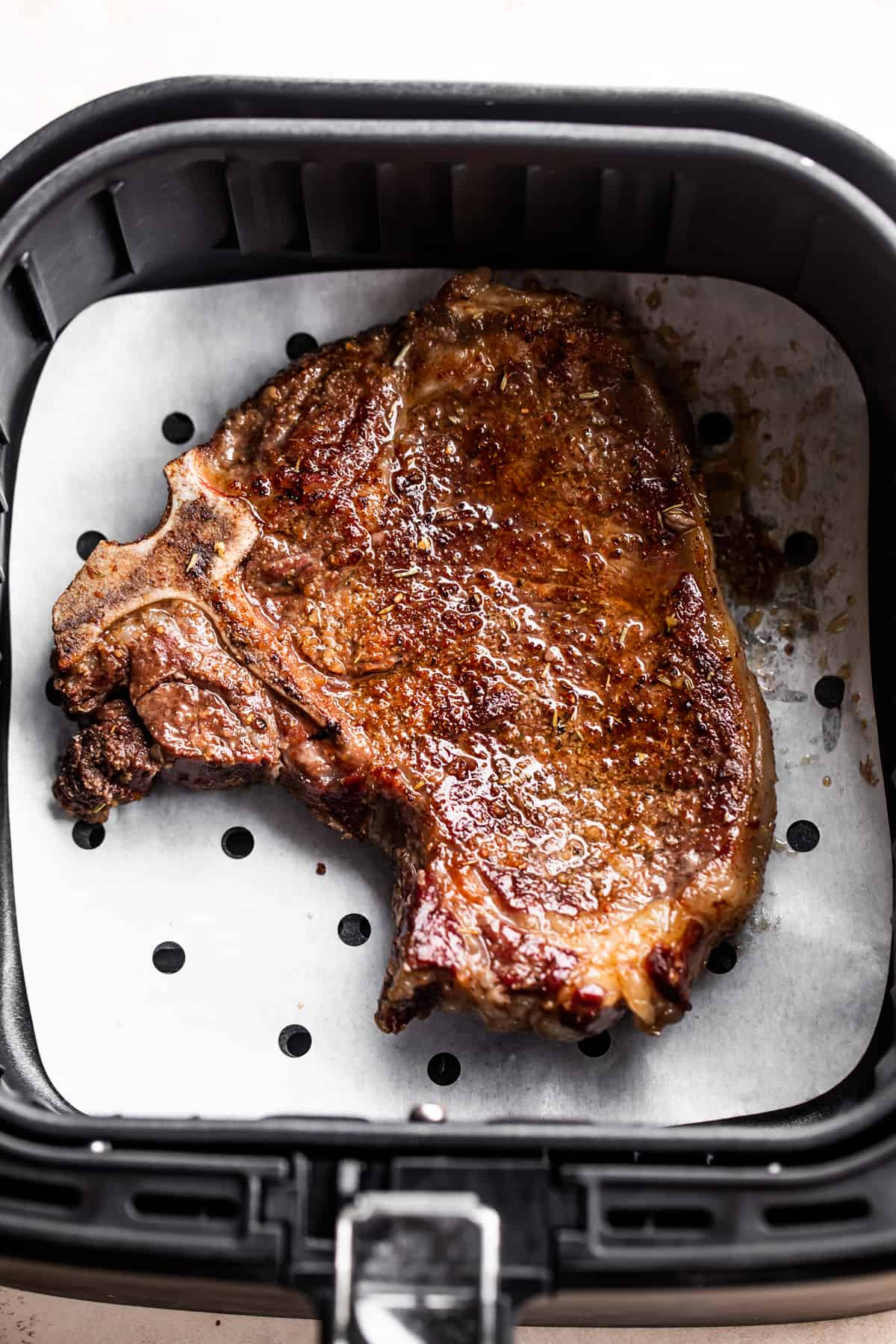 How Long Do You Cook Steak in the Air Fryer?
In general, you should cook an inch-thick room-temperature steak at 400˚F in the air fryer for about 6 minutes before flipping it, and then 4 or 5 minutes after flipping. The slightly longer cook time before flipping the steak is because at that point, the steak is relatively cool; after flipping, it's already heated up a bit and doesn't need to cook for quite as long on the second side.
However, it also depends on the steak! Thicker steaks take longer, as do bone-in steaks. A thinner steak will cook more quickly. So keep an eye on it, and don't be afraid to adjust the cook time and test the temperature as needed. This Instant Read Food Thermometer should be your bestie when cooking steaks, and all other meats.
At What Temperature is Steak Done?
The temperature at which your steak is done will be as follows, depending on your tastes:
125°F – rare
135°F – medium rare
145°F – medium
150°F – medium-well
160°F – well done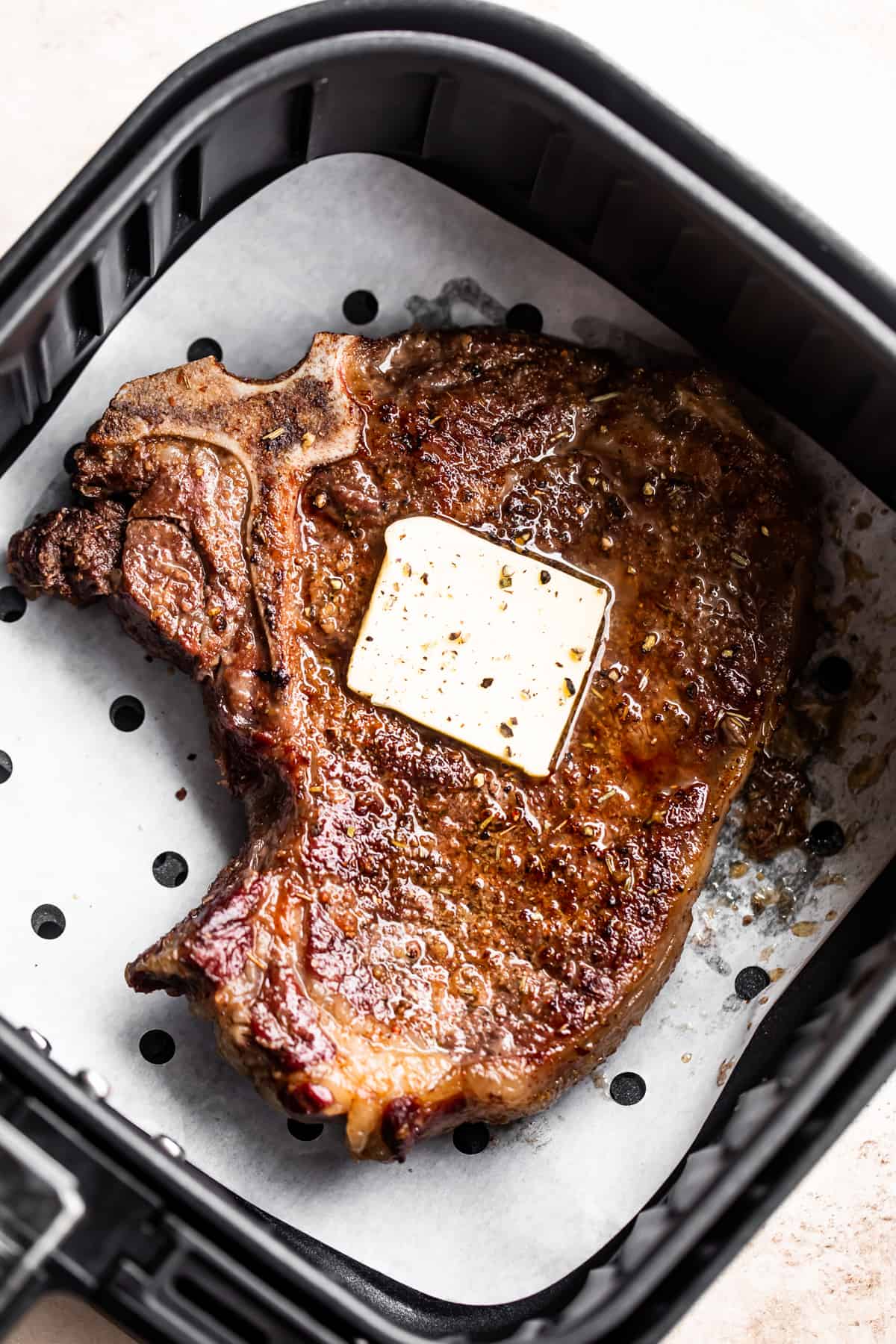 Tips for Success
Use a Well-Marbled Steak: One of the things that makes a steak juicy and tender is the fat content, and the way the fat is distributed through the meat. This is called "marbling," because the fat makes a marble-like pattern. A well-marbled steak has a good distribution of white fat evenly throughout the meat.
Use a Tender Cut: Sirloin, ribeye, New York Strip, Porterhouse, T-bone and other typical cuts are time-tested steaks that are almost always tender and well-marbled. Other possibilities include top sirloin fillets, chuck eye steaks and cap sizzlers.
Use an Instant-Read Thermometer: Waiting for the thermometer to register can slow down the cooking process, which works against you. An instant-read thermometer makes checking for doneness quick, easy and seamless!
LET IT REST: Allow cooked steaks to rest for 5 to 8 minutes before cutting.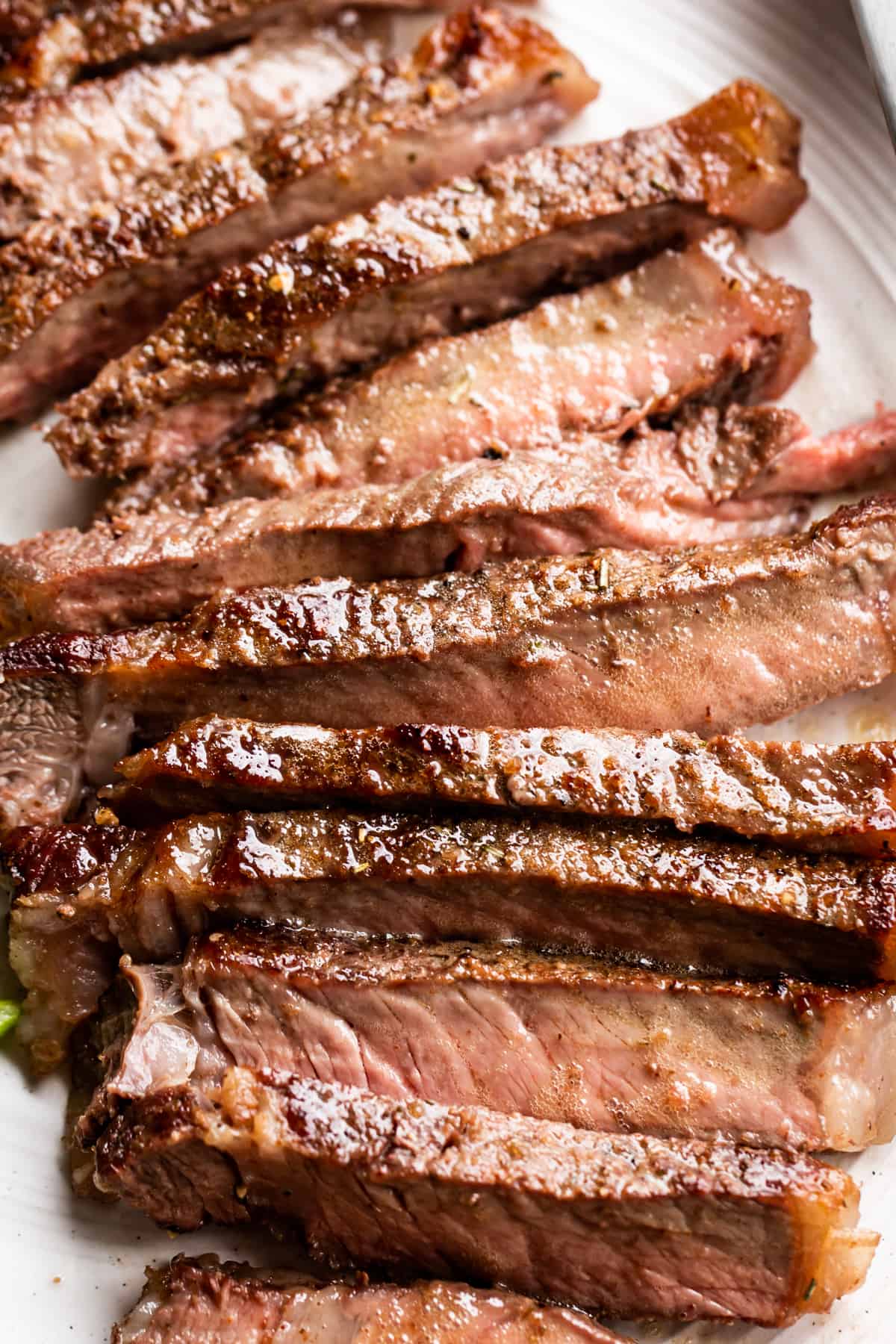 Serving Suggestions
What doesn't go well with a perfectly cooked steak? I love pairing this air-fryer yumminess with just about anything. But a few of my favorites include:
How to Store and Reheat Leftovers
Fridge: Place cooled leftover steaks in airtight containers. Refrigerate for up to 3 days.
Freezer: To freeze cooked steak, place steaks in airtight containers or freezer bags. Freeze for 2 to 3 months.
Reheat cold steak from the fridge on the stovetop using a skillet and a bit of olive oil. Cook over medium-low heat until warmed through. You can also reheat steak in the microwave for ~2 minutes or until warmed through. I recommend covering the steak with a bowl or plate to prevent splattering.
To reheat frozen steak, thaw it overnight in the fridge then follow the methods above.
ENJOY!
Tools Used in this Recipe
Air Fryer Steak
Sirloin steaks are rubbed with a quick and flavorful seasoning blend and then air-fried to tender perfection.
Ingredients
2

(10 to 12 ounces EACH)

sirloin steaks,

about one inch thick, and at room temperature which is important for proper and even cooking.

½

tablespoon

olive oil OR olive oil cooking spray,

for the steaks

1

tablespoon

kosher salt

1

tablespoon

garlic powder

1

tablespoon

onion powder

½

tablespoon

paprika,

sweet or smoked

½

tablespoon

freshly round black pepper

2

teaspoons

dried herbs of choice
Instructions
Preheat Air Fryer to 400˚F. Rub both steaks with olive oil, or spray with cooking spray, and set aside.

In a small mixing bowl combine salt, garlic powder, onion powder, paprika, pepper, and dried herbs. This makes enough seasoning for about 4 large steaks.

Rub preferred amount of seasoning all over the steaks. Store leftover seasoning blend in a small airtight container and keep in a cool, dry place.

Place 1 steak in the Air Fryer basket and cook for 6 minutes at 400˚F.

If you have a bigger Air Fryer, both steaks can fit in at the same time, but just make sure they aren't one on top of the other. You want a little space between the two.

Flip over the steak and continue to cook for 4 to 5 more minutes, or until cooked through.

Please use an Instant Read Thermometer to check for doneness; for RARE steak, temperature should register at 125˚F to 130˚F. For Medium-Rare, you want an internal temperature of 135˚F.

IF the steak isn't cooked through, it may be too thick and you'll want to return the steak to the air fryer and give it a minute or two to finish cooking.

Repeat cooking method with the other steak.

Remove from air fryer and let rest for 5 to 8 minutes before cutting. Serve with a pat of butter and garnish with chopped parsley.
Notes
GUIDE FOR STEAK DONENESS:
Use an Instant Read Meat Thermometer.

125˚F to 130˚F internal temperature for RARE

135˚F to 140˚F internal temperature for MEDIUM RARE

145˚F to 150˚F internal temperature for MEDIUM TO MEDIUM-WELL

160˚F internal temperature for WELL DONE

The FDA recommends that steak be cooked to an internal temperature of 145˚F.
NET CARBS: 6 g
Nutrition
Calories:
448
kcal
|
Carbohydrates:
8
g
|
Protein:
64
g
|
Fat:
17
g
|
Saturated Fat:
5
g
|
Cholesterol:
173
mg
|
Sodium:
3656
mg
|
Potassium:
1112
mg
|
Fiber:
2
g
|
Sugar:
1
g
|
Vitamin A:
862
IU
|
Vitamin C:
1
mg
|
Calcium:
99
mg
|
Iron:
5
mg
|
Net Carbs:
6
g
Nutritional info is an estimate and provided as courtesy. Values may vary according to the ingredients and tools used. Please use your preferred nutritional calculator for more detailed info.
Categories:
More Air Fryer Recipes for Beginners