Honey Mustard Salmon – Flavorful and juicy salmon fillets brushed with tasty honey mustard and coated with a deliciously crunchy crumb topping.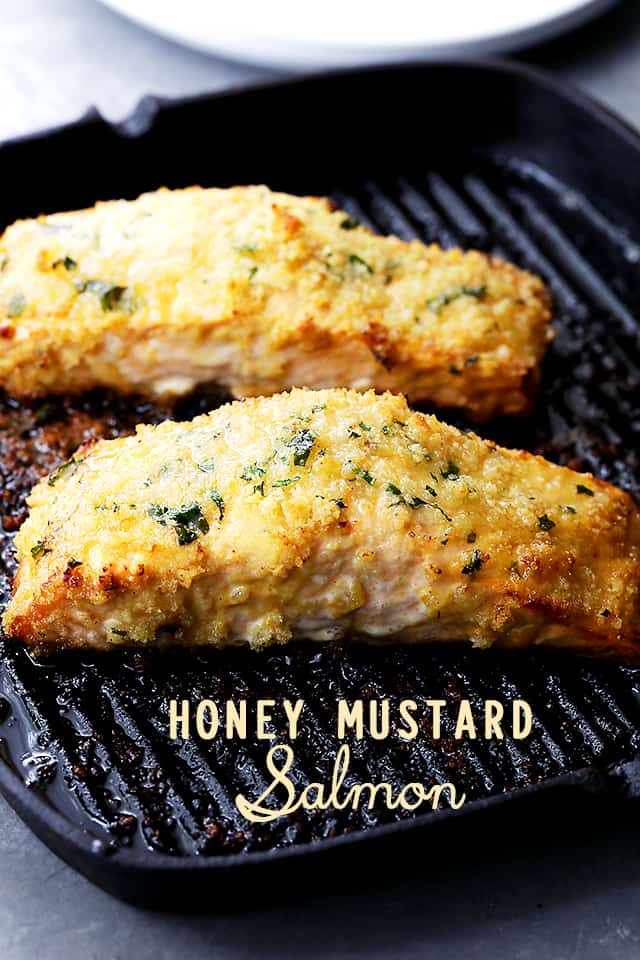 This Honey Mustard Salmon recipe is easy to make, it's full of amazing flavors, and it's always a crowd pleaser!
Hallo friends! Hallo Monday. Welcome back, you sneaky day.
I'd like to know; where's that weekend that comes with a day for rest?! I spent most of these last two days in my car, driving to soccer, football, grocery store, and parking myself in the kitchen to work. I also vacuumed, dusted, did laundry, cleaned out closets, and so much moooore! I.AM.TIRED. For the rest of the week, I am going to ask this little family of mine to make huge clean-out-the-fridge bowls for dinner, and I'm not hating it.
On the flip side; I looove to cook! And I love fooood. In case that wasn't at all obvious.
You know what, though? It's been a while since we've had good ol' fish for din din up in heah! Time to remedy that, eh?
CLICK ON THE ABOVE PHOTOS TO GET THE RECIPES
This is a recipe that I nearly forgot to show you. Actually, I did forget. It's been sitting in my drafts for 16 months. And you're probably like, daaaaang.iiiiitt. We were *thiiiis* close to missing out on Honey Mustard Salmon?!? To which I say, not so fast, brah, not so fast. Today is DA day.
If you can remember, not too long ago we talked about my Honey Mustard Sauce – the one that I want to drink from a bottle because it is that darn good? That's the sauce that in fact reminded me to look into my drafts to find this salmon recipe that I had forgotten about.
And that's the sauce that makes this fish so, so crazy incredible. I swear. To the moon and the stars and the sky. This will turn a fish-hater into a fish-lover.
This meal comes together in minutes. About 30-ish-minutes.
First, you need to make the Honey Mustard Sauce. ⤵⤵⤵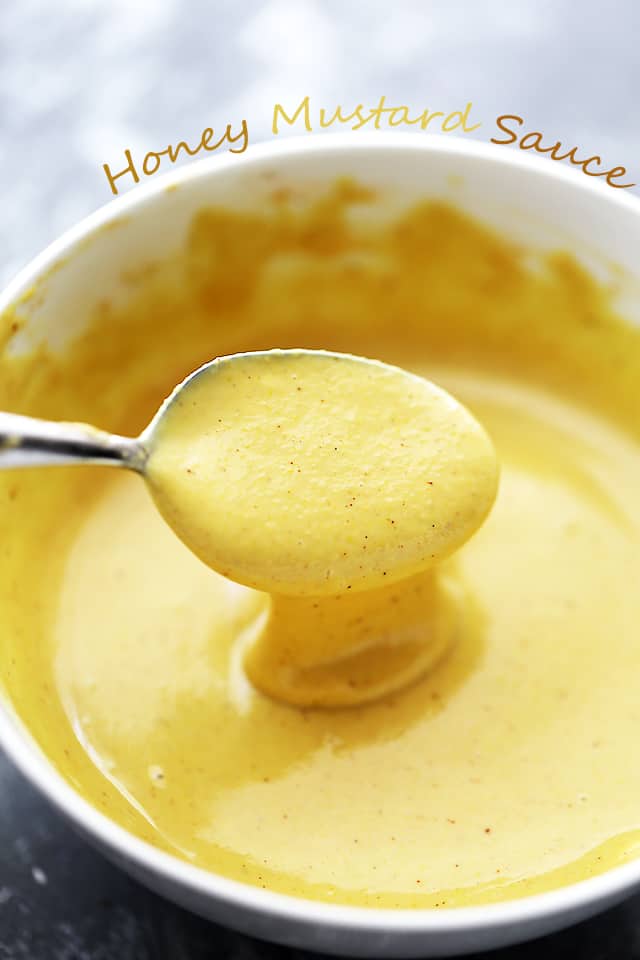 Then, you are going to need fresh salmon. Them things can be expensive, right?! But it's soooo good. And very filling.
Get a nice long and thick piece and cut it up in 4 fillets. Brush it with the prepared mustard, coat it with the buttery panko crumbs mixture, pop it in the oven, and wait for the timer to go off. In the meantime, prepare some broccoli, or asparagus, even a big green salad. Honey Mustard on the side for dipping? Life changing.
Sold yet? I hope!!
ENJOY!

CRAVING MORE? SIGN UP FOR THE DIETHOOD NEWSLETTER FOR FRESH NEW RECIPES DELIVERED TO YOUR INBOX!
FOLLOW DIETHOOD ON FACEBOOK, TWITTER, PINTEREST AND INSTAGRAM FOR ALL OF THE LATEST CONTENT, RECIPES AND UPDATES.
TOOLS AND INGREDIENTS USED IN THIS RECIPE

Print
Honey Mustard Salmon Recipe
Honey Mustard Salmon - Flavorful and juicy salmon fillets brushed with tasty honey mustard and coated with a deliciously crunchy crumb topping.
Ingredients
CLICK HERE FOR THE HONEY MUSTARD SAUCE RECIPE
FOR THE SALMON
4

fresh salmon fillets

(about 1 pound), rinsed and dried

1/3

cup

Honey Mustard Sauce

2

tablespoons

butter

, melted

1/4

cup

low sodium panko crumbs

1

tablespoon

chopped fresh parsley
Instructions
Preheat oven to 400F.

Lightly grease a rimmed baking sheet with cooking spray or cover with foil, and set aside. (you can also use a lightly greased grill pan)

Brush each salmon fillet with the prepared honey mustard sauce; set aside.

In a small bowl, combine melted butter, panko crumbs and parsley; mix until thoroughly wet and combined.

Press panko crumbs mixture evenly over each fillet.

Transfer fillets to previously prepared baking sheet.

Bake for 12 to 15 minutes, or until fish flakes easily with a fork.

Serve.
Nutrition Facts
Honey Mustard Salmon Recipe
Amount Per Serving (1 g)
Calories 378
Calories from Fat 192
% Daily Value*
Fat 21.3g33%
Cholesterol 99.3mg33%
Sodium 465.2mg19%
Carbohydrates 14.1g5%
Protein 28.7g57%
* Percent Daily Values are based on a 2000 calorie diet.
Keywords:
easy salmon recipe, salmon dinner recipe, salmon recipes
Want To Save This Recipe?