This 5-ingredient honey mustard salmon is about to become your new favorite weeknight recipe. Fresh salmon fillets baked with sweet homemade honey mustard sauce and a crunchy, buttery topping? Too good!
Buttery Baked Salmon with Honey Mustard Sauce
Get ready for a new favorite with our honey mustard baked salmon recipe. This dish will make your weeknight din dins more exciting and flavorful. Picture fresh salmon fillets glazed with a delectable homemade honey mustard sauce and crowned with a crispy, buttery topping. Mm, so good! This dish marries simplicity and gourmet tastes, transforming your salmon dinner into a healthy and delicious meal. It's just too good to resist!
The Honey mustard is sweet, tangy, and creamy. Basically, the best sauce ever. I'm always finding new ways to use it on everything from chicken nuggets to this juicy baked salmon. This recipe combines that golden, perfect sauce with fresh salmon and a crunchy Panko crumb topping, and it's serious yum.
Why You'll Love This Easy Salmon Recipe
Quick and healthy. This honey mustard salmon is fast becoming a weeknight favorite (like, literally fast, as in it's super quick to make!). It shows my family some love and gives everyone a one-two punch of healthy fat and protein.
Full of flavor. Just like my air fryer salmon with mustard sauce, oven-baked honey mustard salmon ticks all the boxes for a filling, flavor-packed dinner. I love the combination of tangy mustard and sweet honey slathered all over these tender filets. Topped with crunchy and buttery Panko breadcrumbs? Come on.
Only 5 ingredients. Another thing that makes this recipe so easy is that it only needs a few basic ingredients. Even the homemade sauce uses pantry staples you probably have on hand.
Is Salmon Good for You?
Yes! If you haven't noticed, I have a bit of a love affair with salmon recipes. Salmon is packed with protein, selenium, and omega-3 fatty acids that have loads of benefits, including heart health. Wherever possible, look for sustainably caught wild salmon filets, as these are lower in fat and calories than farmed salmon. This recipe will work with fresh or frozen salmon filets. If you're using frozen, remember to thaw them fully beforehand.
What's In Honey Mustard Sauce?
I give full details in my honey mustard sauce recipe (also linked below in the recipe card), but this tasty condiment comes together in a snap. To make honey mustard, simply combine mayo, honey, Dijon and yellow mustard, and white vinegar with paprika, salt, and pepper. Stir everything together, and TaDa! Homemade honey mustard magic. You'll need about ⅓ cup of sauce for this salmon, plus extra for dipping. However, if you're in a hurry, use your favorite store-bought honey mustard.
How to Make Honey Mustard Salmon
Before you start, grease a rimmed baking sheet with cooking spray (for easier clean-up, line it with foil). Next, have your honey mustard salmon ready in the time it takes to preheat the oven to 400ºF. Be sure to scroll down to the recipe card for a complete ingredient list and detailed instructions.
Brush the filets with honey mustard. First, use a basting brush to coat the tops of the filets with your prepared honey mustard sauce.
Add the crumb topping. Toss Panko crumbs and freshly chopped parsley with melted butter, and then press the mixture in an even layer over each filet.
Bake. Transfer the honey mustard salmon to your greased baking sheet. Bake at 400ºF for 12-16 minutes. When your salmon is done, serve it right away with your favorite sides! See below for easy serving ideas.
Tips for Success
Cooking fish doesn't have to be tricky. Here are some additional helpful tips for making perfect honey mustard salmon in the oven.
Try to find fillets that are the same size. If the salmon pieces are of different thicknesses and sizes, they won't bake evenly. You can even out thinner filets by tucking the flat ends underneath. This way, the fish pieces are a more even thickness/height.
Check the filets for bones. Tiny, translucent pin bones are usually removed from filets before you purchase them. If you find more (rub your finger along the filets to feel for them), pull them out. A pair of tweezers works perfectly!
Leave the skin on for easy cooking. I almost always leave the skins on the salmon filets while they bake. Once cooked, it's easy to separate the skin from the meat or pick around it using a knife and fork.
Use a thermometer. The FDA recommends that seafood be cooked to a safe 145ºF. An instant-read thermometer is essential when making fish! It's the easiest and most accurate way to tell if your fish is done and prevents over- or under-cooking.
Fresh Herbs: While the recipe calls for fresh parsley, don't hesitate to get creative and customize it to your liking. You can also use other fresh herbs such as dill, basil, tarragon, sage, rosemary, bay leaves, thyme, or cilantro to add your own unique spin to the dish.
Keep your workspace clean. Keeping hands, cutting boards, utensils, and countertops clean when working with raw fish is important. Nobody wants bacteria spreading around the kitchen.
Common Questions
Can I make this recipe with frozen salmon?
Yes, you can! Thaw the frozen salmon filets out overnight before using, and be sure to pat and/or squeeze excess moisture out of them using paper towels.
What's the best temperature for baking salmon?
In most cases, 400ºF is the ideal temperature for baking salmon in the oven. At this temperature, the fish cooks quickly and gets golden and crispy. If you'd prefer to cook your salmon at a lower temperature, bake at 350ºF for 20-25 minutes instead.
How do I know when my salmon is done?
Salmon is done cooking when the internal temperature reaches 145ºF, and the fish flakes easily with a fork. If your filets are still hard, they need a bit more time in the oven.
What to Serve With Honey Mustard Salmon
Many things go well with juicy baked salmon, so there are always plenty of options for easy sides! Here are a few of my favorites.
Storing and Reheating Leftover Salmon
Fridge: Make sure that you store and refrigerate any leftover salmon within one hour of cooking. Place leftover salmon filets in shallow, airtight containers and refrigerate for up to 3 days.
To reheat, place filets on a baking sheet in a 350ºF oven until just heated through. You can also reheat salmon on the stovetop, though the Panko topping won't crisp up as much.
Freezer: I don't recommend freezing salmon that's been crusted with Panko because of the change in texture, but it's still perfectly safe to freeze this dish. Once cooled, store the fish in an airtight freezer-safe container for up to 3 months. Defrost in the fridge before reheating.
ENJOY!
More Easy Salmon Dinner Recipes
ENJOY!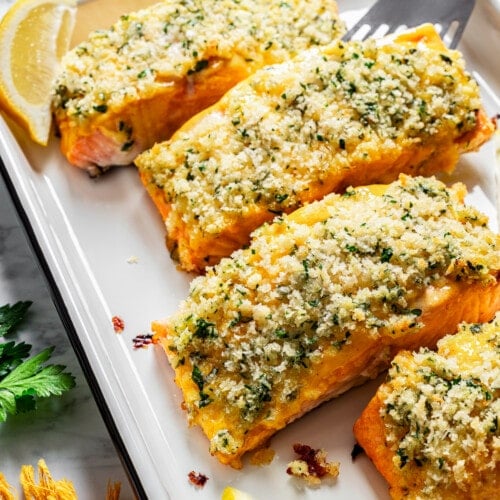 Honey Mustard Salmon
Fresh and delicious salmon fillets baked with a honey mustard glaze and a crispy breadcrumb topping! Our honey mustard salmon is just the dish to spice up your weekday dinners.
Ingredients
4

salmon fillets,

rinsed and patted dry with paper towels

⅓

cup

Honey Mustard Sauce

2

tablespoons

butter,

melted

¼

cup

plain or seasoned panko crumbs

1

tablespoon

chopped fresh parsley
Instructions
Lightly grease a rimmed baking sheet with cooking spray, or line it with foil, and set aside.

Brush each salmon fillet with the prepared honey mustard sauce.

In a small bowl, combine melted butter, panko crumbs, and parsley; mix until thoroughly wet and combined.

Press the panko crumbs mixture evenly over each fillet.

Transfer the salmon fillets to the baking sheet.

Bake for 12 to 16 minutes or until fish flakes easily with a fork and until the salmon's internal temperature registers at 145˚F. Remove from oven and allow to rest for about 5 minutes.
Notes
How To Make The Honey Mustard Sauce:
Begin with a ¼ cup each of mayonnaise, Dijon mustard, and honey. You'll also need 1 tablespoon each of yellow mustard and white vinegar, along with an ⅛ teaspoon of sweet paprika. Salt and pepper can be added according to your taste preference.
Combine all the ingredients, except the salt and pepper, in a small bowl. Whisk everything together until it's well combined. After mixing, taste it and adjust the seasonings as needed, adding salt and pepper if required.
Helpful Tips
Try to get salmon fillets that are about the same size. If they're different sizes and thicknesses, they might not cook evenly.
Keep the skin on when you're cooking. Most of the time, I leave the skin on the salmon while baking. Once cooked, the skin is easy to remove or eat around using a knife and fork.
Use a meat thermometer to check for doneness. Health experts say that seafood should be cooked to at least 145ºF to be safe to eat.
This recipe calls for fresh parsley, but you can get creative and customize it to your liking. Use other fresh herbs like chopped dill, basil, tarragon, sage, rosemary, thyme, etc.
Nutrition
Serving:
6
ounces
|
Calories:
308
kcal
|
Carbohydrates:
11
g
|
Protein:
29
g
|
Fat:
15
g
|
Saturated Fat:
5
g
|
Polyunsaturated Fat:
4
g
|
Monounsaturated Fat:
4
g
|
Trans Fat:
0.2
g
|
Cholesterol:
93
mg
|
Sodium:
239
mg
|
Potassium:
709
mg
|
Fiber:
0.2
g
|
Sugar:
4
g
|
Vitamin A:
316
IU
|
Vitamin C:
1
mg
|
Calcium:
27
mg
|
Iron:
1
mg
Nutritional info is an estimate and provided as courtesy. Values may vary according to the ingredients and tools used. Please use your preferred nutritional calculator for more detailed info.
Categories: