Deliciously creamy and fragrant, this Lemon Parmesan Risotto is prepared with shallots and garlic, and studded with fresh green asparagus. It's a gourmet dinner you can make at home!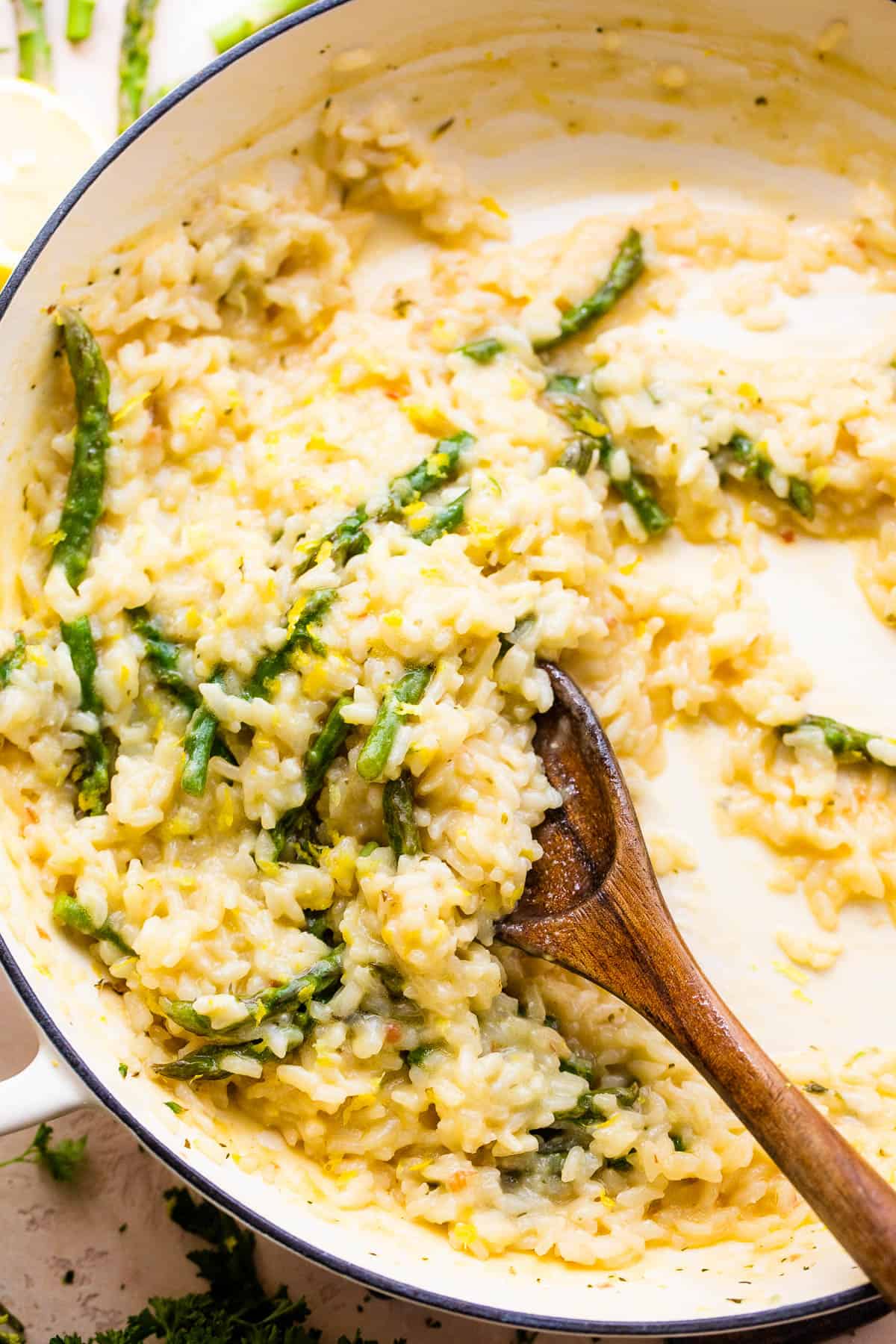 Homemade Risotto Recipe
Risotto is one of my true side-dish loves. The richness of the broth and aromatics cook right into the rice, slowly, until you get a perfectly warm, creamy, and silky dish. And, you can make it in so many ways! With mushrooms, chicken, fish, or whatever you like!
For this recipe, I'm making a vegetarian version of lemon parmesan risotto with fresh asparagus. Serious yum factor right here! Why lemon and parmesan? I find that these two bring the perfect blend of bright notes and umami depth to a risotto! Plus, when you add freshly sauteed shallots and garlic, you get a totally satisfying flavor profile you'll want to make again and again!
On top of all of that, the asparagus adds beautiful color and texture. You'll have to excuse me if I do a little chef's kiss because this recipe has all that gourmet goodness!
What Is Risotto?
Is it porridge? Is it pilaf? Maybe it's just a different name for chicken and rice? Well, no! Risotto is its own special dish, hailing from northern Italy, and made with short-grain Italian rice such as arborio. Risotto is an ultra-creamy rice dish made by cooking rice in an open pot (no steaming) and adding the liquid gradually. This gentle and slow-paced approach basically means that you are babysitting your pot of rice, adding liquid every few minutes, and giving it a gentle stir every 30 seconds or so.
The big question is, why? Well, risotto fans love this technique because it turns a basic pot of rice into a finely textured gourmet specialty with well-developed flavor, a gentle al dente bite, and a naturally creamy, starchy "sauce." Mastering risotto is like mastering the perfect omelette, soup, or even burger.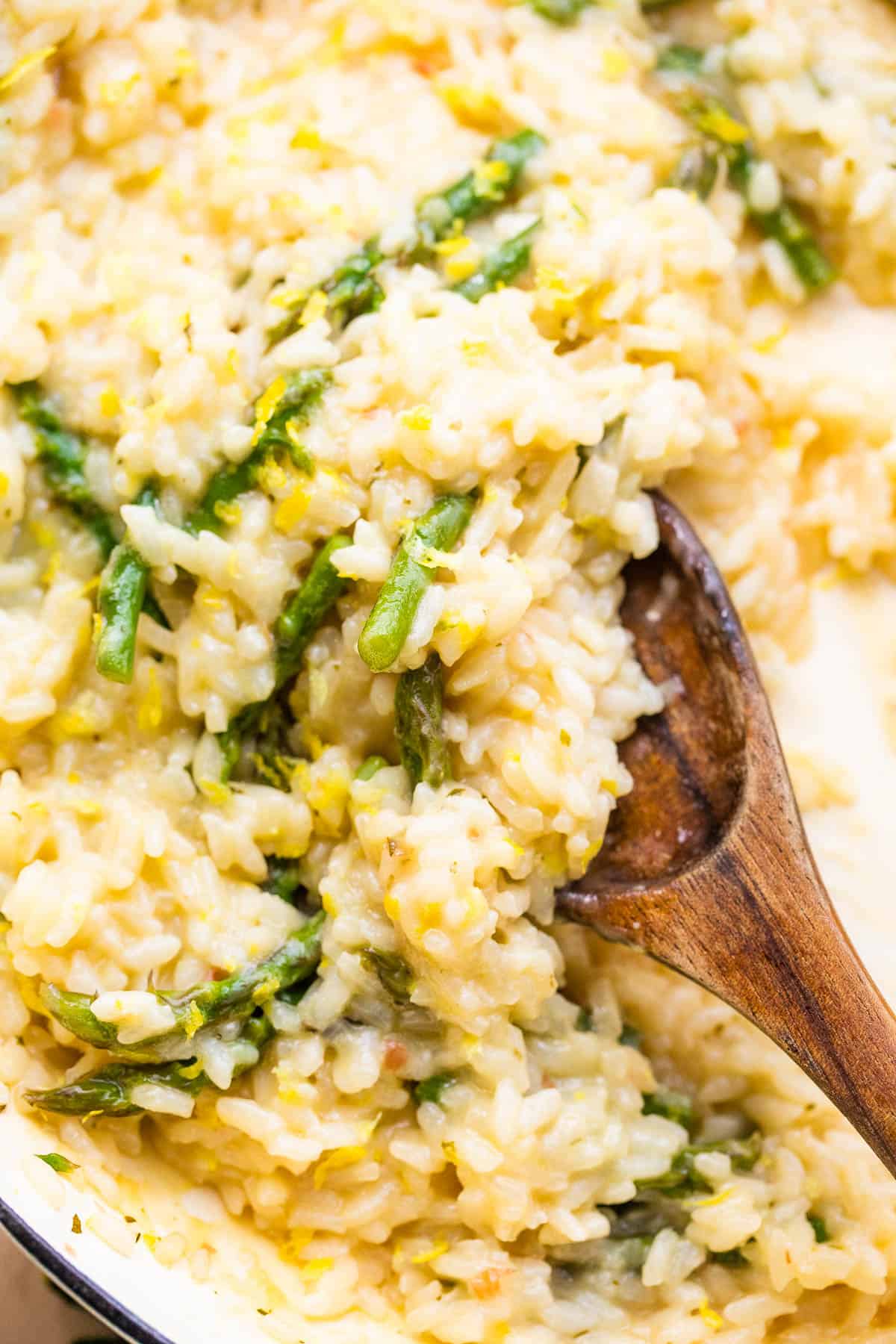 Ingredients For Risotto
This recipe is best with homemade broth or stock, but it's also really good with a quality store-bought version. Whatever you have, it's all good!
How to Make Risotto
The key to making great risotto is patience! Make sure to add the liquid slowly and let it absorb almost completely before adding more. Give yourself time and a distraction-less experience. Good LUCK! ?
Heat the Broth. Heat the chicken broth in a saucepan until it's warm.
Saute and Toast the Rice. Melt the butter in a saucepan and add the shallots; cook them for until they become translucent. Next, stir in the garlic. Finally, stir in the arborio rice and cook, stirring constantly, until the rice is lightly toasted.
Begin Adding Liquid. Add the lemon juice and stir to combine. Then add half a cup of the hot broth to the rice, and stir continuously until almost all of the liquid is absorbed.
Continue Gradually Adding Broth. When the first half-cup of broth has been almost completely absorbed, add another half-cup and stir until almost absorbed. Continue this process until you get to the last half-cup of broth.
Add the Last Half-Cup of Broth and the Asparagus. When you get to the last bit of broth, add in the asparagus pieces, then stir in the last of the broth. Continue to cook or until the risotto is done and the asparagus is tender.
Finish the Dish. Remove the cooked risotto from the heat. Gently stir in the parmesan cheese and 1 tablespoon of the butter. Taste for salt, and adjust if needed. Finally, add more lemon if you like a more citrusy taste.
Tips for Successful Lemon Parmesan Risotto
Let's talk tips! There are a few helpful tricks you should know for making this lemon parmesan risotto shine. I think they really help to make the most of these simple ingredients!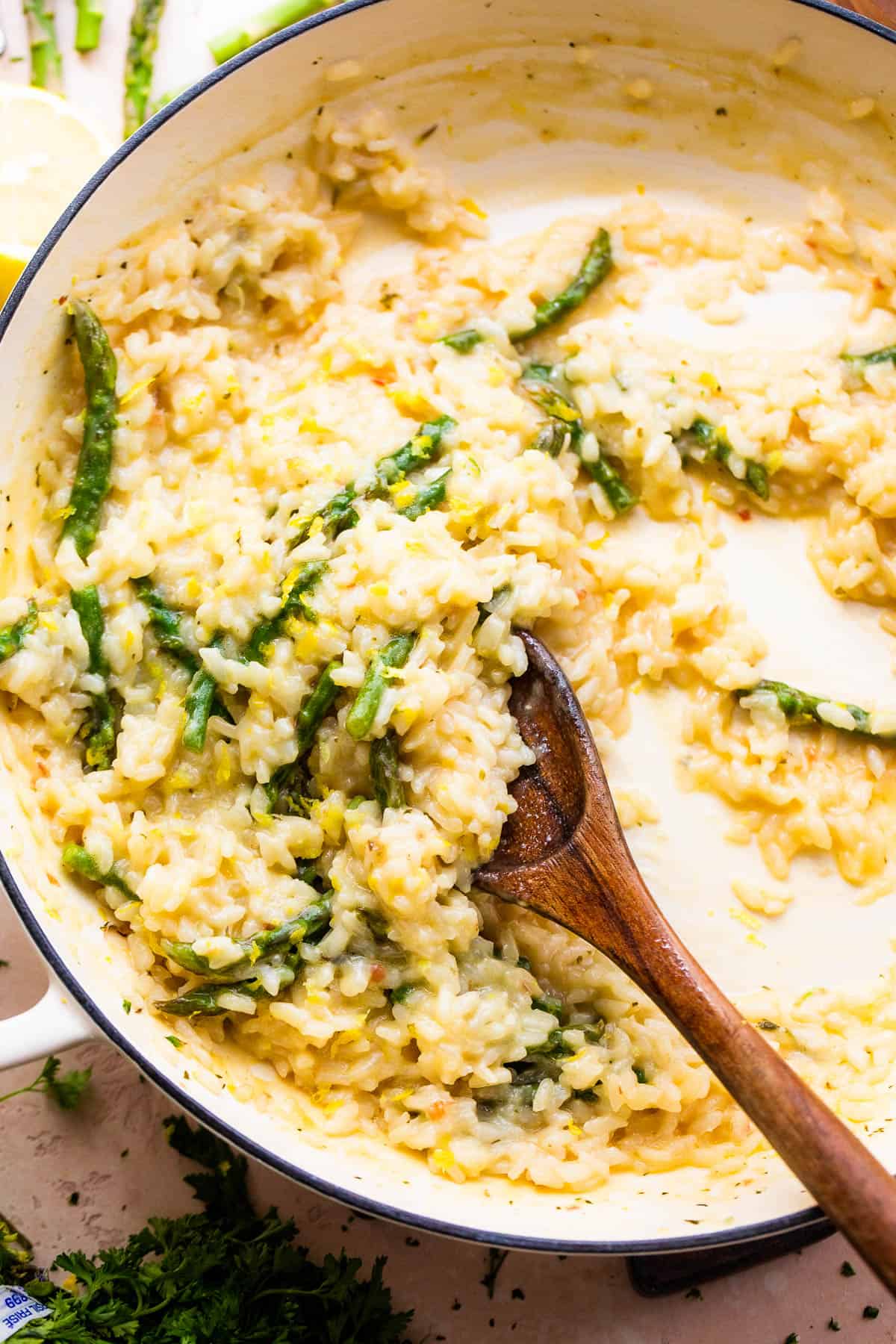 What To Serve With Risotto
Storing Leftovers
ENJOY!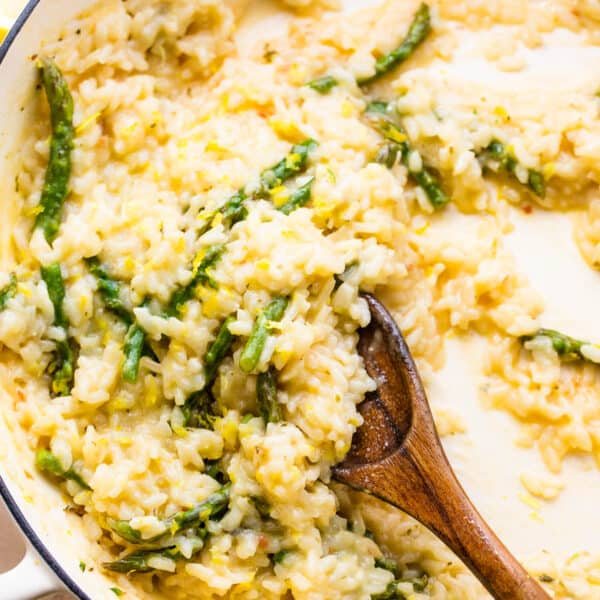 Lemon Parmesan Risotto
This cheesy and creamy Lemon Parmesan Risotto is a delicious, melt-in-your-mouth risotto with a zesty kick of lemon and a tender crunch from the asparagus.
Ingredients
4

cups

chicken broth

3

tablespoons

butter,

divided

4

shallots,

finely chopped

4

cloves

garlic,

pressed

1

cup

arborio rice

2

tablespoons

lemon juice

½

pound

thin asparagus,

(optional), ends trimmed off, and stalks cut into about 1½-inch pieces

salt and freshly cracked black pepper,

to taste

chopped fresh parsley,

for garnish

1

teaspoon

lemon zest,

for garnish, optional
Instructions
Heat the chicken broth in a small saucepan until it's warm. You don't want it boiling; just bring it to a slow simmer.

In the meantime, melt two tablespoons butter in a 4-quart saucepan set over medium heat.

Add in the shallots and cook for a minute or two, or until translucent. Stir in the garlic and cook for 20 seconds.

Stir in the arborio rice; cook for 2 minutes, stirring constantly, until coated in butter and lightly toasted. Add the lemon juice and stir it in.

Add ½ cup chicken broth to the rice and continue to stir until the liquid is almost all absorbed.

Add more of the chicken broth in ½ cup increments, stirring after each addition. As soon as the broth is all absorbed, add the next ½ cup of broth.

When you get to the last ½ cup of broth, add in the asparagus pieces, then stir in the last ½ cup of broth. Continue to cook for 2 more minutes or until the risotto is done and the asparagus is tender. Risotto is ready in about 20 to 25 minutes, or until the rice is tender and the consistency is like a thick porridge.

Remove from heat. Gently stir in the parmesan cheese and 1 tablespoon butter.

Taste for salt and adjust accordingly. Add more lemon if you like a more citrusy taste.

Garnish with black pepper, chopped parsley, and lemon zest, and serve.
Notes
Rice: Use Arborio, Carnaroli, or Vialone Nano for the best creamy texture.
Toast The Rice: Don't skip this part; you just need to lightly toast to coat the rice.
Use Warm Broth: Again, don't skip this part – it's important to use warm broth for consistent temperature and even cooking.
Stir Often to release starches because it helps with the creaminess.
Add Wine: Enhance flavors with a splash of white wine.
Swap Veggies: Replace the asparagus with green beans, broccoli, mushrooms, or peas.
Protein Boost: Top with grilled chicken or salmon.
Serve Immediately: Risotto is best served right after it's made. It can continue to thicken as it sits, so the sooner you serve it, the creamier it will be.
Storage: If you have leftovers, place them in an airtight container and keep them refrigerated for up to 4 days.
Nutrition
Calories:
382
kcal
|
Carbohydrates:
51
g
|
Protein:
15
g
|
Fat:
14
g
|
Saturated Fat:
8
g
|
Polyunsaturated Fat:
1
g
|
Monounsaturated Fat:
4
g
|
Trans Fat:
1
g
|
Cholesterol:
34
mg
|
Sodium:
342
mg
|
Potassium:
478
mg
|
Fiber:
4
g
|
Sugar:
4
g
|
Vitamin A:
801
IU
|
Vitamin C:
10
mg
|
Calcium:
181
mg
|
Iron:
4
mg
Nutritional info is an estimate and provided as courtesy. Values may vary according to the ingredients and tools used. Please use your preferred nutritional calculator for more detailed info.
Categories:
More Risotto Recipes