Oven Baked Pesto Salmon recipe is an extraordinary meal with practically no prep and minimal cleanup! You'll love this flakey salmon fillet, baked with fragrant pesto and ripe tomatoes.
Healthy Pesto Salmon – Ready in 30 Minutes!
You guys already know about my love affair with easy salmon recipes, right? Yes, I am a total sucker for dishes like Honey Garlic Sauce Salmon, Lemon Butter Grilled Salmon, and Air Fryer Salmon with Mustard Sauce. Cooking salmon with a savory rub, sauce, or glaze is just about the easiest way on earth to get dinner on the table, fast.
Which brings me to my next obsession: pesto. This fresh, vivid green sauce is one of my favorite flavor combinations: basil, garlic, Parmesan, olive oil, and pine nuts is everything. It somehow manages to be salty, rich, bright, zingy, and mild, all at once. The only thing you need is something to eat it with, and you can't go wrong.
Not into basil pesto? Then, it's your time to try my recipe for 👉 Tomato Pesto Salmon.
Why You'll Love this Salmon Recipe
Quick and easy. Start to finish this pesto salmon is ready in 30 minutes! This is the perfect dinner idea for busy weeknights when you want to get dinner on the table fast.
Nutritious. Salmon is a healthy source of protein and other nutrients (more on that below). Plus with the veggies and pesto you're getting an extra boost.
Flavorful. Every bite of this recipe is bursting with flavor! Between the roasted tomatoes, vibrant pesto and flakey salmon, this simple dinner idea is extra satisfying.
Is Salmon Healthy or Unhealthy?
When eaten in moderation, salmon is a great way to get healthy Omega-3 fatty acids in your diet, along with lots of other good stuff like protein, astaxanthin (an antioxidant), B vitamins, potassium, and more. Overall, salmon is a healthy food with lots of benefits, but as always, talk with your personal healthcare provider to see if salmon is a good choice for you! Everybody is different, and every body is different, so it pays to understand your own specific dietary needs.
Pesto Salmon Ingredients
Another thing to love about this salmon is that it's a five-ingredient meal. You won't even need to make a grocery list! Here's a quick overview. Be sure to scroll down to the recipe card for specific amounts.
Salmon: You'll need one whole salmon fillet, skin-on. That's a large, 2 to 2.5-pound fillet, not an individual portion.
Salt and Pepper
Pesto: Grab some of your favorite basil pesto, homemade or store-bought.
Cherry Tomatoes: Cut in half. You could also use larger tomatoes, just cut them into bite-sized pieces.
Olive Oil: Extra-virgin has the most flavor, but any olive oil is fine.
Lemon Wedges: For serving.
Is Frozen Salmon Good?
Many of us have an unspoken rule that fresh is better than frozen, which can sometimes be true – but not always. In the case of frozen fish, you might find that some frozen options are better than fresh! The issue is that unless you have access to fresh-caught seafood, then your seafood has to be frozen before being shipped to your location. From there, it is thawed and sold, or it's placed (while still frozen) in the freezer section. That's why buying a bag of frozen fish might just give you a better dinner than buying fish that's been sitting behind the fish counter. So my rule of thumb? Frozen is fine, maybe even better.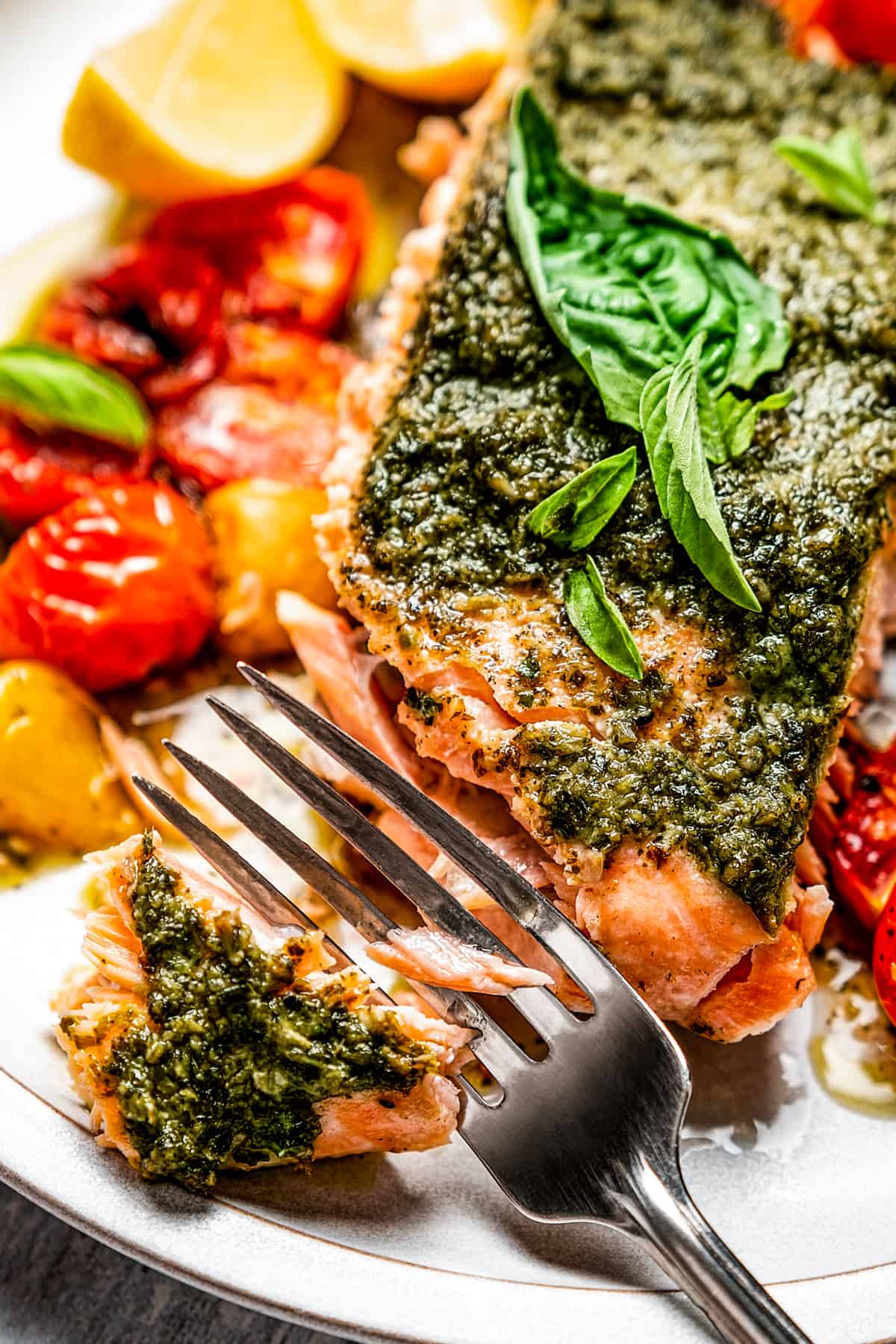 How to Make Pesto Salmon in the Oven
Let's talk about the process for making this – it's so low-maintenance, you guys. A whole salmon fillet may seem intimidating, but it doesn't have to be! Here's how to make the best salmon ever:
Get Ready. To get started with this recipe, you'll want to preheat your oven to 400˚F and line a large, rimmed baking sheet with foil. Then lay the whole fillet skin-side-down on the baking sheet.
Add Seasonings and Pesto. Next, sprinkle the salmon with salt and pepper, and pour pesto over it. Use a spoon to spread the pesto over the salmon fillet. (Be careful not to dip the spoon into the jar after touching the salmon with it – that can spread bacteria.)
Add Tomatoes. Prepare the tomatoes by tossing them with olive oil, salt, and pepper. Arrange the tomatoes around the salmon.
Bake! Slide the baking sheet into the oven for 25 minutes, or until the salmon is flaky, and the internal temperature registers at around 145˚F.
Enjoy! Take the pan out of the oven and slice the fillet into individual portions. Serve with the tomatoes, and lemon wedges for squeezing.
Tips for Success
Want to know more about making baked salmon with pesto sauce? Here are my favorite tips and tricks for making the most out of this simple dinner idea.
Add Veggies: Feel free to add onions, bell peppers, zucchini, and other tender veggies around the salmon to get a built-in side dish going! These tender veggies will be a healthy addition to your meal. Just toss them with oil, salt, and pepper before baking.
Rice and Pasta: If you choose to make rice or pasta with this recipe, start the rice cooker or pasta water when you put the salmon in your oven. They'll be done at just about the same time.
Parchment: If you would like to use something other than foil, parchment paper is a great idea. You can also cook directly on your baking sheet – just give the underside of the salmon a light brush with high-heat oil, like vegetable oil. This will help prevent sticking.
Baking Time: To avoid overcooking or undercooking, you may need to adjust the baking time a bit. The easiest way to make sure you get it right is to use a meat thermometer. Check the salmon a few minutes early, and if it's at 145°F, take it out of the oven. If not, keep checking every few minutes until it reaches that point.
What Goes with Salmon?
Potatoes: Seafood and potatoes are an underrated combination – add a side of Air Fryer Baked Potatoes to your pesto baked salmon, and you'll see what I mean. Fluffy, steamy baked potatoes are a whole-family fave.
Roasted Cauliflower: A low-carb option is always nice to have on hand, and these crispy Roasted Parmesan Cauliflower Bites are loaded with taste and texture.
Green Veggies: Roasted Green Beans, peas, salad… can't go wrong with something green! For my money, Sautéed Garlic Broccolini is a super easy, super tasty green veggie side you can whip up in no time.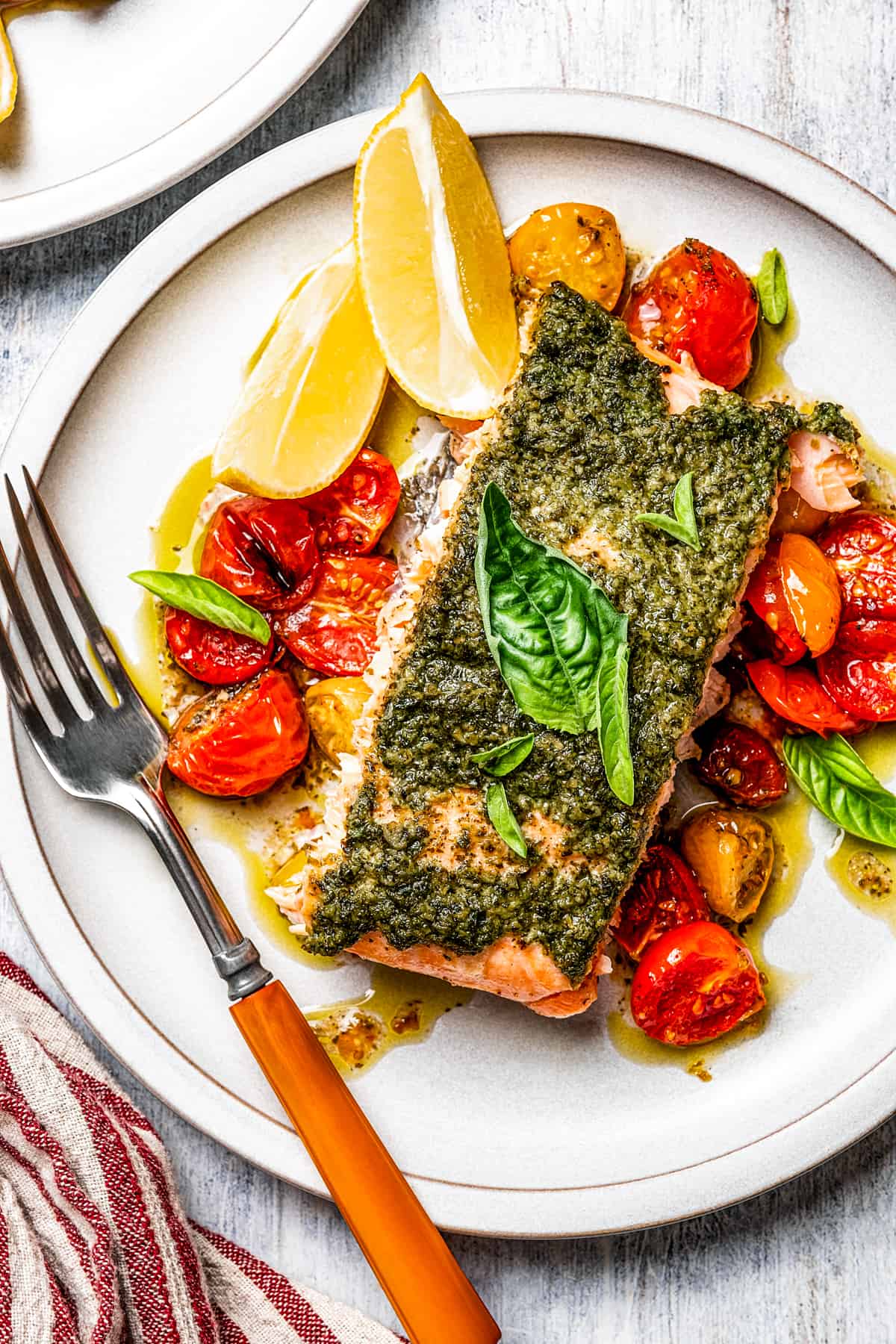 How to Store and Reheat Salmon
Fridge: To store your leftovers, cool them down completely and then place them in an airtight container or zip-top bag. Keep refrigerated for up to 3 days.
To reheat: Place in a covered skillet over low heat until warmed through.
To Freeze: You can freeze leftover salmon pretty easily. Just place it in a freezer bag and press out as much air as you can while you seal it. Then, store it in the freezer for 2 to 3 months. Thaw in your refrigerator before reheating as directed above.
ENJOY!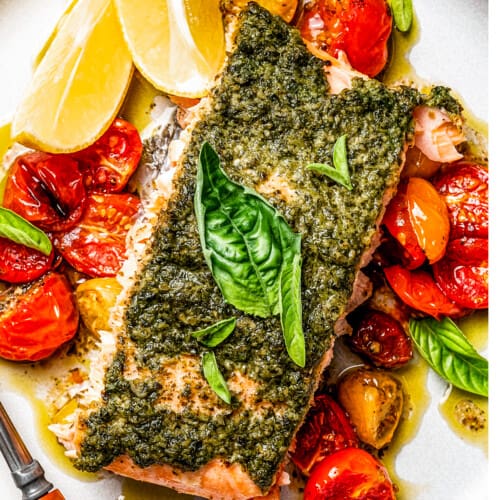 Oven Baked Pesto Salmon
This easy, baked pesto salmon recipe makes tender, perfectly flavored salmon that's ready in just 30 minutes.
Instructions
Preheat oven to 400˚F.

Line a large baking sheet with aluminum foil. Place the salmon in the center of the foil, skin-side down. Rub the minced garlic evenly all over the fillet and season the salmon with salt and pepper. Spread the pesto all over the top. Set aside.

In a bowl, toss the tomatoes with olive oil and season with salt and pepper.

Arrange the tomatoes around the salmon filet.

Bake for 22 to 25 minutes, or until the salmon is flaky and the internal temperature of the salmon registers at 145˚F. Use an Instant Read Thermometer to check for doneness.

Remove from oven.

Cut into individual-sized filets.

Serve with the cooked tomatoes and a side of lemon wedges.
Notes
Salmon: In this delicious recipe I used a whole salmon fillet, but if you have individual salmon fillets that you'd like to use up, that will also work. For individual sized fillets, you may want to start checking for doneness around the 16-minute mark.
Cooking Time: Salmon cooks fairly quickly, and in general, most fish are done under 25 minutes. However, the timing will vary depending on the size and thickness of the fillet(s). To make sure that it's cooked through, always use an Instant Read Meat Thermometer.
Tomatoes and Veggies: Feel free to add any other veggies that you like or have on hand. Slices of zucchini, onions, strips of bell peppers, broccoli, and so on, are all great options.
Basil Pesto: I recommend using about 3/4-cup pesto, but if you want to use more or less, that is up to you and totally OK to do.
Nutrition
Serving:
4
ounces
|
Calories:
315
kcal
|
Carbohydrates:
4
g
|
Protein:
30
g
|
Fat:
19
g
|
Saturated Fat:
3
g
|
Polyunsaturated Fat:
4
g
|
Monounsaturated Fat:
4
g
|
Cholesterol:
80
mg
|
Sodium:
284
mg
|
Potassium:
780
mg
|
Fiber:
1
g
|
Sugar:
2
g
|
Vitamin A:
708
IU
|
Vitamin C:
9
mg
|
Calcium:
61
mg
|
Iron:
2
mg
Nutritional info is an estimate and provided as courtesy. Values may vary according to the ingredients and tools used. Please use your preferred nutritional calculator for more detailed info.
Categories:
More Savory Salmon Recipes