These healthy salmon recipes make it easy to prepare protein-rich, flavorful dinners packed with omegas and other good for you nutrients! From pineapple teriyaki salmon burgers to garlic butter baked salmon fillet, there's something here for any occasion and cooking style.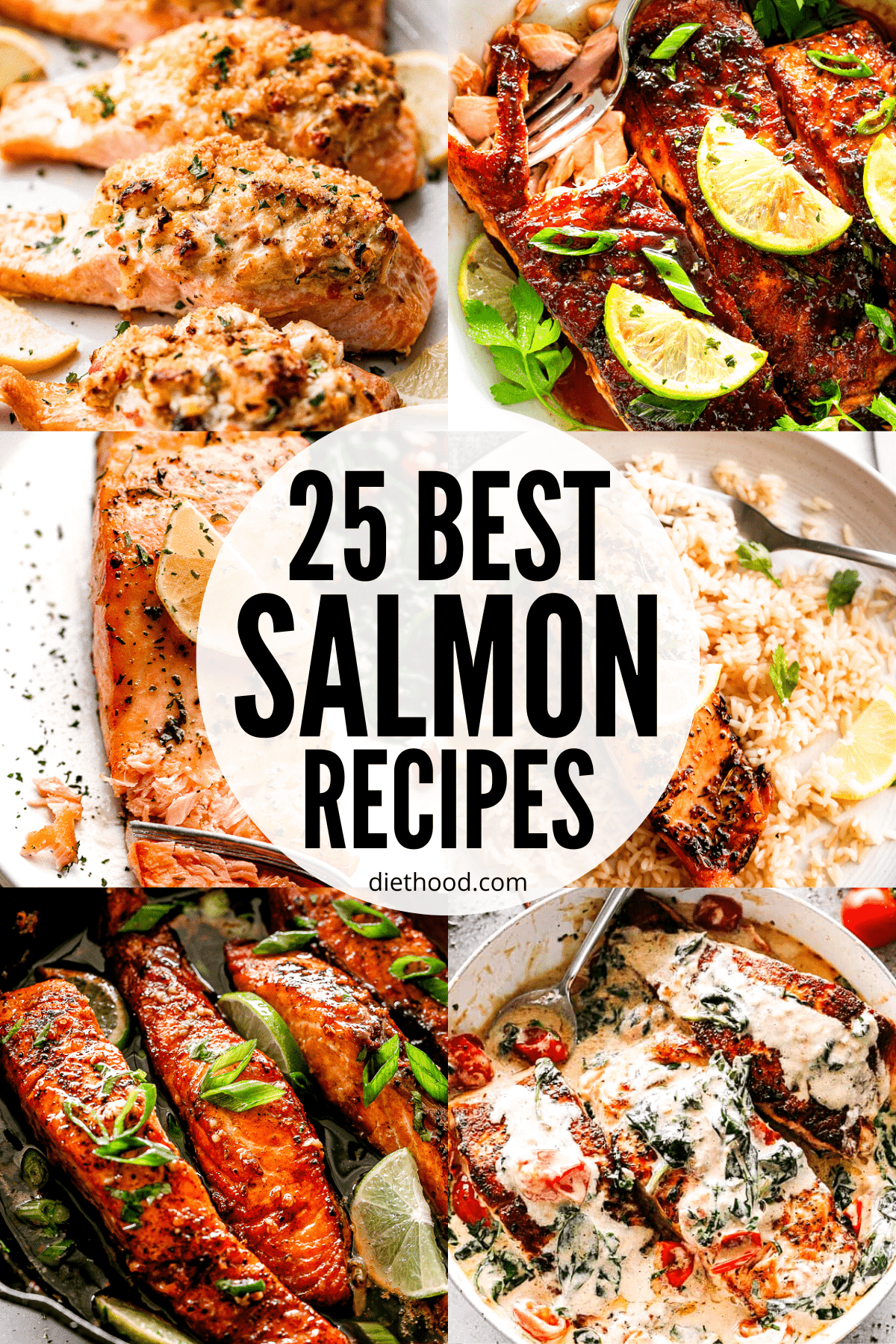 The Best Salmon Recipes
Are you trying to eat healthier? I think it's safe to say that a lot of us are actively trying to make good choices about the foods we eat on a weekly basis – which is awesome!
An important part of a healthy, fulfilling diet is good protein. And salmon is one of the best sources. This popular and flavorful fish is packed with nutrition and is available fresh, frozen, and even canned. If you need a healthy dinner recipe that cooks up quickly with maximum flavor, salmon is a great place to start.
These easy recipes will make cooking salmon a snap! Even if you're not familiar with preparing salmon, you'll be able to create restaurant-style dishes with minimal hassle. Let's dig in.
Why Is Salmon So Healthy?
You may have heard that salmon is super good for you, but if you haven't really looked into the actual health benefits of this beloved protein option, get ready! According to Healthline, it truly is a bounty of goodies that will nourish and fortify your body. Let's take a look at just a few of the benefits of eating salmon:
Omega-3s: These fatty acids are also known as DHA and EPA. Your body can't make them, so you have to get them from your dietary intake. Salmon is a great source of Omega-3s, which help reduce inflammation, lower blood pressure, and even reduce your risk of cancer!
Protein: Salmon is a great choice for healthy protein, which is an important building block for healthy tissues and bones.
B-Vitamins: Salmon is rich in all of the B-vitamins, which are crucial for having good energy levels, proper function of the brain and nervous system, hormonal balance, and more.
Tryptophan: Important for regulating your sleep, tryptophan helps your body make serotonin and melatonin.
I could go on and on, but I think you get the picture. Salmon truly is a superfood. And it also happens to be super versatile and easy to cook!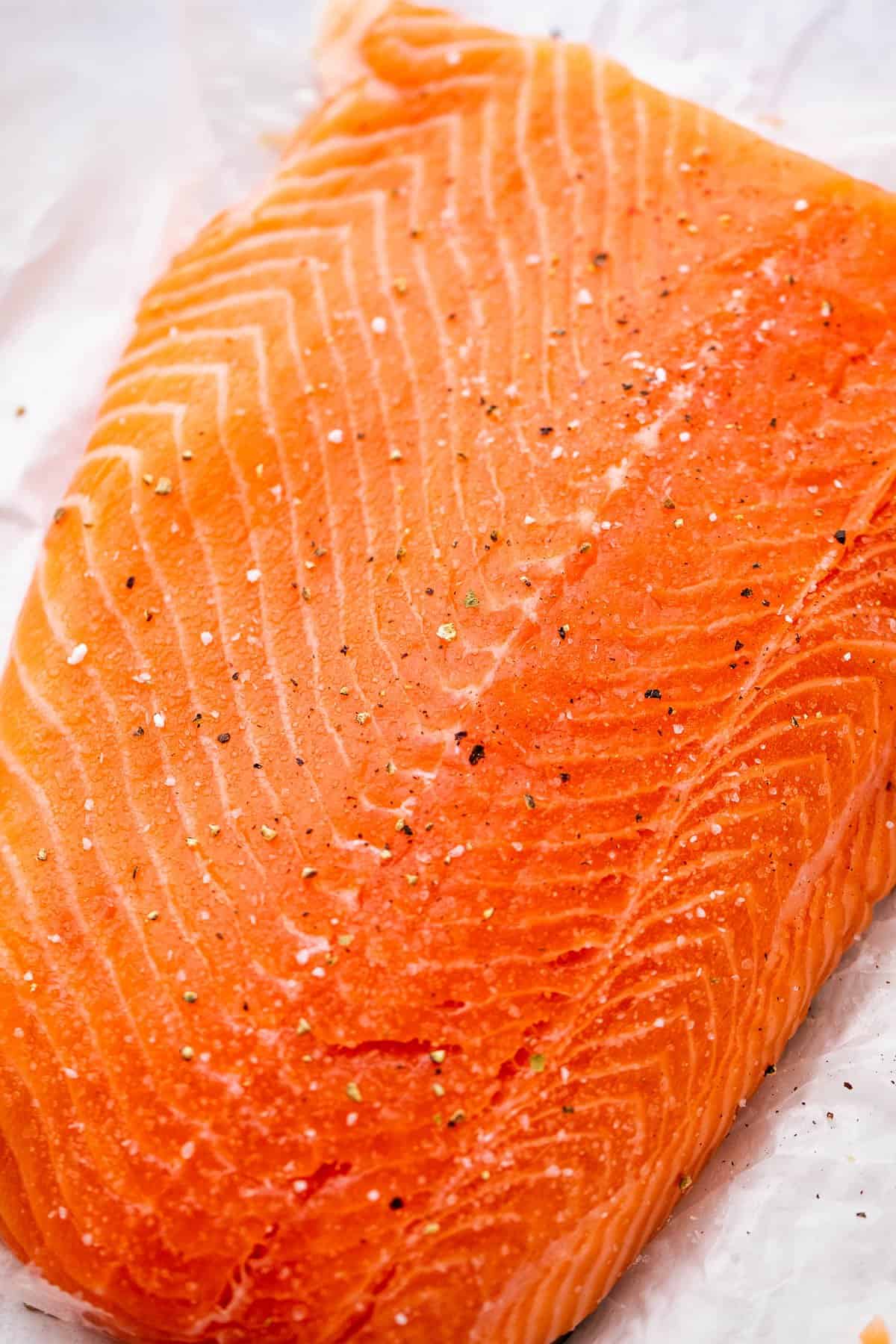 Kinds of Salmon
The salmon you find at your local grocery store or market may be frozen, fresh, canned, or smoked. In general, pink salmon is available in canned form, which is great for making a quick batch of salmon cakes. Frozen and fresh salmon come in lots of different varieties, such as:
Atlantic Salmon: Atlantic salmon is widely available and often used in restaurants and home cooking. It has a mild, delicate flavor and a tender texture. This variety of salmon can often be "farmed," which tends to have more antibiotic exposure so when looking at Atlantic salmon be sure to ask if it is farmed or wild caught.
Sockeye Salmon: Also called "red salmon" due to its vibrant red flesh, sockeye salmon is prized for its rich flavor and firm texture. It's often enjoyed grilled, smoked, or canned. This variety of salmon is wild caught variety of Pacific salmon.
Chinook (King) Salmon: Chinook salmon is the largest and arguably the most flavorful among salmon varieties. It has a high fat content, making it incredibly rich and buttery. Because of its size and taste, it's considered a premium choice.
Coho (Silver) Salmon: Coho salmon has a milder taste compared to chinook and sockeye, but it's still flavorful and popular for grilling and baking.
Pink Salmon: Pink salmon is more affordable and commonly used for canning or processing into various products like salmon patties or spreads.
How to Choose the Best Salmon at the Store
Look for Freshness: Check the "sell by" or "use by" date on the package to ensure it's within the recommended period. Also, examine the flesh of the salmon; it should be firm, moist, and shiny without any dull or discolored patches. If you're buying fresh fillets, give them a little push with your finger to test their freshness. Fresh fillets will "bounce back," while older fillets will stay indented where you press them.
Smell the Fish: Fresh salmon should have a clean, ocean-like aroma. Avoid any fish with a strong, fishy or ammonia-like smell, as it may be past its prime.
Check the Color: Depending on the species, the color of the salmon may vary. For example, sockeye salmon is bright red, while Atlantic salmon is typically lighter. Whichever variety you choose, look for a vibrant and uniform color. Dull or pale salmon indicates that it's losing its freshness. Whether you're buying red, pink, or orange salmon, go for bold color.
Inspect the Skin: If the salmon is sold with the skin on, check that it's smooth and without any signs of browning or drying. And if you're buying a whole salmon? Make sure its eyes are bright, its skin is shiny, and that the fish itself feels firm and strong when you lift it – never soft or floppy.
Avoid Freezer Burn: If buying frozen salmon, make sure the packaging is intact and free from ice crystals, which can indicate freezer burn.
Sustainability: Consider choosing salmon that is labeled as sustainably sourced or has a certification from organizations like the Marine Stewardship Council (MSC) or the Aquaculture Stewardship Council (ASC).
25 Easy & Healthy Salmon Recipes to Try
Are you feeling inspired to get in the kitchen and cook up some salmon? I hope so! It's such an easy and rewarding way to add more variety and nutrition to your menu. Plus, there are so many scrumptious ways to make it! Let's take a look at some amazing salmon recipes. Each one is easy, healthy, and best of all: loaded with flavor!
Want to check out even more ideas? Be sure to check out my growing collection of mouthwatering salmon recipes.
How Long Does Salmon Last in the Fridge?
The shelf life of salmon in the refrigerator varies depending on its freshness at the time of purchase and how well it's stored. In general, fresh salmon should be eaten within 1 to 2 days of purchase. Here are a few tips to maximize the freshness and longevity of salmon in the fridge:
Store Properly: Place the salmon in an airtight container or wrap it tightly in plastic wrap or aluminum foil to prevent air exposure and moisture loss.
Keep Refrigerated: Store the wrapped or sealed salmon in the coldest part of your refrigerator, which is usually the bottom shelf.
Check for Freshness: Before using, inspect the salmon for any signs of spoilage, such as an off odor, sliminess, or discoloration. If it appears questionable, it's best to discard it.
Smell and Texture: Fresh salmon should have a mild, ocean-like aroma and a firm texture. If it smells overly fishy or has a mushy texture, it may be past its prime.
When in doubt, trust your senses and use your best judgment!