These Healthy Salmon Recipes make it easy to prepare protein-rich, flavorful dinners packed with omegas and other good for you nutrients! From pineapple teriyaki salmon burgers to garlic butter baked salmon fillet, there's something here for any occasion and cooking style!
Salmon Made Simple (and Fabulous!)
Are you trying to eat healthier? I think it's safe to say that a lot of us are actively trying to make good choices about the foods we eat on a weekly basis – which is awesome! Eating well is an important part of keeping your energy levels high, your body functioning well, and even boosting your mental health.
An important part of a healthy, fulfilling diet is good protein. And salmon is one of the best! This extremely popular and flavorful fish is packed with both flavor and nutrition, and it's widely available fresh, frozen, and even canned. If you need a healthy dinner recipe that cooks up quickly with maximum flavor, I've got you covered.
Best of all, these easy recipes will make cooking salmon a snap! Even if you're not familiar with preparing salmon, you'll be able to create restaurant-style dishes with minimal hassle. Let's dig in!
Why Is Salmon So Healthy?
You may have heard that salmon is super good for you, but if you haven't really looked into the actual health benefits of this beloved protein option, get ready! It truly is a bounty of goodies that will nourish and fortify your body. Let's take a look at just a few of the benefits of eating salmon:
Omega-3s: These fatty acids are also known as DHA and EPA. Your body can't make them, so you have to get them from your dietary intake. Salmon is a great source of Omega-3s, which help reduce inflammation, lower blood pressure, and even reduce your risk of cancer!
Protein: Salmon is a great choice for healthy protein, which is an important building block for healthy tissues and bones.
B-Vitamins: Salmon is rich in all of the B-vitamins, which are crucial for having good energy levels, proper function of the brain and nervous system, hormonal balance, and more.
Tryptophan: Important for regulating your sleep, tryptophan helps your body make serotonin and melatonin.
I could go on and on, but I think you get the picture. Salmon truly is a superfood. And it also happens to be super versatile and easy to cook!
How to Choose Salmon
The salmon you find at your local grocery store or market may be frozen, fresh, canned, or smoked. In general, pink salmon is available in canned form, which is great for making a quick batch of salmon cakes. Frozen and fresh salmon come in lots of different varieties, such as king salmon (the richest and most fatty) to sockeye (bright red salmon with a generous amount of fat) to coho (coho salmon is known for freezing well).
Whatever salmon you choose, make sure it has a bright, vibrant color. Dull or pale salmon indicates that it's losing its freshness. Whether you're buying red, pink, or orange salmon, go for bold color.
If you're buying fresh fillets, give them a little push with your finger to test their freshness. Fresh fillets will "bounce back," while older fillets will stay indented where you press them.
And if you're buying a whole salmon? Make sure its eyes are bright, its skin is shiny, and that the fish itself feels firm and strong when you lift it – never soft or floppy.
Finally, use your nose! Fresh seafood should have a "sea" smell to it, but not a "fishy" or ammonia-like odor.
14 Easy and Healthy Salmon Recipes
Are you feeling inspired to get in the kitchen and cook up some salmon? I hope so! It's such an easy and rewarding way to add more variety and nutrition to your menu. Plus, there are so many scrumptious ways to make it! Let's take a look at some amazing salmon recipes. Each one is easy, healthy, and best of all: loaded with flavor!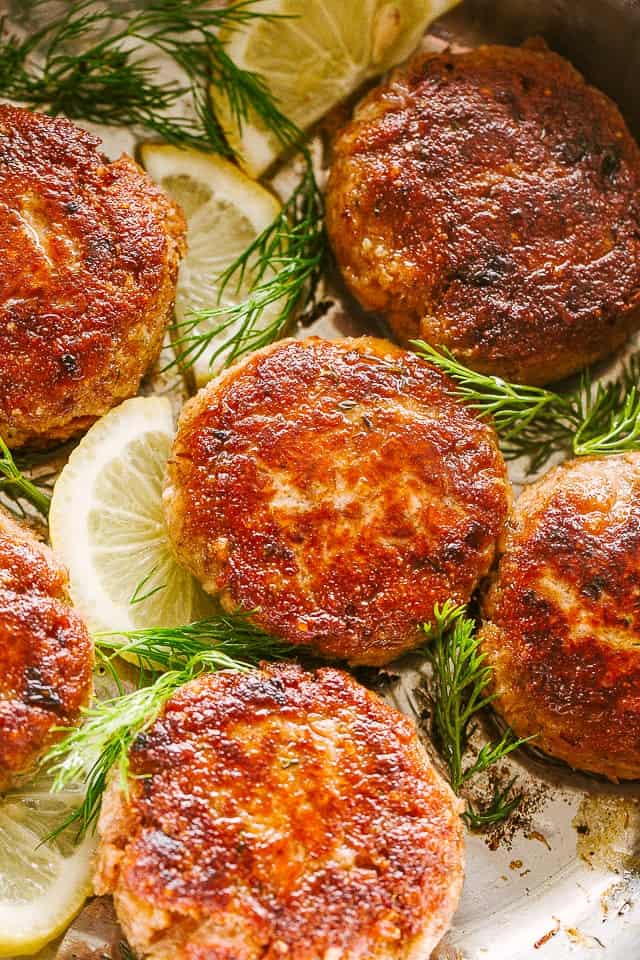 Basic canned salmon is combined with green onions, fresh dill, lemon, and panko, and then pan-fried into crispy little cakes that are juicy and tender on the inside. Serve them on their own, with dipping sauce, or make salmon sliders!
This might just be the easiest way to make salmon fillets, ever! Let your air fryer work its magic, and enjoy lightly crisped, perfectly browned salmon flavored with butter, garlic, lemon, and just a hint of sweet brown sugar.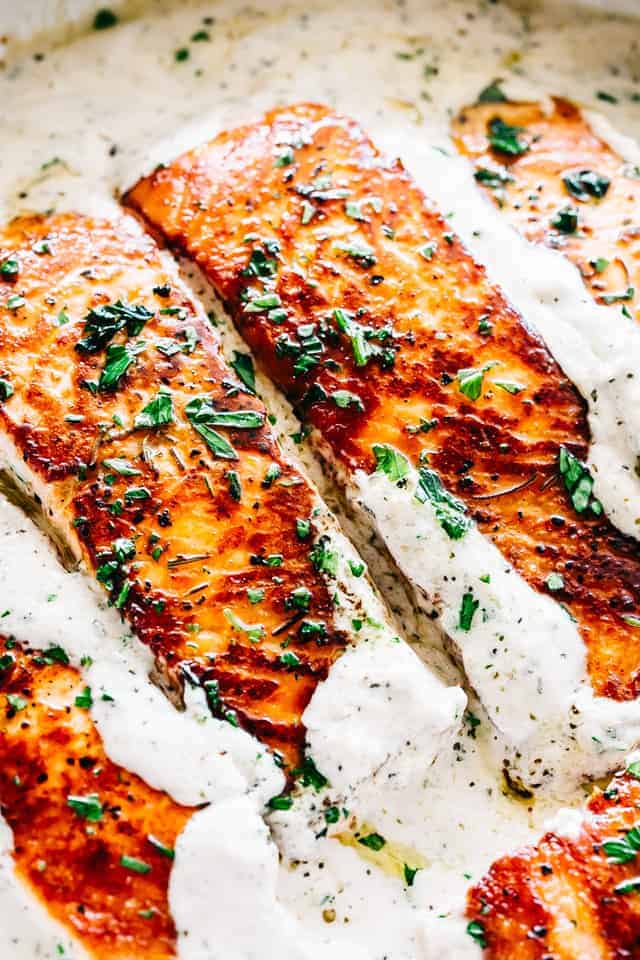 The creamy lemon sauce in the recipe is so good, you'll be scooping up every last drop! Easy pan-seared salmon fillets are finished in the sauce, blending the flavors and creating a complex, but bright, result.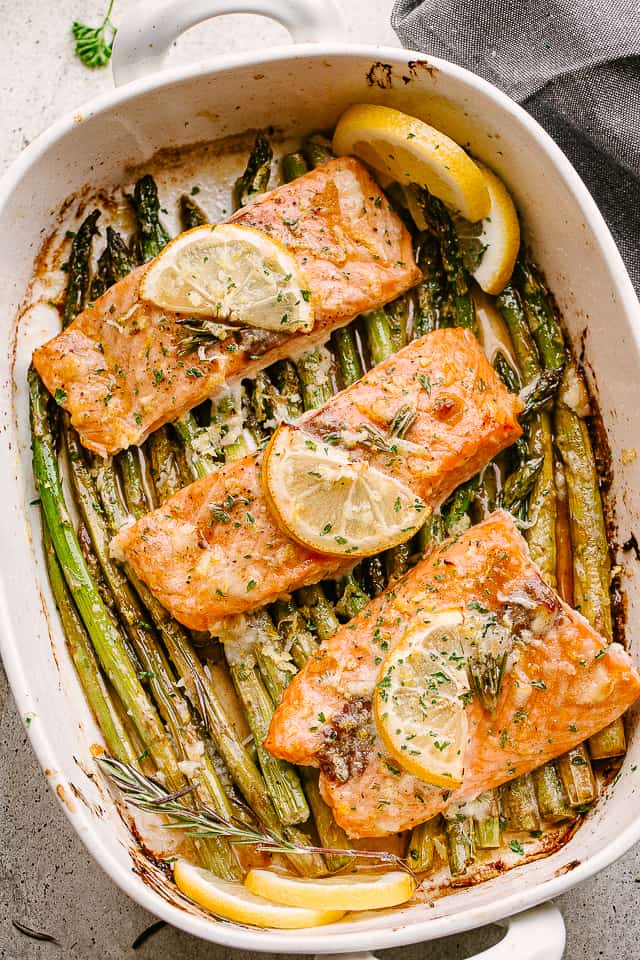 Bright green asparagus is layered in the bottom of a casserole dish, and topped with generous fillets of salmon spread with garlicky butter. A bit of lemon, a short time in the oven, and it's done! You can serve this dish with crusty bread for a complete meal!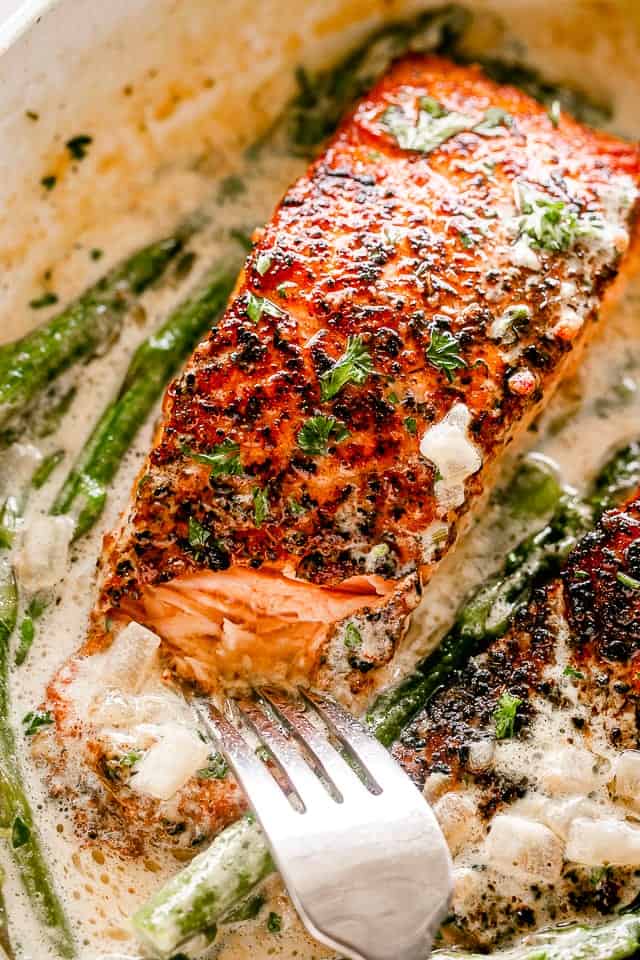 Dijon mustard, with its strong, wine-like taste and fragrance, elevates this easy skillet meal. You'll love the combination of savory salmon, tender vegetables, and rich, creamy, garlic Dijon sauce.
It's a flavor explosion! Chili-lime salmon is piled into a soft taco, and topped with mango avocado salsa and a creamy, tangy cilantro-yogurt sauce. Taco night will never be the same!
Using instant rice, you can put these foil packets together in just minutes, and they bake to perfection, hands-free! Prepared tomato pesto, a little olive oil, and a touch of salt and pepper add oodles of flavor, color, and fragrance.
Another pan-seared favorite, this version taps into fresh, Italian-fusion goodness. You'll love how easily the creamy sauce with cherry tomatoes and fresh spinach comes together, complete with basil, parsley, and a little bit of Parmesan.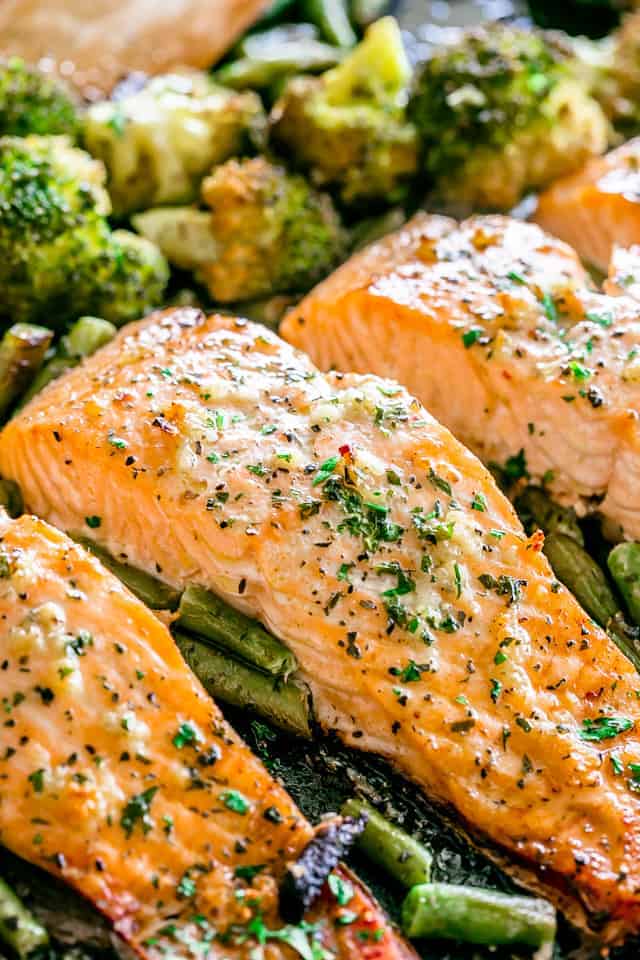 Garlic Butter Baked Salmon is the quintessential sheet pan dinner. Tender salmon bakes right alongside fresh broccoli florets, all dressed with a quick butter and herb sauce with a hint of lemon. This would be wonderful served with fingerling potatoes or a batch of warm crescent rolls. Yum!
Move over, honey mustard! This maple mustard salmon is made with pure maple syrup, two kinds of mustard, and a little salt and pepper. Wrap it up in foil (or parchment, if you prefer) and bake until the fish flakes easily with a fork. Dinner? Done! It's a foolproof recipe with a tangy sweetness you won't be able to resist.
A tropic-inspired twist on ordinary salmon burgers, these beauties boast not only a teriyaki and pineapple topping, but also a creamy yogurt-sriracha sauce! You won't be able to get enough of these bold, refreshing flavors! Served on pretzel buns with fresh lettuce, they're a perfect summery dinner you can make year-round.
This easy salad is a wonderful way to turn leftover salmon into a fresh dinner option. Chock-full of bacon, avocado, cherry tomatoes, crumbled feta, and eggs, it's a smorgasbord of color and texture, all on a bed of leafy romaine and spinach. The warm, oven-baked salmon adds a punch of protein, and it all goes perfectly with a quick and easy homemade vinaigrette.
If you're like me, you sometimes want a spicy little kick to your meal! This is a great way to bring some Cajun persuasion to your kitchen! Cream cheese, cheddar, and a good spoonful of your favorite Cajun seasoning mix make a mouthwatering filling for savory salmon fillets, and it's so simple to make! Once the fillets are stuffed and seasoned, you give them a quick pan-sear, and serve. It's a fast, festive dinner that'll wake up your tastebuds!
This pan-fried recipe for salmon features a simple sauce made with honey, soy sauce, garlic, and lime juice. The salmon turns out beautifully tender, with crispy edges and a glazed appearance. Perfect for a busy weeknight, but fancy enough for an elegant dinner!