Salmon Piccata is a simple yet nutritious salmon recipe. It's a fabulously tasty dinner featuring salmon smothered in a piccata sauce and cooked to perfection in foil.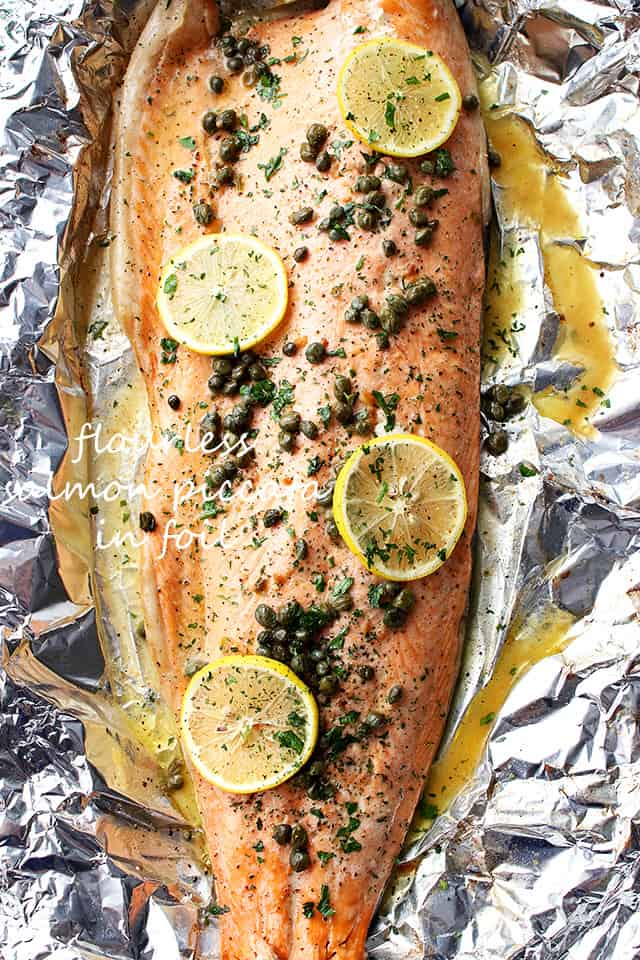 Healthy Salmon Piccata Cooked In Foil
Prepare your taste buds for a flavorful meal they will remember with this Salmon Piccata in Foil. This is no ordinary salmon recipe—it's a perfect blend of health-conscious cooking and kinda fancy dining—a perfectly cooked salmon fillet, so tender and juicy, topped with a vibrant piccata sauce.
This isn't your run-of-the-mill piccata sauce, either. Thanks to the flavor-packed capers, we've skipped the flour and yet captured that classic tangy, briny flavor we all love. These tiny green pearls add a salty punch that balances out the rich fish and the zesty sauce. And the best part of this recipe? Your baking foil. It helps seal in all the juices and aromas during the cooking process.
Why You'll Love This Recipe
Healthy & Delicious: The salmon provides a hearty dose of protein and omega-3 fatty acids, while the caper-infused piccata sauce offers tons of flavor.
Versatility: It's an ideal dish for a fancy dinner party or a quick weeknight meal.
Clean-up is a Breeze: Thanks to the foil cooking method, there's minimal clean-up involved, freeing up your time for more important things.
Locks in Flavor: Baking in foil traps the juices and aromas, ensuring the salmon is moist and flavorful.
How To Make Salmon Piccata in Foil
Whether you're a seasoned cook looking for your next fish recipe or a busy weeknight warrior searching for a quick and tasty recipe, our Salmon Piccata in Foil is just the ticket. With a cooking method as simple as wrapping and baking, you're just steps away from a healthy and lip-smackingly good dinner.
Ingredients
Directions
This salmon piccata is very simple to prepare. It requires minimal prep work, with the foil doing most of the heavy lifting, making it perfect for both expert cooks and beginners. Don't forget to scroll down to the recipe card to get the entire recipe.
First, make the sauce; this traditional piccata sauce will be made without flour because we want to avoid extra carbs. Not so traditional, but still darn amazing.
We will combine some butter and Olive Oil in a pan with lots of garlic, lemon juice, and a few delicious tablespoons of capers.
While all that comes together, you'll cut out a large piece of aluminum foil, place the seasoned salmon on it, and add the piccata sauce.
Once you've done all that, you will close up the foil, pop the fish in the oven and bake for about 18 to 20 minutes, depending on how well you want that fish done. Cooked salmon's internal temperature should be at least 145˚F. You can use an instant-read meat thermometer to check for doneness.
Optionally, open up the foil and put the fish under the broiler for a few minutes before pulling it out of the oven.
Helpful Tips
Fresh Salmon: Always opt for fresh salmon when possible. If you must use frozen, make sure to thoroughly thaw it before cooking.
Foil Technique: Seal the foil packet tightly. This locks in the steam that cooks the salmon, preventing the delicious juices from escaping.
Avoid Overcooking: Salmon can become dry if overcooked. Be sure to check the salmon towards the end of the cooking time. It should be opaque and flake easily with a fork.
Storing Leftovers: Cool the salmon to room temperature, place it in an airtight container, and refrigerate for up to 3 days or freeze for 2 to 3 months.
Serving Suggestions for Salmon
This dish pairs well with a variety of sides. For a light meal, serve it with zucchini noodles carbonara, a tomato cucumber salad, or a kani salad. For something heartier, pair it with garlic parmesan roasted vegetables or these air fryer baked potatoes. If you'd like to add some pasta, I suggest this delicious balsamic penne pasta.
More Salmon in Foil Recipes
ENJOY!
Salmon Piccata in Foil
Salmon Piccata is a simple yet nutritious salmon recipe. It's a fabulously tasty dinner featuring salmon smothered in piccata sauce and cooked to perfection in foil.
Ingredients
2

pound

salmon fillet with skin,

rinse and pat dry with paper towels

kosher salt,

to taste

fresh ground black pepper,

to taste

3

tablespoons

butter

2

tablespoons

extra virgin olive oil

3

cloves

garlic,

minced

1

lemon,

juiced

3

tablespoons

capers

1

lemon,

cut into round slices

chopped fresh parsley,

for garnish
Instructions
Line a baking sheet with a large piece of foil.

Season the salmon fillet with salt and pepper and place it in the center of the foil; set aside.

In a nonstick skillet, add butter and olive oil; cook over medium-high heat until butter is melted.

Lower heat to medium and add the minced garlic to the skillet; cook for 20 seconds or until fragrant; swirl the pan around so that you do not burn the garlic.

Stir in the lemon juice and continue to cook for 1 minute. Remove from heat and stir in the capers.

Pour the sauce over the salmon fillet. Arrange a few slices of lemon over the salmon.

Fold the sides of the foil over the fish, covering completely and sealing the packet closed.

Bake for 18 to 20 minutes or until cooked through.

Remove from oven, open up the foil, and put the fish under the broiler for 2 minutes or until lightly browned on top.

Remove from broiler and carefully open up the foil, away from your face.

Garnish with fresh parsley, and serve.
Notes
Choosing Salmon: Fresh salmon is your best bet for this dish. If you need to use frozen, let it thaw completely before cooking.
Aluminum Foil Packet: Be diligent about sealing your foil packet. Doing so traps the steam that cooks the salmon, ensuring no tasty juices make a getaway.
Watch the Cook Time: Overcooked salmon can get dry. Check on your fish as you near the end of your cooking time. When it's done, it'll be opaque, and you can flake it easily with a fork.
Leftovers: Let the salmon cool down to room temp, then seal it in an airtight container. Keep it in the fridge for up to 3 days or in the freezer for a couple of months.
Nutrition
Serving:
8
ounces
|
Calories:
480
kcal
|
Carbohydrates:
6
g
|
Protein:
46
g
|
Fat:
30
g
|
Saturated Fat:
9
g
|
Polyunsaturated Fat:
7
g
|
Monounsaturated Fat:
12
g
|
Trans Fat:
0.3
g
|
Cholesterol:
147
mg
|
Sodium:
335
mg
|
Potassium:
1200
mg
|
Fiber:
2
g
|
Sugar:
1
g
|
Vitamin A:
373
IU
|
Vitamin C:
30
mg
|
Calcium:
50
mg
|
Iron:
2
mg
Nutritional info is an estimate and provided as courtesy. Values may vary according to the ingredients and tools used. Please use your preferred nutritional calculator for more detailed info.
Categories: