Buttery, tender artichokes get a major, caramelized flavor boost! These easy Roasted Artichokes with lemony garlic sauce are a luscious side dish or appetizer that'll keep you reaching for more.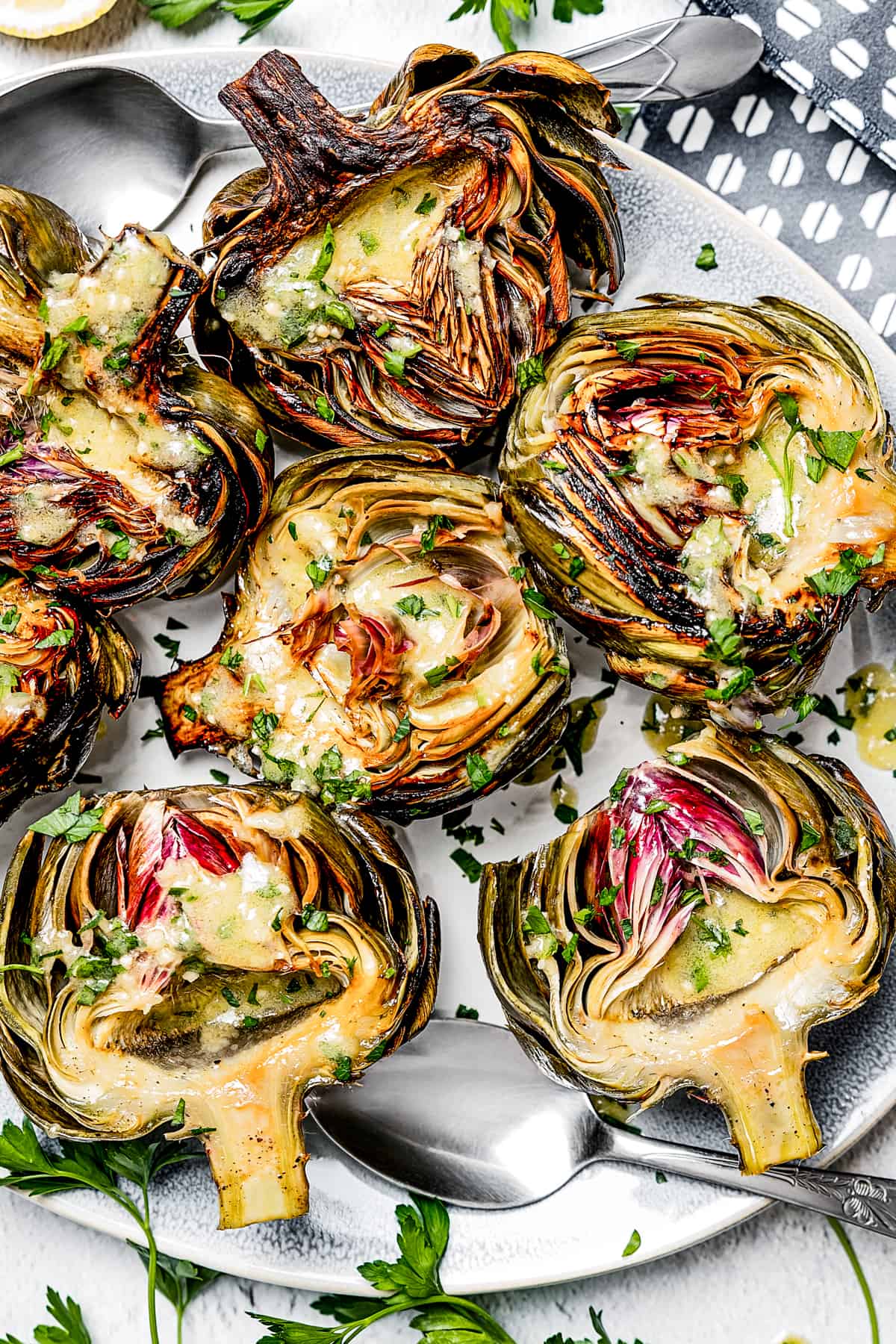 Easy Fresh Roasted Artichokes Recipe
Artichokes are such a tasty veggie, but a lot of home cooks avoid them because the prep is so unfamiliar. It doesn't have to be that way! You can easily prep and cook whole, fresh artichokes at home, and this easy recipe will show you how. No need to stick to artichoke hearts in a jar – roasted artichokes, here we come!
Of course, roasting isn't the only way to cook a whole artichoke. Steaming is popular, too, and so is pressure-cooking. But, roasting is great because it adds a whole dimension of flavor, thanks to the caramelization that happens while they cook. The small amount of plant sugars in the artichokes sizzles and browns in the dry heat of the oven, creating an extra-buttery, bold, rich taste. Dipped in your favorite dipping sauce, roasted artichokes are a wonderful treat.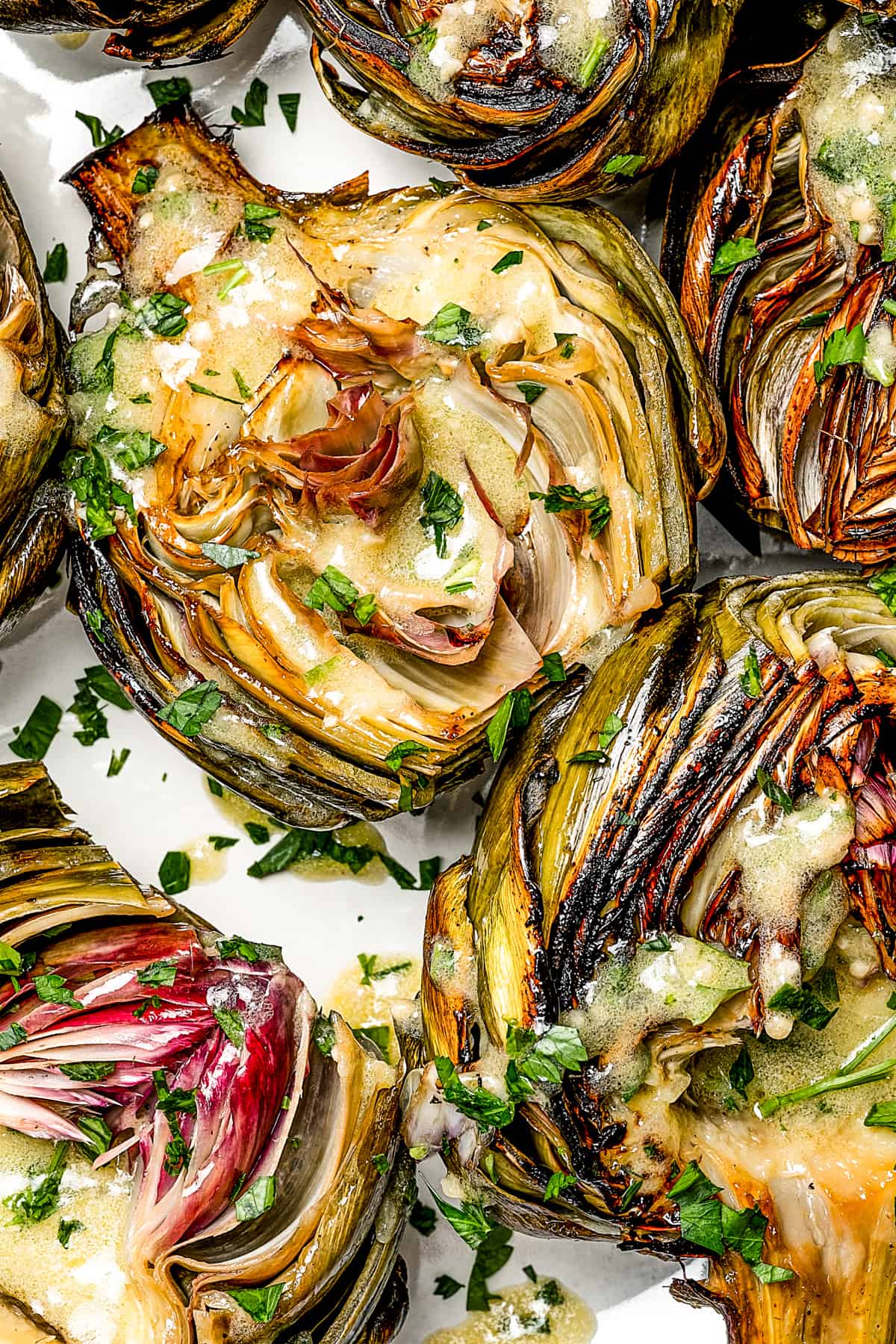 Ingredients You'll Need For Roasted Artichokes
So what will you need to roast your own artichokes? Only a few fresh ingredients. This is definitely a dish you can throw together with only a few minutes of prep. The oven does the rest!
Fresh Globe Artichokes: Look for artichokes that feel a bit heavy for their size, with nice tight leaves. Avoid artichokes with discoloration and loose leaves.
Water: For soaking.
Lemons: You'll want to squeeze one lemon into the soaking water, and have a couple more for cooking.
Olive Oil: Extra-virgin is great, but you could also use regular olive oil.
Salt and Pepper
Garlic: Mince up some fresh garlic, or substitute minced garlic from a jar.
Dijon Mustard: I love the slight taste of wine in Dijon mustard, but you could definitely use other mustards here as well.
Fresh Parsley: A couple of teaspoons for the dish, plus more for garnish.
How To Roast Artichokes
There are basically three parts to making this roasted artichokes recipe: prepping the artichokes, roasting them, and then making the lemon-garlic sauce. Here's how to make it:
Prep the Oven and Baking Dish. Before you begin, make sure to preheat your oven to 475˚F, and grease the bottom of a large (9×13) baking dish with olive oil.
Trim the Artichokes. Next, prep the artichokes. Cut the stem to about one inch. Cut off the top of the artichoke as well (about ¼ of the artichoke). Break off the bottom three layers of small leaves – they are tough and not really good to eat. If you see any dark green, discolored leaves, break those off, too. Finally, slice the artichokes in half from bottom to top, and scrape out the fuzzy part (the "choke") with a teaspoon.
Soak the Artichokes. Fill a bowl with water, and squeeze the juice of one lemon into it. Place your trimmed artichokes into the lemon water, and let them soak for a few minutes before taking them out.
Season and Roast. Place your soaked artichokes into a bowl and toss them with olive oil, some salt, and some pepper. Arrange them in your baking dish, cut-side-down. Cut two lemons in half and put them in the baking dish too, cut-side-up. Cover the dish with foil, and roast for about half an hour. When the artichoke leaves are browned and tender (poke them with a knife, to check), take the dish out of the oven and set it aside.
Make the Sauce. Carefully transfer the cooked lemons to a small bowl, and squeeze out as much juice as possible (you can use a spoon or fork for this). Remove the rind and seeds, leaving only the juice. Add the olive oil, garlic, mustard, and parsley to the bowl, and sprinkle with salt and pepper. Whisk well, and then taste the sauce. If it needs to be adjusted, go ahead and do that.
Finish! Drizzle the sauce over the roasted artichokes, garnish with a bit more parsley, and serve warm.
How To Eat Roasted Artichokes
If you're looking at an artichoke and wondering, "Yeah, but how do I actually eat that?" you're not alone! Eating roasted artichokes is actually pretty easy – all you have to do is follow these steps:
Eat the Outer Leaves. Pull off one leaf at a time, and dip the end that you just broke off into your favorite dipping sauce. Pull the leaf through your teeth, so that you scrape the soft, edible underside away from the tough upper side. Discard the tough part.
Keep Going… Keep doing this as you work your way through the leaves. As you go, the leaves will get softer, and you'll be able to eat more and discard less of each one. The leaves in the very center can sometimes be eaten whole.
Eat the Artichoke Heart. When all of the leaves are gone, cut the stem and base of the artichoke into bite-sized pieces. Dip those and eat them whole.
Tips for Success
This recipe is so simple and flavorful, especially when you have a few helpful tips up your sleeve. Read on for my best tips and hacks for perfect roasted artichokes, and bon appetit!
Freshness: Lots of people swear by the "squeak" test for freshness: a really fresh artichoke will make a squeaky sneaker sound when you squeeze it! This is because an artichoke is technically a sort of flower, and the "petals" (aka leaves) loosen and soften over time. Firm, tightly-packed leaves with a little squeak to them are fresher than softened, loosened leaves.
Thorns: The tips of some artichoke leaves have little hooks or thorns on them, which isn't a big deal – but if you like, you can definitely snip those off with kitchen scissors before you cook. That can make eating and handling easier.
Sauce Options: The sauce in this recipe is just for starters – artichokes are scrumptious with all kinds of sauces, from melted butter to mayonnaise, or homemade aioli. Make it your own!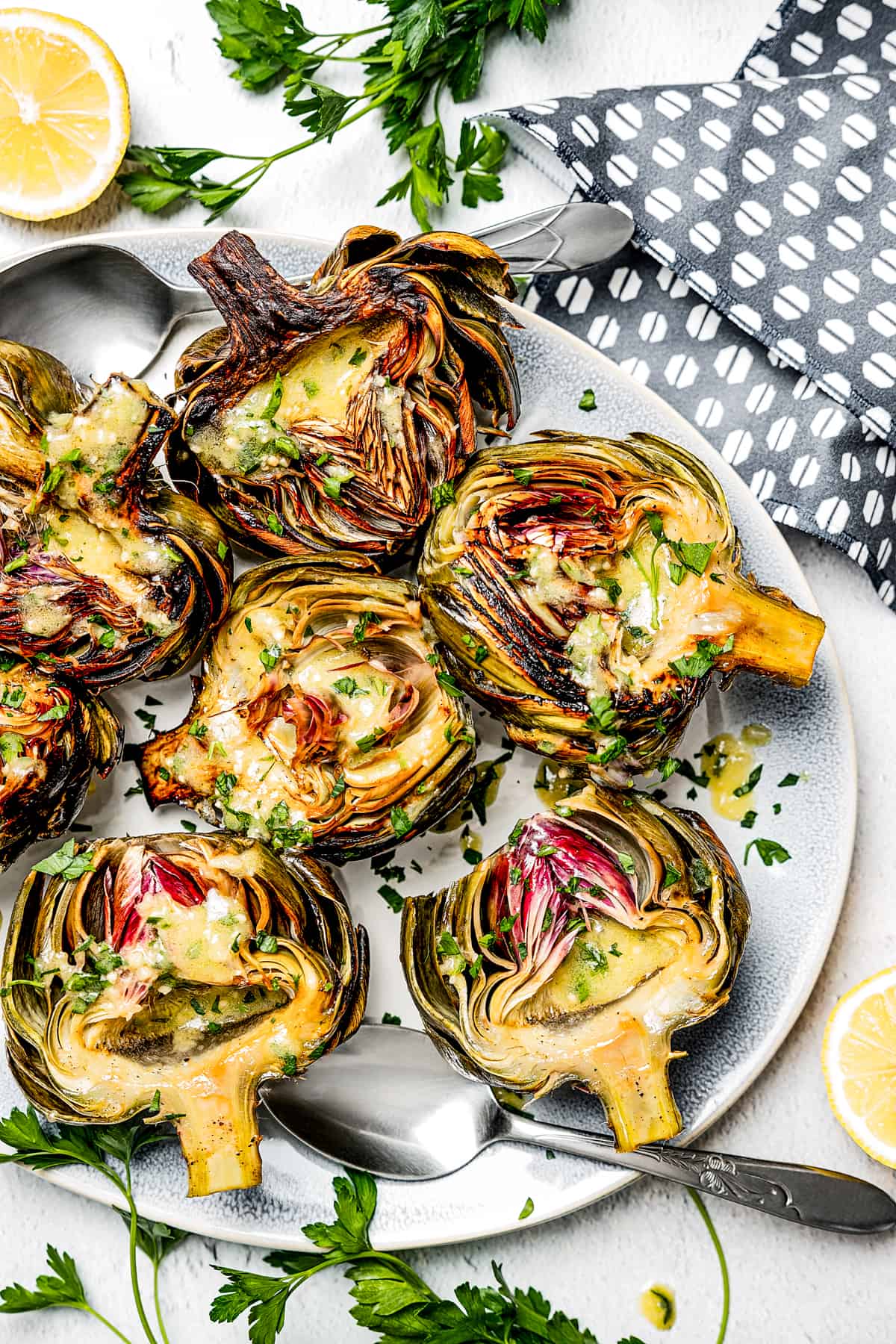 Serving Ideas
Although a dish as special as roasted artichokes is usually served as a stand-alone appetizer, it also makes a luxurious side dish for a larger meal. Here are some easy main courses to go with roasted artichokes!
Lamb: A hearty, home-cooked meal of Wine Roasted Lamb Shanks would be amazing alongside roasted artichokes. The richness of the meat is a great foil for the buttery, fresh veggie.
Steak: Specifically, steak bites! These tender little pieces of juicy steak are just right for serving with artichokes. Try my Garlic Butter Steak Bites with Mushrooms for a dinner the family will devour!
Chicken: Moist, well-seasoned chicken goes with everything – so why not make an easy chicken dinner to go with your roasted artichokes? These Juicy Stove Top Chicken Thighs would be perfect.
Storing and Reheating Instructions
Store leftover roasted artichokes in an airtight container in the fridge. They will keep for a couple of days.
Reheat artichokes wrapped in foil, to help keep the moisture in. Place the foil-wrapped artichokes on a baking sheet, and let them bake at 350˚F until heated through.
Can I Freeze These?
I don't recommend freezing roasted artichokes, since the texture and flavor may suffer after freezing and thawing. Instead, it might be better to halve the recipe if you feel it may be too much to enjoy in one meal.
ENJOY!
Roasted Artichokes
These easy Roasted Artichokes with lemony garlic sauce are a luscious side dish that will keep you coming back for more.
Ingredients
4

globe artichokes,

about 8 ounces each

8

cups

water

3

lemons,

divided

⅓

cup

olive oil,

divided

¾

teaspoon

salt

¼

teaspoon

fresh ground black pepper

3

cloves

garlic,

minced

1

teaspoon

dijon mustard

2

teaspoons

chopped fresh parsley,

plus more for garnish.
Instructions
Preheat oven to 475˚F.

Grease the bottom of a 9×13 baking dish with 1 tablespoon olive oil and set aside.

Working with 1 artichoke at a time, trim the stem to about 1-inch and cut 1-inch off the tip of the artichoke.

Break off the bottom 3 rows of tough outer leaves, and remove any dark green parts on the artichoke.

Cut the artichoke in half, lengthwise, then remove the fuzzy chokes in the center. Set aside.

Fill a large container or a baking dish with 8 cups water.

Cut 1 lemon in half; squeeze the lemon juice into the water.

Put the artichokes in the lemon water and keep in there for about 3 to 5 minutes.

Remove artichokes from the lemon water and shake off any excess liquid.

Transfer the artichokes to a large bowl and toss them with 2 tablespoons olive oil, ¾ teaspoon salt, and ¼ teaspoon black pepper.

Arrange artichokes, cut side down, on the bottom of previously prepared baking dish.

Cut the remaining 2 lemons in half and place them cut-side-up next to the artichokes.

Cover with aluminum foil and roast for about 25 to 30 minutes, or until artichoke leaves are browned and tender when poked with a knife.

Remove from oven and transfer the artichokes to a serving plate.

Grab the cooked lemons and squeeze out as much juice as possible into a mixing bowl.

To the lemon juice, whisk in the remaining olive oil, minced garlic, mustard, and parsley. Season with salt and pepper.

Drizzle the lemon dressing over the artichokes.

Garnish the artichokes with parsley and serve.
Notes
Choosing Artichokes: Look for fresh artichokes that will make a squeaky sneaker sound when you squeeze them.
Thorns: If the artichokes have little thorns on the ends of their leaves, grab the kitchen scissors and cut off the thorny tips.
How to eat an Artichoke: Pull off the leaves/pedals, one at a time, and dip in the sauce, if serving sauce (or a dip) on the side. Pull the leaf through your teeth, scraping the soft, pulpy edible underside of the leaf/pedal. Discard leaf.
Nutrition
Serving:
1
whole artichoke
|
Calories:
294
kcal
|
Carbohydrates:
32
g
|
Protein:
9
g
|
Fat:
19
g
|
Saturated Fat:
3
g
|
Polyunsaturated Fat:
2
g
|
Monounsaturated Fat:
13
g
|
Sodium:
689
mg
|
Potassium:
964
mg
|
Fiber:
15
g
|
Sugar:
4
g
|
Vitamin A:
53
IU
|
Vitamin C:
70
mg
|
Calcium:
141
mg
|
Iron:
4
mg
Nutritional info is an estimate and provided as courtesy. Values may vary according to the ingredients and tools used. Please use your preferred nutritional calculator for more detailed info.
Categories:
More Savory Veggie Recipes