Crunchy and delicious panko crusted salmon is an easy recipe that's ready in 30 minutes. Baked salmon filets are breaded with seasoned panko crumbs and served with an easy-to-make Tuscan-inspired tomato sauce.
Love easy salmon recipes? Try my similar stovetop recipe for salmon in sundried tomato sauce.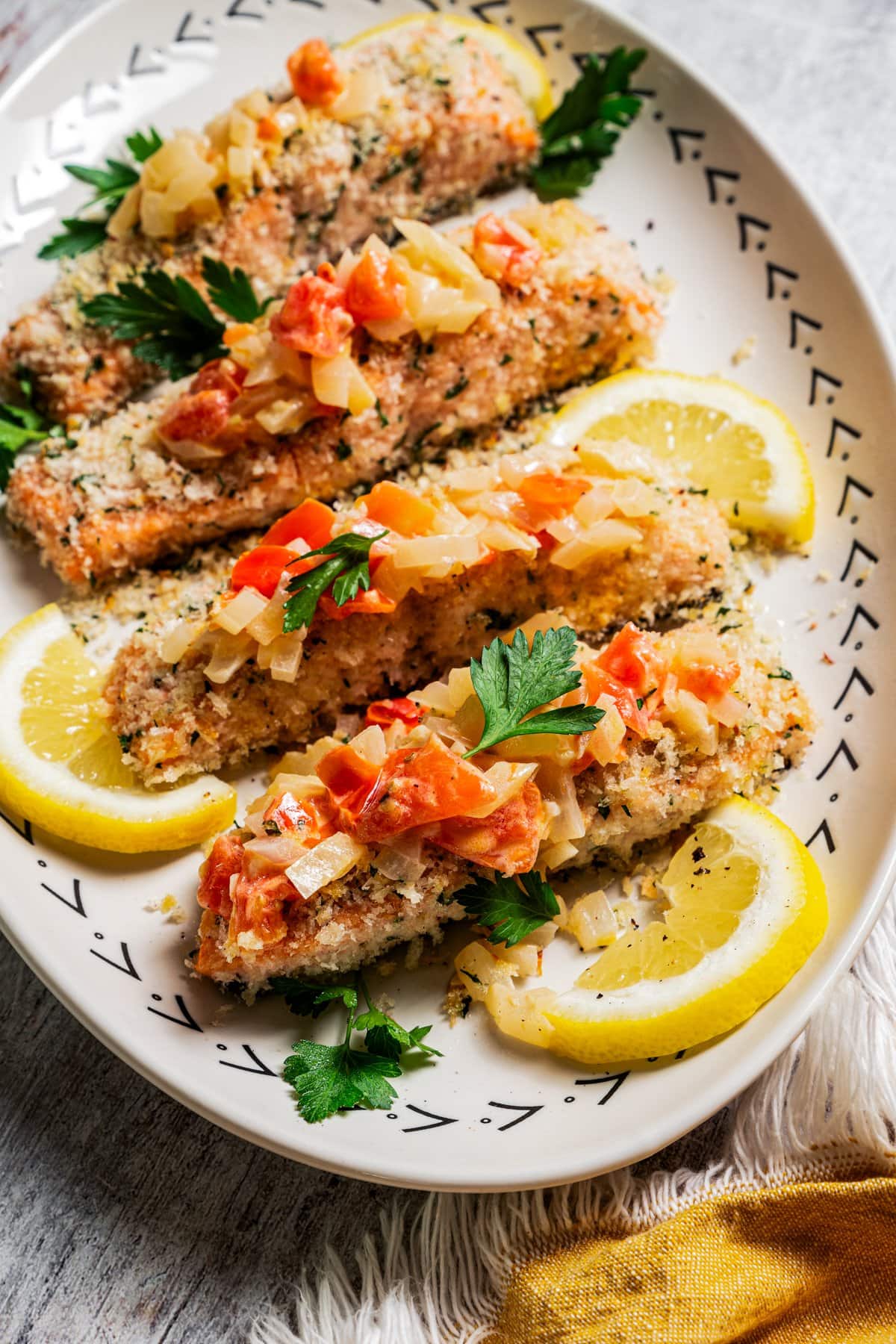 Panko Crusted Salmon with Tomato Sauce
Take your easy weeknight dinner and add a touch of elegance! Introducing a tasty salmon recipe that's sure to impress. Coated with crunchy Panko crumbs and adorned with a flavorful Tuscan-style tomato topping, this dish is a feast! Though I've traditionally baked salmon in foil, like this recent lemon pepper salmon, this time I've opted for a quick bake, and the results are equally delicious.
Obviously we love fish, especially salmon, but a lot of crusted salmon recipes call for ingredients like mayo, so I wanted something different and lighter, and here's the outcome: oven-baked salmon with a golden, crunchy breadcrumb coating that's nothing short of perfect. And the Tuscan style tomato salad on top is finger-licking good!
Why You'll Love This Salmon Recipe
Flavorful. Everything from the juicy salmon filets to the seasoned lemon panko coating and tangy Tuscan tomato sauce is jam-packed with flavor. The combination of lemon and tomatoes is perfect for summer, too.
Easy. This crusted salmon recipe looks totally 5-star, but it's actually crazy simple to make with easy ingredients. Prepare the sauce while the salmon bakes in the oven, and then serve it all together.
Quick. This amazing baked salmon is ready in just over 30 minutes. Nothing beats a speedy dinner that tastes this good!
How to Make Panko Crusted Salmon
You can make this easy salmon dinner with just a few basic ingredients that, when brought together, work some serious flavor magic. Be sure to scroll down to the recipe card for a full ingredient list and detailed instructions.
Ingredients You'll Need
Salmon Filets: This recipe makes enough breading and sauce for 4 to 6 salmon filets. Whenever possible, look for wild-caught salmon as it's lower in saturated fats and calories than farmed salmon.
Panko Breadcrumbs: Panko always has the best flavor and crunch, IMO. However, feel free to use another type of breadcrumb if you prefer. We'll mix our crumbs with freshly minced parsley and lemon zest.
For the Tuscan Tomato Sauce
Wine: I like a dry white wine, like chardonnay or pinot grigio, but just about any wine works here. Red wine will give the sauce a deeper, bolder flavor.
Tomatoes and Onions: This sauce is all about chopped ripe tomatoes and crisp onions. You can use Roma, garden tomatoes, or even grape tomatoes. I also bring freshly minced garlic into the mix.
Cream: It wouldn't be a Tuscan sauce without cream, would it? You'll stir in some heavy cream at the very end, along with a splash of milk, for extra richness.
Directions
A short hot bake in the oven takes salmon from "meh" to knock-your-socks-off! This recipe starts with juicy salmon coated in a zesty crust of panko crumbs and lemon zest. Here's how to make and bake perfect panko crusted salmon it in 3 easy steps:
Prepare and bake the salmon. Preheat the oven to 400ºF, and combine the panko crumbs with parsley and lemon zest, along with salt and pepper (freshly cracked!). Brush your salmon with olive oil, then dip the filets into the breadcrumbs to get a nice, thick coating. Arrange the filets in a greased baking dish and then bake for 13-15 minutes, until the fish flakes easily with a fork.
Make the sauce. Meanwhile, let's take this party to the stovetop. Get your onions and tomatoes fried in a hot skillet with olive oil and a splash of wine. Once the liquid reduces, stir in garlic and heavy cream. Then, bring the sauce to a boil and simmer until it thickens. Voila! Creamy Tuscan tomato sauce.
Finish and serve. Take your salmon out of the oven and let it rest for a minute. Dish up your crusted filets topped with spoonfuls of creamy tomato sauce and a sprinkle of fresh parsley, and dig in!
Can I Make This Salmon In the Air Fryer?
Yes, you can make panko crusted salmon in the air fryer. Prepare your salmon filets as directed and then cook them at 350ºF for 7-10 minutes. Make sure to check the salmon for doneness before serving, see my tips below.
How To Make Ahead
You can make the panko mixture and tomato sauce up to 1 to 2 days in advance. Store the panko crumbs airtight and keep them in the fridge (so the lemon zest and parsley stay fresh), and keep the tomato sauce refrigerated separately in an airtight container. When you're ready, coat and bake the salmon as directed, and warm up the sauce on the stovetop.
Tips and Variations
Cooking salmon and fish doesn't have to be a challenge! Even if you don't bake salmon often, you're going to be surprised by how easy it really is.
Leave enough space between the filets. Air circulation is key to a perfectly crispy panko crust. If the salmon is crowded in the pan, it will steam instead of baking, resulting in a soggy breadcrumb coating.
Check the temperature. The easiest way to check if salmon is done is to use an instant-read thermometer to take the temperature at the thickest part of the fish. According to the USFDA, salmon is cooked when the internal temperature reaches 145ºF.
No thermometer? Another way to see if your salmon is cooked is to poke it gently with a fork or knife. Salmon that's done will flake easily.
Use a whole filet. Feeding a crowd? Make this recipe with a whole slab of salmon instead of individual filets. You'll need to increase the baking time, so be sure to check the salmon for doneness as you go.
In place of olive oil, use homemade honey mustard (also check out my recipe for baked honey mustard salmon). You could also use another dressing, like maple mustard or lemon butter.
Top with a different sauce. I love the freshness of tomatoes and onions with my crunchy salmon filets, but you can easily top your fish with another sauce. Borrow the lemon garlic cream sauce from my pan seared salmon.
Common Questions
Should I leave the skins on the salmon?
Yes, it's fine to bake salmon with the skins on. The skins flake off easily after the salmon is cooked.
Can I use frozen salmon filets?
This recipe will work with fresh or frozen salmon. If you're using frozen fillets, make sure to thaw them completely in the fridge and pat them dry before you start.
Can I substitute the breadcrumbs in this recipe?
If you'd prefer to make crusted salmon without breadcrumbs, try pulsing nuts like walnuts or almonds in a blender to use as a crust instead. This is a great way to make gluten-free crusted salmon, or use these gluten-free breadcrumbs.
What is the best temperature to bake salmon?
I've found that the best temperature for baking breaded salmon is 400ºF. At this temperature, the salmon cooks through quickly and the panko crust bakes up crunchy and golden.
What to Serve with Panko Crusted Salmon
This salmon is a versatile recipe with so much potential at dinnertime! The flavors pair well with lots of easy dishes. Here are some of my favorite ideas:
Storing and Reheating Leftovers
Fridge: Store leftover panko-crusted salmon airtight and refrigerate it for up to 4 days. I recommend reheating your salmon in the oven to help the crust crisp up again.
Freezer: I don't usually recommend freezing cooked salmon as it tends to impact the texture, and in this recipe, the panko doesn't stay very crunchy. If you must freeze it, store the salmon airtight and keep it in the freezer for up to 3 months. Thaw in the fridge and then reheat.
More Salmon Recipes to Try
ENJOY!
Panko Crusted Salmon
Panko-crusted salmon is an easy 30-minute dinner with baked salmon filets coated in crunchy breadcrumbs and topped with a creamy Tuscan-style sauce.
Ingredients
For The Salmon Fillets
½

cup

panko crumbs

2

tablespoons

minced fresh parsley

1

teaspoon

grated lemon zest

salt and fresh ground black pepper

extra virgin olive oil

4 to 6

salmon fillets,

(about 4-ounces each)
For The Tuscan Tomato Sauce
2

tablespoons

extra virgin olive oil

½

cup

dry white wine,

use your favorite

1

small

yellow onion,

finely chopped

1

fresh tomato,

diced

2

cloves

garlic,

minced

¼

cup

heavy cream

3

tablespoons

2% milk

salt and fresh ground black pepper,

to taste

chopped fresh parsley,

for garnish
Instructions
Lightly grease a 9×13 baking dish with cooking spray and set aside.

In a shallow plate, combine panko crumbs, parsley, lemon zest, salt, and pepper.

Generously brush each salmon fillet with olive oil on all sides.

Place the salmon fillets in the panko mixture and press the panko mixture thickly over and around each fillet.

Transfer the fish to the baking dish and bake for 13 to 15 minutes, or until the salmon flakes easily.

Meanwhile, prepare the tomato sauce and heat the oil in a nonstick pan set over medium heat.

Add the onions and tomato and cook for 2 minutes; stir in the wine and cook, stirring frequently, for 3 minutes or until the liquid is reduced by half.

Add garlic, cream, and milk; bring to a boil, stirring frequently, and continue to cook until reduced and thickened.

Remove from heat and season with salt and pepper.

Taste for seasonings and adjust accordingly.

Remove the salmon from the oven and let stand for 2 minutes.

Spoon the tomato sauce over the fillets and sprinkle with fresh parsley.
Notes
Space the Filets: Ensure enough space between the filets for air circulation. Crowding will cause steaming rather than baking, leading to a soggy crust.
Check the Temperature: Use an instant-read thermometer; salmon is cooked at 145ºF. No thermometer? Poke the salmon; if it flakes easily, it's done.
Use a Whole Filet: For feeding a crowd, use a whole slab instead of individual filets and adjust the baking time.
Gluten-Free Options: Use gluten-free breadcrumbs or pulverized nuts like walnuts or almonds.
Oil Alternatives: Substitute olive oil with homemade honey mustard or other dressings like maple mustard or lemon butter.
Different Sauces: Experiment with various sauces; for example, try the lemon garlic cream sauce from my pan-seared salmon recipe.
Storage: Store leftovers in an airtight container and refrigerate for up to 4 days. I recommend reheating your salmon in the oven to help the crust crisp up again.
Nutrition
Calories:
480
kcal
|
Carbohydrates:
21
g
|
Protein:
36
g
|
Fat:
25
g
|
Saturated Fat:
7
g
|
Polyunsaturated Fat:
5
g
|
Monounsaturated Fat:
10
g
|
Trans Fat:
0.01
g
|
Cholesterol:
118
mg
|
Sodium:
169
mg
|
Potassium:
1001
mg
|
Fiber:
1
g
|
Sugar:
3
g
|
Vitamin A:
724
IU
|
Vitamin C:
9
mg
|
Calcium:
60
mg
|
Iron:
2
mg
Nutritional info is an estimate and provided as courtesy. Values may vary according to the ingredients and tools used. Please use your preferred nutritional calculator for more detailed info.
Categories: