This easy Bulgur Salad is a vegetarian delight! The rich medley of healthy bulgur, chickpeas, herbs, and veggies come together in no time, and offer tons of nutrition along with a zesty taste. Fresh lemon vinaigrette brings it all together.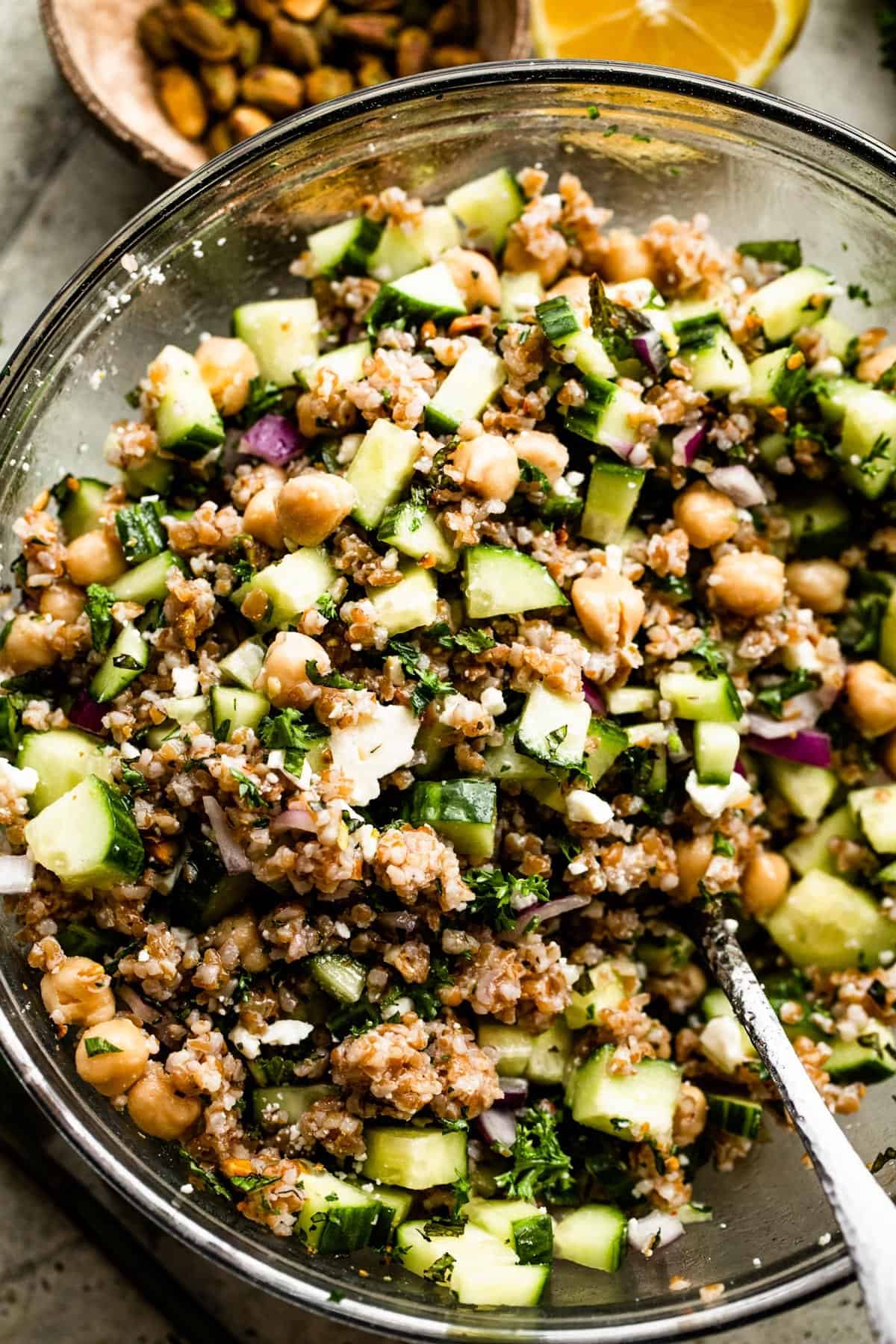 The Viral "Jennifer Aniston" Salad, Perfect for Meal Prep!
Have you seen the latest viral food trend, the Jennifer Aniston salad? Lots of people claim this fresh bulgur salad is what Jen and Friends (see what I did there?) ate on the set of the beloved sitcom, not just sometimes, but for Ten. Years. Straight.
Others say this is a similar salad, but that it originated from a social media post in 2015, where the star shared a picture of her favorite salad. I'm thinking it was probably this dang amazing Tabbouleh Salad! It had to be.
Either way, this one is a keeper! It's SO, SO GOOD! You could definitely enjoy this for a whole decade, like they did – it's that fresh, flavorful, and satisfying. With mild bulgur wheat, meaty garbanzo beans, the punch of freshly chopped herbs, pistachios, and red onion, it's got everything you could want in a healthy salad. And then some.
What You'll Need
So what goes into Jen's favorite bulgur salad? An easy, short, and ultra-flavorful list of super healthy ingredients – what else? This salad not only tastes great, but it's also nourishing and quick to make.
For the Salad
Bulgur: This recipe starts with a cup of uncooked bulgur. If you'd like to double that and make more, go for it!
Cucumber: Dice up an English Cucumber.
Garbanzo Beans: Also known as chickpeas, these are what hummus is made of! Rinse and drain before using.
Fresh Herbs: Chopped fresh parsley and mint add loads of herbal flavor.
Pistachios: Chopped pistachios add color and crunch, along with a rich, nutty flavor.
Red Onion: Not everyone loves raw onion in salad, so you can definitely leave this out if you prefer – or replace it with a less pungent veggie like bell pepper or celery.
For the Dressing
Olive Oil: Extra virgin olive oil has the strongest, boldest flavor. Look for bottles marked "first cold pressed" for the best quality.
Lemon Juice: Fresh juice is extra-bright and yummy, but bottled juice will work just fine, as well.
Salt and Pepper: To taste.
For Garnish
Feta Cheese: Feta cheese crumbles add a beautiful tangy creamy note to the salad. Goat cheese or cotija cheese would be great, as well.
Are Bulgur and Couscous the Same?
If you are new to cooking with bulgur, you may wonder if it's the same as another popular salad ingredient, couscous! While both are technically wheat products, couscous is basically a tiny, grain-sized pasta. Bulgur, on the other hand, is simply cracked grains of whole wheat that have been par-cooked and then dried. Both are healthy and delicious, though!
How to Make This Easy, Healthy Recipe
The instructions for making Jennifer Aniston's bulgur salad are so simple, they are almost unnecessary to write! All you have to do is cook the bulgur, chop up the veggies and herbs, and then throw it all together in a bowl. Stir, and you're done!
Cook the Bulgur Wheat. First of all, you'll need to consult the directions on your package of bulgur, and cook the bulgur accordingly. Drain and cool. I like to spread mine out in a thin layer on a baking sheet to cool more quickly.
Combine the Salad Ingredients. Once the bulgur has cooled, place it in a big bowl along with the diced cucumbers, garbanzo beans, parsley, pistachios, red onions, and mint.
Make the Dressing. In a smaller mixing bowl, whisk together the olive oil, lemon juice, salt, and pepper.
Dress the Salad and Serve. Pour the dressing over the salad and toss gently to combine. Taste a bite for salt and pepper, and adjust those if needed. Finally, sprinkle the crumbled feta over the salad, and serve.
Can You Replace Bulgur Wheat with Quinoa?
Definitely! This recipe is so flexible. You could use almost any grain that you love here – maybe a wild rice blend, some quinoa, farro, buckwheat groats… anything you love!
Helpful Tips
If you need to make this bulgur salad now, you're not alone! Just writing about it makes me want another big serving – it's that good. But, before you start cooking, take a second to look over these easy tips for success. They'll help guarantee the tastiest results!
Know Your Bulgur: Bulgur wheat comes in different size grains, from fine to coarse. The coarser grains should be boiled, but the finer ones can be boiled or simply soaked in hot water. Definitely check your package directions to make sure you're preparing it right!
Know Your Cucumbers: Persian cucumbers and English cucumbers are recommended for salads, but you could also use regular cucumbers (also known as pickling cucumbers), or use mini cucumbers. If your cucumber seems to have a tough or waxy peel, you may want to peel the cucumber before adding it to the salad.
Rinse Your Garbanzo Beans: As convenient as canned beans can be, they sometimes have a slight "canned" taste to them. Draining them helps, but I like to rinse the beans well with cool water as well, and drain them again. This helps the flavor of the beans shine through!
Soak the Onions: To take some of the edge off of the raw red onion, you can try soaking it for 10 minutes or so in cold water. This can "wash away" some of the onion juices and leave them tasting a little more on the mild side.
What to Serve with Bulgur Salad
With its rich combination of carbs, protein, and healthy fat, this salad is definitely a complete meal in a bowl! But it's also wonderful paired with fresh, flavorful side dishes. Here are just a couple that'll leave you drooling!
A Hearty Soup: There's nothing quite like soup with salad. It's a combination that'll make your body happy! This wholesome bulgur salad would be perfect alongside a bowl of Roasted Tomato Soup, or any other soup you love.
Savory Chicken: For a light protein addition, why not try these easy Chicken Skewers with Cucumber-Garlic Yogurt Sauce? It's light, refreshing, and has tons of fresh, zesty flavor.
Eggplant: This beloved veggie is right at home with bulgur salad. For a simple but mouthwatering prep, I highly recommend Grilled Eggplant with Garlic Vinaigrette. Make it on a grill or on a grill pan – either way, it's amazing.
Storing the Leftovers
This healthy salad will last in the fridge for about 3 days, stored in an airtight container.
Note: If you portion the salad into separate containers for meal prep, it can last for four days, or so. Just keep the cucumbers and pistachios separate, and add them each day when you're ready to eat. If you add them on day 1, by day 3 they will be softer and less appetizing, IMO.
ENJOY!
Jennifer Aniston's Bulgur Salad
This Bulgur Salad is a rich, flavorful medley of bulgur, chickpeas, nuts, cucumbers, and feta cheese tossed with a zesty lemon vinaigrette.
Instructions
Cook bulgur according to the directions on the package; set aside to cool. It cools quicker if you transfer it to a baking sheet and arrange it in a single layer.

Once cooled, put the bulgur in a large salad bowl.

To the salad bowl add the diced cucumbers, chickpeas, parsley, pistachios, red onions, and mint; set aside.

In a mixing bowl whisk together the oil, lemon juice, salt, and pepper; whisk until well combined.

Pour the dressing over the salad and toss gently to combine.

Taste for salt and pepper; adjust accordingly.

Add crumbled feta cheese.

Serve.
Nutrition
Calories:
329
kcal
|
Carbohydrates:
32
g
|
Protein:
11
g
|
Fat:
19
g
|
Saturated Fat:
5
g
|
Polyunsaturated Fat:
3
g
|
Monounsaturated Fat:
10
g
|
Cholesterol:
17
mg
|
Sodium:
376
mg
|
Potassium:
416
mg
|
Fiber:
8
g
|
Sugar:
2
g
|
Vitamin A:
686
IU
|
Vitamin C:
10
mg
|
Calcium:
153
mg
|
Iron:
2
mg
Nutritional info is an estimate and provided as courtesy. Values may vary according to the ingredients and tools used. Please use your preferred nutritional calculator for more detailed info.
Categories:
More Healthy Salad Recipes