This Chicken Skewers recipe makes the most tender, flavorful chicken served with a creamy Macedonian yogurt sauce called Taratur. It's easy to make and out-of-this-world delicious!
The Most Incredible Chicken Skewers Recipe
If you're looking for an easy chicken dinner idea everyone will devour, look no further! This chicken skewers recipe can be prepped in advance and then cooks up in just 15 minutes. The end result is perfectly tender, juicy chicken threaded onto wooden skewers and served with a flavorful Macedonian dipping sauce called Taratur.
And friends, the dipping sauce is a whole experience of its own. Taratur is made with fresh ingredients and tastes like a big ol' bowl of summer. It's garlicky, it's crunchy, it's cold, and it's ridiculously amazing.
Why You'll Love These Chicken Skewers
Easy. Prep the chicken the night before and then grill it up for dinner. The marinade is super simple and cook time is 15 minutes in total.
Flavorful. The chicken is marinated in a lemon-thyme mixture together with garlic and olive oil. Need I say more? Every bite is brimming with flavor.
Flexible. You can serve these chicken skewers with all sorts of sides, like your favorite salad, grilled veggies, you name it. I have shared some of my favorite ideas below.
How to Make Chicken Skewers with Taratur Sauce
Here's a quick overview of how to make this easy chicken skewers recipe. Be sure to scroll down to the recipe card for ingredients and full instructions.
Marinate the chicken. Cut chicken into long strips, then place the pieces in a ziploc bag with the marinade. Refrigerate for at least 2 hours.
Grill the chicken. Discard the marinade and thread the chicken onto wooden skewers. Cook over medium heat on a grill brushed with vegetable oil until the chicken is no longer pink (about 10 to 12 minutes). Turn the chicken once during the cooking time.
Make the taratur sauce. A few hours before you're ready to start grilling, make the taratur sauce. Drizzle some oil, walnuts, and chopped mint on top. Chill in the fridge. Then serve with your skewers.
What Is Taratur Sauce?
Judging by the ingredients, you may think that Taratur is the same as Tzatziki, but let me stop you right there. Taratur is a traditional Macedonian summer side dish or dip (it can be served either way), which is similar to Tzatziki, but it is not the same.
The variations are in the extra ingredients used in Taratur and in the thickness of the yogurt. The yogurt used for Tzatziki is as thick as a spread, whereas the yogurt used for Taratur is thinner because Taratur is meant to be either eaten with a spoon, or used as a sauce or dip for various grilled meats and sandwiches.
What to Serve With Chicken Skewers
Chicken skewers are the perfect summer dinner. They're quick, easy, and go with so many different sides. Here are a few of my favorite pairings:
Salad. I love this crunchy Green Goddess Salad with chicken and you can't beat the summery freshness of this Tomato Burrata Salad. You can also serve this grilled chicken as part of a salad itself, like in this Lemon Kale Caesar Salad.
Veggies. Ok, have you ever tried halloumi? It is a kind of cheese and you can heat up on the grill and it's unbelievably delicious with grilled vegetables. I also love air fryer corn on the cob and grilled zucchini with this recipe.
For all of the above suggestions, you can drizzle extra taratur sauce on top. It goes wonderfully with salad, crunchy fresh veggies, grilled veggies, and even bread.
Cocktails. Is it wrong to suggest a refreshing cocktail to go with this grilling recipe? I hope not cause I'm gonna do it. On a hot summer day when you've fired up the grill, there's nothing like a White Claw Slushie or Campari Spritz to sip along with grilled chicken and your favorite sides.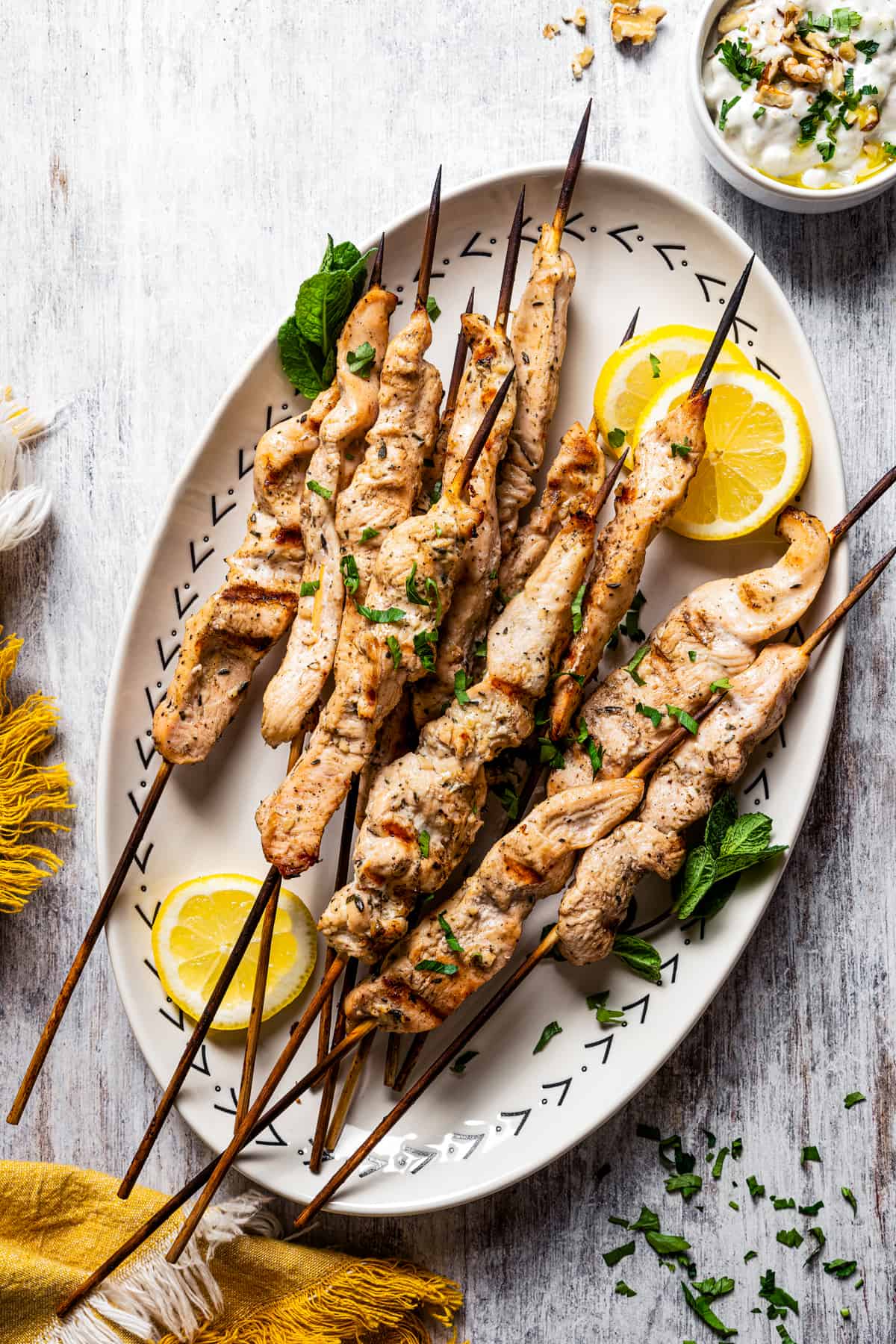 How to Store Extras
To store leftovers, allow the chicken to cool before placing it in an airtight container. Refrigerate for up to 4 days or freeze for up to 3 months, defrosting in the fridge before reheating.
Store the Taratur sauce separately in a container for 2 to 3 days. Stir well before using. Avoid freezing the sauce as it affects the texture.
More Chicken Skewer Recipes to Try
ENJOY!
Chicken Skewers with Garlic Yogurt Sauce
Deliciously marinated chicken skewers are grilled to perfection and accompanied by a refreshing Garlic Yogurt Sauce known as Taratur.
Ingredients
For The Chicken Skewers
4

skinless, boneless chicken breasts

2

tablespoons

olive oil

2

tablespoons

lemon juice

1

tablespoon

white vinegar

2

cloves

garlic,

minced

1

teaspoon

Italian Seasoning

½

teaspoon

dried thyme

½

teaspoon

dried basil

salt and fresh ground black pepper,

to taste

wooden skewers
For The Garlic Yogurt Sauce (Taratur)
1

small

English cucumber,

finely diced

4

garlic cloves,

, minced

½

teaspoon

salt

fresh ground pepper,

to taste

2

cups

non-fat plain yogurt

½

cup

walnuts,

ground + couple more tablespoons of ground walnuts on the side for sprinkling on top of the dip

2

tablespoons

extra virgin olive oil,

divided

1

teaspoon

fresh chopped mint

chopped fresh parsley,

for garnish
Instructions
For The Chicken Skewers
Cut the chicken lengthwise into 12 to 16 strips.

Place chicken in a resealable bag and set aside.

In a mixing bowl, combine olive oil, lemon juice, vinegar, garlic, Italian Seasoning, thyme, basil, salt, and pepper; whisk until well incorporated.

Pour the marinade over the chicken and seal the bag.

Refrigerate for 2 hours, or overnight.

Remove chicken from bag and discard marinade.

Thread the chicken onto wooden skewers.

Heat the grill to a medium heat.

Brush grilling surface with vegetable oil.

Place the chicken skewers on the grill, directly over heat.

Grill for 10 minutes, or until chicken is no longer pink, turning the skewers once during cooking.
For The Garlic Yogurt Sauce (Taratur)
Dice the cucumbers and try to absorb as much of the moisture as possible by drying off the cucumber pieces with a paper towel.

Place cucumbers and minced garlic in a bowl.

Sprinkle with salt and 1 tablespoon extra virgin olive oil; mix it all together.

Stir in the yogurt and ground walnuts.

Drizzle the remaining extra virgin olive oil on top, sprinkle with remaining ground walnuts and add the mint.

Chill before serving it in an individual, cup-sized bowl OR drizzle some of it over the chicken skewers as I have done here.

Add chopped fresh parsley.

Serve.
Notes
Marinate the Chicken: Marinating the chicken before grilling infuses it with flavor and helps to tenderize the meat. Aim for at least 30 minutes, but if you have time, a few hours or even overnight would yield the best results.
Soak the Skewers: If you're using wooden or bamboo skewers, remember to soak them in water for at least 30 minutes before threading the chicken. This will prevent them from burning on the grill.
Uniform Pieces: Try to cut your chicken into uniformly sized pieces. This ensures even cooking.
Don't Overcrowd the Skewers: Leave a little space between the pieces of chicken on the skewer to allow heat to circulate evenly.
Taratur Sauce: Fresh ingredients are key here. Using fresh garlic, cucumbers, and quality yogurt will result in a flavorful and tangy sauce that pairs perfectly with the chicken.
Grill Care: Make sure your grill is preheated, and the grates are clean and oiled before adding the skewers. This helps the chicken cook evenly and prevents sticking.
Nutrition
Calories:
292
kcal
|
Carbohydrates:
11
g
|
Protein:
23
g
|
Fat:
18
g
|
Saturated Fat:
2
g
|
Polyunsaturated Fat:
6
g
|
Monounsaturated Fat:
8
g
|
Trans Fat:
0.01
g
|
Cholesterol:
50
mg
|
Sodium:
346
mg
|
Potassium:
622
mg
|
Fiber:
1
g
|
Sugar:
8
g
|
Vitamin A:
87
IU
|
Vitamin C:
6
mg
|
Calcium:
192
mg
|
Iron:
1
mg
Nutritional info is an estimate and provided as courtesy. Values may vary according to the ingredients and tools used. Please use your preferred nutritional calculator for more detailed info.