Seasoned with a sweet and balanced brown sugar rub, this Grilled Pork Tenderloin can't be beat! You'll adore how lean and juicy this savory classic can be.
Flavor-Blasted Grilled Pork Tenderloin!
Summer is heating up, isn't it? At my house, that means moving a lot of our cooking outdoors, courtesy of my beloved grill. Grilling is just a great way to celebrate summertime, avoid heating up the kitchen, and add tons of yummy char and spicy flavor to the menu. How much better does it get, right? In addition to burgers, chicken, and other favorites, I really love throwing a pork tenderloin or two on the grill. These versatile cuts of pork have a great flavor and texture, and cook up super quickly. Perfect for a busy weeknight, but impressive and tasty enough for a special occasion!
If you see them on sale, I definitely recommend stocking up because pork tenderloin is good in so many recipes. Don't even get me started on Balsamic Roasted Pork Tenderloin, Instant Pot Garlic Pork Tenderloin, Air Fryer Pork Tenderloin, and Apple Mustard Glazed Pork Tenderloin… oh my!
Grilled Pork Tenderloin Ingredients
The star of the show in this recipe is the pork; the other ingredients are the perfect supporting cast, including a flavorful homemade rub. You'll love the balanced, nuanced flavors in this savory dish.
Pork Tenderloin: These are usually sold in plastic packaging, and range from one to 2 pounds.
Sugar: I like to include a spoonful of brown sugar in my rub recipe, for a sweet and smoky flavor with great caramelized ion.
Salt and Pepper
Garlic Powder and Onion Powder: These two ingredients add loads of mouthwatering flavor with no added prep. Love it!
Thyme: This earthy dried herb brings out the best in almost any pork recipe.
Cayenne Pepper and Crushed Red Pepper: For a hint of heat. You can omit these if you prefer.
Paprika: Made from dried sweet peppers, paprika adds gorgeous color and a hint of earthy sweetness.
Parsley: Dried parsley brings a fresh, herbal note to the party.
Allspice: For a little added oomph.
Barbecue Sauce: This is optional, but it's nice to have for serving.
Is There a Difference Between Pork Loin and Pork Tenderloin?
Yes! There's definitely a big difference in these two cuts of meat, so unfortunately you can't swap one for the other. A pork loin is much larger and takes longer to cook, so it's better for oven roasting or cutting into chops. A tenderloin is small, thin, and has a more delicate texture that's perfect for grilling.
How To Grill Pork Tenderloin
No worries, even if you're new to grilling or have never made pork tenderloin before! You've totally got this, and it's going to be fabulous.
Trim the Meat. If you see a silvery-white strip of skin on the outside of the pork tenderloin, grasp it firmly with one hand, and slide a sharp knife underneath. Gently pull the skin and trim with your knife down the length of the tenderloin. Repeat on the other side if needed. Next, pat the tenderloin dry with paper towels.
Season the Tenderloin. In a small bowl, combine all the ingredients for the seasoning, and rub the seasoning all over the pork. Set the seasoned tenderloin aside.
Grill. Preheat your grill to medium-high heat, brush with oil, and lay the seasoned pork on the grill. Close the grill, and let it cook for 16 to 20 minutes total. Turn the meat with tongs every 5 minutes. At, or near the end of the cook time, check for doneness; pork is cooked through when internal temperature registers at 145˚F.
Enjoy! Let the tenderloin rest on a clean cutting board for about 8 minutes, before slicing and serving with the barbecue sauce.
How Do You Keep Pork Tenderloin from Drying Out on the Grill?
Because tenderloin is so lean, it can be challenging to cook it without drying out. The best way to ensure that it doesn't get dry is to check it carefully with a meat thermometer a little bit early (in case it has cooked quicker than expected) and keep checking every couple of minutes until it reaches 145ºF.
Easy Tips and Variations
Before you start grilling, I hope you will check out these helpful tips for perfect tenderloin. It's a rewarding meal to get right, and each handy hint is geared to that purpose.
Customize the Seasonings: My rub recipe is a great option, but you can definitely substitute other rubs and seasonings. From smoky mesquite to Montreal steak, use what you love!
Get a Head Start: If you like, you can trim and season the pork tenderloin up to one day in advance, and chill it until you're ready to cook.
Timing May Vary: Since grills and cuts of meat are all a little different, you may need to adjust the cook time somewhat. Don't be afraid to add or take away a few minutes either way! And again, a meat thermometer will be a huge help in understanding that timing. Digital instant read thermometers are the easiest way to be sure that your meat has reached a safe internal temperature (145ºF) without overcooking. I never cook meat without one.
Serving Suggestions
Avocado Fries: Who could resist the creamy inside and crunchy outside of perfect Air Fryer Avocado Fries? With homemade buffalo ranch dipping sauce, they're a perfect starter for your summer feast.
Skillet Veggies: With the warm weather here, stores and farmers' markets are loaded with fresh zucchini. Put it to delicious use in this easy Skillet Zucchini and Mushrooms. Low carb, healthy, and great with grilled pork.
Cucumber Salad: This light, fresh Cabbage Cucumber Salad is so crisp and cool that I could eat the whole bowl myself! It's perfect for serving with any grilled meat.
How to Store and Reheat Your Leftovers
Leftovers should be stored in the fridge within an hour or so of cooking, for best results. Wrap your leftover pork tightly in plastic wrap, or stick it in a zip-top bag. It should keep for up to four days.
To reheat, place in a covered skillet over low heat. Allow the tenderloin to cook until just heated through. If you overdo it, the meat will dry out, so be sure to keep an eye on it.
Can I Freeze Pork Tenderloin?
Yes, you can freeze your leftover pork. First, cool it (but don't let it sit out at room temperature for longer than an hour to two). Wrap it tightly in a layer of plastic wrap, followed by a freezer bag or layer of foil. Mark with the date, and freeze for up to 3 months. Thaw in the fridge before reheating.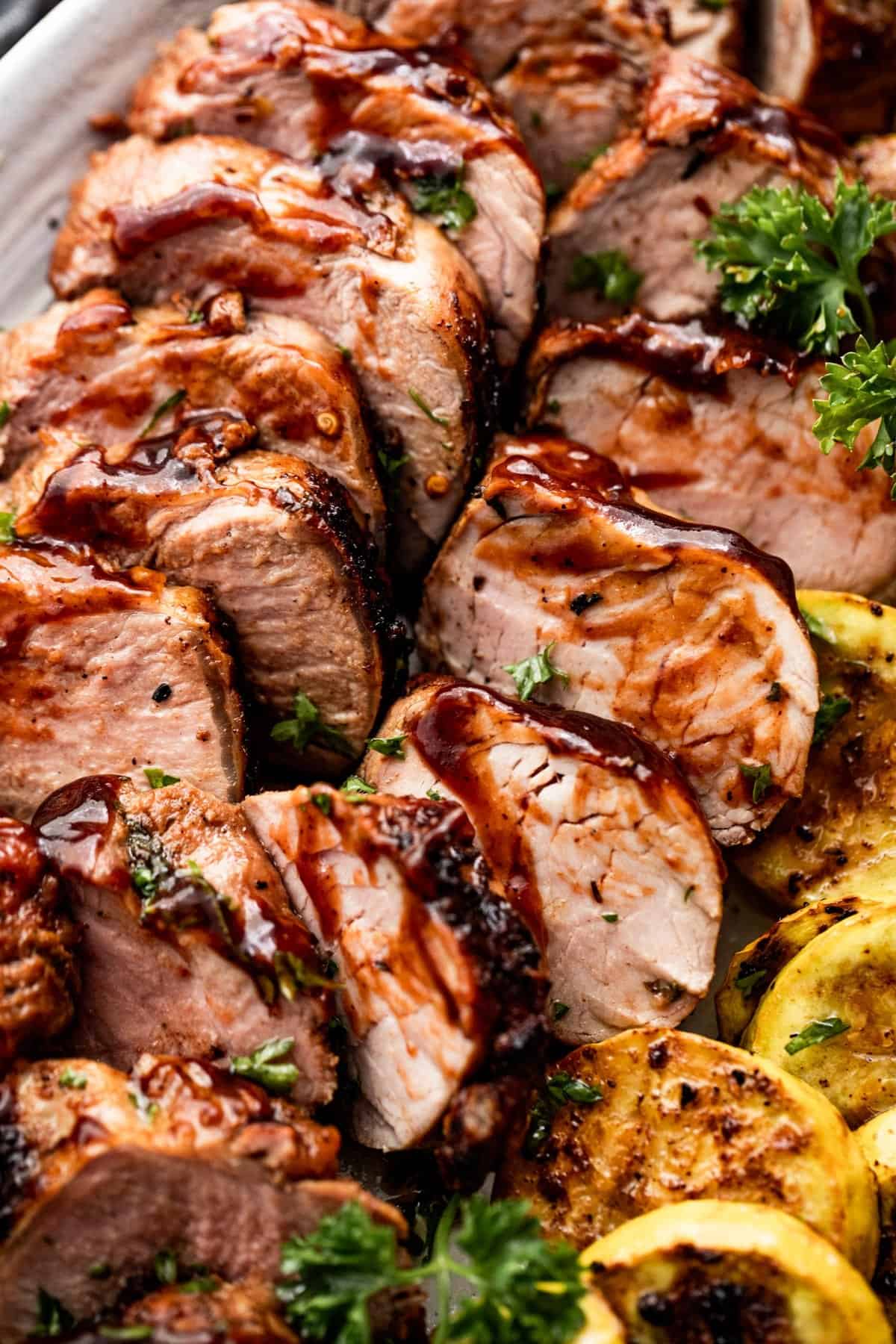 ENJOY!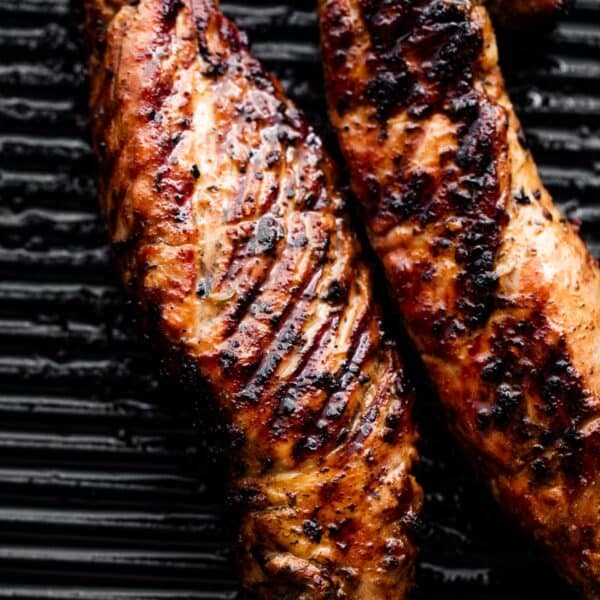 Grilled Pork Tenderloin with Brown Sugar Rub
Seasoned with a sweet and balanced homemade rub, this festive Grilled Pork Tenderloin with Brown Sugar Rub can't be beat! You'll adore how lean and juicy this savory classic can be.
Ingredients
FOR THE DRY RUB SEASONING
Instructions
Trim the pork tenderloin of any excess fat and silverskin; then pat it dry with paper towels and set aside.

In a small mixing bowl, combine all the ingredients for the seasoning. Rub the seasoning all over the pork tenderloin. Set aside.

Preheat the grill to medium-high heat.

Brush the grill grates with vegetable oil and transfer the pork to the grill. Close the grill and cook for 16 to 20 minutes, turning every 5 minutes.

Using an instant-read meat thermometer, check the pork for doneness; pork is cooked through when the internal temperature registers at 145˚F. Cooking time may vary depending on the size of the pork and on the grill.

Remove the pork from the grill and transfer it to a cutting board; let stand for about 5 to 8 minutes before slicing and serving.

Serve with barbecue sauce.
Notes
Season to Taste: While my rub is a great base, use favorites like mesquite or Montreal steak.
Marinating Time: If time allows, let the pork marinate in the rub mixture for 30 minutes and up to 8 hours.
Prep Ahead: Consider trimming and seasoning the pork a day early and store it chilled until cooking.
Cooking Time: Due to grill and meat variations, adjust the cooking time as needed. A digital thermometer ensures the right internal temperature (145ºF) for perfect doneness.
Cutting: When serving, slice the tenderloin against the grain. This ensures that each piece is tender and easy to chew.
Nutrition
Calories:
212
kcal
|
Carbohydrates:
2
g
|
Protein:
35
g
|
Fat:
6
g
|
Saturated Fat:
2
g
|
Polyunsaturated Fat:
1
g
|
Monounsaturated Fat:
2
g
|
Trans Fat:
0.1
g
|
Cholesterol:
111
mg
|
Sodium:
381
mg
|
Potassium:
689
mg
|
Fiber:
0.3
g
|
Sugar:
1
g
|
Vitamin A:
193
IU
|
Vitamin C:
0.3
mg
|
Calcium:
17
mg
|
Iron:
2
mg
Nutritional info is an estimate and provided as courtesy. Values may vary according to the ingredients and tools used. Please use your preferred nutritional calculator for more detailed info.
More Easy Grilling Recipes