With ground turkey, grated onion, Worcestershire sauce, and a few other basic ingredients, these Juicy Grilled Turkey Burgers are guaranteed to turn out tender, delicious, and perfect for warm-weather dinners!
Best-Ever Turkey Burgers on the Grill
Around here, it's grilling season, and I am SO here for it! What's not to love about grilling? All the heat stays outside, and all the food comes out tender, juicy, and ultra-flavorful. Whether you're grilling steak, veggies, or throwing a shrimp on the barbie, you can't go wrong. Oh, and did I mention… turkey burgers? SO GOOD!

Now stay with me, here. I realize that too many of us have been the victims of dry, bland, and even crumbly turkey burgers. No one needs that in their life. But, a good turkey burger? It's a revelation! That's why I love this easy recipe. It makes the most out of simple ground turkey, turning it into a juicy, savory, and basically addictive meal that the entire neighborhood will want to devour.
If that sounds good to you, read on! This recipe is sure to be a warm-weather staple.
Is Turkey Burger Healthier than Hamburger?
A common belief is that ground turkey is simply healthier than hamburger, the way that a banana is healthier than a bag of candy – while that's true, it's not quite that simple when it comes to burgers.The truth is, both ground turkey and ground beef have similar nutrition profiles, and both can be part of a healthy diet. Here are some reasons you might want to reach for turkey rather than beef, now and then:
You're avoiding red meat for health reasons, or out of preference.
Using turkey instead of beef or chicken helps add more variety to your protein options, and can provide your body a more well-rounded nutrition profile.
Turkey may be more affordable than beef, depending on the store and the season.
The lighter flavor of turkey may work better in some dishes.
What You'll Need
So just what goes into this perfect turkey burger recipe? If you're a busy cook, rejoice! You only need a few simple ingredients, and you probably already have most of them. Here's the rundown:
For the Turkey Patties
Ground Turkey: I use a pound of turkey to make four servings. But you can easily double this recipe to feed more people, if needed.
Grated Onion: Instead of dicing or mincing, run the side of a peeled onion along a grater. The fine, soft texture of grated onion sort of absorbs into the burger as it cooks, adding flavor without disrupting the texture.
Garlic: Mince up the garlic, or put it through a garlic press. Garlic powder works, too!
Crumbs: Pork rind crumbs are my go-to, for keeping things on the low-carb side. However, breadcrumbs or plain Panko are fine, as well.
Parsley: Chopped fresh parsley adds the perfect herbal note. Dried parsley will work, too.
Egg: Lightly beat one egg yolk.
Worcestershire Sauce: A little goes a long way!
Salt and Pepper: To taste.
For Serving
Burger Buns
Sliced Cheese
Lettuce
Sliced Tomato
Sliced Red Onion
Mustard
Mayonnaise
Ketchup
And any other burger toppings that you love. Go crazy! The more, the merrier.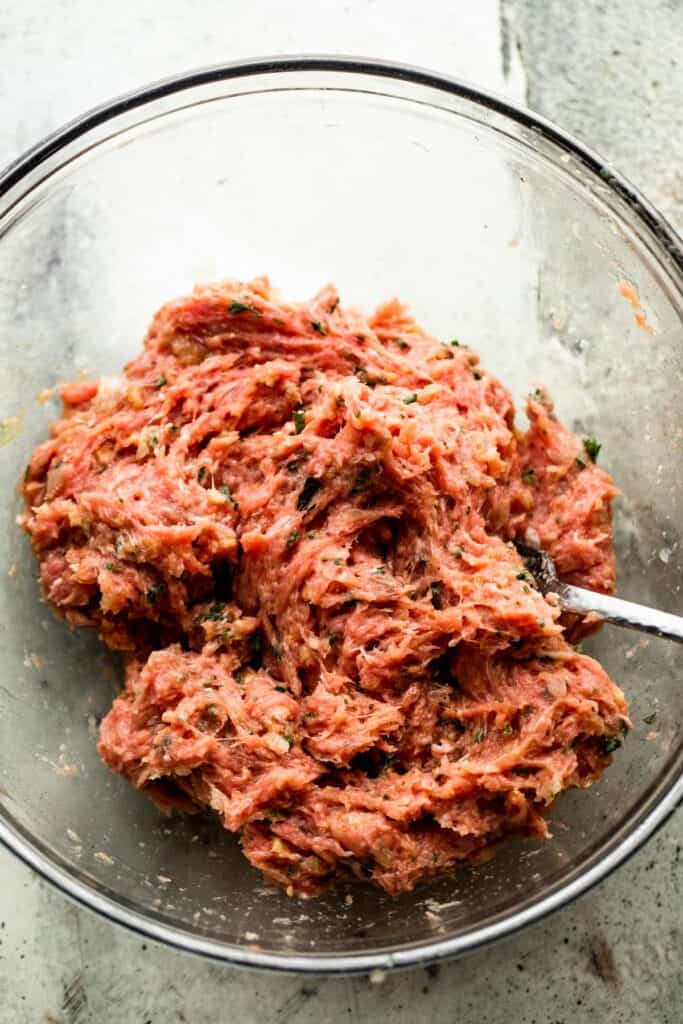 Let's Get Grilling!
This method for making turkey burgers is super-simple, and packed with easy techniques for enhancing the flavor and texture of the burgers. Once you try making them like this, you will be hooked. Here's how to do it, step by step:
Make the Burger Mixture. First, combine the ground turkey, onions, garlic, pork rind crumbs, parsley, egg yolk, worcestershire sauce, salt, and pepper in a big bowl. Use a large spoon or your hands to mix everything together, until it is just combined. Don't overmix, or the burgers will be tough.
Form and Chill the Patties. Next, carefully form the mixture into four flat patties. It may seem much more soft or wet than hamburger, but that's okay! Just shape them and place them on a large plate or tray. Then cover and chill for about half an hour.
Prepare to Grill. While the patties are chilling, heat your grill to HIGH (about 425˚F to 450˚F). Oil the grill grates, and take the patties out of the fridge. Use your thumb to press a dent into the middle of each patty – this will help them keep a good shape as they grill, instead of shrinking and swelling up.
Grill the Patties. Transfer the turkey burgers to the grill, and let them cook for about 6 minutes. Flip, and cook for 5 to 7 more minutes, or until the internal temperature of the turkey burgers registers at 160˚F to 165˚F.
Enjoy! Rest the burgers on a clean serving plate for 5 minutes, before serving with all of your favorite fixins and toppings.
How Do You Keep Turkey Burgers from Drying Out on the Grill?
Because turkey (like chicken) can be unpleasantly dry when overcooked, I recommend cooking only to the temperature for doneness (165°F – see more on this in the Tips section below). The egg, pork rind crumbs, and Worcestershire all do their part to keep your burgers juicy, as well. Finally, try using darker ground turkey if possible. Ultra-lean turkey is the most likely to dry out.
Tips for Success
If you've ever had a dry or crumbly turkey burger, you will appreciate these helpful tips for keeping them moist, juicy, and all in one piece. Read on, and happy cooking!
Keep Turkey Burgers from Falling Apart: There are a few ways to keep turkey burgers together while they cook, and this recipe uses them all! From adding eggs and crumbs to a quick chill in the fridge, this easy recipe has all the secrets for awesome turkey burgers. You can also make the patties a little taller than regular beef patties – that helps, too.
Ground Turkey Is Very Soft: Keep in mind that when you handle raw ground turkey, it's usually very soft, unlike hamburger which is a little more firm. So if your patties seem mushy at first, that's okay! Just form them as best you can, and don't worry. They'll firm up as they cook.
Use a Meat Thermometer: Sometimes it can be stressful wondering if your burgers are done enough, or not. And unlike hamburgers, turkey burgers don't have any wiggle room – they have to be cooked "well done," no medium or medium-rare allowed! I recommend using a meat thermometer to check for doneness without having to cut the burger open and peer at the inside. An instant-read thermometer is easiest. Just put a patty on a clean plate, insert the thermometer, and look for the magic number: 165°F.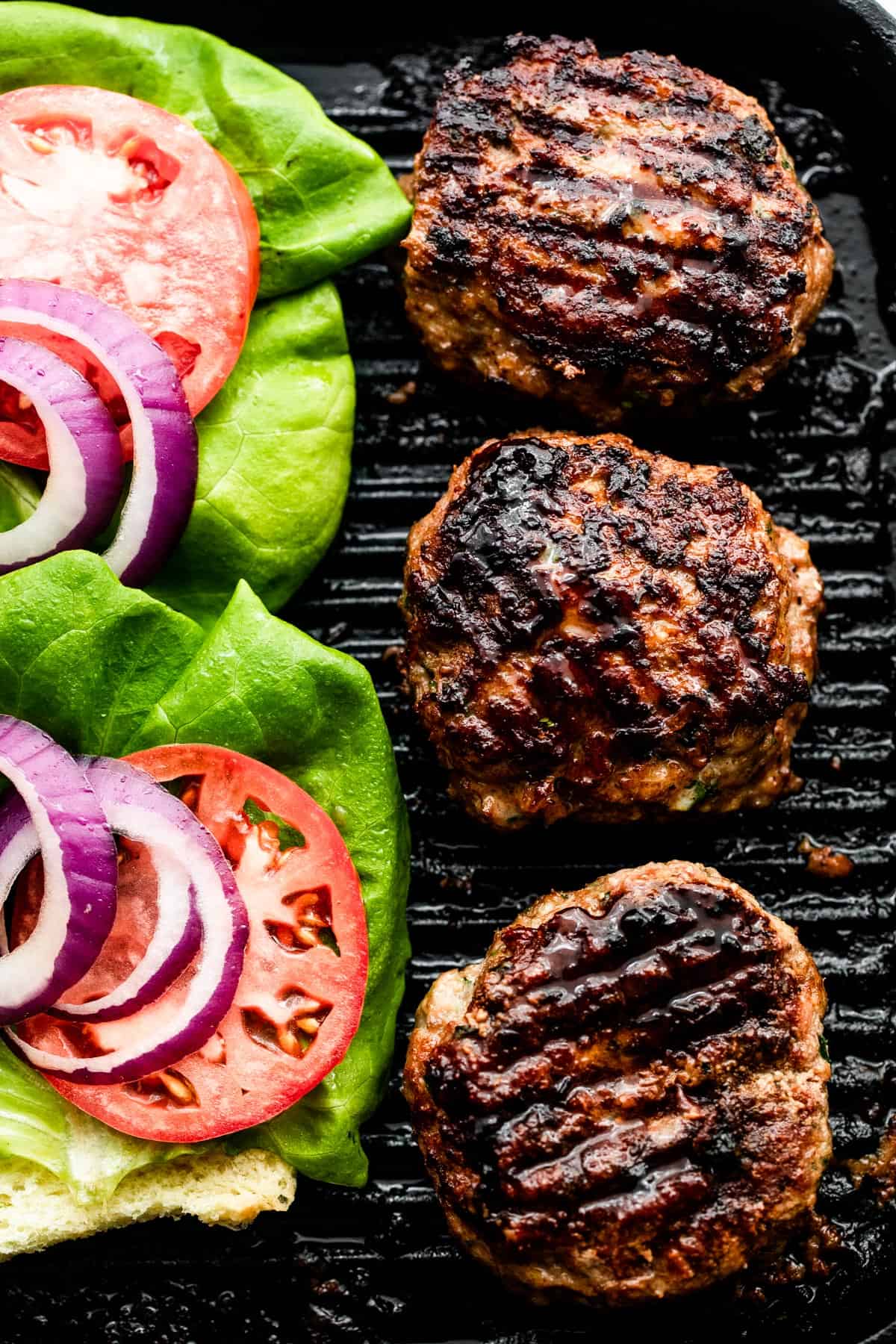 Yummy Side Dishes
To serve your turkey burgers, I recommend a crispy, crunchy side. Salad, fries, and chips are all great options. Check out these mouthwatering recipes for each one:
Fries or Wedges: A bag of your favorite frozen french fries or potato wedges makes a great side dish with turkey burgers – but my personal favorite are these Crispy Sweet Potato Wedges. Try them with ketchup! So good.
Chips: Another potato favorite, classic chips are a fun and kid-friendly side. But did you know that you can make your own? That's right, and it's actually pretty easy, if you use an air fryer! Try this simple recipe for Air Fryer Potato Chips, and you'll be in crispy potato chip heaven.
Salad Skewers: If you want your kids to try salad, I can't emphasize enough that putting it on a skewer is the way! (Heck, even some adults will eat more salad if it's on a stick.) Make a quick tray of these Macedonian-Style Grape Caprese Salad skewers, and watch them disappear.
How to Store and Reheat Turkey Burgers
To store, wrap the turkey burgers tightly, or put them in zip-top bags and press out as much air as you can before sealing. Keep them in the fridge for 3 to 4 days.
To reheat, you can microwave your turkey burgers, or reheat them in a covered skillet on low heat.
Can I Freeze Turkey Burgers?
Definitely! Just cool down the burger patties, and then store them in freezer bags. It's important to press as much air as possible out of the bags before sealing. From there, pop them in the freezer.
They'll keep for up to 3 months.
Thaw in the fridge before reheating.
ENJOY!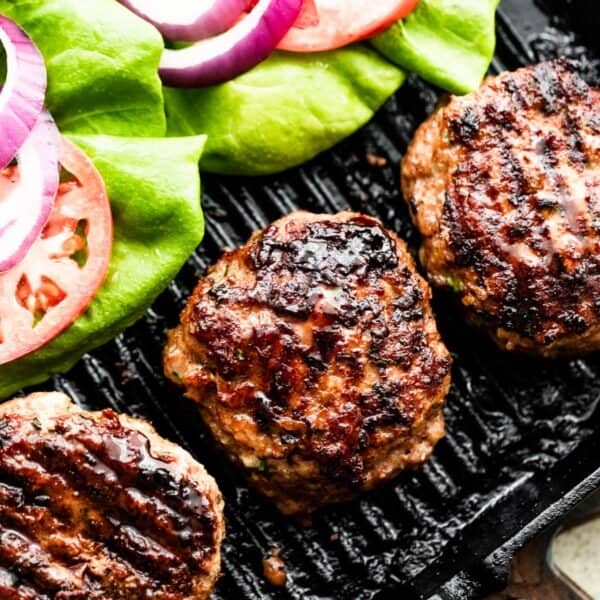 Juicy Grilled Turkey Burgers
With ground turkey, grated onion, Worcestershire sauce, and a few other basic ingredients, these Juicy Grilled Turkey Burgers are guaranteed to turn out juicy, tender, and perfect for warm-weather dinners!
Ingredients
For Serving:
cheese

lettuce

tomatoes

Sliced red onion

mustard

Mayonnaise

ketchup

etc.
Instructions
In a large bowl combine the ground turkey, crumbs, onions, garlic, parsley, egg yolk, worcestershire sauce, salt, and pepper; mix until just combined. Do not overmix.

Form mixture into four flat patties.

If the mixture is too wet to the point of falling apart, add a little more crumbs, or until desired consistency. Keep in mind, though, that the burgers should be wet and soft, and will firm up in the fridge.

Transfer the turkey burgers to a large plate and then place them in the refrigerator for about 20 to 30 minutes.

Remove the burgers from the fridge.

Preheat the grill to high; about 425˚F to 450˚F.

Oil the grates.

Using your thumb, create an indent in the center of each turkey patty.

Transfer to the grill and cook for 6 minutes; flip over and continue to cook for 5 to 7 more minutes, or until internal temperature of the turkey burgers registers at 160˚F to 165˚F.

Remove from grill and let rest for about 5 minutes before serving.
Nutrition
Calories:
166
kcal
|
Carbohydrates:
3
g
|
Protein:
29
g
|
Fat:
4
g
|
Saturated Fat:
1
g
|
Polyunsaturated Fat:
1
g
|
Monounsaturated Fat:
1
g
|
Trans Fat:
1
g
|
Cholesterol:
113
mg
|
Sodium:
741
mg
|
Potassium:
412
mg
|
Fiber:
1
g
|
Sugar:
1
g
|
Vitamin A:
268
IU
|
Vitamin C:
5
mg
|
Calcium:
25
mg
|
Iron:
1
mg
|
Net Carbs:
2
g
Nutritional info is an estimate and provided as courtesy. Values may vary according to the ingredients and tools used. Please use your preferred nutritional calculator for more detailed info.
Categories:
More Fun Grilling Recipes