Balsamic Roasted Pork Tenderloin is cooked in a decadent glaze that combines the earthy taste of rosemary with the tangy flavor of vinegar and a little kick of garlic. This filling and flavorful meal goes so well with a light salad and a glass of wine.
Looking for more pork tenderloin recipes? Try this Instant Pot Pork Tenderloin. It's always a hit!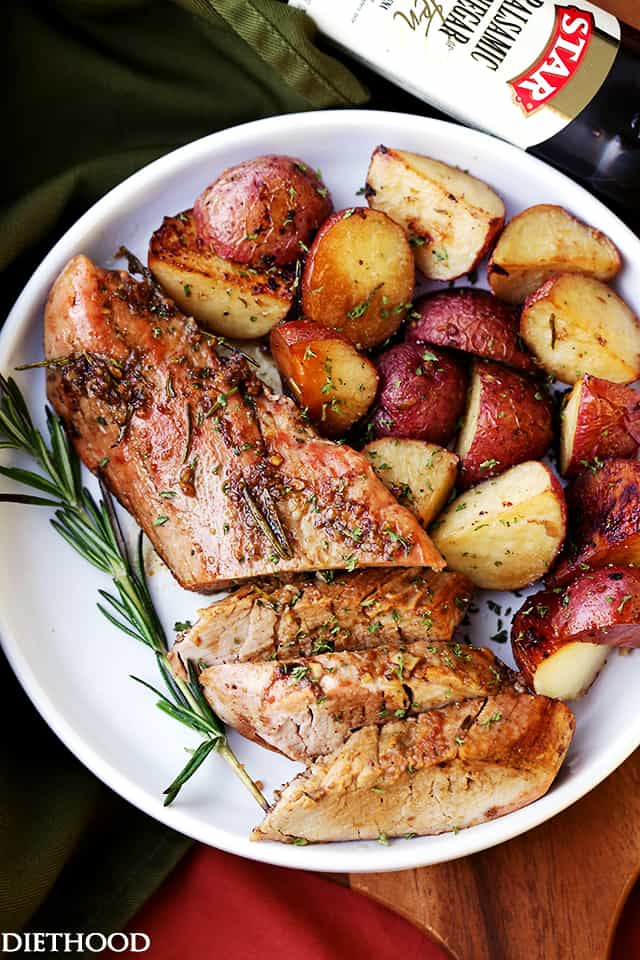 Juicy & Flavorful Roasted Pork Tenderloin Recipe
No other cut of pork can hold a candle to pork tenderloin when it comes to soaking up flavor. Since it's such a thin cut, the rich and deep flavors of garlic, rosemary, and sweet yet tangy balsamic vinegar really get a chance to shine. The glaze also helps ensure that the delicate meat stays nice and tender.
This roasted pork tenderloin is also great for a quick meal because it has a built-in side dish. Not only do you get the sumptuous meat, but it also comes with potatoes that are cooked right there in the same pan! This saves time and means the potatoes will be packed with flavor.
Why You'll Love This Pork Recipe
Quick Flavorful Dinner: Opting for pork tenderloin ensures a quicker cooking time and better absorption of flavors, giving you a tender and delicious meal every time.
All-In-One Meal: The recipe incorporates potatoes cooked right alongside the pork, ensuring you have a flavorful side dish without any extra effort.
Juiciness Guaranteed: The specially curated glaze not only adds flavor but also ensures the pork remains tender throughout the cooking process.
Effortless: With a short list of common ingredients and easy-to-follow instructions, this dish can be assembled in just 10 minutes and is perfect for both beginners and seasoned cooks.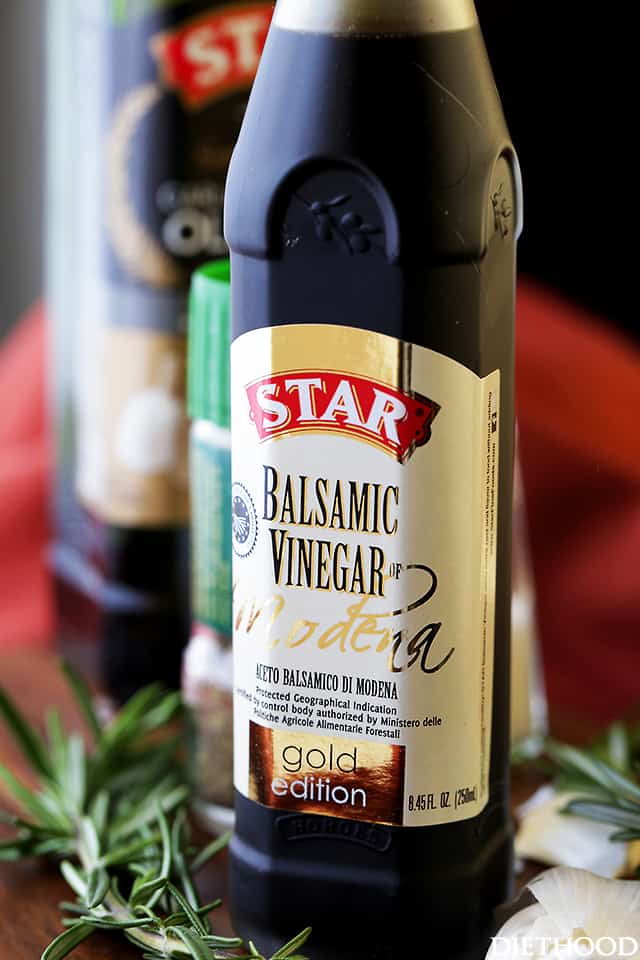 Pork Loin vs Pork Tenderloin
Although pork loin and pork tenderloin might sound pretty much the same, there's a world of difference in those six extra letters! Pork loin is a much thicker cut of meat. This means it takes longer to cook and needs more time to marinate before the flavor can really sink in. We use pork tenderloin in this recipe because it is quicker, more tender, and fully soaks up the flavors of the glaze.
Ingredients For Balsamic Pork Tenderloin
This recipe is easy to make with only a handful of ingredients you probably already have sitting around your kitchen. The glaze can be whipped up in no time at all, and the oven does the rest of the work!
Pork Tenderloin: Don't substitute other cuts.
Olive Oil
Balsamic Vinegar
Garlic: Whole cloves, crushed.
Rosemary
Salt
Pepper: Freshly ground is best.
Red Potatoes: Cut into quarters.
How to Cook Pork Tenderloin
Ten to fifteen minutes is all you need to get this dish assembled and ready for the oven. Follow these easy steps for perfectly cooked tenderloin with potatoes.
Preheat Oven: Preheat your oven to 450°F.
Prep Your Materials: Use cooking spray to grease a roasting pan, then place the pork in it.
Assemble the Glaze: Combine the olive oil, balsamic vinegar, garlic cloves, rosemary leaves, salt, and pepper in your food processor and blend until the mixture thickens into a paste.
Glaze the Pork and Prep the Potatoes: Cover the meat on all sides using 3/4 of the glaze. Cut the potatoes into quarters and spread the rest of the rub onto the potatoes. Place the potatoes around the pork and pop it into the oven for 8 minutes, flipping the meat halfway through to brown evenly on both sides.
Reduce the Oven Temp to 350°F, and cook for 40 to 45 minutes or until the potatoes are tender, and the pork should read at least 145°F on your meat thermometer.
Let it Cool: Let the pork rest for 5 minutes. This not only lets the meat cool but also allows the flavors juices to really sink into the pork and potatoes.
Serve: Transfer the meat to a cutting board. Cut it into slices and serve it with the potatoes.
How to Tell When Pork is Done
Since it can be hard to tell if meat is cooked all the way through just by looking at it, the best way to tell when your pork tenderloin is done is to use a meat thermometer and pull the pork out of the oven when its internal temperature reaches 145˚F. Instant-read digital thermometers are easy to use and give you quick results.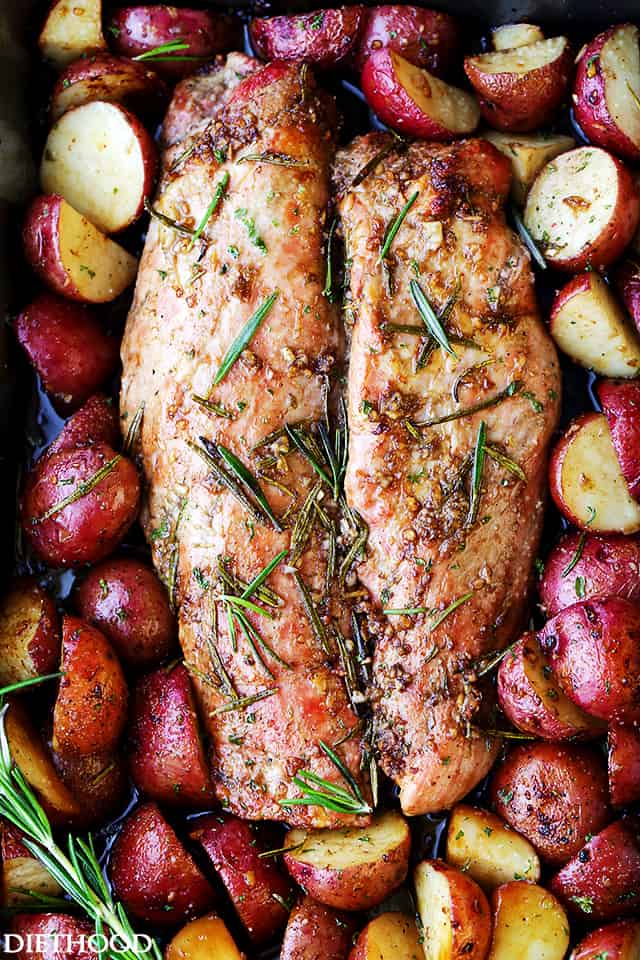 Tips for A Successful Roasted Pork Tenderloin Dinner
Cover the Pork: Covering the pan with tin foil after adding the potatoes can stop the steam from escaping and result in a juicier pork tenderloin. However, doing this can make the potatoes less crispy. It's really up to you to decide whether to cover the pan or not.
Score the Tenderloin: Before adding the glaze, try making small cuts or scores across the top of your pork. This helps the meat stay tender and absorb more flavor.
Allow the Meat to Rest: Giving the pork time to rest both before and after it's roasted will also help it stay tender and absorb the flavors more deeply. The resting time after cooking is especially important to lock in the juices.
Serving Suggestions
Since this pork tenderloin already has a built-in side dish, any other sides should stay light. This refreshing Cabbage Cucumber Salad has a light dressing and brings the bright crunch of fresh greens. You could also pair this pork with our Classic Southern Coleslaw and these amazing Honey Garlic Butter Roasted Carrots.
Storage and Reheating
Cooled pork should be stored in an airtight container and kept in the refrigerator for up to 4 days.
To freeze roasted pork tenderloin, wrap it in plastic wrap and foil before freezing it, and keep it in the freezer for 2 to 3 months. To serve, thaw it overnight in the refrigerator.
To reheat, use the oven to warm it through. You can also use the stove if you want to give it a light sear. If you saved any of the glaze or the juices from the pan, pour them on before reheating to add more flavor and keep the meat tender.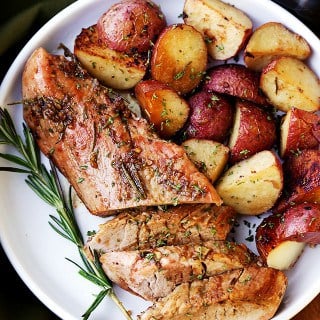 Balsamic Roasted Pork Tenderloin
Balsamic Roasted Pork Tenderloin is cooked in a decadent glaze that combines fresh rosemary with the tangy flavor of balsamic vinegar and a little kick of garlic. Accompanied by roasted potatoes, this dish offers a well-rounded meal that's as fulfilling as it is flavorful.
Instructions
Preheat the oven to 450°F. Lightly grease a roasting pan with cooking spray; place the pork inside the roasting pan and set aside.

In a food processor or small blender, combine olive oil, balsamic vinegar, garlic, rosemary, salt, and pepper; process until thickened and the consistency is that of a wet paste.

Spread 3/4 of the glaze on all sides of the pork. Prepare the potatoes by combining them with the remaining glaze. Arrange the potatoes around the meat. Place in oven and cook for 8 minutes, flipping the pork halfway through cooking for even browning.

Reduce the oven temperature to 350˚F.

Continue to cook for 40 to 45 minutes, stirring the potatoes halfway through cooking, until the pork is cooked and the potatoes are tender. Pork is done when its internal temperature registers at 145°F.

Remove from oven and let rest for 5 minutes. Transfer the roast to a cutting board; slice and serve with the potatoes.
Notes
Marinating Time: If time allows, let the pork marinate in the balsamic mixture for a few hours. This allows for deeper flavor penetration.
Cover the Pork: Using tin foil to cover the pan can make the pork juicier by trapping in the steam, but it might reduce the crispiness of the potatoes.
Score the Tenderloin: Make small cuts on top of the pork before glazing. It helps in flavor absorption.
Fresh Ingredients: Use fresh rosemary and garlic over dried or pre-minced versions. They significantly impact the depth and authenticity of flavors.
Temperature Check: Always use a meat thermometer to ensure the pork is cooked to the desired temperature. It's the best way to avoid over or under-cooking. If the pork is cooked through before the potatoes, remove the pork from the pan, transfer it to a cutting board, and continue to cook the potatoes until done.
Let the Meat Rest: Resting the pork before and after roasting is crucial for retaining juices.
To Store: Refrigerate in a tightly sealed container for up to 4 days.
To Freeze: Wrap tightly in plastic wrap, tin foil, or a freezer bag and freeze for up to 3 months.
Nutrition
Serving:
1
serving
|
Calories:
367
kcal
|
Carbohydrates:
27
g
|
Protein:
34
g
|
Fat:
12
g
|
Saturated Fat:
2
g
|
Cholesterol:
98
mg
|
Sodium:
110
mg
|
Potassium:
1335
mg
|
Fiber:
2
g
|
Sugar:
3
g
|
Vitamin A:
75
IU
|
Vitamin C:
15
mg
|
Calcium:
41
mg
|
Iron:
2.9
mg
Nutritional info is an estimate and provided as courtesy. Values may vary according to the ingredients and tools used. Please use your preferred nutritional calculator for more detailed info.
Categories:
More Flavorful Pork Recipes
This dish is a rich and flavorful way to make pork tenderloin, but there's so much more you can do with this little cut! Check out the recipes below for more inspiration.