This is my ultimate chef salad recipe loaded with classic ingredients like fresh veggies, deli meats, cheese, and hard-boiled eggs. It's a satisfying, healthy lunch or dinner tossed with homemade dressing!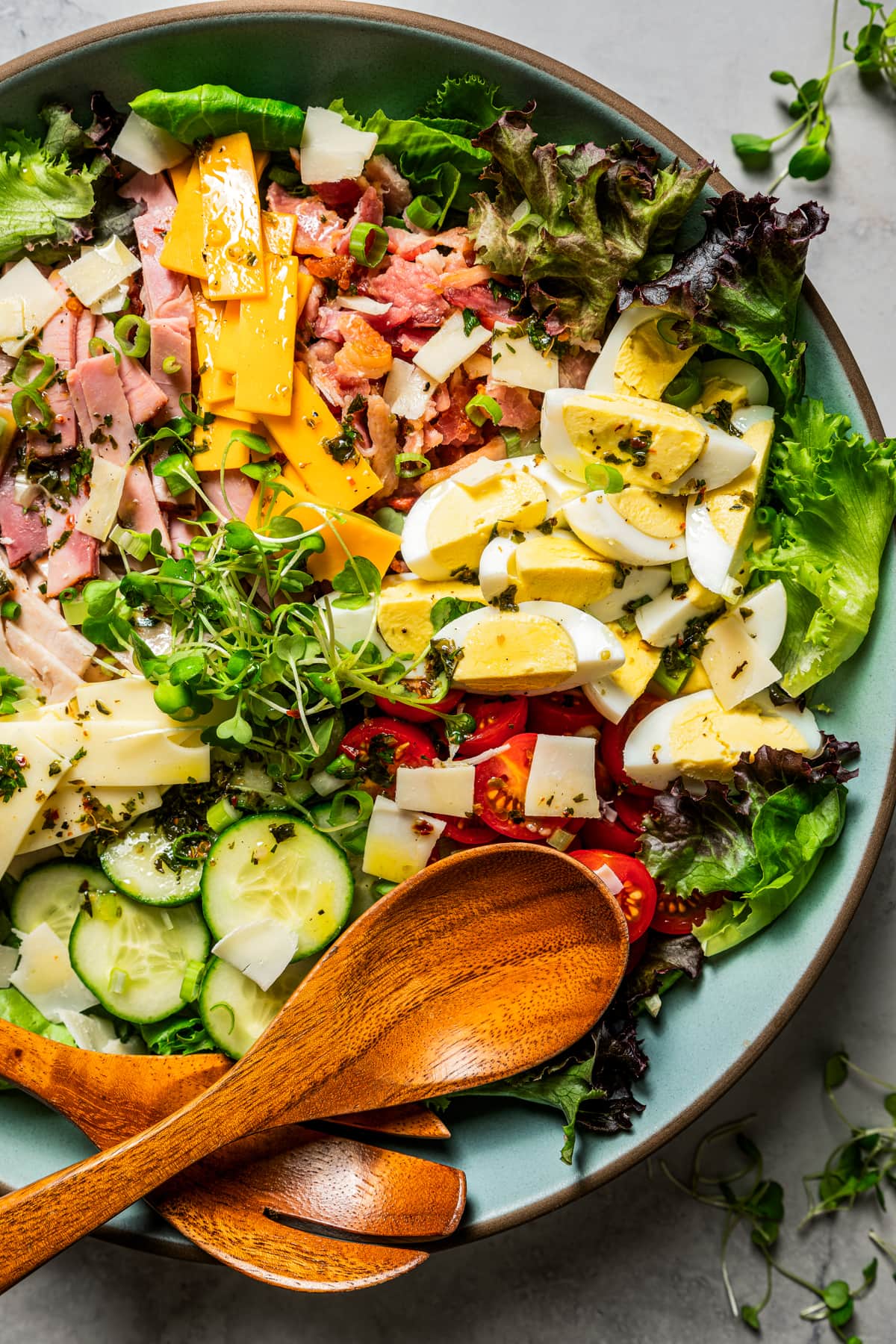 The Best Homemade Chef's Salad
This delectable chef salad is one of my all-time favorite light and healthy meals. It starts with a bed of bouncy lettuce loaded with flavorful meats and cheeses, crispy bacon, crunchy cukes, tomatoes, and protein-rich eggs. I toss it all together with my favorite homemade Italian salad dressing. Safe to say, I could eat this hearty all-American, classic salad all day, every day.
Why You'll Love This Classic Salad Recipe
Healthy. Many chef salad recipes call for croutons and dressings loaded with sugar. My healthier chef salad is full of flavor, texture, and fresh ingredients, minus the bread! It's zesty, crunchy, and savory. Plus, it's pretty to look at.
The ultimate salad-for-dinner. Chef salad has to be the main meal salad recipe for lunch or dinner. It comes fully loaded with healthy protein and veggies, tossed together with the dressing of your choice. It's a meal in one, ready in 25 minutes!
Clean out the fridge. Chef salads use ingredients that I almost always have in the fridge, and they're easy to customize with whatever you have on hand.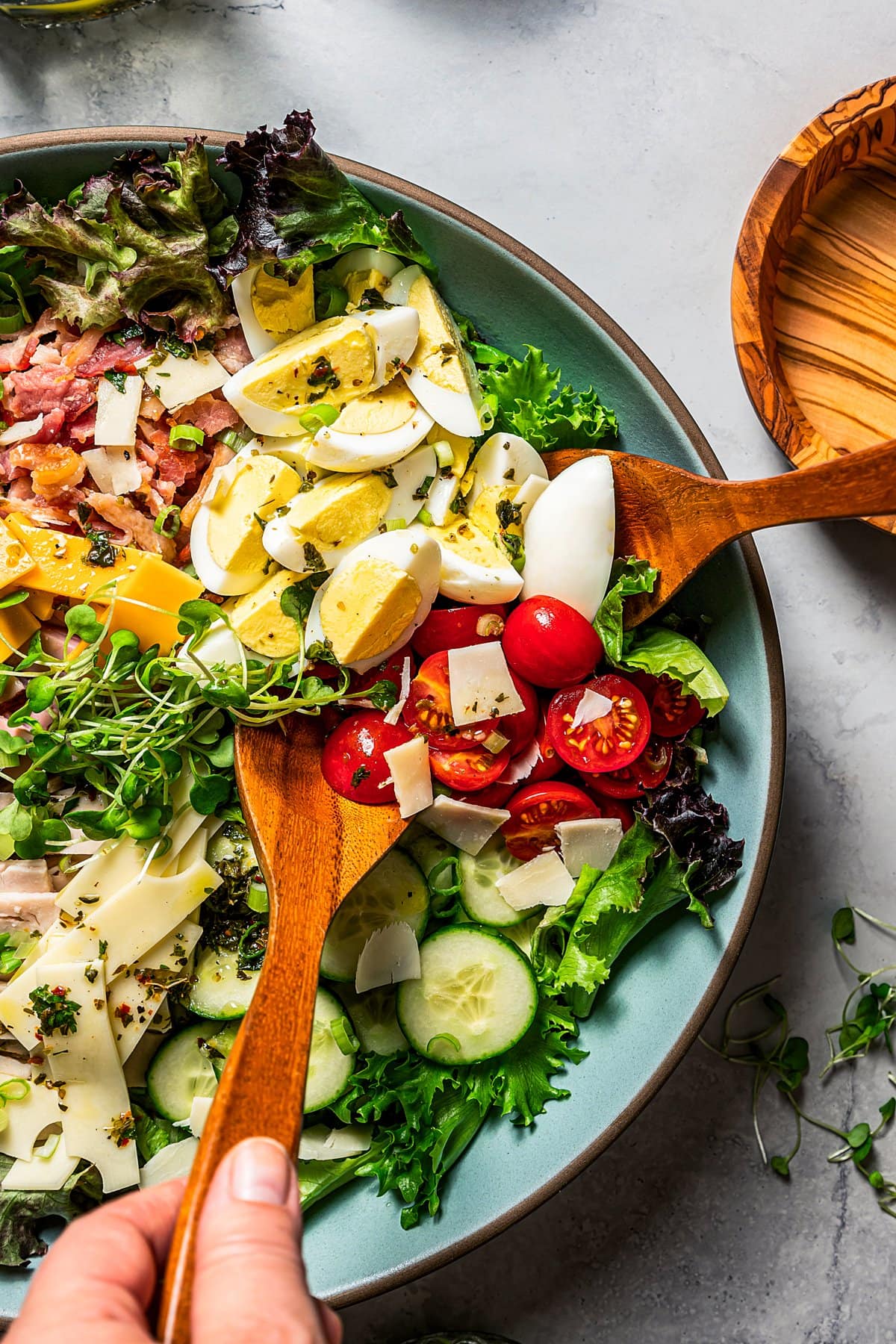 What's the Difference Between a Chef Salad and a Cobb Salad?
Like a Cobb salad, a chef salad is a classic American salad, and at first glance, they look pretty darn similar. Both are considered main dishes, and they have many common ingredients– usually on display when the salad arrives at the table. The main difference is chef's salad tends to have more humble ingredients, while a Cobb salad involves fixings like chicken, avocado, and blue cheese dressing. If I could live off of salad alone, it would be both of these classics!
A chef salad has been around for eons. The closest you'll get to an original recipe is the one by Louis Diat, a chef at the Ritz Carlton in New York City in the 1940s. The idea was for the chef to make a salad with whatever was in the fridge!
Chef Salad Ingredients
I love making this salad when I know I have a fridge full of ingredients that must be dealt with soon. What goes into the best chef salad? Let's discuss. Be sure to scroll down to the recipe card for a full ingredient list and detailed instructions.
Greens: Your choice of lettuce or mixed greens. I like to make my chef's salad with sturdy lettuce, like romaine, that holds up with the other ingredients. Other good choices are iceberg, kale, spinach, escarole, and frisée lettuce.
Meats: I make this salad with roasted deli turkey and smoked deli ham, cut in julienne style, and crispy cooked bacon.
Cheeses: A classic chef salad calls for Swiss cheese and cheddar cheese, also julienned. I also top my finished salad with freshly shaved parmesan.
Veggies: Add plump, ripe halved cherry tomatoes and thinly sliced English cucumbers for color and crunch.
Eggs: Usually these are hard-boiled eggs like you'd find in a Caesar salad or Cobb salad. Boil the eggs in advance so they have time to cool, then peel and chop them.
The Best Dressing For a Chef's Salad
I top my chef salad with my favorite homemade Italian dressing. It's the best! A light vinaigrette keeps things fresh and zesty and doesn't weigh down the ingredients. Of course, you can dress your salad any way you'd like, whether store-bought or homemade. Other good dressing choices for a chef salad are ranch dressing, Thousand Island, blue cheese, or this creamy avocado-lime salad dressing for something a little different.
What Does "Julienne" Mean?
In cooking, julienne is a French method of cutting food into thin strips. Before you assemble your chef's salad, slice both deli meats and the cheeses in julienne. It makes for an Insta-ready presentation, and the ingredients will be in perfect bite-sized pieces.
How to Make a Chef Salad
This colorful and crisp chef salad is perfect for busy weekdays, summer evenings, or really any time of the year when fresh veg is in season. And it's SO easy to make.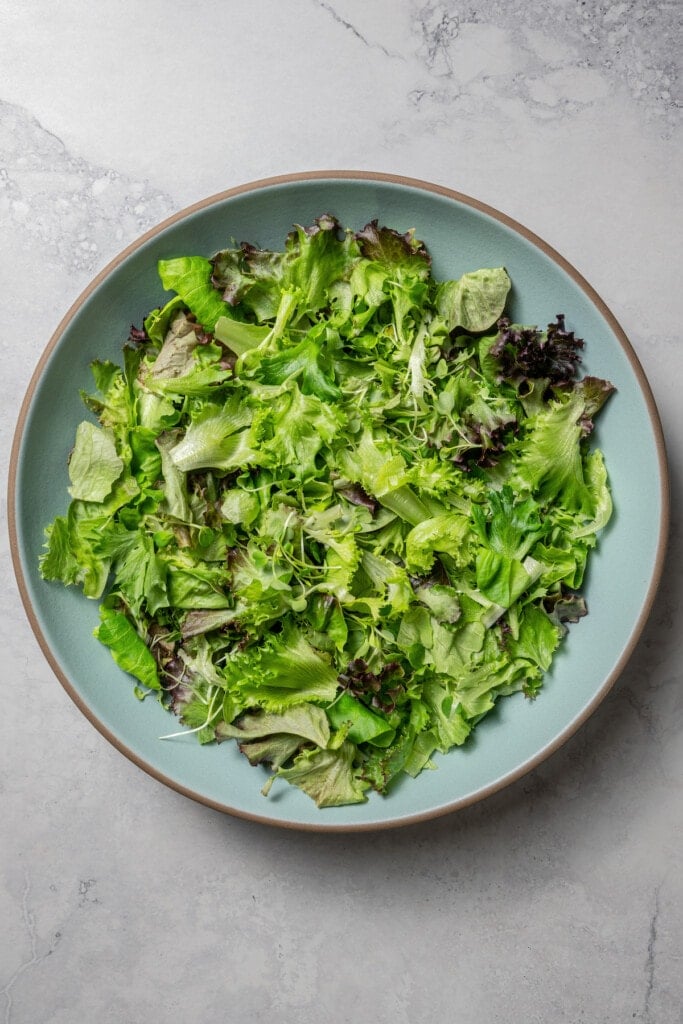 Start with lots of salad greens. Rinse, dry, and chop up your lettuce and add it to a large bowl.
Add the other ingredients. Next, you'll add strips of deli turkey and smoked deli ham, Swiss cheese, and cheddar cheese, along with crumbled bacon, boiled eggs, fresh cherry tomatoes, and crunchy cucumbers. Arrange all of the ingredients over top of the leafy lettuce.
Finish and serve. Prepare one cup of Italian dressing (linked in the recipe card below), or the salad dressing of your choice, and drizzle it over top of the salad. You can leave your chef salad as is for serving or toss it all together and garnish it with fresh parmesan and green onions.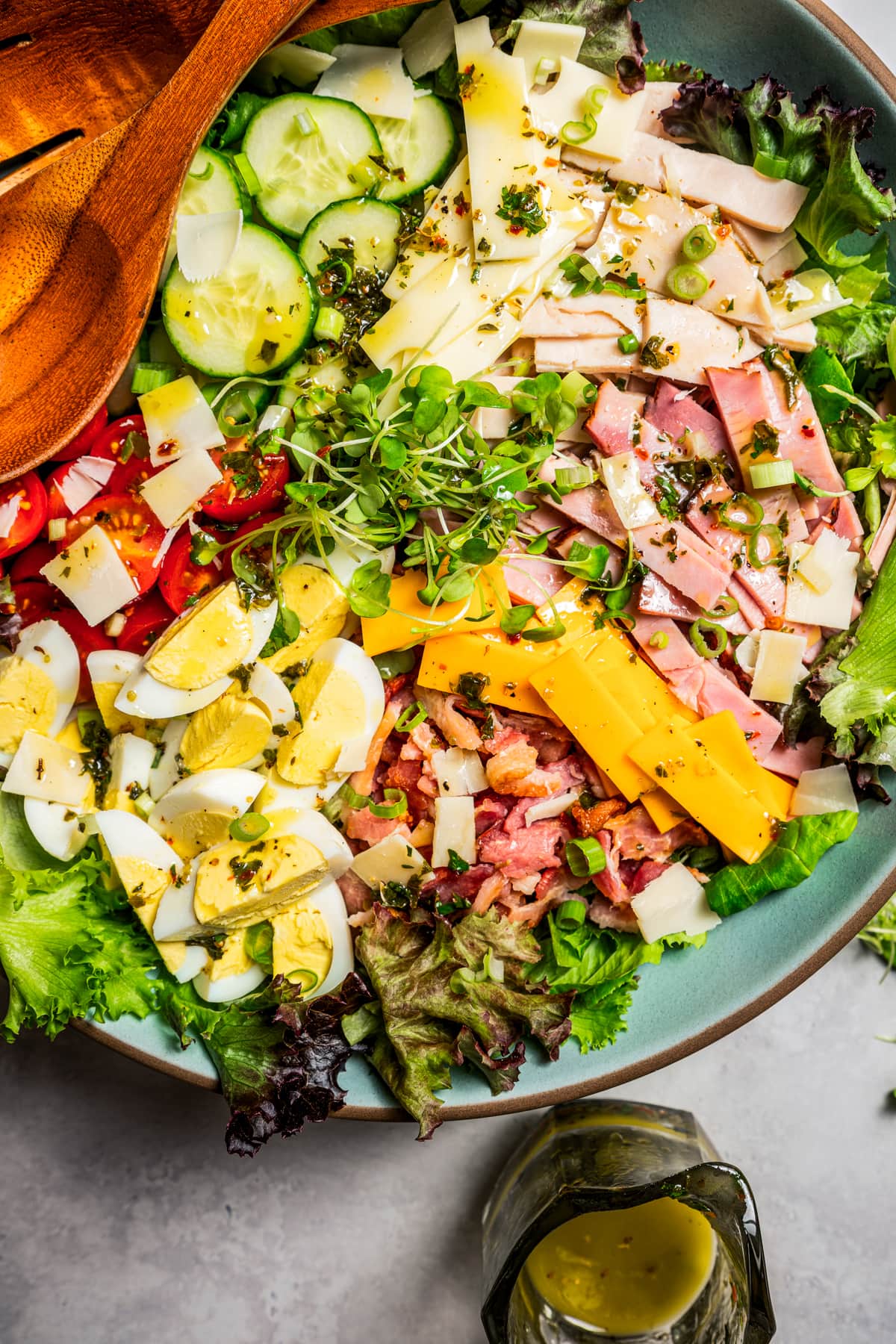 Tips for Success
If you're looking for an easy salad that's going to keep you full and satisfied, this is it! Here are my last-minute tips for making the best chef salad:
Use quality ingredients. A chef salad is only as good as its components, people! That's why I stock up on quality meats and good quality cheeses from my local deli. It makes all the difference.
If you don't feel like cutting in julienne, don't worry. This salad will turn out delicious any way you chop and slice your ingredients.
Leave the dressing off until you're ready to serve. If you're not serving right away, it's best not to add the dressing to the salad so it doesn't get soggy. You can still prepare the dressing ahead so that it's ready to go.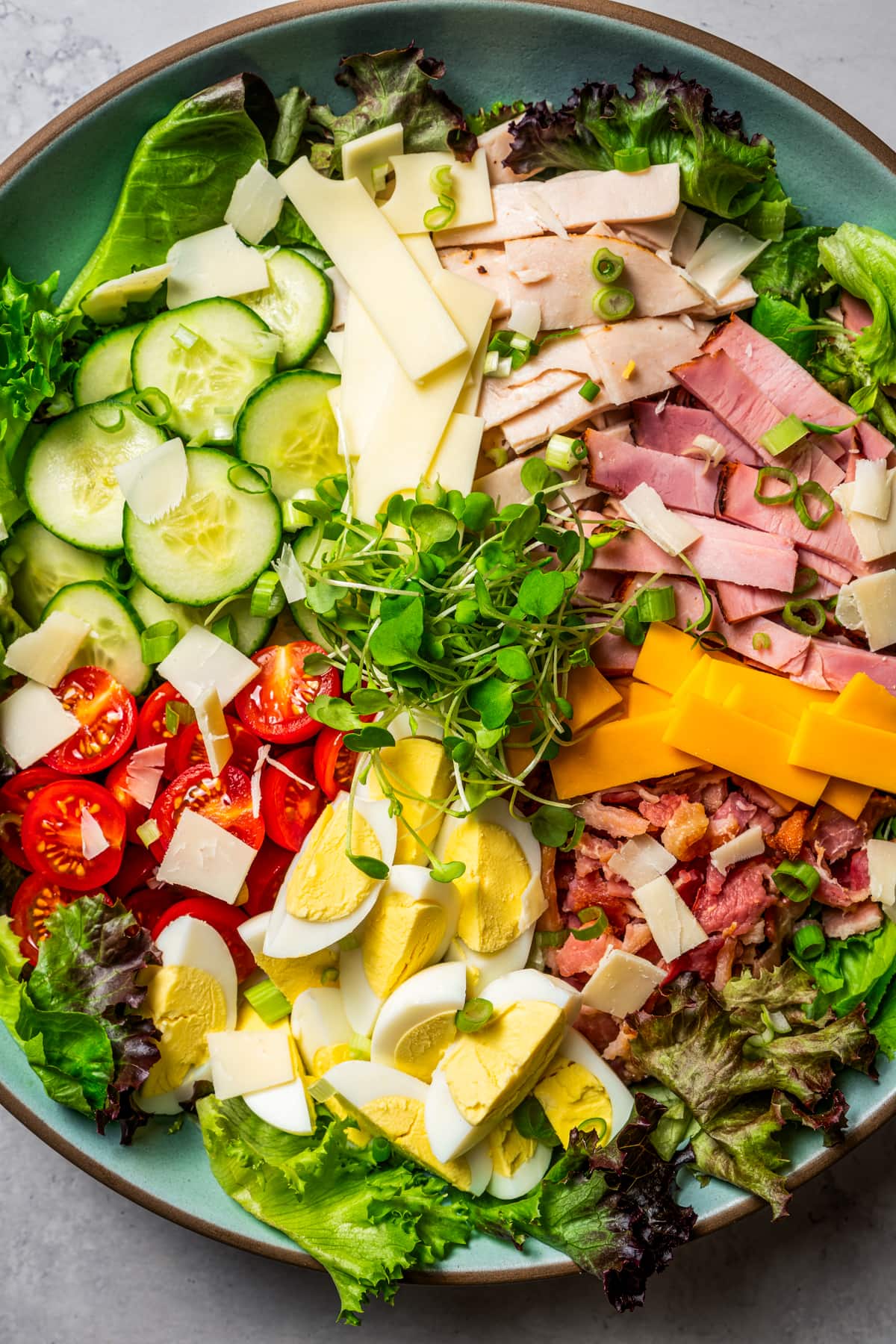 Variation Ideas
It's your salad – you be the chef! 👩‍🍳 Try these easy variation ideas to change up the ingredients in this classic chef salad recipe:
Swap cherry tomatoes for sun-dried tomatoes. This is my go-to solution when fresh tomatoes are out of season.
Try different cheeses. If you're not a fan of Swiss cheese, switch things up with provolone, blue cheese, or even brie.
More meats. Instead of or in addition to turkey and ham, use a variety of deli meats such as sliced deli chicken, salami, bologna, and pastrami.
More add-ins. Add olives, avocado, radishes, pepperoncini, thinly sliced onions, grated carrots, or sliced celery. You can also add a nutritious boost of pumpkin seeds or chopped nuts, like walnuts or pecans.
Add croutons. Craving some crunch? Sprinkle on some crispy garlic croutons.
How to Serve a Chef Salad
A chef salad can be served as a main dish or as a hearty side salad, and it makes a show-stopping centerpiece on the table at BBQs and family get-togethers. Serving it all on one platter lets everyone choose how much of which ingredient goes on their plates. I'll usually leave additional dressing on the side, just in case! As for what to serve with a chef salad, try these ideas:
How to Store Leftovers
Keep separate the salad ingredients from the dressing and store everything in the fridge for up to 4 days. If you've already dressed your salad, it's still OK to store, but I recommend enjoying the leftovers within a day.
More Easy Salad Recipes
ENJOY!
Chef Salad
This is the ultimate chef salad recipe made with classic ingredients like fresh greens, meats, cheese, and hard-boiled eggs tossed in homemade dressing.
Ingredients
8

cups

salad greens

1

cup

julienne cut oven roasted turkey deli meat

1

cup

julienne cut smoked ham deli meat

4

slices

bacon,

cooked and crumbled

½

cup

julienne cut Swiss cheese slices

½

cup

julienne cut cheddar cheese slices

1

cup

cherry tomatoes,

halved

1

English Cucumber,

sliced

4

hard boiled eggs,

quartered

2

tablespoons

sliced green onions,

for garnish

2

tablespoons

parmesan cheese shavings,

for garnish

1

cup

Italian salad dressing,

(I use my Homemade Italian Dressing)
Instructions
Prepare salad greens by tearing or cutting them into bite-sized pieces, and transfer them to a salad bowl or large serving platter.

Top the greens with the deli meats , bacon, cheeses, tomatoes, cucumbers, and eggs.

Garnish with green onions and parmesan cheese and serve.
Notes
Ham & Cheese. For this recipe, I use Hormel Natural Choice Deli Ham and Turkey. For the cheeses, I use slices of Swiss cheese and slices of cheddar cheese.
Pick quality ingredients. Your salad is only as good as what goes into it! Quality meats and cheeses from the local deli are worth it.
Chop and slice however you want. The salad is tasty regardless of how you cut the ingredients.
Hold off on the dressing. If not eating right away, wait to add dressing to avoid a soggy salad. Pre-make the dressing to have it ready.
Swap cherry for sun-dried tomatoes. This is great when fresh tomatoes aren't in season.
Try a variety of cheeses. Not a fan of Swiss? Try provolone, blue cheese, or brie.
Mix it up with more meats. Add variety with deli chicken, salami, bologna, or pastrami.
Experiment with add-ins. Olives, avocado, radishes, onions, carrots, and celery can boost flavor. Pumpkin seeds or nuts add nutrition and crunch.
Croutons for crunch. Want some extra crispiness? Toss in some garlic croutons.
Nutrition
Calories:
438
kcal
|
Carbohydrates:
12
g
|
Protein:
28
g
|
Fat:
31
g
|
Saturated Fat:
10
g
|
Polyunsaturated Fat:
7
g
|
Monounsaturated Fat:
11
g
|
Trans Fat:
0.05
g
|
Cholesterol:
188
mg
|
Sodium:
1609
mg
|
Potassium:
547
mg
|
Fiber:
0.5
g
|
Sugar:
7
g
|
Vitamin A:
1179
IU
|
Vitamin C:
20
mg
|
Calcium:
227
mg
|
Iron:
2
mg
Nutritional info is an estimate and provided as courtesy. Values may vary according to the ingredients and tools used. Please use your preferred nutritional calculator for more detailed info.
Categories: