Succulent, savory-sweet, and cooked to perfection, these Grilled Chicken Thighs with Brown Sugar Glaze are a must-try for any barbecue enthusiast.
The Best Grilled Chicken Thighs Recipe
It's that time of the year to fire up the grill and make room for the star of the show – our mouthwatering Grilled Chicken Thighs. With a touch of heat, a hint of sweetness, and a sticky glaze, these chicken thighs are nothing short of amazing!
Like our popular Spicy Sweet and Sticky Chicken Thighs, this recipe for grilled chicken thighs is bursting with bold flavors, so irresistible that even the fussiest eaters will be tempted to try it. Or are these Beer Marinated Grilled Chicken Thighs more your thing? 🍺
With summer just around the corner, it's the perfect time to explore new grilling recipes. And for those working from home while the kids are off school, this dish is a lifesaver. Why? Because the answer to the nightly question, "What's for dinner?" is simple – grilled chicken. Pair them with grilled corn and the best peach cobbler for a complete summer feast. ☀️
But enough chatter, let's talk about these chicken thighs and how to grill them to perfection.
How to Grill Chicken Thighs
The secret to juicy grilled chicken thighs lies in a flavorful marinade, trimmed fat, and a properly heated grill.
First, trim the fat. Excess fat can cause flare-ups when it comes into contact with the grill, so it's best to trim any large pockets of fat.
Next, the marinade and glaze play a vital role. Our delectable chicken marinade, doubling as a sweet glaze, combines light brown sugar, soy sauce, hot sauce, garlic, and a mix of seasonings and herbs. Marinate the chicken thighs for a minimum of 30 minutes to infuse the flavors. However, if you can marinate them for up to 4 hours in the fridge, even better! Set aside some extra marinade to use as a glaze or dipping sauce.
Thirdly, preheat the grill to medium-high heat, ideally around 400˚F to 425˚F. Don't forget to oil the grates before placing the chicken thighs on the grill.
Grill the chicken thighs for about 11 to 15 minutes, depending on their size. Use a meat thermometer to check for doneness. Although boneless, skinless chicken thighs are fully cooked at 165˚F, I prefer to grill them until they reach around 170˚F to 175˚F, as I find the dark meat can be a bit tough when cooked to an internal temperature of 165˚F.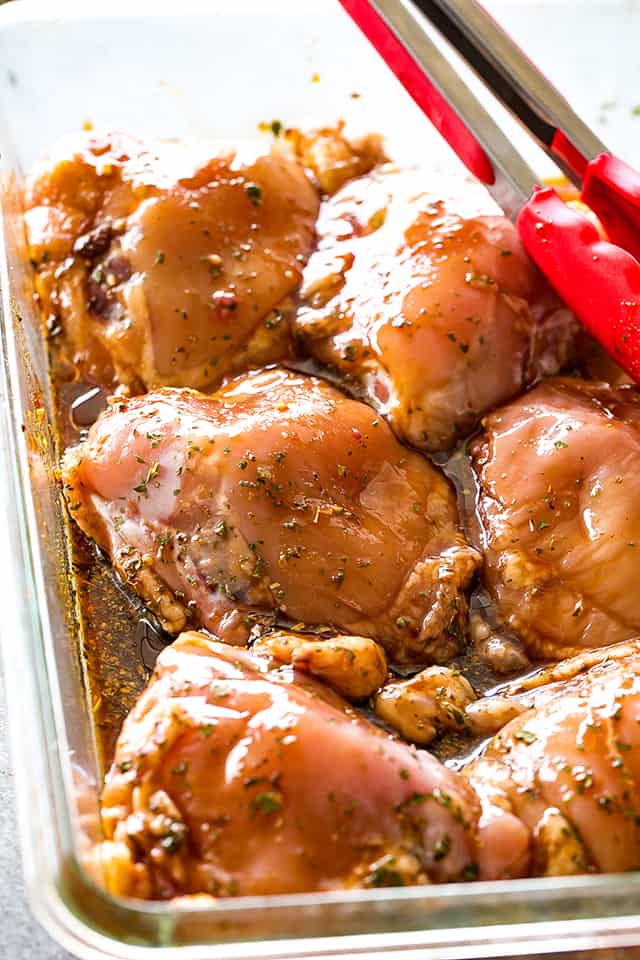 Tips for Success
Choosing boneless, skinless chicken thighs is a great option as they cook quickly and remain juicy, even if slightly overcooked.
Our brown sugar marinade is versatile and works equally well with boneless, skinless chicken breasts, wings, or drumsticks.
You can store leftovers in an airtight container in the refrigerator for up to 3 days.
Now, let's move on to the recipe for these tantalizing grilled chicken thighs with brown sugar glaze.
More Grilling Recipes
ENJOY!
Grilled Chicken Thighs with Brown Sugar Glaze
Juicy, savory-sweet brown sugar-glazed chicken thighs grilled to tender perfection!
Ingredients
For The Chicken
8

boneless skinless chicken thighs,

trimmed
For The Marinade/Glaze
⅓

cup

low sodium soy sauce

¼

cup

light brown sugar

1

tablespoon

honey

1

tablespoon

olive oil

1

tablespoon

apple cider vinegar

1

tablespoon

sriracha hot sauce

3

cloves

garlic,

minced

1

teaspoon

dried basil

¼

teaspoon

ginger powder

fresh ground black pepper,

to taste
Instructions
Arrange chicken thighs in a large mixing bowl or baking dish and set aside.

Whisk soy sauce, brown sugar, honey, oil, vinegar, hot sauce, garlic, basil, ginger, and pepper in a mixing bowl.

Reserve 1/3 cup of the marinade mixture for later use; pour the remaining of the marinade over the chicken thighs.

Cover and place the chicken thighs in the fridge for 30 minutes, and up to 4 hours.

When ready to cook, remove the chicken from the fridge and let it sit at room temperature for 15 to 20 minutes.

In the meantime, preheat the grill to medium-high heat; about 400˚F to 425˚F.

Brush the grill grates with oil.

Remove the chicken from the marinade; discard the marinade.

Place the chicken on the grill over direct heat and cook undisturbed for about 5 minutes. Flip the chicken and grill until the second side is browned, 5 minutes more, or until cooked through and the internal temperature is at least 165˚F.

When the chicken is nearly cooked through, brush on the reserved marinade/glaze on both sides of the chicken thighs and continue to cook until done.

Remove from grill and set aside, covered, for 5 minutes.
Notes
Marinade: A good marinade not only adds flavor but also helps to tenderize the meat. Marinate your chicken thighs for at least 30 minutes and up to 4 hours.
Trim the Fat: While a bit of fat can help keep the chicken juicy and enhance flavor, too much can cause flare-ups on the grill. Trim off any large pieces of fat before marinating.
Cooking Temps: Chicken thighs are best cooked on medium to medium-high heat. Too high, and the outside may burn before the inside is cooked.
Use a Meat Thermometer: To ensure your chicken thighs are cooked perfectly, use a meat thermometer. Chicken is safe to eat when it reaches an internal temperature of 165°F.
Glaze at the Right Time: If a glaze contains sugar, like the brown sugar glaze here, always apply it towards the end of cooking. Sugar can burn quickly, and adding it too early might result in a charred exterior.
Let it Rest: After grilling, allow your chicken to rest for a few minutes before serving. This allows the juices to redistribute throughout the meat, resulting in a moister and more flavorful bite.
Nutrition
Serving:
2
chicken thighs
|
Calories:
407
kcal
|
Carbohydrates:
25
g
|
Protein:
45
g
|
Fat:
12
g
|
Saturated Fat:
2
g
|
Cholesterol:
214
mg
|
Sodium:
638
mg
|
Potassium:
625
mg
|
Fiber:
0
g
|
Sugar:
23
g
|
Vitamin A:
55
IU
|
Vitamin C:
3.1
mg
|
Calcium:
49
mg
|
Iron:
2.6
mg
|
Net Carbs:
25
g
Nutritional info is an estimate and provided as courtesy. Values may vary according to the ingredients and tools used. Please use your preferred nutritional calculator for more detailed info.
Categories: