This recipe for Peach Cobbler is absolutely delicious, and it's prepared with fresh ingredients. Juicy peaches and a wonderfully sweet and crumbly topping truly makes this the perfect summer dessert.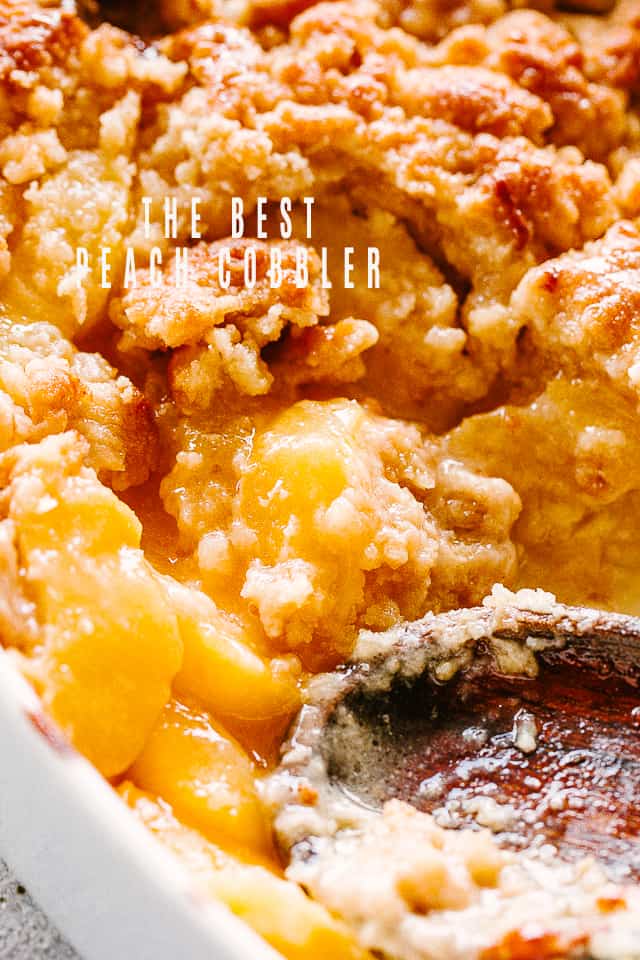 Easy Peach Cobbler Recipe
As the warmth of the summer season brings us sweet fresh peaches, there's no better way to enjoy this juicy, tender fruit than by baking a batch of homemade Peach Cobbler. This recipe stands out not just for its excellent taste but also because it calls for fresh, wholesome ingredients. What sets this Peach Cobbler recipe apart is the topping. Crisp yet crumbly, sweet but not overpowering, it perfectly complements the peaches, bringing together textures and flavors that are hard to resist. Each bite of this delicious dessert will have you coming back for more.
Trust me, I've made all sorts of cobbler recipes, even the ones with quick mixes, but nothing beats this homemade gem. And if you're feeling a bit extra? Throw on a scoop of ice cream, and you're in for a warm yet cooling and creamy treat.
Why You Will Love This Peach Cobbler
Easy Preparation: The process is so simple that even novice bakers will find it super easy to make.
Made from Scratch: Unlike other versions that use pre-made mixes, this Peach Cobbler is made from scratch, ensuring authentic, homemade flavor.
Perfect Summer Treat: This dessert captures the essence of summer with juicy, tender peaches that are in their prime during the season.
Amazing Textures and Flavors: The combination of soft juicy peaches and crumbly topping creates contrasting textures and flavors that tickle the taste buds.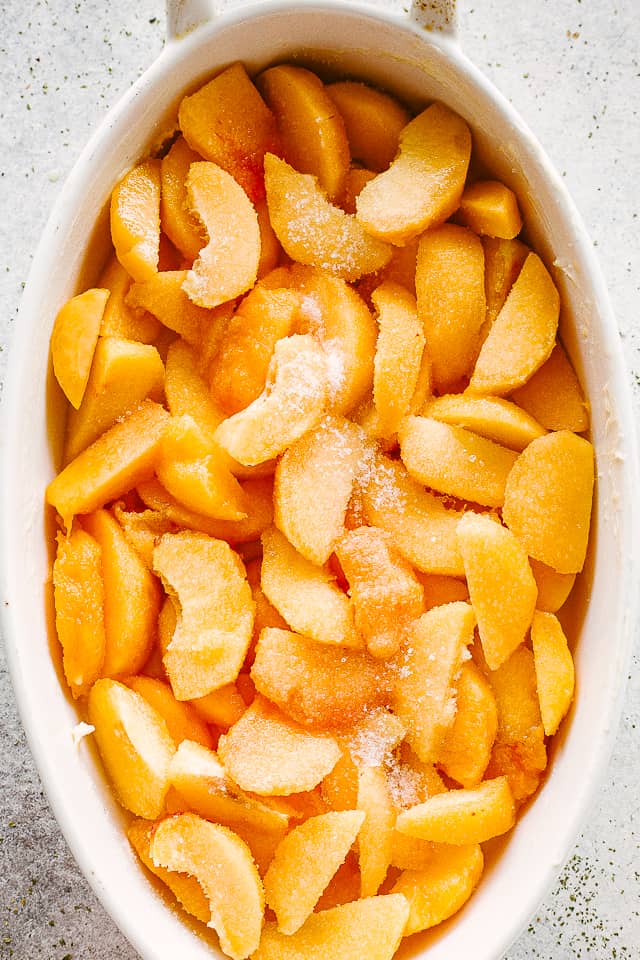 How To Peel Peaches
Fill a bowl with ice water.
Boil water in a separate large pot.
Cut a small X on the bottom of each peach.
Using a slotted spoon, put the peaches into the boiling water and leave them there for 30 to 60 seconds.
Then remove the peaches from the boiling water and place them in the ice water.
After cooling, peel off the skin starting at the X.
How To Make Peach Cobbler
Start by peeling and slicing around 8 medium peaches. Place the peach slices in a buttered baking dish and sprinkle with sugar.
Mix flour, sugars, cinnamon, nutmeg, and a bit of salt in a bowl. Stir in the melted butter until the mixture is moist.
Sprinkle this batter over the peaches and bake at 350˚F for 25 to 30 minutes until it's bubbly and brown.
Let it cool for 20 minutes before serving.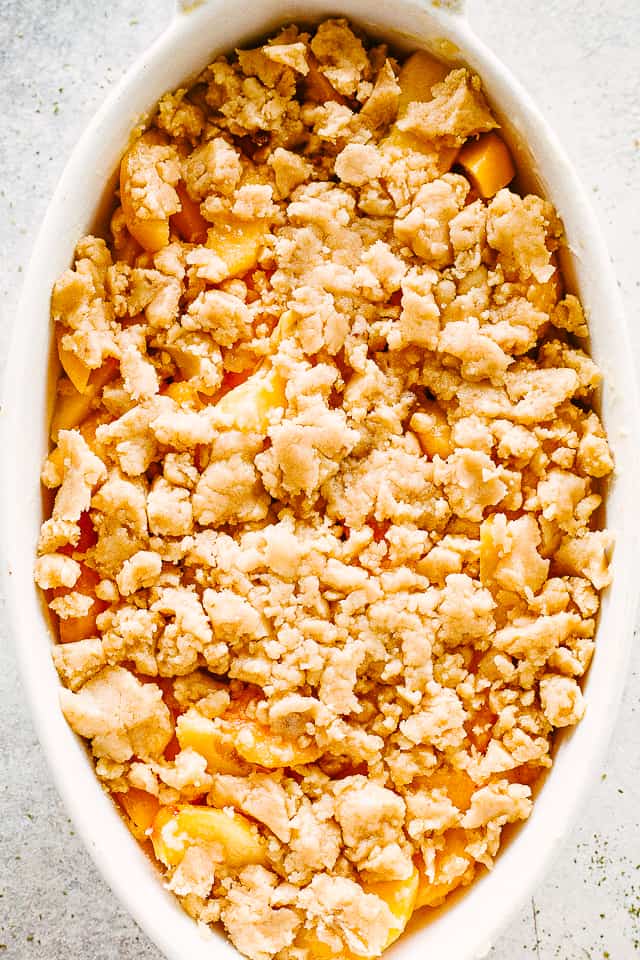 Tips For Making The Best Peach Cobbler
Peach Prep: Peeling peaches can be easier if you blanch them briefly in boiling water.
Sweetness Level: Depending on the sweetness of your peaches, you might want to adjust the sugar level in your recipe. Taste a slice of the peach; if it's naturally very sweet, you might need less sugar.
Using Canned Peaches: If fresh peaches aren't available or in season, you can substitute with a 1 (29-ounce) can of sliced peaches in heavy syrup. You don't have to drain them, as the syrup will add moisture and sweetness to the cobbler. On the other hand, if you prefer a dryer and not-so-sweet cobbler, don't add all of the liquid.
Topping Tips: For added texture in the topping, consider mixing in some oats or nuts like chopped pecans or almonds.
Serve Warm: Cobbler is best served warm. If you're preparing it in advance, you can reheat individual portions in the microwave or place the entire dish in a warm oven briefly before serving.
Ice Cream Pairing: When pairing with ice cream, consider flavors that complement peaches, such as vanilla, caramel, or even cinnamon.
Fruit Variation: While peach cobbler sounds divine, the same recipe can likely be adapted for other fruits, giving you a versatile dessert option throughout the year.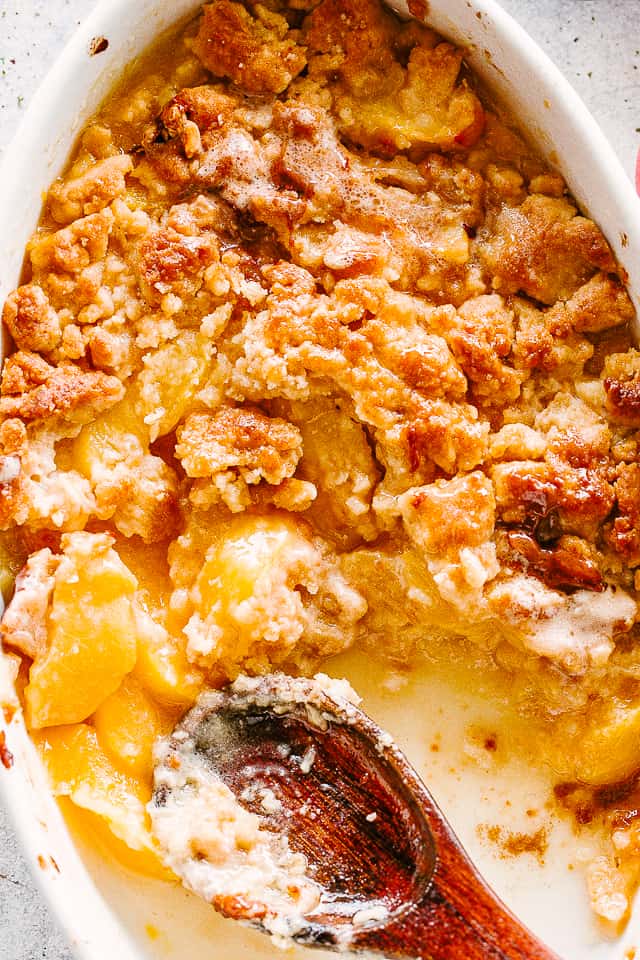 How To Store Peach Cobbler
This cobbler is best when it's warm, freshly out of the oven. Keep any leftovers in the fridge, covered, and consume within 4 days.
To freeze, cover the cobbler with plastic wrap and again with foil. Keep in the freezer for up to 6 months.
More Summer Dessert Recipes
ENJOY!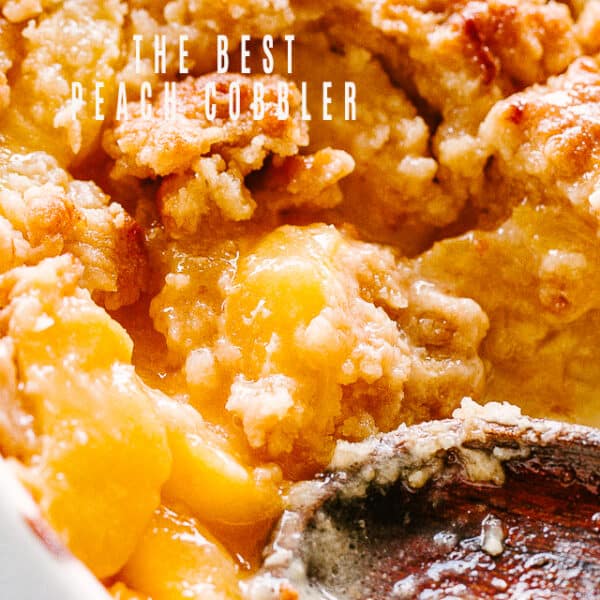 Easy Peach Cobbler
This recipe for Peach Cobbler is absolutely delicious and it's prepared with fresh ingredients. Juicy peaches and a wonderfully sweet and crumbly topping truly makes this a perfect summer dessert.
Ingredients
8

(about 2 pounds)

fresh peaches,

peeled, cored, and sliced

2

tablespoons

granulated sugar

1

cup

all-purpose flour

¾

cup

granulated sugar

1

teaspoon

baking powder

1

teaspoon

ground cinnamon

⅛

teaspoon

ground nutmeg

pinch

of salt

½

cup

butter,

melted

1

teaspoon

pure vanilla extract
Instructions
Preheat oven to 350˚F. Lightly grease a 2-quart baking dish with butter and set aside.

Arrange the peach slices on the bottom of the baking dish. Sprinkle with 2 tablespoons sugar and set aside.

In a mixing bowl, whisk together the flour, 3/4 cup sugar, baking powder, cinnamon, nutmeg, and salt.

Melt the butter, then whisk in the vanilla. Pour the butter mixture over the flour mixture and stir until everything is incorporated and the batter is moist. It will resemble a cookie batter.

Using your hands, sprinkle the batter over the peaches.

Bake for 25 to 30 minutes, or until browned on top and bubbly.

Remove from oven and let stand at room temperature for 15 minutes. Serve warm with ice cream.
Notes
Peeling Peaches: Use ripe, fragrant peaches for your cobbler, and peel them using the blanching method.
Blanching Peaches: In a large pot, boil water. Meanwhile, prepare a bowl of ice water. Mark a small X on the bottom of each peach. Dip the peaches in the boiling water using a slotted spoon for 30-60 seconds, then transfer to the ice water. Once cooled, peel the peaches starting at the X.
Using Canned Peaches: If you're out of fresh peaches, swap in a 29-ounce can of sliced peaches in heavy syrup. Keep the syrup for extra sweetness and moisture. But, for less sweetness, use less syrup.
Butter: 1/2 cup butter is the same as 8 tablespoons butter or one full stick or 113 grams or 4 ounces. Some readers have made the mistake of using 1/2-cup melted butter instead of using solid 1/2 cup (8 tablespoons) butter and then melting it. The measurement for solid butter is based on its volume, while the measurement for melted butter is based on its weight. The conversion rate is not 1:1, so it's important to use the correct measurement when following a recipe.
Sweetness: Adjust the recipe's sugar according to the sweetness of the peaches.
Juicy, Not Soggy Cobbler: Prevent a soggy cobbler by coating the fresh peach slices in flour or cornstarch to thicken the juice.
Baking Dish: Use a wider, shallow baking dish, about 2 to 2.5 quarts, for even cooking and a balanced peach-to-topping ratio. A 9×9 square pan works great. Double the recipe and bake it in a 9×13 baking dish.
How To Serve: Serve the cobbler warm from the oven, topped with vanilla ice cream, for a perfect contrast.
Nutrition
Calories:
317
kcal
|
Carbohydrates:
52
g
|
Protein:
3
g
|
Fat:
12
g
|
Saturated Fat:
7
g
|
Cholesterol:
31
mg
|
Sodium:
102
mg
|
Potassium:
352
mg
|
Fiber:
3
g
|
Sugar:
38
g
|
Vitamin A:
845
IU
|
Vitamin C:
9.9
mg
|
Calcium:
39
mg
|
Iron:
1.1
mg
Nutritional info is an estimate and provided as courtesy. Values may vary according to the ingredients and tools used. Please use your preferred nutritional calculator for more detailed info.