These Grilled Potatoes in Foil, flavored with garlic, thyme, and rosemary, are absolutely delicious! Grilling gives them a perfect crispness, paired with a tempting smoky aroma.
Grilled Potatoes in Foil
These grilled potatoes are just THE best. Honestly, this comes from someone who doesn't care for potatoes. Not even French Fries. Well, unless they are my Oven Baked Seasoned French Fries… I can finish off a batch of those in about 2.2 minutes.
Garlic Herb Grilled Potatoes in Foil is a fantastic dish that takes the humble potato to new heights. This recipe involves wrapping potatoes in foil with aromatic herbs, including garlic, thyme, and rosemary, and creating a rich and flavorful profile. The potatoes are then grilled to perfection, balancing a crisp exterior and a tender interior.
Ingredients for Grilled Potatoes
mini Yukon gold potatoes
extra virgin olive oil
garlic powder, dried thyme, dried rosemary, salt, and pepper
aluminum foil
How to Grill Potatoes in Foil
Have you ever made potatoes in foil and on the grill? It's SO simple! And! and! Like, nearly zero clean-up. Check it:
Combine the potatoes and seasonings in a large bowl.
Arrange the potatoes on a large piece of foil and fold the edges to make a packet.
Place the packets on the grill and cover. Cook for about 20 to 25 minutes, or until potatoes are tender.
Take off the grill and serve.
So easy and simple, right? Charred, smoky flavor, near endless flavor possibilities, and very yummy. Me thinks these will be great for a camp dinner, as well.
Tips & Variations
Use smaller new potatoes to maximize texture. I use small Yukon gold potatoes.
Spice Variations: While garlic, thyme, and rosemary provide a classic flavor, you could experiment with other herb and spice combinations. Try adding paprika for a smoky, slightly spicy taste or dill and parsley for a fresh, herby flavor. You can also try my Basil Pesto Grilled Potatoes in Foil and these Cheesy Bacon Potato Foil Packets.
Add Proteins: Add some diced bacon or ham to the foil pack before grilling. The fat will render out of the meat, adding more flavor to the potatoes.
Additional Veggies: Include other vegetables, like diced bell peppers, onions, or zucchini, in your foil pack for a more rounded side dish.
Oven Prep: The potato packets can also be prepared in the oven at 425˚F for about 15 to 20 minutes.
Campfire Prep: Place the foils onto the coals and cook the potatoes for about 30 to 45 minutes, depending on the size of the potatoes and the heat of the fire. Turn them every 15 minutes or so to ensure they cook evenly.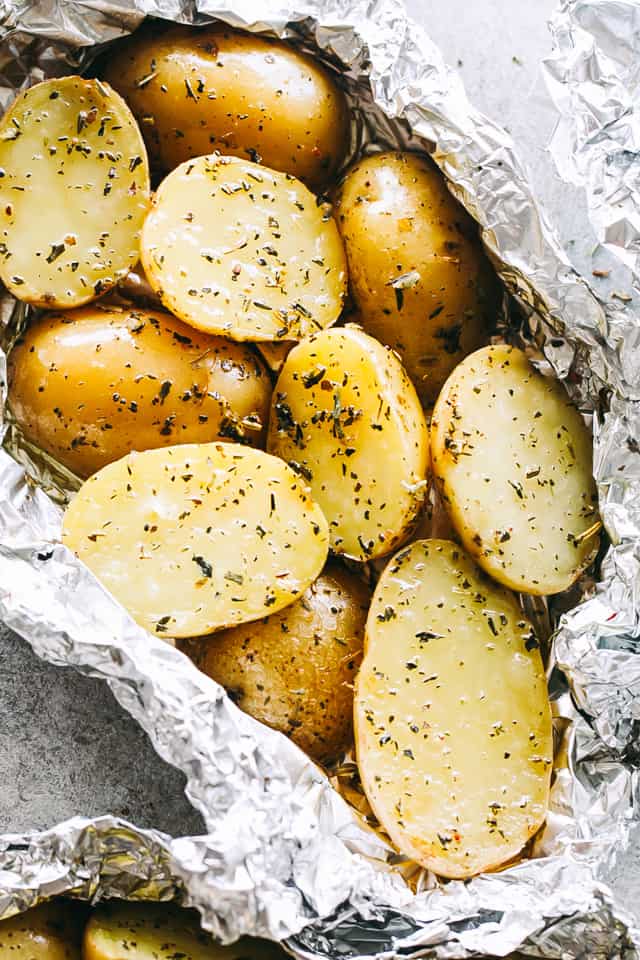 Recipes using foil packets are convenient to prepare and involve very little cleanup. Staple dishes like shrimp boil in foil and surf 'n turf foil packs are consistently popular. However, these grilled potato foil packets are on my list of summer grilling favorites.
More Potato Recipes
ENJOY!
Garlic Herb Grilled Potatoes in Foil
A good dose of garlic, thyme, and rosemary make these grilled potatoes that much more delicious, and the grill gives them just the right amount of crispness and a delicious smoky flavor.
Ingredients
2

pounds

mini Yukon gold potatoes,

rinsed, dried, and halved

2

tablespoons

extra virgin olive oil

1

teaspoon

garlic powder

1

teaspoon

dried thyme

1

teaspoon

dried rosemary

salt and fresh ground black pepper,

to taste

chopped fresh parsley,

for garnish
Instructions
Preheat the grill to medium-high.

Cut 4 large pieces of foil and set aside.

In a large bowl, combine the halved potatoes with olive oil, garlic powder, thyme, rosemary, salt, and pepper.

Divide the potatoes between the foils.

Fold the sides of the foil over the potatoes, covering them completely; seal the packets closed.

Place the foil packets on the grill and cook until tender, about 20 to 30 minutes, turning once. Pierce with a fork to check for doneness.

Remove from grill and carefully open up each packet.

Sprinkle with parsley and serve.
Notes
You can change up the flavors of your grilled potatoes by trying different spices like paprika, dill, or parsley.
For a cheesy twist, add some shredded cheddar or parmesan near the end of grilling.
To make the dish heartier, put in some chopped bacon or ham before you grill.
You can also add more veggies, like bell peppers, onions, or zucchini.
If you like softer potatoes, keep them in the foil the whole time. For crispier potatoes, open the foil near the end. If you're in a hurry, you can boil the potatoes a bit before grilling.
Don't forget to add plenty of seasoning before wrapping them in foil. Potatoes need a good amount of salt.
These potato packets can also be prepared in the oven at 425˚F for about 15 to 20 minutes or until fork tender.
Nutrition
Serving:
1
packet
|
Calories:
240
kcal
|
Carbohydrates:
40
g
|
Protein:
5
g
|
Fat:
7
g
|
Saturated Fat:
1
g
|
Polyunsaturated Fat:
1
g
|
Monounsaturated Fat:
5
g
|
Sodium:
14
mg
|
Potassium:
966
mg
|
Fiber:
5
g
|
Sugar:
2
g
|
Vitamin A:
15
IU
|
Vitamin C:
45
mg
|
Calcium:
33
mg
|
Iron:
2
mg
|
Net Carbs:
35
g
Nutritional info is an estimate and provided as courtesy. Values may vary according to the ingredients and tools used. Please use your preferred nutritional calculator for more detailed info.
Categories: