Oven Baked Seasoned French Fries – Deliciously seasoned, golden french fries prepared in the oven!
Hello Hello! Happy Presidents' (Presidents, President's? – Webster dictionary says all 3 are correct… shrug) Day! Hope you have the day off. I'm thinking about spending it at the mattress store since according to every other commercial, mattresses are a huge selling item on this wonderful, patriotic day. Ummm…HOW?! What do mattresses have to do with Presidents? ANYONE? Let me know, please!
I did however buy one of those 150$ pillows that I see on TV and my neck STILL hurts.
Also? Take this as a lesson: never watch infomercials. Seriously. But do start making these Oven Baked Seasoned French Fries!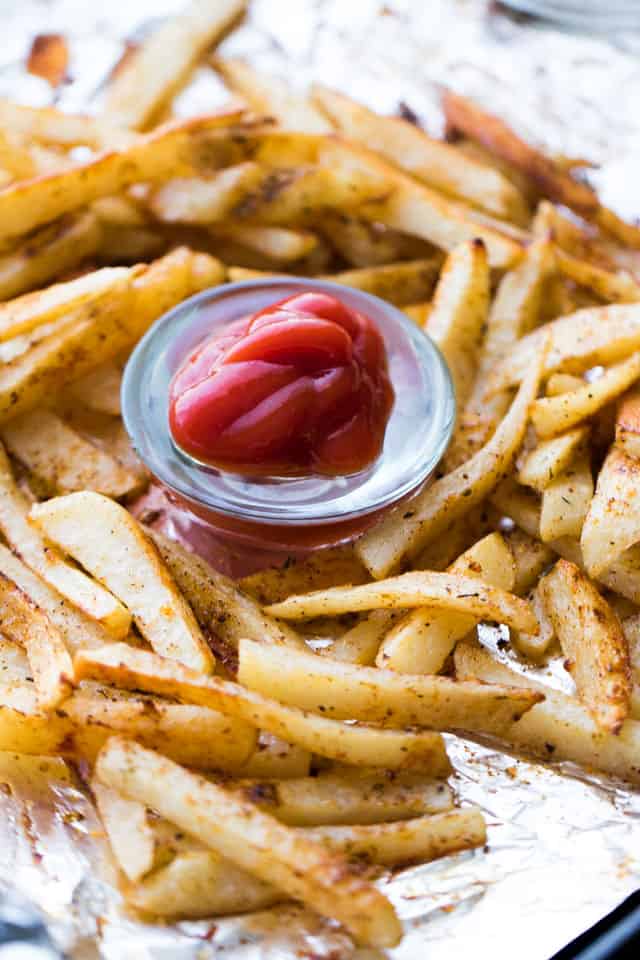 Here's what's up: Did you know that restaurant french fries typically range from around 350 to 430 calories per 4 ounces?? Lawwwwd! That's the amount of calories that I eat in a whole meal! ugh…
The good news is that if you bake fries at home, a serving could be around 250 to 280 calories. With an Oven Grilled Steak on the side? There's your 430 calorie MEAL! Not just a side of fries. *drops the mic*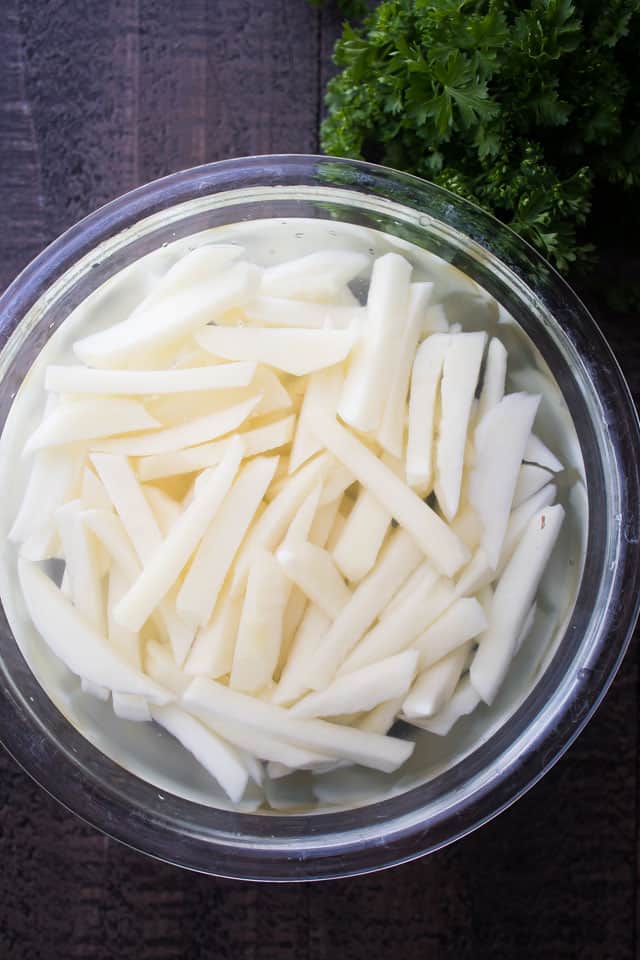 Know what I've learned in my quest for a perfectly crispy BAKED french fry? That you can't quite achieve the fried crispiness no matter what you try, BUT we can come close to it with some persistence.
I've baked them at high temps only to fight with the aluminum foil that won't let go of the fries even though I used a can of cooking spray before baking. I have also tried to parboil the potato sticks before baking them, but that was just more work and an extra step that I didn't care to do again. OR a step more than what I'm about to share. I mean, after all, it's just fries. They shouldn't take a ton of time.
Checkit: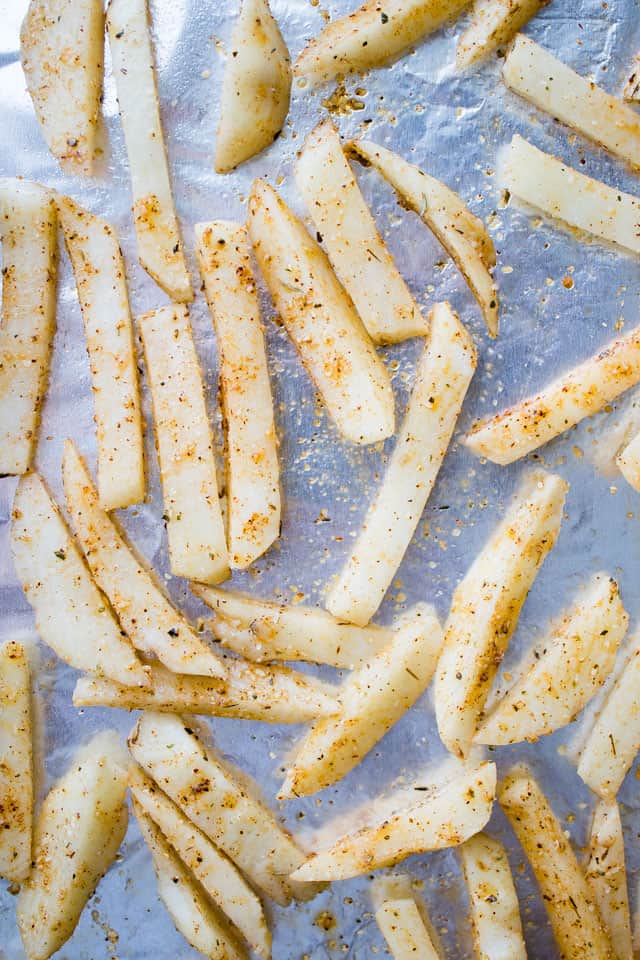 This here is my step-by-step seasoned french fries deal:
RUSSET POTATOES. 'Nuff said? They really are the best potato for homemade french fries.
Cut them up into potato sticks, place in a large bowl, and cover them with water; set aside for 30-ish minutes.
Make the best seasoning of ever.
Drain and dry the potatoes completely.
Toss them with oil and seasonings.
Pop 'em in the oven at 450F for like 20 to 25 minutes.
And boom! The best tasting oven baked seasoned french fries. YES they really do taste so darn good!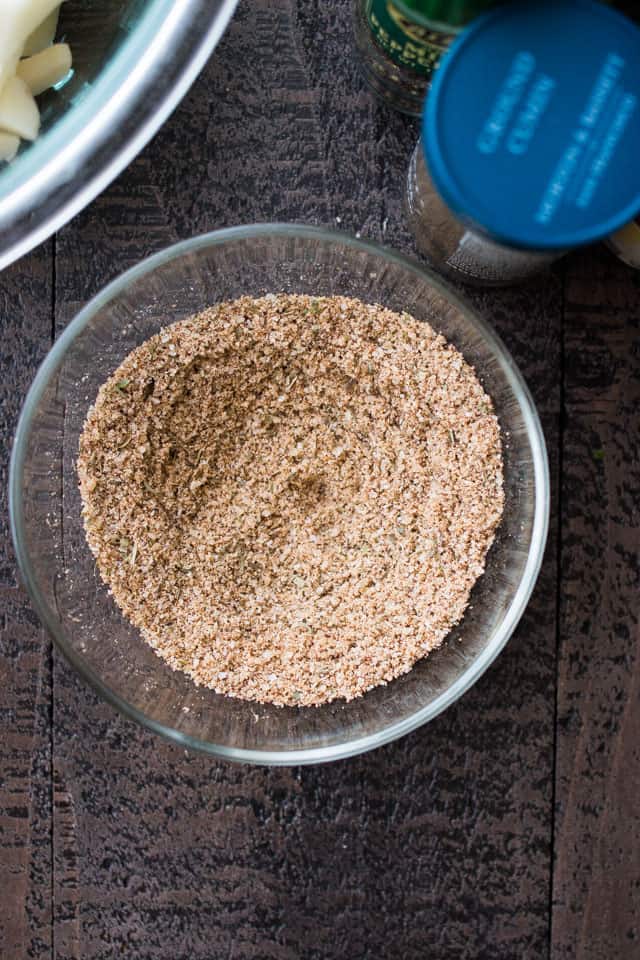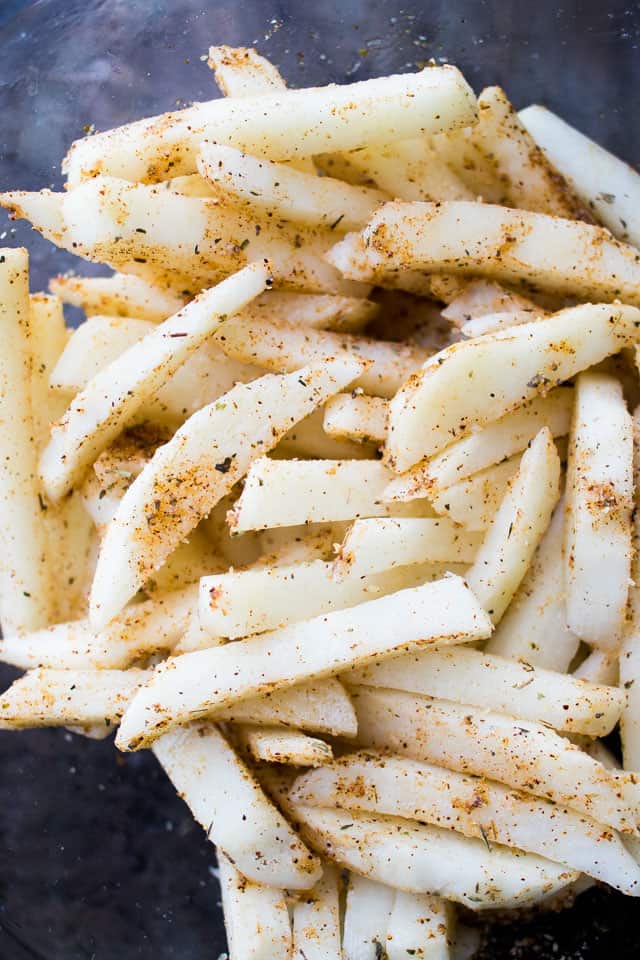 I do admit that the seasoning is why I love these fries as much as I do, and why I'm sharing the recipe with you. I'm not a huge potato fan, but season them well and I'm ready to eat!
IF you have any secrets to the best oven baked potato fries, let me know! I'll try your method asap. My kids LOVE a bowl of french fries to go with their bottle of ketchup.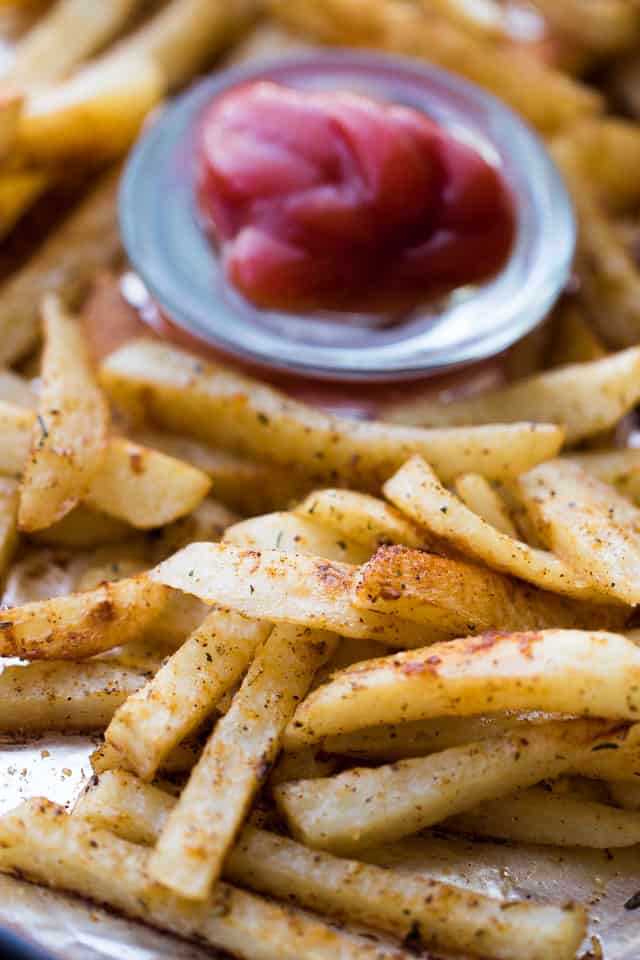 ENJOY!

CRAVING MORE? SIGN UP FOR THE DIETHOOD NEWSLETTER FOR FRESH NEW RECIPES DELIVERED TO YOUR INBOX!
FOLLOW DIETHOOD ON FACEBOOK, TWITTER, PINTEREST AND INSTAGRAM FOR ALL OF THE LATEST CONTENT, RECIPES AND UPDATES.
TOOLS AND INGREDIENTS USED IN THIS RECIPE
Oven Baked Seasoned French Fries
Oven Baked Seasoned French Fries - Deliciously seasoned, golden french fries prepared in the oven!
Ingredients
3

pounds

russet potatoes

(about 3 large potatoes), cut into 1/4-inch-thick sticks

1

teaspoon

chili powder

1/8

to 1/4 teaspoon ground cumin

1

teaspoon

garlic powder

1

to 2 tablespoons grated parmesan

salt and fresh ground pepper

, to taste

2

tablespoons

vegetable oil
Instructions
Place fries in a large bowl and cover with cold water; set aside for about 30 minutes.

Prepare the seasoning mix by combining chili powder, cumin, garlic powder, grated parmesan, salt, and pepper in a small mixing bowl; mix until thoroughly incorporated. Set aside.

Preheat oven to 450F.

Line a baking sheet with aluminum foil and generously grease with cooking spray; set aside.

Drain, rinse, and lay the fries on a paper towel lined baking sheet to dry.

Grab more paper towels and dry the potato fries thoroughly.

Transfer fries to a large mixing bowl and mix in the vegetable oil.

Add 1 tablespoon of the seasoning mixture to the potatoes; mix and stir until well combined.

Evenly lay the potato fries on previously prepared baking sheet.

Bake for 20 to 25 minutes, or until golden, flipping once half way through cooking.

Remove from oven and taste for seasonings; adjust to taste with the remaining seasoning mix.

Serve with your favorite dipping sauce.
Nutrition
Calories:
334
kcal
|
Carbohydrates:
62
g
|
Protein:
7
g
|
Fat:
7
g
|
Saturated Fat:
5
g
|
Cholesterol:
0
mg
|
Sodium:
29
mg
|
Potassium:
1437
mg
|
Fiber:
4
g
|
Sugar:
2
g
|
Vitamin A:
150
IU
|
Vitamin C:
19.4
mg
|
Calcium:
47
mg
|
Iron:
3
mg
|
Net Carbs:
58
g
Nutritional info is an estimate and provided as courtesy. Values may vary according to the ingredients and tools used. Please use your preferred nutritional calculator for more detailed info.
Categories: