Oven Baked Seasoned French Fries are baked to golden perfection and offer a healthier alternative without compromising on that beloved crispy texture. Whether it's a snack for yourself or a side dish for family dinners, these seasoned French fries turn every meal into a feast!
Baked French Fries Recipe
These Oven Baked Seasoned French Fries are a healthier alternative to traditional fries, featuring a golden, crispy texture and a robust blend of seasonings. They offer the satisfying crunch and flavor of restaurant fries at a fraction of the calories, making them a guilt-free indulgence. They're easy to make at home and are a perfect companion to an oven-grilled steak, turkey burgers, or air fryer chicken nuggets, offering a full meal that fits into your healthy lifestyle. Each bite is packed with taste, making them a favorite for both kids and adults. Get ready for a treat that's as easy on your waistline as it is on your taste buds!
Why You'll Love This French Fries Recipe
Healthier: These fries are baked, not fried, making them a better option without compromising on flavor.
Crisp and Flavorful: Achieve a delicious, crispy texture paired with a robust blend of seasonings for the perfect taste in every bite.
Easy to Make: No complex steps or techniques involved – it's a straightforward recipe that's easy to follow.
Versatile: Serve them as a snack, side dish, or a part of the main course – they're versatile and pair well with various dishes.
Customizable: Adjust the seasonings to your liking, making them as spicy, savory, or mild as you prefer.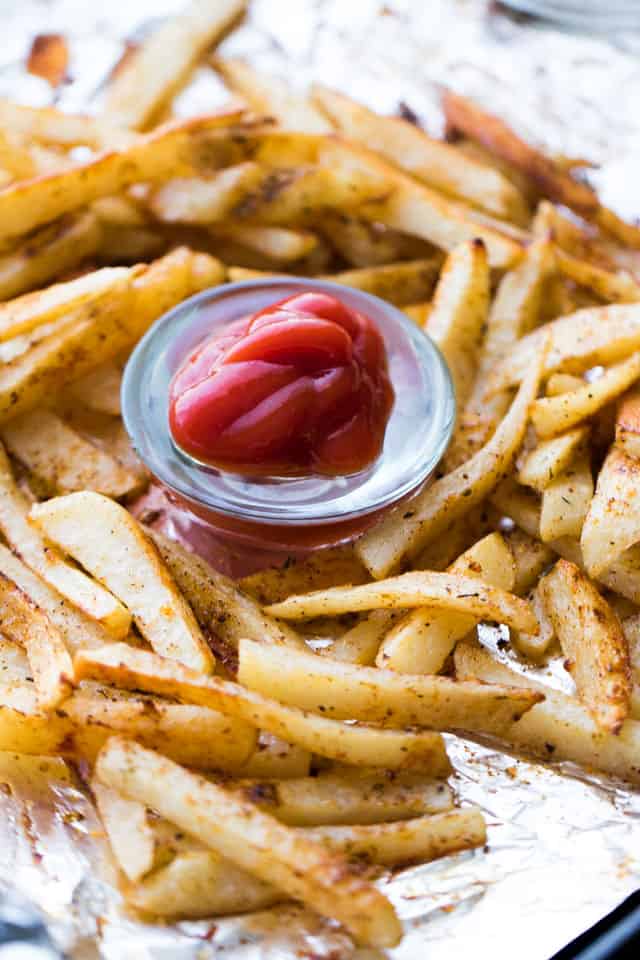 Ingredients For Baked Seasoned French Fries
Russet Potatoes: Provide the base, offering a starchy and fluffy texture ideal for achieving crispy fries.
Chili Powder: Adds a spicy and warm flavor, enhancing the overall taste.
Ground Cumin: Contributes an earthy and aromatic element, complementing other spices.
Garlic Powder: Introduces a savory touch, elevating the fries' aroma and flavor.
Grated Parmesan: Adds a rich and salty nuance, boosting the flavor profile.
Salt and Fresh Ground Pepper: Season to taste, balancing and amplifying flavors.
Vegetable Oil: Helps in achieving a crispy texture and golden color when baking.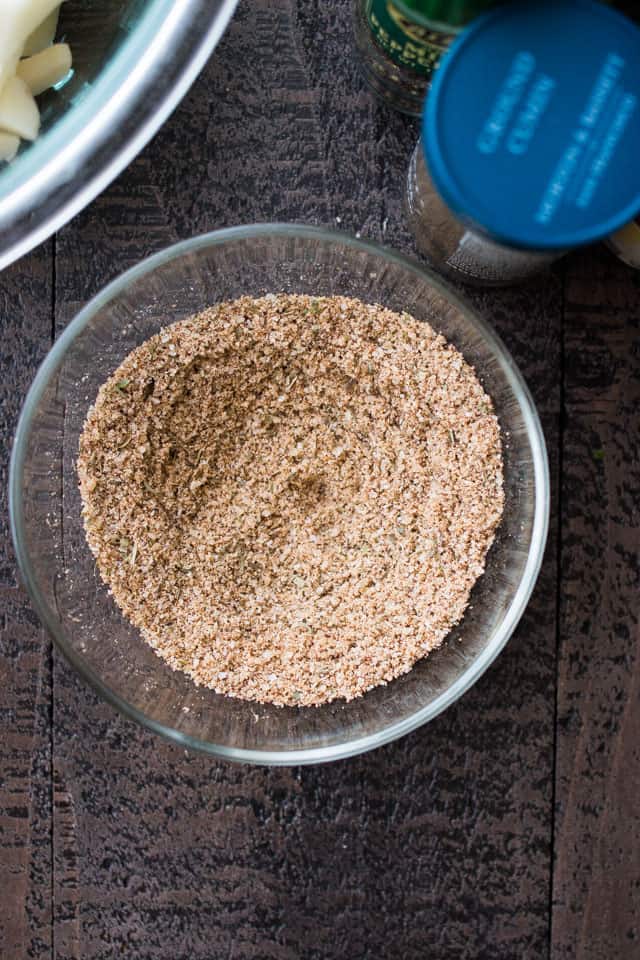 How To Make Baked French Fries
Here's what's up: Did you know that restaurant french fries typically range from around 350 to 430 calories per 4 ounces?! The good news is that if you bake fries at home, a serving could be around 250 to 280 calories. *drops mic* 🎤 Here's how to do it:
Place the potatoes in cold water: This helps to remove excess starch, leading to a crispier outcome.
Prepare the seasoning mix.
Preheat the oven to 450˚F, line a baking sheet with foil, and grease it with cooking spray.
Drain and dry the potatoes and then toss them with oil and seasonings.
Arrange the fries on the baking sheet and bake for 20 to 25 Minutes.
Air Fryer Instructions
Preparation: Just as in the original recipe, soak your cut potatoes in cold water for about 30 minutes, then dry them thoroughly. Toss the potatoes with vegetable oil and your mix of seasonings.
Preheat the Air Fryer to 380°F. Place the seasoned fries in a single layer in the air fryer basket. It's important not to overcrowd the basket to allow air to circulate freely, so cook in batches if necessary. Air fry for about 10 to 15 minutes and shake the basket every 5 minutes to ensure even cooking.
Adjust Cooking Time: Depending on the thickness of the fries and the power of your air fryer, you may need to adjust the cooking time.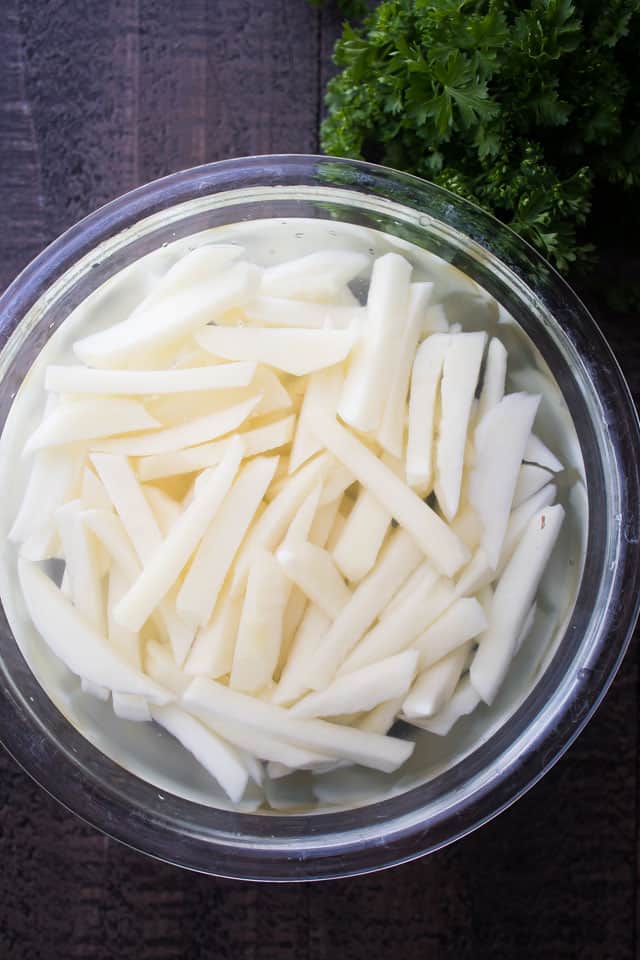 Tips And Variations
Choosing Potatoes: Russet potatoes are ideal for their texture and crispiness.
Cutting the Fries: Ensure fries are cut uniformly for even cooking.
Soaking: Let the potatoes soak to remove excess starch for crispier fries.
Drying: Thoroughly dry the potatoes before seasoning to achieve a crispy texture.
Seasoning: Feel free to adjust the seasoning mix to suit your taste preferences.
Baking: Don't overcrowd the baking sheet; space out the fries for optimal crispiness.
Checking Doneness: Bake until golden; the edges should be crispy and the centers soft.
Serving: Serve immediately for the best texture and flavor, and consider a variety of dipping sauces to enhance the taste.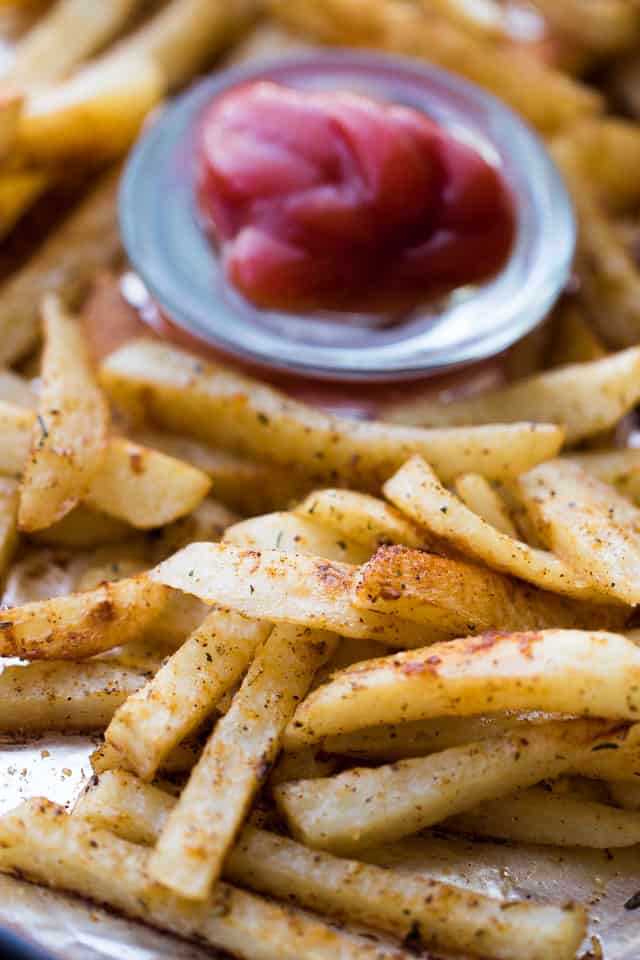 What To Serve With French Fries
Storage
While french fries are best served immediately, you can store leftovers in an airtight container and refrigerate them for 1 to 2 days.
More Potatoes Recipes
Oven Baked Seasoned French Fries
Savor the crunch of these golden, Oven Baked Seasoned French Fries! Enjoy a healthier, crispy treat that turns a meal into a flavorful feast.
Ingredients
3

pounds

russet potatoes,

(about 3 large potatoes), cut into 1/4-inch-thick sticks

1

teaspoon

chili powder

1

teaspoon

garlic powder

⅛ to ¼

teaspoon

ground cumin

1 to 2

tablespoons

grated parmesan cheese

salt and fresh ground black pepper,

to taste

2 to 3

tablespoons

vegetable oil
Instructions
Place the cut-up potatoes in a large bowl and cover with cold water; set aside for about 30 minutes.

Prepare the seasoning mix by combining chili powder, cumin, garlic powder, grated parmesan, salt, and pepper in a small mixing bowl; mix until thoroughly incorporated. Set aside.

Preheat the oven to 450˚F. Line a baking sheet with aluminum foil and generously grease with cooking spray; set aside.

Drain, rinse, and arrange the fries on a paper towel-lined baking sheet to dry. Grab more paper towels and dry the potato fries thoroughly.

Transfer the fries to a large mixing bowl and stir in the vegetable oil. Add 1 tablespoon of the seasoning mixture to the potatoes; mix and stir until well combined.

Evenly arrange the potato fries on the foil-lined baking sheet.

Bake for 20 to 25 minutes or until golden, flipping once halfway through cooking.

Remove from oven and taste for seasonings; adjust to taste with the remaining seasoning mix.

Serve with your favorite dipping sauce.
Notes
Selecting Potatoes: Use Russet potatoes to achieve the desired crispiness and texture when baked.
Slicing the Fries: Make sure the fries are sliced evenly to ensure consistent cooking.
Soaking Process: Immerse the sliced potatoes in water to eliminate extra starch – this will result in a crisper texture.
Drying: Ensure the potatoes are completely dry before adding seasonings.
Flavoring: Change up the mix of seasonings to align with your personal taste.
Serving: Serve the fries hot and consider offering a selection of dips to amplify the flavor experience.
Nutrition
Calories:
271
kcal
|
Carbohydrates:
50
g
|
Protein:
6
g
|
Fat:
6
g
|
Saturated Fat:
1
g
|
Polyunsaturated Fat:
3
g
|
Monounsaturated Fat:
1
g
|
Trans Fat:
0.04
g
|
Cholesterol:
1
mg
|
Sodium:
38
mg
|
Potassium:
1153
mg
|
Fiber:
4
g
|
Sugar:
2
g
|
Vitamin A:
131
IU
|
Vitamin C:
16
mg
|
Calcium:
46
mg
|
Iron:
2
mg
|
Net Carbs:
46
g
Nutritional info is an estimate and provided as courtesy. Values may vary according to the ingredients and tools used. Please use your preferred nutritional calculator for more detailed info.
Categories: