Make the perfect grilled steak with this easy recipe for Oven Grilled Steak. Delicious, tender, and juicy thick-cut steak grilled in the oven!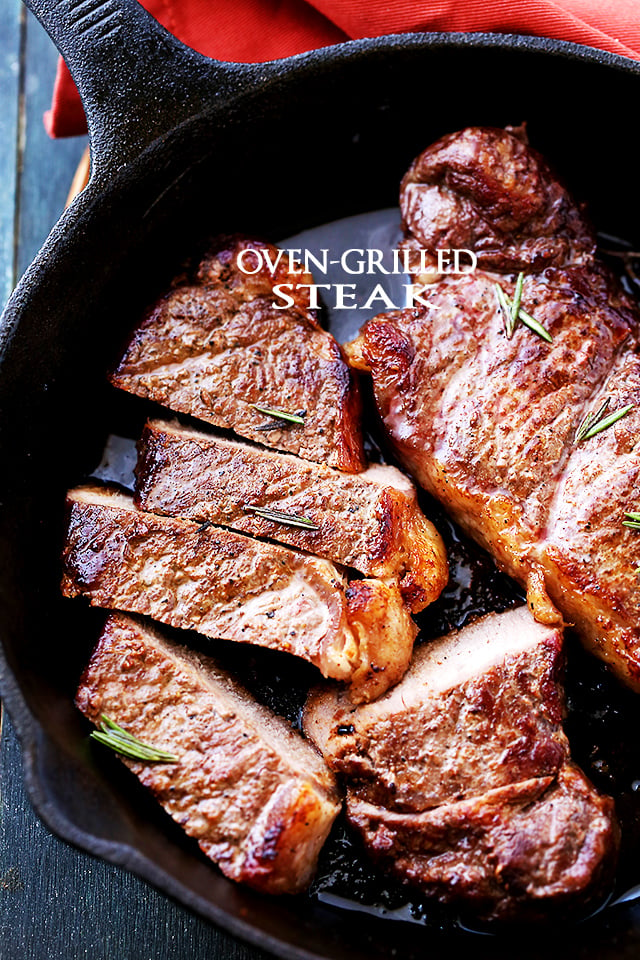 A PERFECT OVEN GRILLED STEAK RECIPE
This is how we do grilling off-season. Not bad, eh?
Hi-Ya! How goes it? Are you enjoying this beautiful Spring-ish November day? It's 70 degrees out there and that makes me all sorts of HAPPY! I can't bare to even think about the cold that is [surely] approaching. But in the meantime, I am enjoying a cup of coffee and a handful of teddy grahams on my patio. HOLLA!
One other thing that is crazy, but is happening? I'm craving steak. This is huge in my world because I'm not all that into red meat. I kinda like lots of veggies. And chicken.
Besides, look at that hug in a skillet up there. It's like a delicious pile of comfort food and I'm really into it.
But I also just made a batch of cookies and I'm really into those, too… so…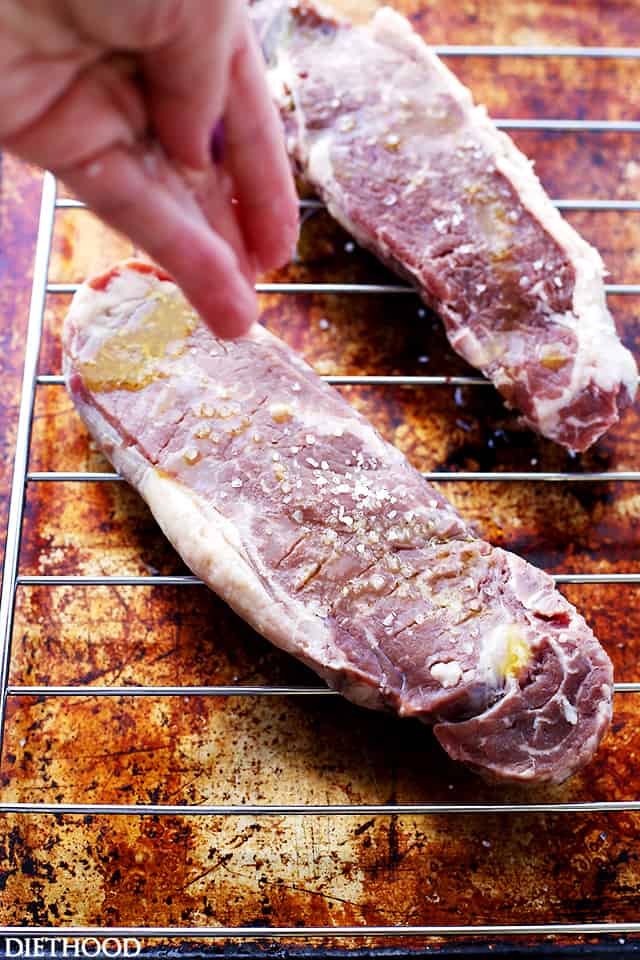 Also, I realize that I should probably be talking to you about green beans and turkeys right about now, but this grilling deal sorta all ties in with yesterday's bragging about my trip to Colorado, therefore, steaks it is.
AND I HAVE to share the best steak I ever ate. Have.to. I feel it in my bones that I MUST talk about it. Is this cool with you? Fingers crossed that it is!
While in Colorado, Breckenridge to be exact, I enjoyed a weekend filled with dang good food, old and new friendships, more food, and lots of belly laughs.
For obvious reasons, food is always at the forefront for us, food bloggers, and Certified Angus Beef joined in on the fun – figuratively – and served up one irresistible piece of meat.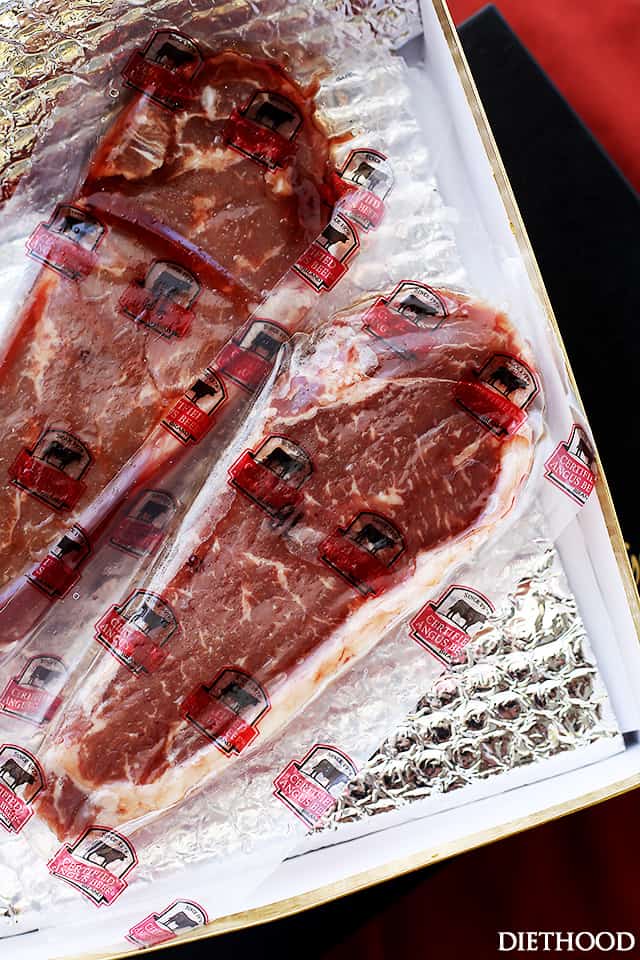 I looked at my plate and was all like, Heeeey there, meat! I had no idea I could love steak!
And the steak looked back at me and said, Girrrrl, I am flavorful, tender and naturally juicy. Try me!
And I did. And I came home and made some more. And more. And now I'm here, sharing that with you, all.
I don't even know what else I want in life. Besides more of this.
I should also tell you that before sharing this recipe, I tried to prepare the steak a couple of other ways – all indoors – but I found this method to work the best.
I always thought that searing the steaks before popping them in the oven was the way it should be done, but I was proven otherwise. Searing the steaks right when they come out of the oven is a kitchen hack I'm glad to have finally learned.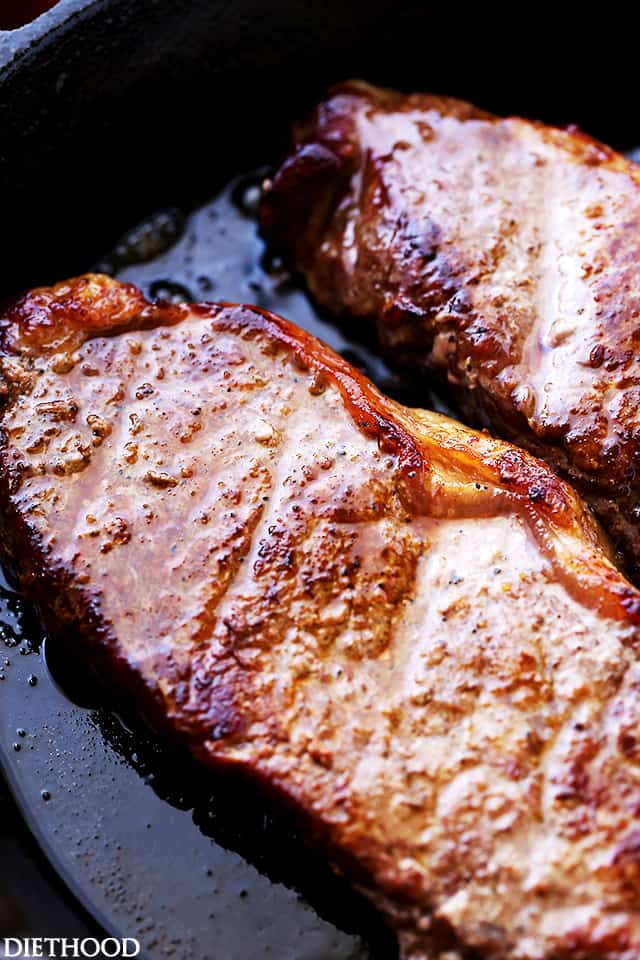 Also? Please bring steaks to ROOM TEMPERATURE before prepping, m'kay?
AND! Please DO NOT CUT the steaks right away. Wait about 10 minutes and then cut. Otherwise, you'll lose ALL THE JUICE!
Okay. I'm done screaming. 😀
ENJOY!
CRAVING MORE? SIGN UP FOR THE DIETHOOD NEWSLETTER FOR FRESH NEW RECIPES DELIVERED TO YOUR INBOX!
FOLLOW DIETHOOD ON FACEBOOK, TWITTER, PINTEREST AND INSTAGRAM FOR ALL OF THE LATEST CONTENT, RECIPES AND UPDATES.
Oven Grilled Steak
Make the perfect grilled steak with this easy recipe for Oven Grilled Steak. Delicious, tender, and juicy thick-cut steak grilled in the oven!
Ingredients
2

(10 to 12 ounces) top sirloin steaks, room temperature

olive oil for steaks

coarse sea salt and fresh ground pepper

, to taste

1/2

tablespoon

olive oil
Instructions
Preheat oven to 275F.

Line a baking sheet with foil.

Set a rack over the baking sheet.

Rub steaks with olive oil and season with salt and fresh ground pepper.

Place steaks on the rack.

*Grill in the oven for 20 to 30 minutes, depending on how you like it cooked. Please see my notes.

In the meantime, cover the bottom of a cast iron skillet or a nonstick skillet with 1/2 tablespoon olive oil; heat the oil over medium heat until hot.

Remove steaks from oven and transfer to skillet.

Cook steaks for about 3 minutes per side, or until browned and a bit crisp.

Transfer to a cutting board and let stand 10 minutes.

Cut and serve.
Recipe Notes
Guide for Steak Doneness:br](please use a [meat thermometer)
140F internal temperature for RARE
145F internal temperature for MEDIUM RARE
160F internal temperature for MEDIUM
170F internal temperature for WELL DONE
WW SmartPoints: 6
Nutrition Facts
Oven Grilled Steak
Amount Per Serving
Calories 317
Calories from Fat 99
% Daily Value*
Fat 11g17%
Cholesterol 133mg44%
Sodium 126mg5%
Potassium 806mg23%
Carbohydrates 0g0%
Protein 50g100%
Calcium 50mg5%
Iron 3.6mg20%
* Percent Daily Values are based on a 2000 calorie diet.
Want To Save This Recipe?
SIMILAR RECIPES: