Tender and delicious Ribeye Steak cooked to a juicy perfection! Seasoned with fresh herbs, then cooked in a cast-iron skillet and basted with garlic butter, everyone will love this easy steak recipe!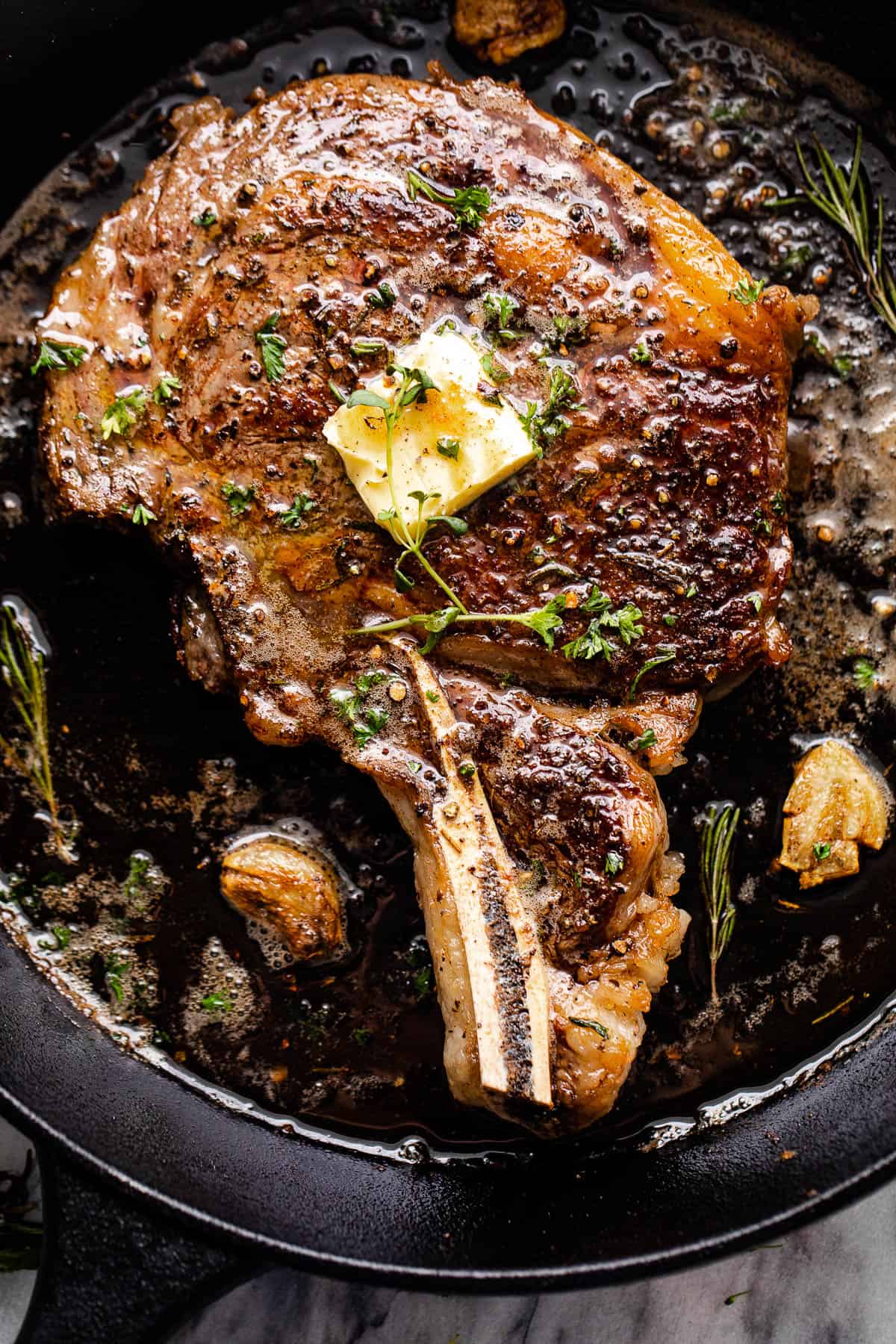 An Easy Ribeye Steak Recipe
For the ultimate juicy, beefy flavor, a ribeye is the best choice. Our recipe for Ribeye Steak is the epitome of tenderness and flavor! Expertly cooked to juicy perfection, this steak is perfectly seasoned and offers a delicious punch of flavor with every bite. The good news is that you don't need a fancy restaurant reservation to savor a top-notch steak. With the right ingredients and a touch of skill, you can whip up the ultimate ribeye right at home.
This dish lets the steak be the star. Perfectly cooked, it pairs wonderfully with its natural juices, fragrant herbs, and that hint of garlic. Seared in a trusty cast-iron skillet, this beauty is basted with flavorful garlic butter and makes one memorable steak dinner.
What is Rib Eye Steak?
Ribeye steak is a boneless rib steak that comes from the rib of the animal. It is one of the "primal cuts" of meat. Ribeye steak is fine and tender with a wholesome, beefy flavor similar to chuck. You will see the name of this steak spelled two ways: "rib eye" and "ribeye." Both are correct and refer to the same cut of meat.
Why You'll Love This Ribeye Steak Recipe
Juicy Flavor: Ribeye is renowned for its marbling, which means every bite melts in your mouth.
No Fancy Equipment Needed: With just a cast-iron skillet and some basic kitchen ingredients, you're good to go. No need for extravagant grills or machinery.
Quick & Easy: Despite its gourmet appeal, this recipe doesn't take long at all, and it's perfect for a weekend dinner or even a mid-week treat.
Cost-Effective: Recreate a fine-dining experience without the hefty restaurant bill.
Impress Guests: Serving up a perfectly cooked ribeye steak will earn you rave reviews from family and friends.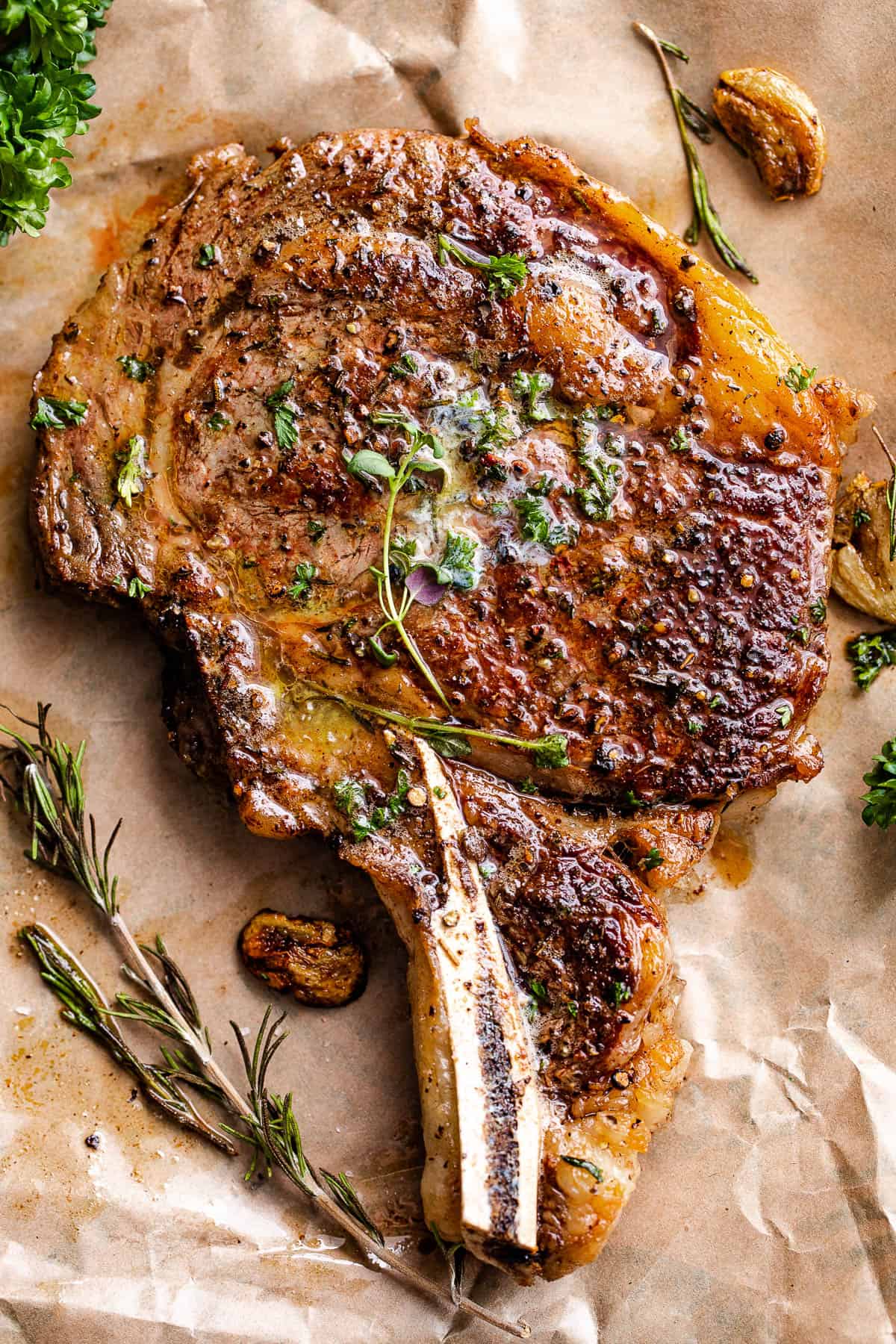 How To Cook Ribeye Steak
You don't really need any fancy ingredients, but I do like to use fresh herbs and the best-quality steak I can find. If you have to use dried herbs, though, no worries! It'll still be delicious.
Ingredients For Rib Eye Steak
Ribeye: You'll need a pound or so of bone-in ribeye steak, 1-inch to 1-1/2 inch thick.
Kosher Salt & Ground Pepper: To taste
Rosemary: You'll need to strip the leaves off of a stem or two of fresh rosemary and give it a chop; about 2 teaspoons.
Fresh Thyme: Again, strip the leaves from the stem and chop them, this time about 1 teaspoon.
Butter & Oil: You'll need a couple of tablespoons of unsalted butter and one tablespoon of olive oil, for sauteing.
Garlic: No need to mince the garlic here, just smash three cloves and peel away the papery outer skin.
Directions
Bring Steak to Room Temperature: Take the steak out of the fridge and pat it dry with paper towels. Salt it liberally on both sides. Let it sit on the counter at room temperature for 30 minutes. Don't skip this part.
Season The Steak: Sprinkle the steak with pepper, rosemary, and thyme; using your fingers, press the herbs down into the meat.
Cook First Side: In a cast iron skillet over medium heat, heat the olive oil. Add the butter and swirl it around. Place the steak in the skillet, and cook for 5 minutes.
Cook Second Side: Turn the steak over; add the smashed garlic to the skillet, and continue to cook 5 more minutes. Tilt the skillet and spoon the butter drippings over the steak, occasionally.
Check Doneness & Rest Steak: Check the internal temperature of the steak before removing it from the heat. For a rare steak, the internal temperature should read 120˚F; for medium-rare, it should be around 125˚F to 130˚F. Remove from the heat, and transfer to a cutting board; let it rest for 10 minutes before cutting.
How to Choose Steak
Thickness: It's best to choose a steak between 1 and 1.5 inches. Thinner steaks will cook quickly, but it's harder to tweak the doneness. Similarly, really thick steaks are awesome, but it's harder to get the doneness right; they'll almost always be overcooked on the outside or very rare in the center.
Marbling: Very lean ribeyes may sound great, but they are actually of poorer quality than steaks generously flecked with white fat throughout. That fat, or "marbling," melts away as the steak cooks and creates a tender, juicy texture.
Cap and Fat: The cap of the steak is the top section, opposite the thin, boney end. It's the most tender and flavorful part of the steak, so look for ribeyes that have a generous amount of cap meat. Between the cap portion and the eye portion, which is snuggled against the bone, there should be a small chunk of fat. Look for steaks that don't have too much fat there; a large, heavy chunk of fat is basically "wasted space," that won't be eaten or tenderize the meat.
Cooking Times for Steak
Timing the steak for doneness depends on the thickness of the steak, the thickness of the pan, and the stove itself. The times will always vary. For that reason, grab an Instant Read Meat Thermometer and follow this USDA guide for help:
For a RARE steak, aim for an internal temp of 125˚F to 130˚F.
For MEDIUM RARE, cook it until it's between 135˚F and 140˚F.
If you're going for MEDIUM TO MEDIUM-WELL, target 145˚F to 150˚F.
And for those who like it WELL DONE, get it to 160˚F.
Checking Steak Doneness Without A Meat Thermometer
Rare: 4 to 5 minutes per side
Medium-Rare: 5 to 6 minutes per side
Medium: 6 to 7 minutes per side
Medium-Well: 7 to 8 minutes per side
Well Done: 8 to 9 minutes per side
Tips for Successful Rib Eye Steak Dinner
Get the Pan Hot: It's important to have the pan nice and hot so that it will sear the steak.
Let It Rest: Before cooking, let the steak come to room temperature. This ensures even cooking.
Dry It Out: Always pat your steak dry with paper towels before seasoning.
Season Generously: Don't be shy with the salt and pepper. Seasoning is key to bringing out the steak's flavors.
Avoid Overcrowding: If you're cooking multiple steaks, make sure there's enough space between them. Overcrowding can reduce the pan's temperature and prevent proper searing.
Instant-Read Thermometer: It ensures that meat is cooked to the desired level (e.g., rare, medium, well-done) by providing an accurate internal temperature reading.
The Steakhouse Butter Trick: You can add an extra dimension of flavor to your steak by placing a pat of butter on top while it rests. The butter will melt onto, and almost into, the steak.
What To Serve With Ribeye Steak
Storing Leftovers
To Refrigerate: Place leftover steak along with the pan juices into shallow, airtight containers or food storage bags. Keep refrigerated for up to 3 days.
To Freeze: Wrap the strap well in plastic wrap and then a layer of foil. Freeze for up to 2 months.
To Reheat: First, thaw leftovers overnight in the refrigerator (if frozen). Then, bring the meat to room temperature on the countertop. Finally, reheat in a covered skillet over low heat until it reaches the correct internal temperature of 120˚F, or a little above.
ENJOY!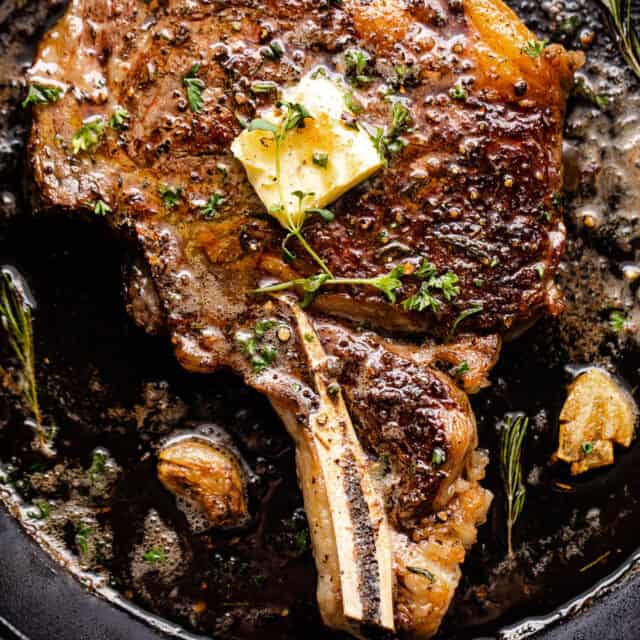 Rib Eye Steak
This Ribeye Steak is seasoned with fresh thyme, rosemary, garlic, kosher salt, and pepper. Cooked to perfection in a cast-iron skillet, it's basted with a rich blend of butter and oil for an exquisite taste!
Instructions
Take the steak out of the fridge, pat it dry with paper towels, and salt it liberally on both sides. Let sit on the counter (at room temperature) for 20 to 30 minutes. Room-temperature meat will produce juicier, more evenly cooked steaks.

Season the steak with pepper, rosemary, and thyme; press down the herbs into the meat using your fingers.

Set a 10-inch cast iron skillet over medium heat. You can also use a heavy-bottomed skillet.

Heat up the skillet; then add the butter and olive oil. Melt the butter and swirl it around to cover the entire bottom of the skillet.

Add the steak to the skillet and cook for 5 minutes, or until browned on the bottom.

Turn the steak over; add smashed garlic to the skillet and continue to cook for 5 more minutes for a rare steak, basting the steak with the butter drippings. Tilt the skillet so it's easier to spoon the butter drippings over the steak.

Check the internal temperature before removing it from the heat. For a rare steak, the internal temperature should read 120˚F; for medium-rare, it should be around 125˚F and 130˚F. Thicker steaks will take longer to cook through.

Remove from heat and immediately transfer the steak to a cutting board; let rest for 8 to 10 minutes before cutting and serving.

Top with parsley and serve.
Notes
Hot Pan: Ensure the skillet is hot for a proper sear and juiciness.
Use a Thermometer: An instant-read meat thermometer allows quick and repeated checks for perfect doneness. Note that The USDA recommends cooking beef to at least 145˚F internal temperature; however, according to culinary professionals, ribeye steaks are optimally cooked at the specified temperature(s).
Butter Trick: Add butter on top while the steak rests to boost flavor and moisture.
Rest the Steak: Let the steak sit at room temperature before and after cooking for evenness and juiciness.
Season Well: Season your steaks generously; it enhances the flavor.
High-Quality Oil: Use oils with high smoke points to prevent burning.
Avoid Overcrowding: Ensure each steak has space for a good sear.
Fresh Herbs: Add herbs like rosemary or thyme for extra flavor during the last minutes of cooking.
Proper Searing: Sear both sides for flavor and appearance.
Nutrition
Serving:
4
ounces
|
Calories:
321
kcal
|
Carbohydrates:
1
g
|
Protein:
23
g
|
Fat:
25
g
|
Saturated Fat:
11
g
|
Trans Fat:
1
g
|
Cholesterol:
84
mg
|
Sodium:
60
mg
|
Potassium:
318
mg
|
Fiber:
1
g
|
Sugar:
1
g
|
Vitamin A:
217
IU
|
Vitamin C:
2
mg
|
Calcium:
16
mg
|
Iron:
2
mg
Nutritional info is an estimate and provided as courtesy. Values may vary according to the ingredients and tools used. Please use your preferred nutritional calculator for more detailed info.
Categories: