Air Fryer Buffalo Chicken Nuggets are the perfect snack, appetizer, or light dinner! With plenty of crispy crunches and classic buffalo sauce, they are a flavor-packed favorite that's easy to make.
Crispy, Crunchy Chicken Nuggets with a Spicy Buffalo Twist!
Everyone loves chicken nuggets. Who could resist crispy little chicken bites, after all? But let me tell you, when you combine the goodness of chicken nuggets with the excellence of buffalo sauce, you've got a genuinely addictive dish! That's what these crispy buffalo chicken nuggets are all about. Once you try them, you'll want to make them all the time. They're also great for game days, birthdays, and all occasions!
Served as a quick dinner, an appetizer, or an extra-indulgent snack, air fryer buffalo chicken nuggets will be a hit. I like to pair mine with ranch sauce, celery, and carrots. Easy! And speaking of easy, can we talk about the fact that these are air fried? That means you get all the crunchy goodness without the mess and fuss of deep-frying. You only need a tiny bit of oil to make this happen, which also cuts down on the cost. This recipe is a total win: low cost, less cleanup, and tremendous flavor.
The List of Ingredients
Here's what you'll need to make these spicy, homemade nuggets. Don't skip the pickle juice – it's the perfect quick and easy way to flavor the chicken and give it just the right touch of acidity.
Chicken Breast: Go for boneless, skinless chicken breast, and cut it into chunks.
Pickle Juice: Take a couple of spoonfuls of the juice from your favorite pickles, and use it as a lightning-fast marinade. So good!
Egg White and Cornstarch: For a light and crispy breading.
Soy Sauce: Or coconut aminos, or tamari.
Seasonings: Garlic powder, onion powder, paprika, salt, and pepper are a zesty combo that tastes great with buffalo sauce.
Butter and Hot Sauce: Melted butter mixed with hot sauce makes classic buffalo sauce! You can use any hot sauce you like – I prefer Frank's Red Hot sauce.
Sliced Green Onion: Optional, for garnish.
Let's Make Some Chicken Nuggets!
This recipe has a few steps involved, so I recommend reading through them a few times before you get started. That way, you'll be familiar with the process immediately. Setting up your ingredients and tools before you begin cooking is also helpful.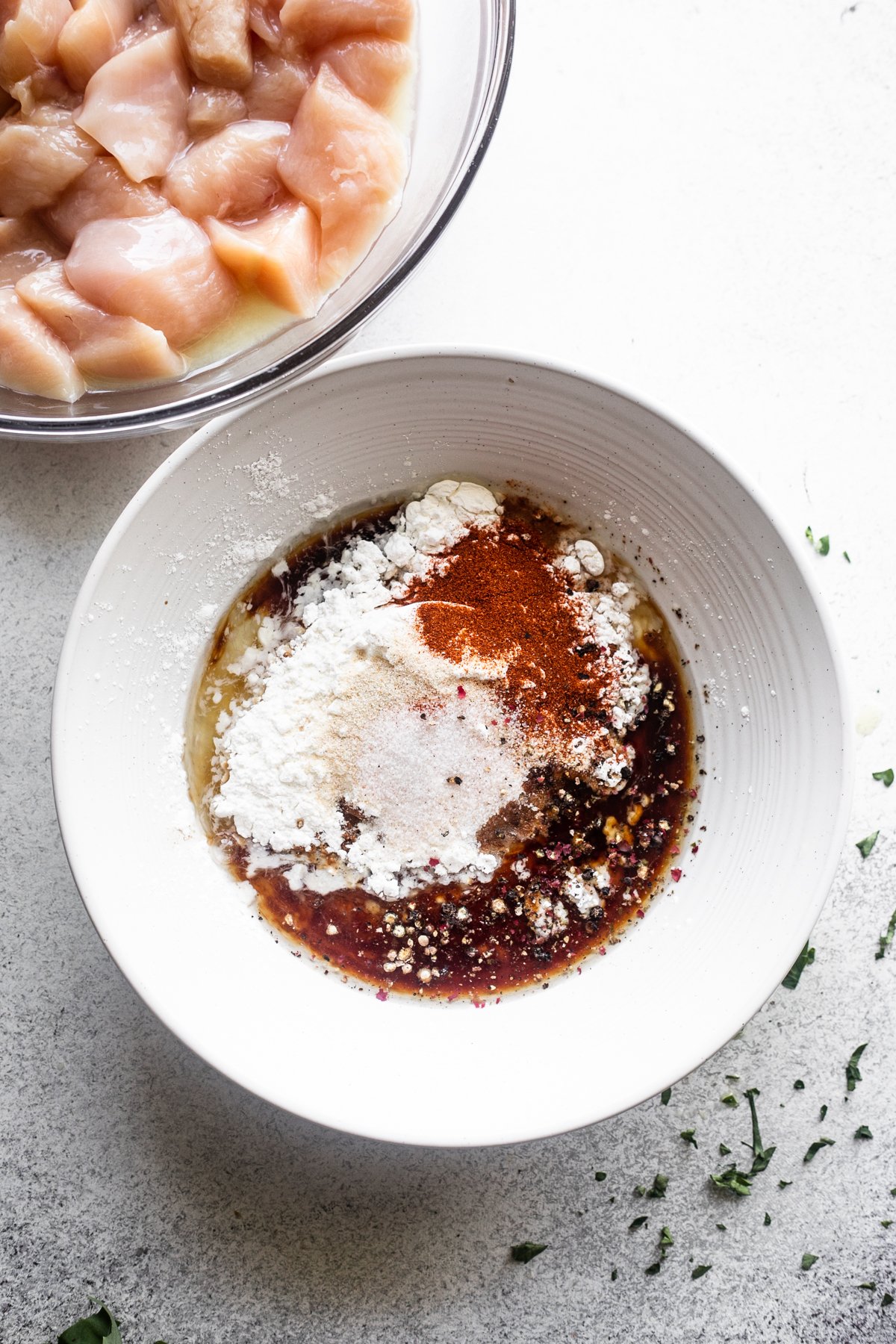 Marinate the Chicken in the Pickle Juice. To start, combine the chicken pieces and the pickle juice in a bowl or glass dish, stirring gently to coat. Set this aside for about 20 minutes.
Make the Breading Mixture. While the chicken is marinating, combine the egg white, cornstarch, soy sauce, garlic powder, onion powder, paprika, salt, and pepper in another bowl. Whisk to combine.
Batter the Chicken Pieces and Place Them in the Air Fryer Basket. Next, lightly grease the basket of your air fryer. Working with one piece of chicken at a time, batter the chicken and arrange the pieces in the air fryer basket. Don't crowd the basket – work in batches, if needed.
Air-Fry the Chicken. Air-fry the chicken nuggets at 360˚F for 7 minutes. Then flip the nuggets, and cook for another 5 minutes or so, until they are crisp, golden-brown, and cooked through. Set aside to drain on a paper towel-lined plate, and continue battering and air-frying the remaining nuggets.
Make the Buffalo Sauce and Coat the Nuggets. While the nuggets are cooking, make the buffalo sauce by whisking together the melted butter and the hot sauce. When the nuggets are all cooked, place them in a clean bowl, and pour the sauce over them. Toss to coat.
Enjoy! Arrange the air fryer buffalo chicken nuggets on a serving platter or in a large bowl, and garnish with sliced green onions before serving with your favorite sides.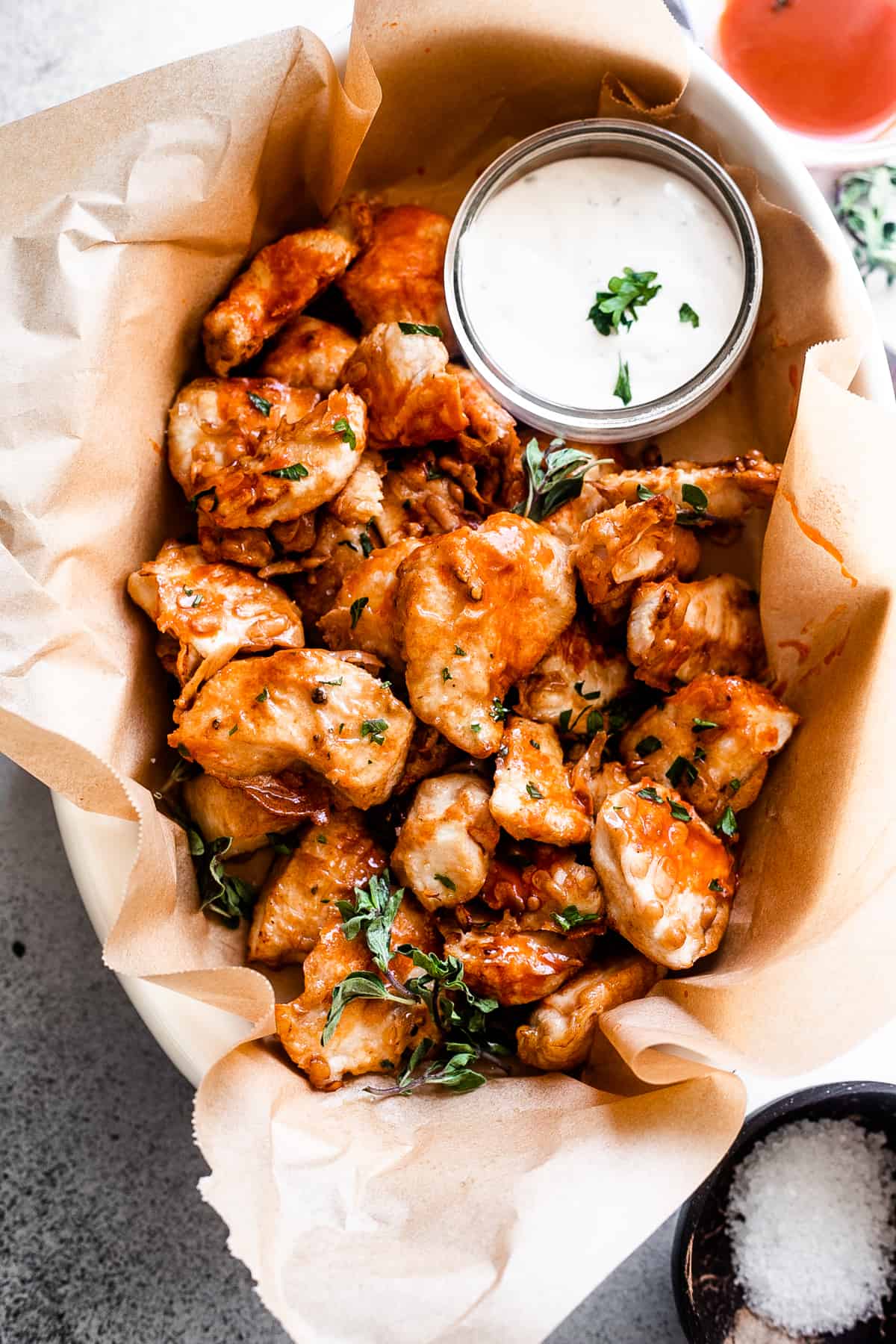 How Long Do You Cook Chicken Nuggets in the Air Fryer?
In general, it takes about 10 minutes to cook chicken nuggets in an air fryer. Since these nuggets are made from breaded, raw chicken, it takes closer to 12 – 13 minutes. Frozen nuggets will usually take about 12 minutes, while thawed, cooked nuggets take 6 to 8 minutes.
Recipe Notes
When it comes to air frying, there are a few essential tips everyone should know. These helpful hints will go a long way toward a great meal, time after time.
Always Preheat: You can sometimes get away with not preheating your air fryer, since they are typically small and heat up very quickly. However, I definitely recommend preheating. It doesn't take long, and helps guarantee more even cooking.
Don't Crowd the Basket: This air-fried recipe is all about crispiness, so make sure not to overcrowd the basket with the uncooked buffalo chicken nuggets. Crowded food will steam instead of crisp up – not what we're looking for.
Avoid Aerosol: Greasing the basket can be as easy as using a little cooking spray, but if you do this, make sure to use a non-aerosol spray. Over time, aerosol chemicals can damage your air fryer's basket, causing the coating to chip.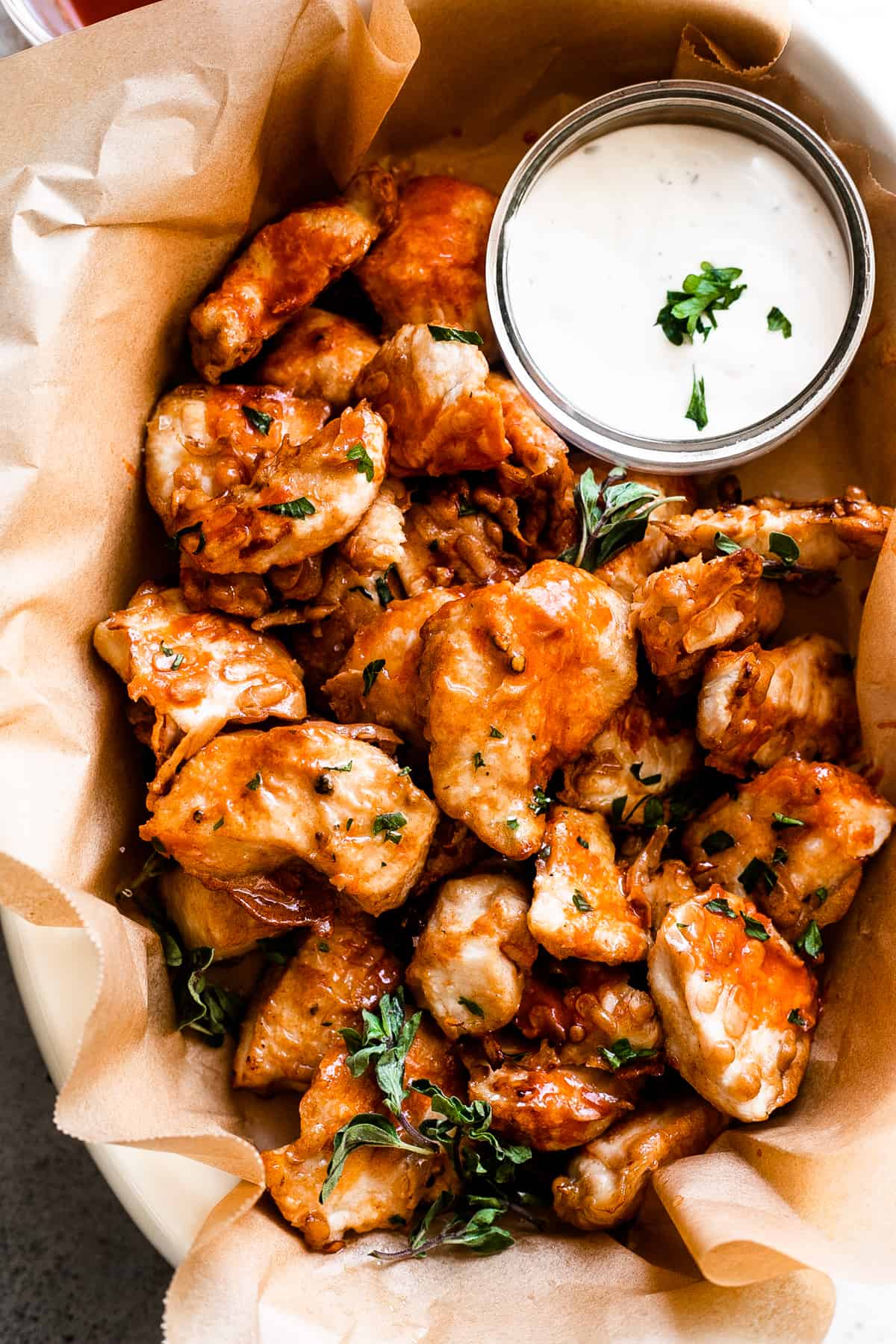 Serving Suggestions
If you can resist eating every single one of these as soon as they come out of the air fryer, then maybe you can serve them with some tasty sides – these are a few of my family's favorites.
Potatoes: Everyone loves chicken with fries, but you can upgrade a little if you like and make these Parmesan Garlic Roasted Potatoes instead! They're just as easy, and oh-so-indulgent.
Roasted Veggies: A hearty sheet pan of roasted veggies is always welcome, and for this dinner, Roasted Green Beans with Squash and Tomatoes would be a perfect pairing. It's a colorful and quick roasted veggie dish that's full of vitamins and flavor, and low in carbs.
Salad: Something fresh and cool is just the thing to take the edge off of a buffalo-inspired dinner, right? This Cabbage Cucumber Salad sounds grown-up, but it's a simple and crisp recipe that even kiddos will love.
Storing and Reheating Leftovers
To be honest, it's not that likely that there will be any leftovers from this recipe, but let's say you have a few nuggets to save. It couldn't be easier to keep them fresh and enjoy in the next day or two! Here's how to do it.
To store any leftover chicken nuggets, just place them in a zip-top bag or airtight container, and refrigerate. They will keep for 3 – 4 days.
To reheat, place the nuggets on a foil-lined baking sheet. Preheat your oven to 350°F, and bake the nuggets until heated through. Don't overcook the nuggets or they will become tough.
Can I Freeze Air Fryer Buffalo Chicken Nuggets?
Yes, these can be frozen and reheated easily. To freeze, just pop the cooled nuggets into a freezer bag and squeeze as much air out of the bag as you can while sealing it. Mark with the date, and freeze for up to 3 months.
Thaw before reheating.
ENJOY!
Air Fryer Buffalo Chicken Nuggets
Air Fryer Buffalo Chicken Nuggets are the perfect snack, appetizer, or light dinner! With plenty of crispy crunch and classic buffalo sauce, they are a flavor-packed favorite that's easy to make.
Instructions
Combine the chicken pieces and the pickle juice in a mixing bowl; toss to coat and set aside for 20 minutes.

In a separate mixing bowl combine the egg white, cornstarch, soy sauce, garlic powder, onion powder, paprika, salt, and pepper.

Lightly grease the air fryer basket with oil.

Dip the chicken pieces in the batter, coat on all sides, and shake off any excess; place chicken in the air fryer basket.

Repeat the process until the bottom of the basket is full, with about ½-inch space between the chicken nuggets. DO NOT crowd the basket; you'll have to cook the chicken nuggets in batches.

Cook at 360˚F for 7 minutes; flip and continue to cook for 5 more minutes, or until crisp and cooked through.

In the meantime, in a small mixing bowl whisk together the hot sauce and the melted butter.

Remove the cooked chicken nuggets from the air fryer basket and transfer to a bowl.

Pour the hot sauce over the chicken and toss until coated on all sides.

Arrange on a serving platter.

Garnish with sliced green onions.
Notes
Chicken: I use boneless chicken breasts to make chicken nuggets, but you can also use boneless, skinless chicken thighs.
Pickle Juice helps to make the chicken tender and juicy, but it also adds to the flavor of the chicken nuggets.
Don't Crowd the Basket: Make sure not to overcrowd the air fryer cooking basket because the chicken will steam instead of crisp up. Leave at least 1/2-inch space between each chicken piece.
Nutrition
Calories:
318
kcal
|
Carbohydrates:
16
g
|
Protein:
38
g
|
Fat:
10
g
|
Saturated Fat:
5
g
|
Polyunsaturated Fat:
1
g
|
Monounsaturated Fat:
3
g
|
Trans Fat:
0.3
g
|
Cholesterol:
124
mg
|
Sodium:
1724
mg
|
Potassium:
682
mg
|
Fiber:
0.4
g
|
Sugar:
0.2
g
|
Vitamin A:
380
IU
|
Vitamin C:
3
mg
|
Calcium:
17
mg
|
Iron:
1
mg
|
Net Carbs:
16
g
Nutritional info is an estimate and provided as courtesy. Values may vary according to the ingredients and tools used. Please use your preferred nutritional calculator for more detailed info.
Categories:
More Spicy Buffalo Favorites