The best Cobb Salad recipe is fully loaded with all the classic proteins and fixings and smothered with a light and creamy homemade blue cheese dressing. Enjoy this hearty and healthy salad as a main, or follow the easy directions to make it into a wrap!
If you're looking for another delicious, seasonal variation, be sure to try my Summer Cobb Salad!
Easy, Classic Cobb Salad with Homemade Dressing
I make a lot of salads. From my Tomato Burrata Salad to Jennifer Aniston's Bulgur Salad, there are plenty of easy salad recipes to go around. A classic Cobb salad happens to be one of my favorite healthy (yes, healthy!) salads that also doubles as dinner!
This salad is chock-full of high-protein chicken, bacon, eggs, tomatoes, blue cheese, and creamy avocado. My recipe is an easy, lightened-up version that's still insanely flavorful and filling.
The best part? The dressing! It's not a buttermilk dressing, as the classic should be, but it is made with a tangy combination of plain yogurt, Dijon, and blue cheese. In one word: amazing. 🤩
When made on the fly, a Cobb salad is the best solution to a bunch of leftovers. Even better, you can roll this salad up into a wrap for an easy meal on the go!
What's the Difference Between a Cobb Salad and a Chef Salad?
So, is a Cobb salad and a chef salad the same thing? Not quite.
Both salads have a lot in common: there's lettuce, cheese, meats, and hard-boiled eggs involved. The main difference between Cobb salad and a chef's salad is that Cobb salads include tomato, avocado, and blue cheese.
Chef salads are also more basic, made with green leaf lettuce, whereas a Cobb salad is usually made with a mix of greens (including bitter greens like arugula and radicchio).
To add, the salad is named after its creator, Robert H. Cobb, who is said to have invented it at the Brown Derby restaurant in Hollywood, California, in the 1930s. The ingredients of a Cobb salad are usually arranged in rows on top of the lettuce, making it a beautifully appealing dish. The avocado and eggs provide a creamy, rich texture, while the bacon adds a salty, smoky flavor. Thanks, Mr. Cobb!
Ingredients
With a few healthy ingredient swaps, this lightened-up version hits all the notes we love about a classic Cobb salad, with significantly fewer fats and calories.
Here's an overview of what you'll need to make the best Cobb salad ever, with the full amounts available in the recipe card: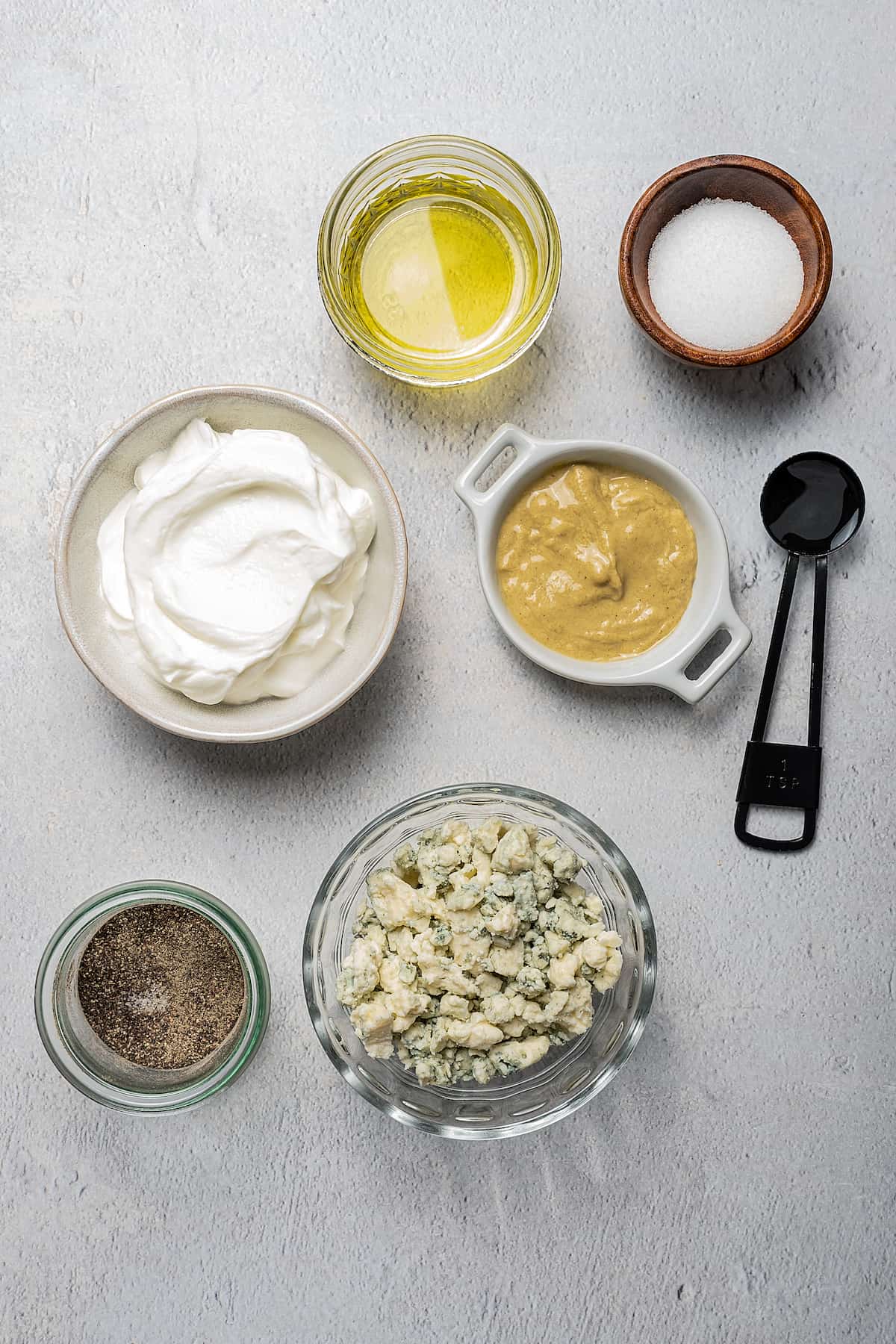 For the Blue Cheese Dressing
Plain Yogurt: Non-fat plain yogurt is a great light option, but you can use regular plain yogurt.
Oil and Vinegar: The basis for any decent salad dressing is a nice quality extra virgin olive oil and in this case, white vinegar (I like white wine vinegar or cider vinegar).
Dijon Mustard: I love the creaminess of Dijon mustard, though regular yellow mustard will also work.
Blue Cheese: I keep this dressing light with low-fat, crumbled blue cheese or Roquefort. Feel free to use full-fat if you prefer. If you're not a fan of funky blue cheese, other good options are crumbled feta cheese or goat cheese.
Salt and Pepper
For the Salad
Mixed Salad Greens: Pick up a bag of mixed greens from the grocery store, or use any combination of your favorite salad leaves. Baby romaine lettuce, iceberg lettuce, swiss chard, frisée, arugula, and/or radicchio are all good options.
Chicken: Cooked and shredded chicken breast. I love to make this Cobb salad whenever I have leftover chicken in the fridge, which is always. I cook… a lot.
Bacon: In keeping with the "lightened up" theme of this Cobb salad, I crumble up crispy turkey bacon. You can also use regular bacon if you'd prefer.
Hard Boiled Eggs: Make up a batch of Perfect Hard Boiled Eggs, then peel and slice them.
Tomatoes: I love cherry tomatoes for their sweetness in this salad recipe, but regular diced tomatoes will also work.
Avocado: Evenly sliced. Bring on those healthy fats!
Blue Cheese: Additional crumbled blue cheese (or crumbly cheese of choice), for sprinkling over the salad.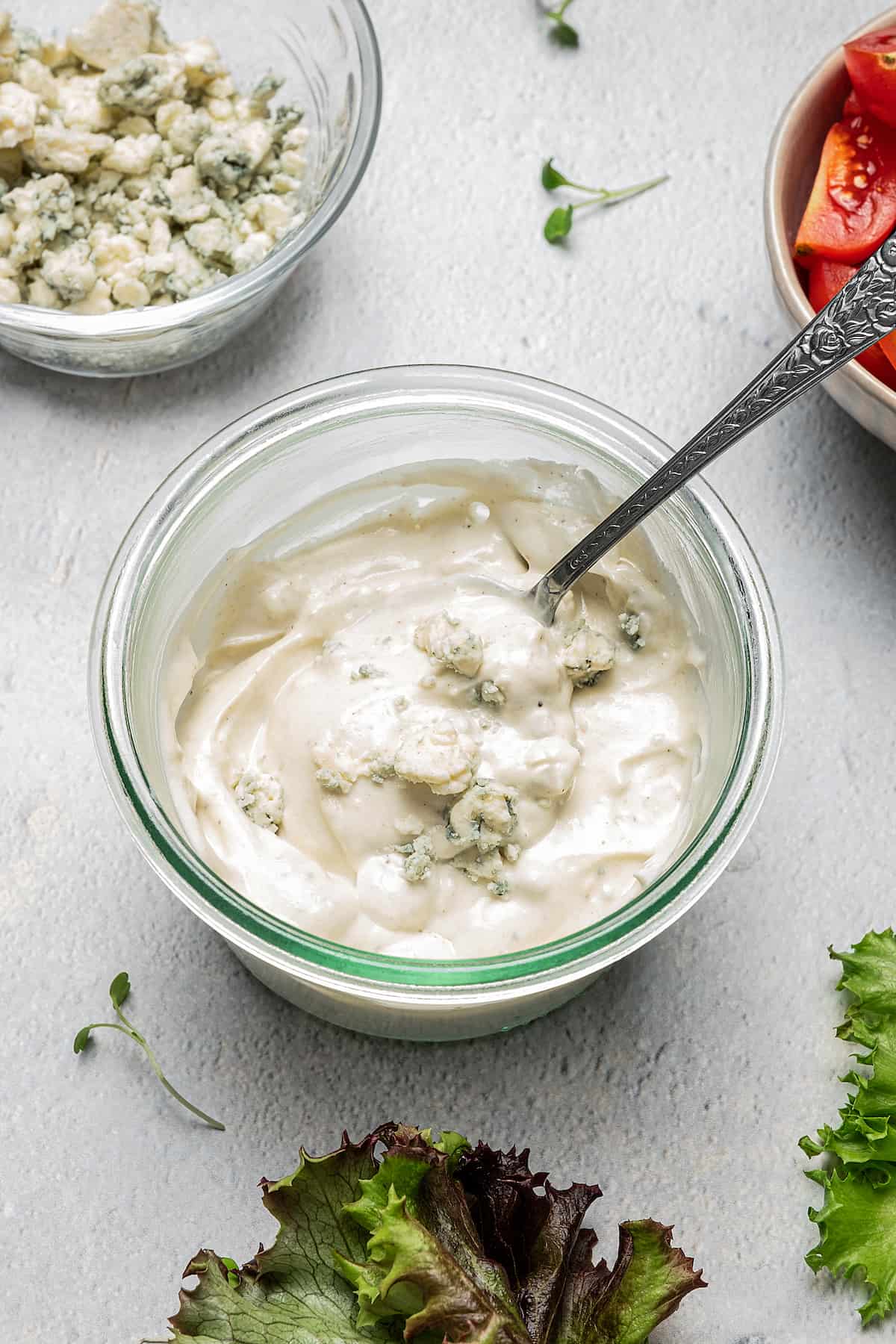 How to Make This Dish
Don't you just LOVE a good salad recipe? This one is only 2 steps!
Prepare the Dressing: In a bowl, whisk together the ingredients for your Cobb salad dressing.
Assemble: Next, add your mixed greens to a large platter or plate. Lay the rest of the salad ingredients over top, then crumble over the blue cheese. You can arrange the toppings in pretty rows, or pile them on any way you like! It all tastes delicious.
Finally, give the whole thing a generous drizzle of delicious dressing. All that's left to do is dig in!
Make a Cobb Salad Wrap
To make this recipe into a salad wrap instead, begin by warming flour tortilla wraps in the microwave for a few seconds. Then, assemble the wraps:
Place a pile of greens in the middle of the tortilla. I like to use low-carb flour tortillas.
Then, top with chicken, bacon, egg, tomatoes, and a slice of avocado. Sprinkle on some blue cheese. Drizzle over some of your creamy homemade dressing.
Roll that deliciousness up into a tight lil' burrito, cut it in half, and serve!
Tips for Success
Here are some added tips to make the most of your easy Cobb salad:
Make extra dressing. I love this homemade blue cheese salad dressing so much, I double the batch whenever I make it. It's easy to shake it up in a mason jar, then store it in the fridge for up to one week. Just give it another shake before you use it.
Customize the ingredients. Any worthy salad recipe is easy to customize, and this one's no exception. Try changing up the ingredients to suit. Add olives and feta to make Mediterranean Cobb Salad, or include an oven-baked salmon filet like I do in ​​my Salmon Cobb Salad with Spinach and Feta.
Make a vegetarian Cobb salad. For an easy vegetarian version of this recipe, swap out the bacon and chicken for tofu, roasted chickpeas, beans, grilled halloumi cheese, and/or coconut bacon. It's delicious, I swear. 🙃
What Goes with Cobb Salad?
This healthy Cobb salad recipe lives rent-free in my kitchen as a main dish/easy lunch/anytime snack. It's already a meal all-in-one! But if you're looking for something equally delicious to serve alongside it, here are some ideas:
How to Store Leftovers
Due to certain ingredients (I'm looking at you, avocado 🥑 ), Cobb salad is at its best the day it is made. However, if you have leftovers, store them in an airtight container without any dressing.
Close the container and store it in the refrigerator for 2 days.
To serve the leftover salad, remove it from the refrigerator and let it sit at room temperature for a few minutes before serving.
ENJOY!
Cobb Salad Recipe
This healthy Cobb Salad comes with all the classic fixings and is smothered in a light homemade blue cheese dressing. Enjoy this easy salad recipe as a quick lunch or dinner, or roll it up in a wrap!
Ingredients
For the Blue Cheese Dressing
Instructions
Prepare the dressing by combining yogurt, oil, vinegar, mustard, bleu cheese, salt, and pepper in a mixing bowl; whisk together until thoroughly combined. Set aside.

Lay out the salad greens on a large plate.

Arrange chicken, bacon, egg, tomatoes, avocado, and blue cheese on top of the salad greens.

Drizzle the salad with the prepared dressing.
Notes
Lettuce: Use crisp, fresh lettuce and ripe tomatoes and avocados.
Add protein: Grilled or roasted chicken, eggs, and bacon are common ingredients in a Cobb salad, but you can also try adding cooked salmon, beans, tofu, or even shrimp!
Dressing: I like to make my own lightened-up bleu cheese dressing to use in this Cobb salad, but if you'd like to use something lighter and not creamy, I suggest mixing up some lemon juice with olive oil and season it with salt and pepper.
Add-ins and swaps: While the traditional ingredients of a Cobb salad are amazing, you can also try adding other things to give the salad more variety. You can include diced bell peppers, sliced cucumbers, radishes, or diced vegetables.
Assemble the salad just before serving: To prevent the salad from becoming wilted or soggy, it is best to assemble the salad just before serving. This will also help to keep the ingredients fresh and vibrant.
To Make Cobb Salad Wraps:
Spread about 2 tablespoons of the dressing over the flour tortilla.
Place a few salad greens in the middle of the flour tortilla.
Add some chicken, a bit of crumbled bacon, a couple of slices of eggs, some tomatoes, and a slice of avocado, then sprinkle with crumbled blue cheese and drizzle with dressing.
Roll it up tightly; cut it in half and serve.
Nutrition
Calories:
383
kcal
|
Carbohydrates:
14
g
|
Protein:
17
g
|
Fat:
30
g
|
Saturated Fat:
10
g
|
Polyunsaturated Fat:
3
g
|
Monounsaturated Fat:
14
g
|
Trans Fat:
0.03
g
|
Cholesterol:
171
mg
|
Sodium:
509
mg
|
Potassium:
759
mg
|
Fiber:
4
g
|
Sugar:
5
g
|
Vitamin A:
1754
IU
|
Vitamin C:
37
mg
|
Calcium:
243
mg
|
Iron:
2
mg
Nutritional info is an estimate and provided as courtesy. Values may vary according to the ingredients and tools used. Please use your preferred nutritional calculator for more detailed info.
Categories:
More Easy Salad Recipes