Delicious Air Fryer Avocado Fries prepared with firm slices of fresh avocado that are lightly breaded and then air-fried to crispy deliciousness! Served with a buffalo ranch dipping sauce, they're a healthy appetizer you can't resist!
Air Fryer Avocado Fries Made Easy!
Making food in the air fryer has become something of an obsession for me, and these easy avocado fries are a delicious new result of that obsession. While you might not typically think of avocado as an ingredient to make "fries" with, it is a really delicious twist on regular fries! Using firm, but not unripe, avocado slices, they hold up well to air frying, becoming deliciously buttery and soft but still crunchy. They are SO good!
Avocado is so popular right now, partly thanks to the rise of low-carb diets, and so this is a great recipe for those who are limiting their carb intake but still want to enjoy something with a crisp, fried-food vibe. Dipped in ketchup, aioli, or the buffalo ranch dipping sauce in the recipe below, this is one addictive appetizer!
Why You'll Love This Avocado Fries Recipe
Avocado Fries turn out creamy on the inside and crisp on the outside.
This snack is full of healthy fats from the avocado.
Low on oil, thanks to the air fryer!
These fries are low-carb and keto-friendly.
Perfect for dipping in your favorite sauce.
How to Make Air Fryer Avocado Fries
This avocado recipe is great because it is made with only a handful of ingredients, most of which you probably already have. The buffalo ranch dipping sauce is the cherry on top; it's flavorful, fast, and zesty.
Ingredients For Avocado Fries
Avocados: You'll need a couple of fresh avocados, firm but ripe.
Cornstarch: To help the breading stick to the avocados, we'll be dredging them in a little cornstarch. You can also use coconut flour or even all-purpose flour if you prefer.
Chili Powder: A little chili powder adds flavor.
Salt and Pepper: To taste.
Eggs: Beat a couple of eggs lightly to coat the eggs and help the breading stick.
Panko: You can keep this dish low-carb by using pork rind panko, or go with regular panko.
Ingredients For Buffalo Ranch Dipping Sauce
Ranch Dressing: You'll need about half a cup of your favorite ranch dressing, prepared or homemade.
Wing Sauce: I use Frank's Buffalo Wing Sauce, but you can use whatever hot wing sauce you like.
Directions
Set Up Your Breading Ingredients. First, mix the cornstarch (or flour), chili powder, salt, and pepper in a shallow dish. Next, whisk the eggs in a second shallow dish. And finally, pour the pork rind crumbs (or regular panko crumbs) into a third shallow dish.
Slice the Avocados. Cut the avocados in half by making a circular cut to the pit, all the way around the avocado from top to bottom. Twist and pull the halves apart. Remove the pit from the avocado halves, as well as the peel. Finally, cut each half into long, half-inch-thin slices from top to bottom. You should get four to five slices per avocado half, depending on the size of the avocado.
Bread the Avocado Slices. Dredge each avocado slice in the cornstarch mixture, coating it on all sides. Gently shake off any excess, and dip the slice into the beaten egg. Lift the slice and let the excess egg fall back into the dish. Finally, dip the slice into the crumbs, turning to coat and gently pressing the crumbs into the avocado to help them stick. Repeat with all of the slices. You can lay the breaded pieces on a sheet of parchment as you go.
Air-Fry the First Batch of Avocado Slices. Spray the basket of your air fryer lightly with nonstick cooking spray. Arrange a single layer of avocado fries in the basket, not touching each other, and then spritz the slices with cooking spray. Set the air fryer to 400˚F, and once it is preheated, air-fry the avocado slices for about 4 minutes. Turn them over on their sides, spritz them with cooking spray again, and cook for 3 more minutes or until golden-brown.
Air-Fry the Remaining Batches and Make the Dip. Repeat this process with the remaining batches of fries until they are all cooked. While the fries are cooking, mix together the ranch and buffalo sauce in a dipping bowl.
Enjoy! Serve the warm avocado fries immediately, garnished with chopped cilantro, along with limes and the buffalo ranch dip.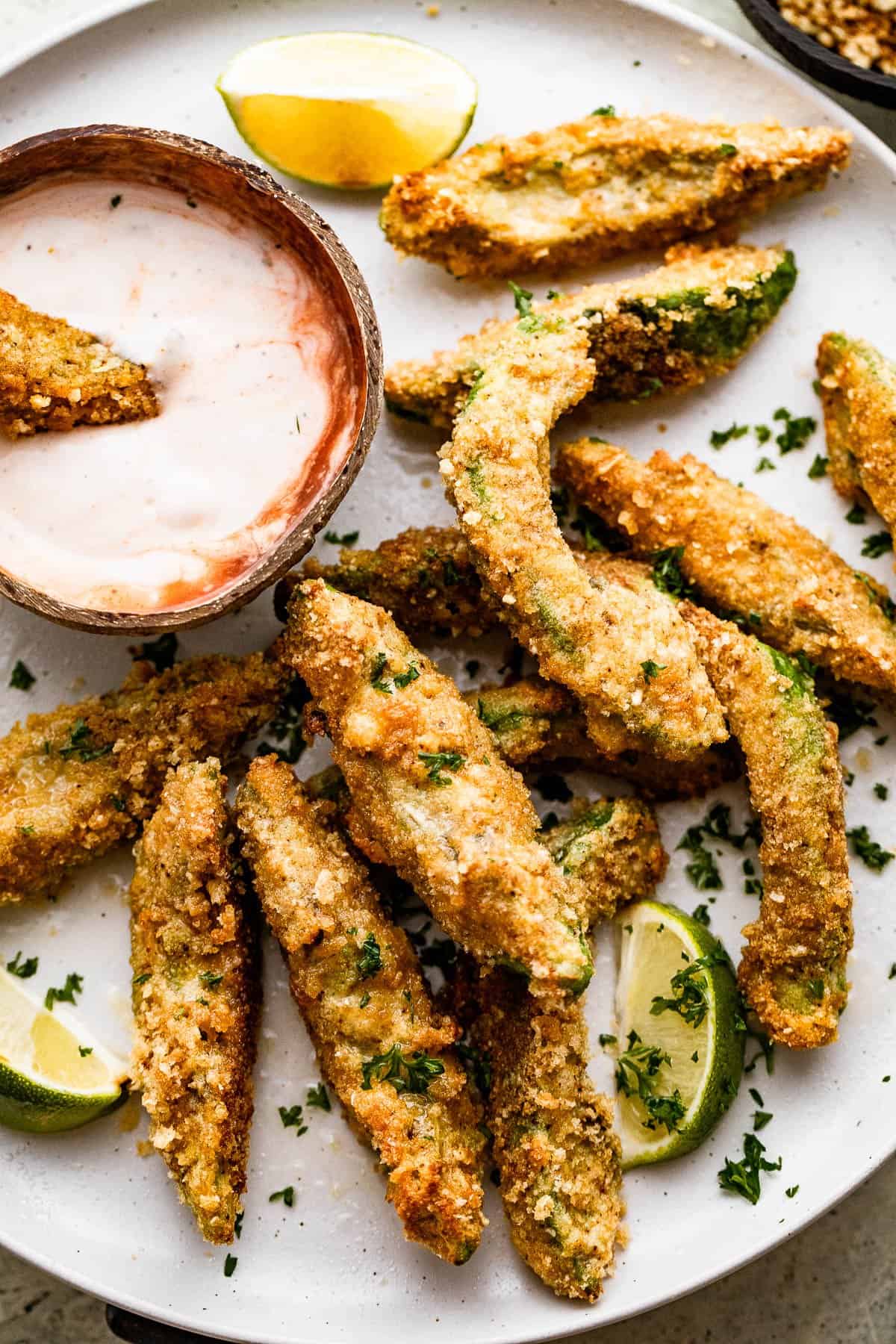 Tips for Making the Best Air Fryer Avocado Fries
Use Medium-Ripe Avocados: Okay, so you know how an unripe avocado is as hard as a rock? And a good guacamole avocado is nice and soft and silky? Well, for avocado fries, you want a happy middle ground, so you get nice, firm slices for breading. No mush!
How to Tell If an Avocado Is Ripe: You can find out if your avocado is ripe using two simple tests: the squeeze test and the stem test. First, give the avocado a gentle squeeze. If it's soft (like a tangerine or a banana), then that's great! If it's mushy (like peanut butter), it's probably overripe. Once you've found one that feels soft but not mushy, pop the stem off of the avocado. If the inner part looks bright green, you're good to go. If it's brown, then the avocado is overripe.
How to Pit an Avocado: The easiest way to pit an avocado that I've found is to hold the half with the pit in the palm of one hand and use the other hand to lightly strike the pit with the blade of your knife. Make sure not to cut your hand when you do this, of course! The knife will sink right down into the pit, and you can give it a twist to get it right out.
Seasoning: Feel free to go crazy with the seasonings here! You can kick up the heat with some cayenne, sprinkle in garlic and onion powder, add a little ranch seasoning, or give it an "everything bagel" twist!
How To Serve Avocado Fries
Honestly, you'll want to just eat these yummies as soon as they come out of the air fryer! However, they also make a perfect side dish for all kinds of recipes. Take a look at these!
Salmon Burgers: One of the ultimate salmon recipes, these Teriyaki Pineapple and Salmon Burgers are a match made in heaven with crisp, buttery avocado fries! And pssst… you can totally keep this keto by losing the bun!
Chicken Tenders: Who doesn't love chicken tenders and fries? And these Parmesan Crusted Chicken Tenders come with an easy recipe for buttermilk ranch sauce that's just as good on the avocado fries as it is on the chicken!
Kebapi: Juicy Grilled Macedonian Kebapi are a year-round favorite, perfect for serving alongside your fresh avocado fries. Not ready to grill out? No problem! These are just as delicious on a grill Pan or cast-iron skillet.
How to Store and Reheat Leftovers
I recommend only making as many avocado fries as you can serve at once because they just don't store very well. However, if you want to save your leftovers, store them in a single layer inside a paper-towel-lined airtight container in the refrigerator for up to 24 hours. Reheat in a single layer in the air fryer until hot and crisped.
ENJOY!
More Avocado Recipes
More Keto Recipes
Air Fryer Avocado Fries
Air Fryer Avocado Fries are made with firm slices of fresh avocado that are lightly breaded, and then air-fried to crispy perfection in the air fryer!
Ingredients
For the Avocado Fries
2

large (about 8 ounces each)

avocados,

firm but ripe

⅓

cup

cornstarch,

coconut flour and all purpose flour work just as well

1

teaspoon

chili powder

½

teaspoon

salt,

or to taste

fresh ground black pepper,

to taste

2

large

eggs

1

cup

pork rind crumbs,

or panko crumbs

chopped fresh cilantro or parsley,

for garnish

lime wedges,

for serving

dipping sauce,

for serving
For the Buffalo Ranch Dipping Sauce
Instructions
In a shallow dish whisk together cornstarch (or flour), chili powder, salt, and pepper.

In a second shallow dish, whisk together the eggs.

In a third shallow dish, add the pork rind crumbs (or panko crumbs).

Cut avocados in half, longwise – cutting in the center of the avocado from top to bottom. Remove the pit and peel. Then, cut the halves into 1/2-inch thick slices, yielding about 8 to 10 slices per avocado.

Dredge each avocado slice into the cornstarch to coat both sides entirely and shake off any excess. Transfer to the beaten egg, turn to coat well; lift it up and let excess egg slide off.

Transfer it to the crumbs; turn and coat while pressing the crumbs to adhere on both sides.

Spray the air fryer basket with nonstick cooking spray.

To the air fryer basket, arrange as many avocado fries as it fits without touching each other. You'll probably have to cook these in batches.

Lightly spray the avocado slices with cooking oil. Set the air fryer to 400˚F and cook the avocado fries for 3 minutes.

Flip them over on their sides, lightly spray with cooking oil, and continue to cook for 3 to 4 more minutes, or until crispy and golden brown.

Repeat with remaining batches.

In the meantime, combine the ranch and buffalo sauce in a dipping bowl; mix and stir until well combined.

Garnish the avocado fries with chopped cilantro and serve with lime wedges and the dipping sauce.
Notes
Avocado Prep: Use medium-ripe avocados so they are firm enough for breading and not mushy.
Checking Ripeness: Gently squeeze the avocado; it should feel like a tangerine. Overripe feels like peanut butter. Or use the stem test and pop off the stem – if the inner part is a bright green color, it means it's ripe, but brown indicates it's overripe.
Pitting the Avocado: Hold the avocado half with the pit in one hand, lightly tap the pit with your knife blade, then twist to remove.
Seasoning Tips: Customize the flavors to your liking. Add cayenne for heat, use garlic/onion powder, try ranch seasoning, or go for an "everything bagel" twist.
Don't Overcrowd: For the crispiest results, lay the avocado fries in a single layer in the air fryer basket. Overcrowding can lead to uneven cooking and less crispy results.
Cooking Spray: For an extra crispy exterior, lightly spray the breaded avocado slices with cooking spray before air frying. This helps achieve a deep-fried texture without the added oil.
OVEN INSTRUCTIONS
Preheat the oven to 400˚F.
Grease a baking sheet; arrange breaded avocado fries on the baking sheet, and spray them with cooking oil.
Bake the avocado fries for 12 to 15 minutes, flipping halfway through or until they are golden and crispy.
Nutrition
Serving:
3
slices
|
Calories:
175
kcal
|
Carbohydrates:
8
g
|
Protein:
5
g
|
Fat:
13
g
|
Saturated Fat:
3
g
|
Polyunsaturated Fat:
6
g
|
Monounsaturated Fat:
3
g
|
Trans Fat:
1
g
|
Cholesterol:
73
mg
|
Sodium:
681
mg
|
Potassium:
44
mg
|
Fiber:
1
g
|
Sugar:
1
g
|
Vitamin A:
199
IU
|
Vitamin C:
1
mg
|
Calcium:
18
mg
|
Iron:
1
mg
|
Net Carbs:
7
g
Nutritional info is an estimate and provided as courtesy. Values may vary according to the ingredients and tools used. Please use your preferred nutritional calculator for more detailed info.
Categories: