Creamy, ultra cheesy, and super indulgent Keto Mac and Cheese prepared with cauliflower, bacon, and cheddar cheese! Just because you're on a Low Carb or Keto diet, it doesn't mean you should forget about your favorite childhood meal.
The Best Keto Mac and Cheese Recipe
Craving a warm, cheesy, and indulgent dinner that won't break your diet? Get ready to fall in love with our Keto Mac and Cheese. This dish, featuring cauliflower and cheddar cheese, proves that you can stick to a low-carb diet without compromising on flavor. Yes, even when it comes to comfort food!
Thus, this is a delicious and healthy solution if you've missed your favorite pasta dinners! This really easy cauliflower mac and cheese comes together in about 30 minutes from start to finish, and, I promise you, it's delicious! My keto mac and cheese casserole satisfies pasta cravings while being deliciously low-carb.
What Is Cauliflower Mac and Cheese?
Cauliflower Mac and Cheese is the low-carb version of the classic comfort dish that traditionally uses pasta. In this case, tender cauliflower florets take the stage, swapping out the macaroni and keeping the carb count low. A must-try for anyone on a ketogenic diet or simply trying to cut down on carbs.
I know, I really do know that cauliflower IS NOT macaroni, nor potatoes, nor rice, but it's a really good substitute for all those things. Have you tried my Loaded Mashed Cauliflower? Or my Chicken and Cauliflower Rice? DO it! You'll see that cauliflower can save the day for those trying to cut down on carbs.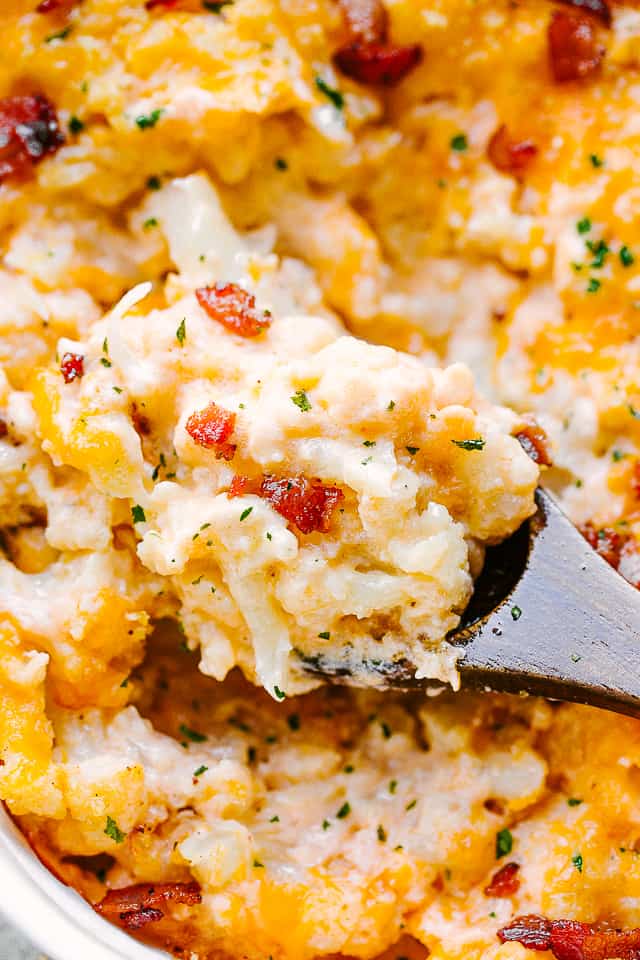 Why You'll Love This Keto Mac & Cheese Recipe
This Keto Mac and Cheese recipe uses cauliflower as a fantastic stand-in for traditional macaroni.
Despite its healthier twist, it still captures the creamy, cheesy essence of classic Mac and Cheese.
Don't just limit yourself to trying it on keto! This Cauliflower Mac and Cheese recipe is a flavorful low-carb dinner that can stand on its own as a main dish or pair wonderfully with Roast Chicken or Pulled Pork.
Recipe Ingredients
Cauliflower: The process of creating this low-carb delight involves simmering cauliflower florets until they're tender.
For the cheese sauce: You'll need milk, cream cheese, shredded cheeses, and a blend of spices.
Bacon: Once baked, you'll top the casserole with crispy bacon for an added layer of indulgence!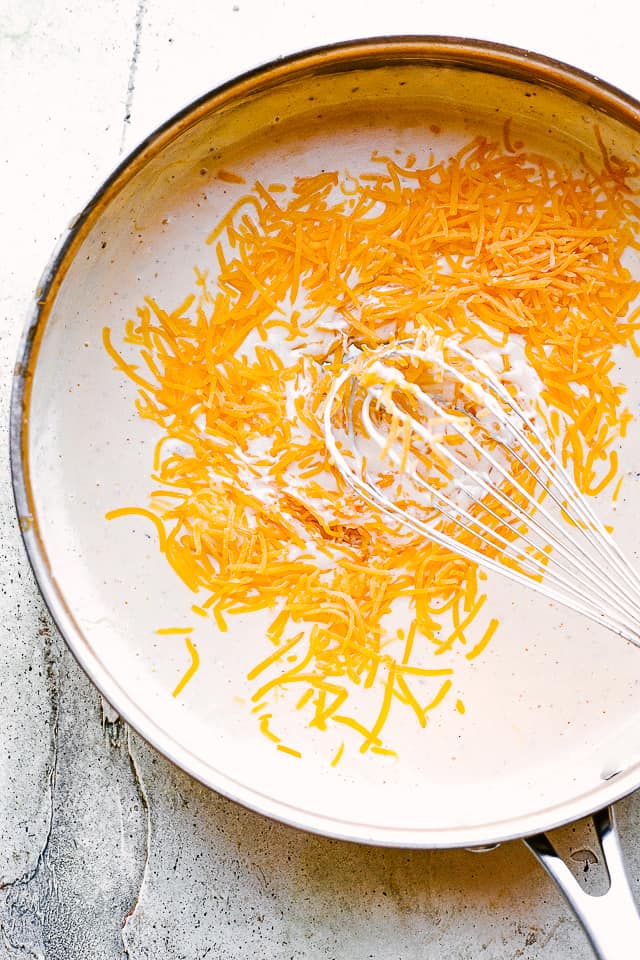 How To Make Keto Mac and Cheese
Keto Mac and Cheese is perfect for anyone with a macaroni-cheese craving that can't eat real pasta. But tender cauliflower, crispy bacon, and a super creamy cheese sauce can help. Hear me out: ?
Add cauliflower florets to boiling water; cook, covered, for about 8 minutes or until tender. Drain and set aside.
Add milk and softened cream cheese to a saucepan – gently whisk until the cream cheese is completely melted. I use the same saucepan, or pot, for boiling the cauliflower and for making the sauce.
Stir in some garlic powder, chili powder, dried herbs, salt, and pepper, and whisk in the shredded cheddar cheese and shredded mozzarella cheese. Once the sauce is smooth, stir in the drained cauliflower.
Transfer the cauliflower to a 9×13 baking dish and bake, uncovered, for about 18 to 20 minutes or until hot and bubbly. I also like to add a topping of pork rind panko crumbs for a nice crunch.
While that bakes, dice up few slices of bacon and fry until crispy.
Remove casserole from oven, top with prepared bacon, and serve.
Richly flavored and utterly delicious, Cauliflower Mac and Cheese is thick and creamy without any use of flour, so it's also gluten-free! Basically, I'm trying to say not to swear off comfort food just because of a diet. ?
Tips And Substitutions
Tenderness of Cauliflower: Be mindful not to overcook your cauliflower, as it can become mushy. Aim for a tender yet firm texture to replicate the bite of traditional macaroni.
Creamy Sauce Consistency: To avoid a grainy cheese sauce, add the cheese in gradually and whisk until completely melted before adding more.
Cheeses: Make sure that the cream cheese you are using is softened. If it isn't, it will curdle. For those seeking variety, you can substitute the cheeses in the recipe with others like Gruyere, Gouda, or Monterey Jack, provided they are shredded for easy melting.
Spice Blend: If you don't want to use the spices and seasonings that I use, go ahead and add whatever herbs and spices you like.
Toppings: Feel free to play around with the toppings. While the recipe calls for crispy bacon, you could also use sautéed onions, chives, or even extra cheese.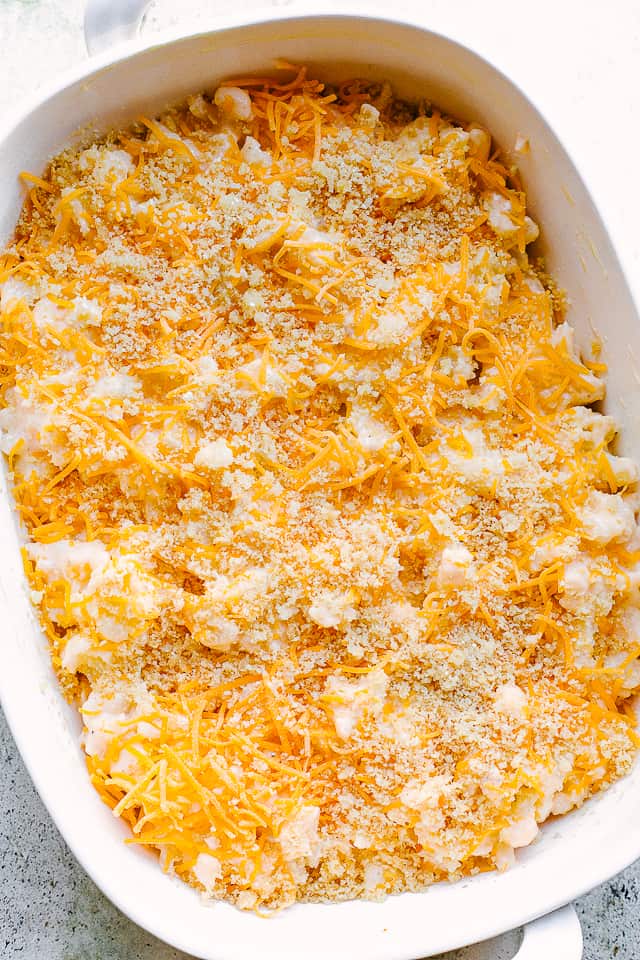 Is Cheese Keto-Friendly?
YES! Thank goodness. But always remember this; "in moderation." Yes, cheese is totally acceptable on a low-carb and Keto diet, but don't add it to every meal. Cheese still has calories, and too much cheese equals too many calories, which will not help with losing weight.
What Should I Serve With Cauliflower Mac And Cheese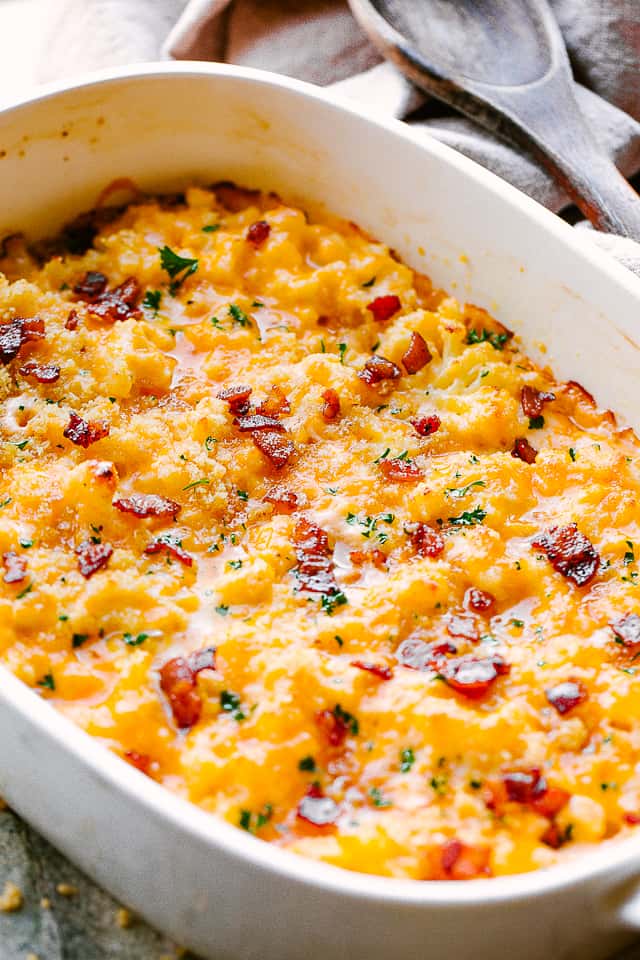 Storing Leftovers
Store completely cooled Keto Mac and Cheese in an airtight container and keep refrigerated for up to 3 days.
Reheat in microwave.
More Cauliflower Recipes To Try
ENJOY!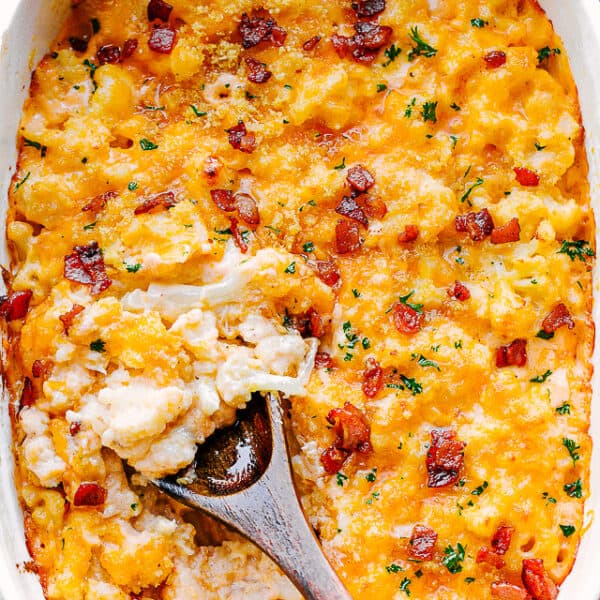 Keto Mac and Cheese
Creamy, ultra cheesy, and super indulgent Keto Mac and Cheese prepared with cauliflower, bacon, and cheddar cheese!
Ingredients
1

head

cauliflower,

cut into florets

pinch

of salt

¾

cup

whole milk,

you can also use heavy whipping cream

3

ounces

cream cheese,

softened and cut into cubes

1½

teaspoons

dried parsley

1

teaspoon

garlic powder

½

teaspoon

chili powder,

or to taste

salt and fresh ground pepper,

to taste

2

cups

shredded cheddar cheese,

divided

1

cup

shredded mozzarella cheese

4

slices

bacon,

diced and cooked to a desired crispiness

fresh chopped parsley,

for garnish
FOR THE TOPPING (optional)
Instructions
Preheat oven to 375˚F.

Place 1 inch of water in a large pot or large saucepan with a pinch of salt and bring to a boil.

Add cauliflower florets to the boiling water and cook for 8 to 9 minutes or until tender-crisp. Drain cauliflower in a colander and set aside.

Butter a 9×13 baking dish; set aside.

Pour milk into the same pot that you used for the cauliflower, and set over medium heat. Add the cream cheese to the milk and whisk until cream cheese is completely melted.

Stir in dried parsley, garlic powder, chili powder, salt, and pepper. Add 1 cup shredded cheddar cheese and 1 cup shredded mozzarella cheese; gently whisk until cheeses have completely melted.

Add the cauliflower florets back into the pot, and using a large spoon, gently stir around until everything is covered in cheese sauce.

Transfer the cauliflower mixture to previously prepared baking dish; sprinkle with remaining cheddar cheese and set aside.

In a small bowl, combine pork rinds crumbs, parmesan, and melted butter; mix and stir until well combined. Sprinkle the pork rinds mixture in an even layer over the cauliflower.

Bake, uncovered, for 18 to 20 minutes, or until hot and bubbly.

In the meantime, dice the bacon and fry it to a desired crispness.

Garnish the baked casserole with the crispy bacon and fresh parsle,y and serve.
Notes
Keep cauliflower tender but firm to mimic pasta's bite, avoiding overcooking.
Add cheese gradually to the sauce, ensuring full melt before adding more.
You can swap the cheeses in the recipe for shredded Gruyere, Gouda, or Monterey Jack.
Feel free to adjust the spice blend to your preference.
Nutrition
Calories:
605
kcal
|
Carbohydrates:
13
g
|
Protein:
32
g
|
Fat:
48
g
|
Saturated Fat:
27
g
|
Cholesterol:
139
mg
|
Sodium:
961
mg
|
Potassium:
649
mg
|
Fiber:
3
g
|
Sugar:
6
g
|
Vitamin A:
1331
IU
|
Vitamin C:
69
mg
|
Calcium:
722
mg
|
Iron:
1
mg
|
Net Carbs:
10
g
Nutritional info is an estimate and provided as courtesy. Values may vary according to the ingredients and tools used. Please use your preferred nutritional calculator for more detailed info.