Apple Mustard Glazed Pork Tenderloin – Not only is this pork tenderloin juicy, delicious, and addictive, but it is also very, very easy to make! Pour on the apple-mustard glaze and pop it in the oven!
It would seem that I'm really into pork recipes these days… and apples! And it ain't no lie!
HEY HEY! Happiest Sunday to you! I'm in beautiful Kohler, Wisconsin sippin' on wine, enjoying the beautiful American Club Resort, and taking it all in. I can get used to this… I'll need to start rolling in a lot more greens 💰, so that might be a little bump on the road, but let's not stop dreaming!
Good thing about dreams is that they can also include Apple Mustard Glazed Pork Tenderloin – true story – and we won't have to think too much about them money bags.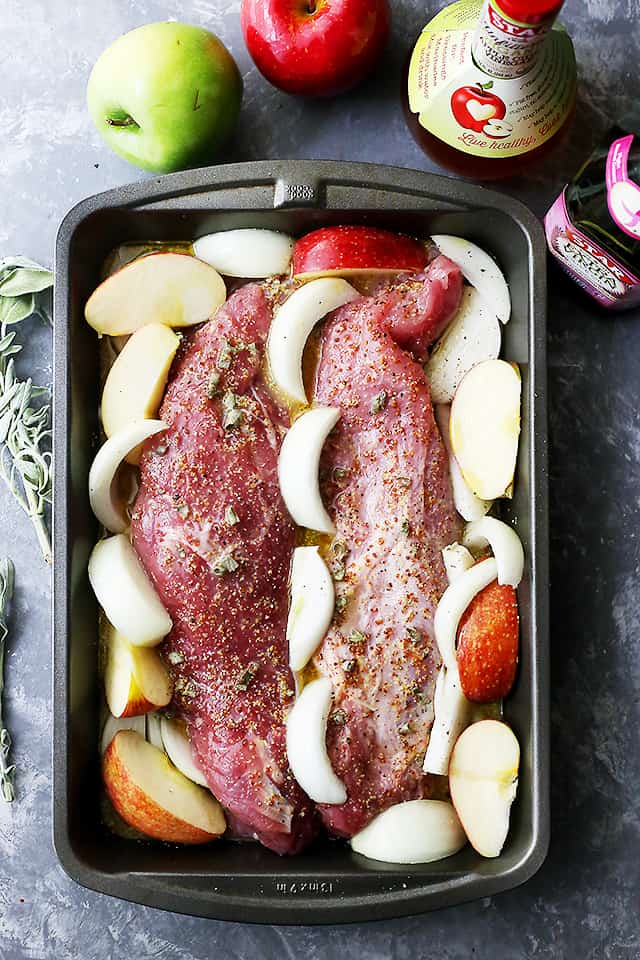 You know how we all go through these food phases? One week it's all about the pizza, the next week we're all about chicken, and by the end of the month, it's pretty much rubbing your favorite glaze over pork tenderloin for daaaayz!? No, not you? Hm….
Seriously, guys. That stuff up there! We really, really need taste-o-vision. How cool would that be?! The delicious combination of apples + apple cider vinegar + mustard + pork? Yeah. That's pretty much spot-on in part because of STAR's Unfiltered Organic Apple Cider Vinegar. Made with organically grown apples, their apple cider vinegar is a perfect way to add delicious flavors to glazes and marinades.
To add, during the month of October, and as a proud partner of Susan G. Komen® and its mission to end breast cancer forever, Borges USA will donate $60,000 to Susan G. Komen®! 
They also launched a Facebook Contest that YOU can enter to WIN a Pink KitchenAid "Cook for the Cure" 5-Quart Artisan Stand Mixer along with a variety of specially labeled STAR and Cara Mia products! CLICK ON THE PHOTO BELOW TO ENTER!
And what better way to showcase STAR's wonderful apple cider than pouring it over some tender and tasty meat!? Enter: Pork Tenderloin.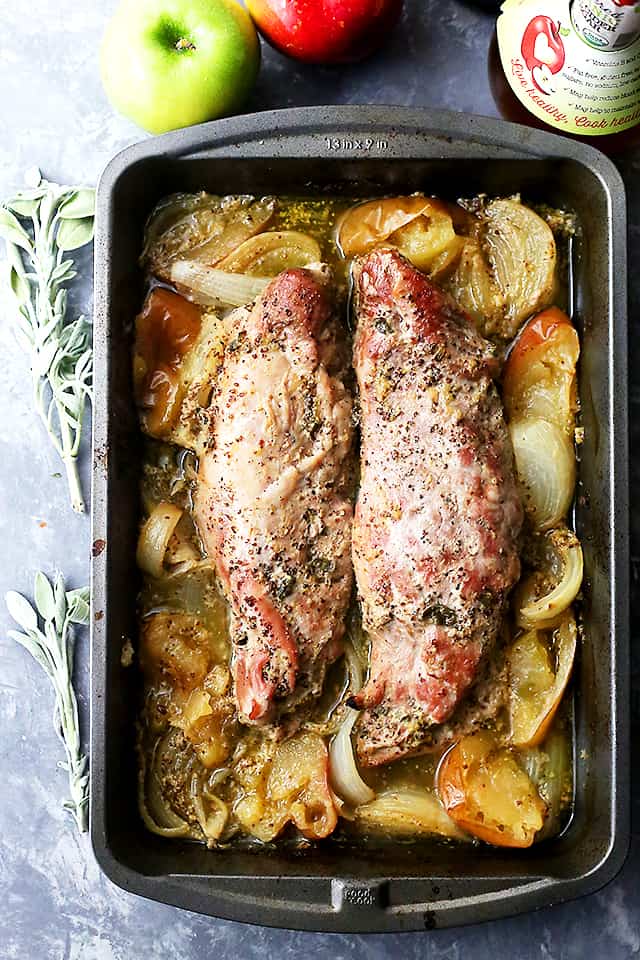 The breakdown is that this wonderful glazed pork tenderloin is cooked in an apple and mustard marinade together with onions and fresh apples. It is simple, straightforward, and superrrr delicious! Doesn't hurt that prep time is all of 5 minutes. You'll whisk together the marinade, pour it over the meat, cover with foil, and bam! the waiting game starts. Hour and a half later you will get to taste the best pork of ever and ever.
So there it is. Please get 'er done, my fellow dinner-makers! MWAH!
For more information on STAR Fine Foods Products, please check them out on Facebook, Twitter,and Pinterest.

CRAVING MORE? SIGN UP FOR THE DIETHOOD NEWSLETTER FOR FRESH NEW RECIPES DELIVERED TO YOUR INBOX!
FOLLOW DIETHOOD ON FACEBOOK, TWITTER, PINTEREST AND INSTAGRAM FOR ALL OF THE LATEST CONTENT, RECIPES AND UPDATES.
TOOLS AND INGREDIENTS USED IN THIS RECIPE
Apple Mustard Glazed Pork Tenderloin
Ingredients
2

pounds

pork tenderloin

salt and fresh ground pepper

, to taste

2

onions cut into wedges

2

apples cut into wedges

1/2

cup

apple juice

2

tablespoons

STAR Unfiltered Organic Apple Cider Vinegar

1

tablespoon

whole grain dijon mustard

1

tablespoon

chopped sage
Instructions
Preheat oven at 350F.

Lightly grease a roasting pan with cooking spray; season pork tenderloin with salt and fresh ground pepper and transfer to roasting pan.

Arrange wedges of onions and apples around the meat and set aside.

In a mixing bowl, combine apple juice, apple cider vinegar and mustard; whisk until thoroughly combined.

Stir in sage.

Pour the apple-dijon mixture over the meat.

Cover with foil and roast for 1 hour.

Remove foil and put back in oven.

Continue to cook for 20 minutes, basting the meat every 4 minutes with the juices in the pan.

Remove from oven and let rest for about 10 minutes.

Cut and serve.
Recipe Notes
WW Smart Points: 6