This easy pork loin recipe is big on flavor and takes hardly any effort! Garlic & Rosemary Roasted Pork Tenderloin is incredibly tender pork tenderloin rubbed with a garlic and rosemary balsamic glaze. A simple dinner idea that's a real crowd pleaser!
Looking for pork roast recipes? Try this Tender and Juicy Pork Loin Roast Recipe, or One Pan Roasted Pork Tenderloin with Asparagus.
THE BEST ROASTED PORK TENDERLOIN RECIPE
Hey Hey, buddies! HAPPY SUNDAY! And HAPPY start to the Holiday Season! HOW EXCITING!!
Tell me, what are your Sunday plans? Are you wearing your Sunday's Best? Are you going to Church? Temple? Etc?
What I really wanna know is… are you decorating the Christmas Tree?!? I don't know if I'll get to it, but it's definitely on today's agenda. All will go as planned so long as I stay away from shopping online AND Netflix. AND BravoTv. Those 3 things always suck me right in, especially on Sundays.
One more important question? Do you have any Thanksgiving leftovers still sitting around? I can't stop making Cranberry Turkey Quesadillas… I'm going to need another turkey to satisfy my hangry needs. Not even kidding. They're so amazing.
You know what else is so amazing? And wonderful and fantastic and the best thing ever? That's right – ME! How did you know?! 😉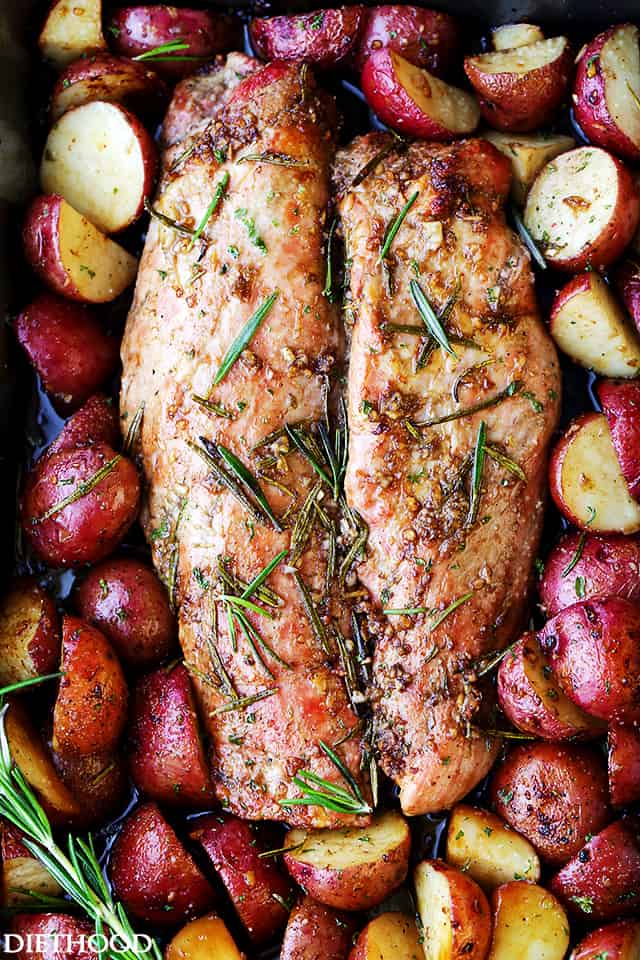 Nah. In fact, it's THIS Garlic and Rosemary Balsamic Roasted Pork Tenderloin. It is pretty fantastic.
HOW TO MAKE A BALSAMIC VINEGAR GLAZE FOR ROASTED PORK
Not because I love their products *thiiiis* much, and not because I work with them, but because STAR Balsamic Vinegar of Modena (Gold Edition) truly is by far the best addition to this recipe. Scouts Honor.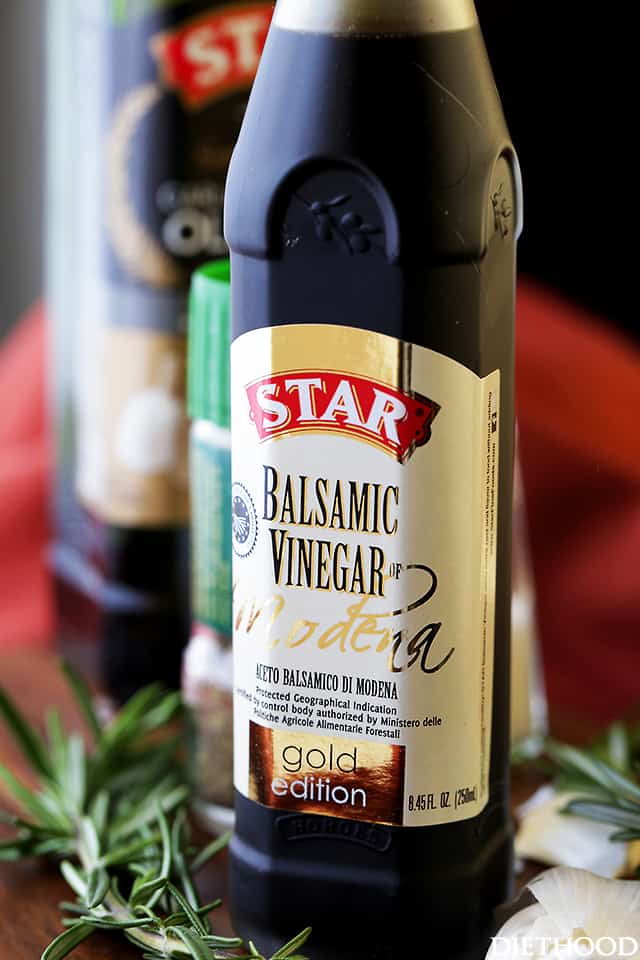 The vinegar is aged in oak casks, and because of the aging, this vinegar is much thicker than other balsamic vinegars, and the oak gives it a distinctive undertone. We like to enjoy it drizzled over meat, pasta, chicken, and use it in marinades. Obvi.
AN EASY ROASTED PORK TENDERLOIN RECIPE
I've made a similar rub/glaze/marinade for roasted pork many-a-times, but I think this time I killed it. In a good way. No. In a GREAT way. You will want to consume every last bit of this roasted pork in one sitting, and you will fight for the last piece. Ohhhh, yes. So much yes.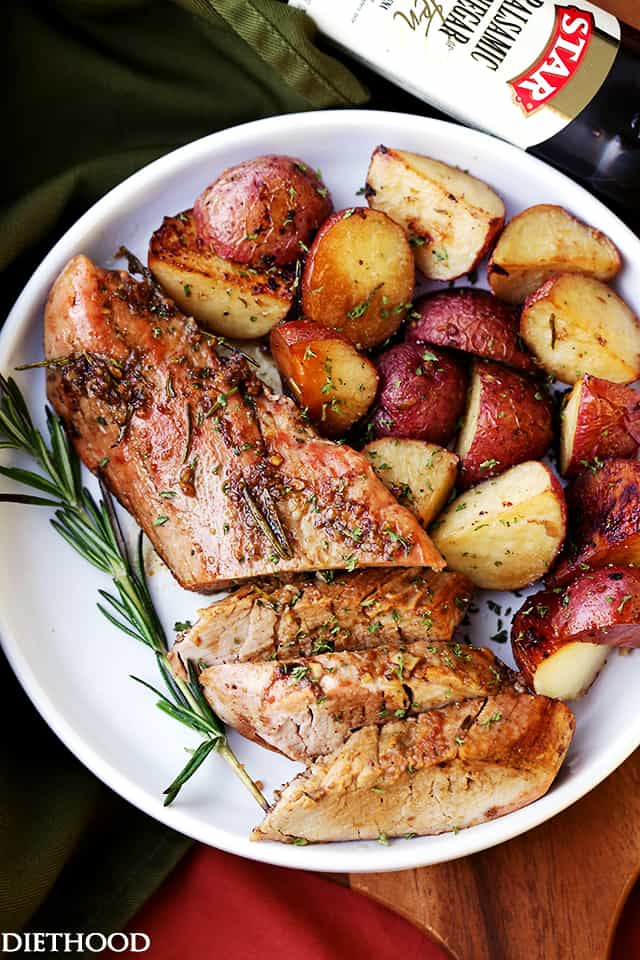 PLUS: I love a good one pot dish. AND, I almost never get to share pork recipes with you. Then again, I only make pork when my Mom is coming by for dinner – it's not something that I make too often.
Besides, I keep making things that seem similar, and I have no idea what's behind that other than the fact that that's what we eat! I'm not about to whip out an octopus recipes when one, I have no idea how to prepare it, and two, I would never ever eat it.
And three, I would have to lie to you and be all inauthentic and tell you to eat something I would never eat… and who wants to read that type of a blog?! Exactly.
That being said, simple food in one pan is da bomb. Also? This is one of those dishes that works perfectly on it's own, but would really benefit from all those pretty red potatoes.
Also and upfront? This should be on your Christmas Day menu! Too soon? It's less than a month away! It's definitely not too soon.
Looking for an easier pork tenderloin recipe? Try my ONE PAN ROASTED PORK TENDERLOIN WITH ASPARAGUS.
Wanna grill it?! Check out this recipe for my Grilled Peach-Glazed Pork Tenderloin Foil Packet with Potatoes.
STAR Balsamic Vinegar of Modena Gold Edition is available at select Walmart stores.
This post was sponsored by STAR FINE FOODS. All opinions are 100% my own.
MORE PORK RECIPES TO TRY
ENJOY!

CRAVING MORE? SIGN UP FOR THE DIETHOOD NEWSLETTER FOR FRESH NEW RECIPES DELIVERED TO YOUR INBOX!
FOLLOW DIETHOOD ON FACEBOOK, TWITTER, PINTEREST AND INSTAGRAM FOR ALL OF THE LATEST CONTENT, RECIPES AND UPDATES.
Print
Garlic and Rosemary Balsamic Roasted Pork Tenderloin
Garlic and Rosemary Balsamic Roasted Pork Loin – Easy to make, flavorful, incredibly tender pork loin rubbed with a Garlic and Rosemary Balsamic mixture makes for a crowd pleasing dinner with very little effort.
Ingredients
2

pounds

boneless pork tenderloin

1/4-

cup

STAR Extra Virgin Olive Oil

3

tablespoons

STAR Balsamic Vinegar of Modena

10

garlic cloves

, smashed

1/2-

cup

fresh rosemary leaves

salt and fresh ground pepper

, to taste

2

pounds

small red potatoes

, washed and quartered
Instructions
Preheat oven to 450F. Lightly grease a roasting pan with cooking spray; place pork loin in roasting pan and set aside.

In a food processor, combine olive oil, balsamic vinegar, garlic cloves, rosemary leaves, salt and pepper; process for 2 to 3 minutes, or until thickened, and the consistency is that of a wet paste.

Spread 3/4 of the rub on all sides of the meat. Place in oven and cook for 10 minutes. Turn half way through cooking for even browning.

In the meantime, prepare the potatoes by combining them with the remaining of the rub.

Remove roasting pan from oven; reduce oven to 350F.

Place prepared potatoes around the meat. Put back in the oven and continue to cook for 45 minutes, or until cooked through and potatoes are tender. Pork is done cooking when internal temperature is between 145F and 160F.

Remove from oven and let stand 10 minutes. Transfer roast to a cutting board; slice and serve with potatoes.
Notes
MAKE AHEAD OF TIME: Place the cooked pork tenderloin in a container and cover the container tightly with a lid. Place the pork in the freezer for up to two months.
Nutrition Facts
Garlic and Rosemary Balsamic Roasted Pork Tenderloin
Amount Per Serving (1 serving)
Calories 367
Calories from Fat 108
% Daily Value*
Fat 12g18%
Cholesterol 98mg33%
Sodium 110mg5%
Potassium 1335mg38%
Carbohydrates 27g9%
Protein 34g68%
Vitamin A 75IU2%
Vitamin C 15mg18%
Calcium 41mg4%
Iron 2.9mg16%
* Percent Daily Values are based on a 2000 calorie diet.
Nutritional info is an estimate and provided as courtesy. Values may vary according to the ingredients and tools used. Please use your preferred nutritional calculator for more detailed info.
Want To Save This Recipe?