Glazed in honey infused with lots of aromatics, this Honey Garlic Pork Tenderloin with roasted potatoes will be the star of your holiday dinner. Don't let looks deceive you, though. It's incredibly simple to make!
The Best Honey Garlic Pork Tenderloin
Baked until it's juicy and brimming with flavor, this Honey Garlic Pork Tenderloin with roasted potatoes is a fancy but easy recipe I can't get enough of! You won't believe all it takes to make your holiday menu unforgettable is a simple herbed honey glaze + pork.
With fresh rosemary, thyme, garlic, and Dijon mustard, every slice will be filled with the flair and elegance of expensive dinners, except this one won't break the bank. Made ahead of time to avoid the holiday craze between shopping and decorating your Christmas tree, this baked tenderloin gets a gold star.
Once it hits the table, all your guests will wonder when the caterer sneaked in. No one needs to know that this pork is practically a one-pan recipe just thrown in the oven until cooked and ready to be served. Low effort and high reward? Now that's my (our?!) kind of dinner!
What You'll Need
With the help of some aromatics and garlic, this pork tenderloin is exquisite. Check the recipe card at the bottom of this post for full ingredient amounts.
For the Potatoes
Gold baby potatoes – Red baby potatoes work too, but they do have an earthy flavor.
Olive oil – Avocado, corn, vegetable, and canola oil work too.
Salt and pepper – To taste.
For the Pork Tenderloin
Pork tenderloin
Salt and pepper
Olive oil
Honey – Raw honey will yield the best results, but you can also use maple syrup. Avoid sugary syrups, please.
Fresh garlic – This will make your tenderloin extra flavorful. However, you can substitute it for 3 teaspoons of garlic powder.
Dijon mustard – Please don't use yellow mustard for this.
Fresh thyme leaves – Swap them out for the same amount of dried thyme.
Fresh rosemary – You can substitute it for the same amount of dried rosemary.
Is Pork Loin the Same as Tenderloin?
No, it's not. Pork loin is a much leaner cut of meat that doesn't necessarily have to be boneless. It comes from the pork's back and has a very mild flavor. On the other hand, pork tenderloin tends to be slightly fattier because it's a muscle. Because of this, tenderloin is always boneless.
If you want to make a delicious pork loin recipe, try my uber-popular Honey Glazed Pork Loin Roast! 👈
How to Make Honey Garlic Roast Pork Tenderloin
This honey garlic pork tenderloin is way easier to make than it sounds. The oven does most of the work.
Prepare the oven. Preheat the oven to 400˚F.
Season the potatoes. Toss the potatoes in olive oil until well combined. Season with salt and pepper to taste. Arrange them in a 9×13 baking tray or baking dish. Pop them in the oven for 35 minutes.
Make the honey mixture. In a small bowl, whisk the olive oil, honey, garlic, mustard, thyme, and rosemary until well combined. Rub the pork tenderloin with salt and pepper to taste.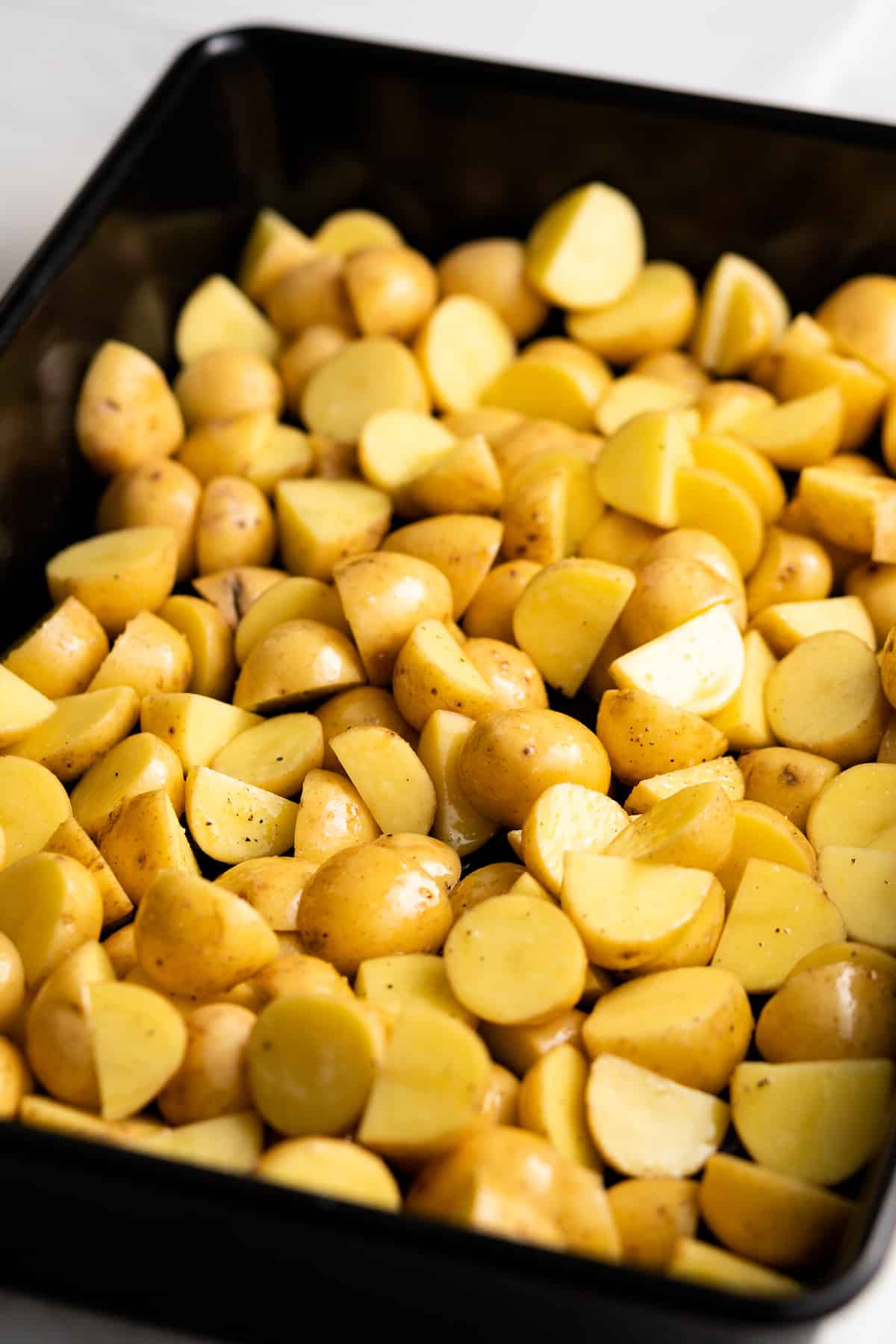 Brush the pork. Place the pork in the center of the baked potatoes. Use a baking brush or spoon to brush/coat it with the honey mixture on all sides.
Bake the pork. Pour the remaining honey mixture over the potatoes and mix well. Roast the tenderloin for 20 minutes or until a meat thermometer reads an internal temperature of 145˚F. The potatoes should also be fork-tender.
Serve. Remove it from the oven and let it cool for 10 minutes before slicing and serving. Garnish with fresh parsley and enjoy.
Tips For The Best Baked Pork Tenderloin
These tips will ensure you have the juiciest honey garlic pork tenderloin with an easy clean-up.
Add more veggies. Toss in carrots, broccoli, cauliflower, and even sweet potatoes so that you get a 2-in-1 dinner with pork tenderloin and oven-roasted veggies.
Make it spicy. Add 1 to 2 teaspoons of red pepper flakes to the honey mixture for a bit of heat.
Use an oven thermometer. Making sure your oven is calibrated can make or break certain dishes. If you're not sure whether your oven is at the right temperature, use an oven thermometer.
Preheat the oven. Don't skip this step if you want your pork to come out juicy and tender. Ovens that aren't preheated take longer to cook your food, only drying out the pork.
Use foil. Lining the baking tray with foil or parchment paper will make for easier clean-up.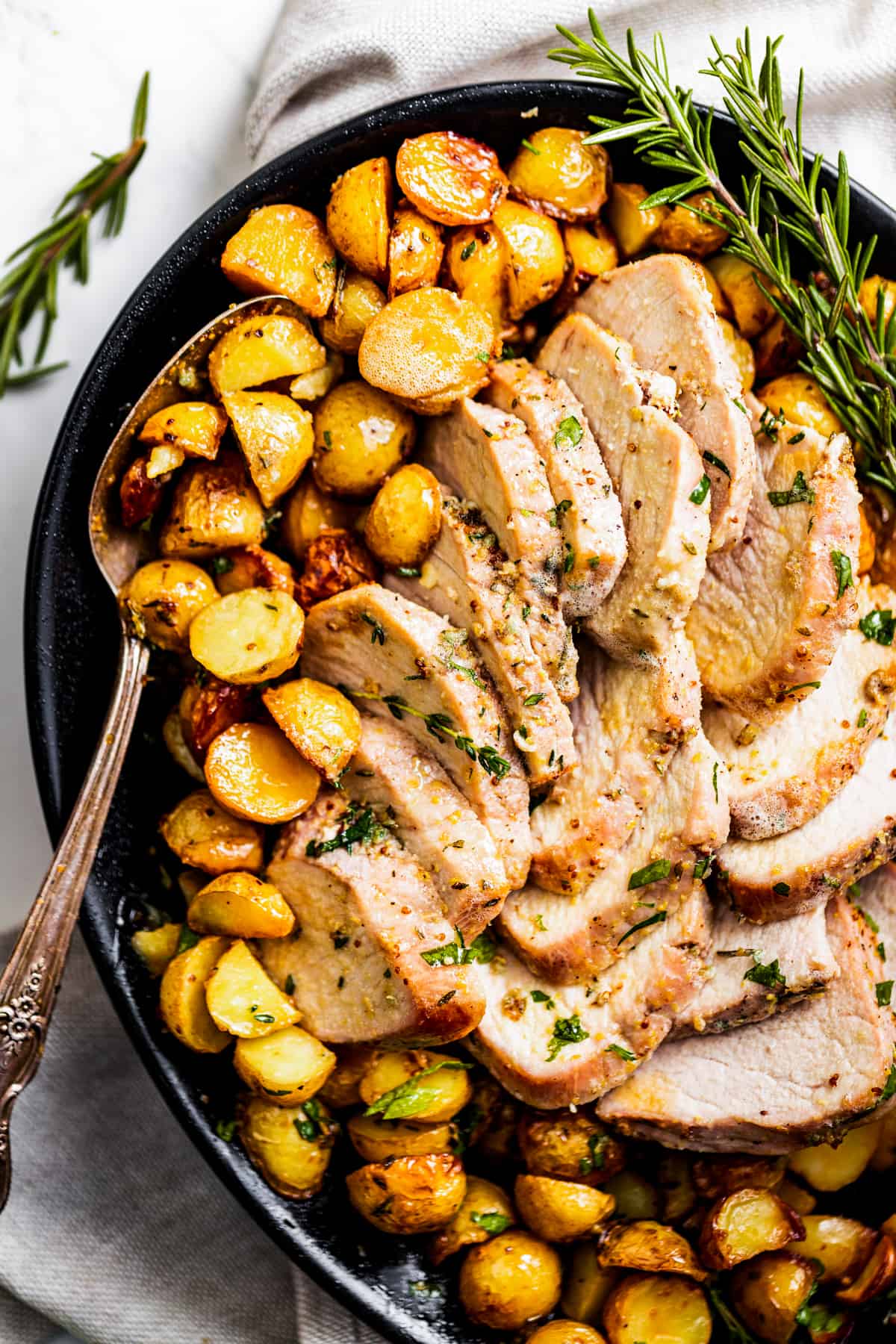 Serving Suggestions
This honey garlic pork tenderloin is an excellent main dish for all your dinners. However, it would be best to take your guests on a culinary journey before serving them this show-stopping main.
With a bowl of soup, like my Asparagus Soup Recipe or Cream of Mushroom Soup with Rice, you can build up many expectations about where the meal is going. You can also serve small appetizers like my Roasted Mushrooms with Parmesan and Pine Nuts, and Crab Artichoke Dip.
When the main is served with some Roasted Artichokes and Creamy Spaghetti Squash, everyone will be left wondering whether you hired a private chef.
How to Serve Pork Tenderloin with Honey Garlic Sauce
Use a sharp knife to carefully slice the pork tenderloin as thin or as thick as you like. Thinner slices yield more servings, but thicker ones (about 1 inch) will likely fill up your guests more. It depends on how many appetizers and sides you're serving the dish with. Remember to add some potatoes to your plate as well!
Can I Freeze This?
Yes! However, you'll need to freeze it before baking, though. Once cooked, freezing this dish will change the texture of the pork and potatoes significantly, so I don't recommend it at all.
Nonetheless, freezing the raw tenderloin brushed with honey and spices can help you prep ahead for your holiday dinner. All you have to do is wrap it in aluminum foil and then in plastic wrap before placing it in a freezer-friendly container or bag. You can freeze it for up to 2 months.
Transfer it to the fridge a day before baking so it thaws fully and then bake it as usual with the potatoes.
More Easy Pork Recipes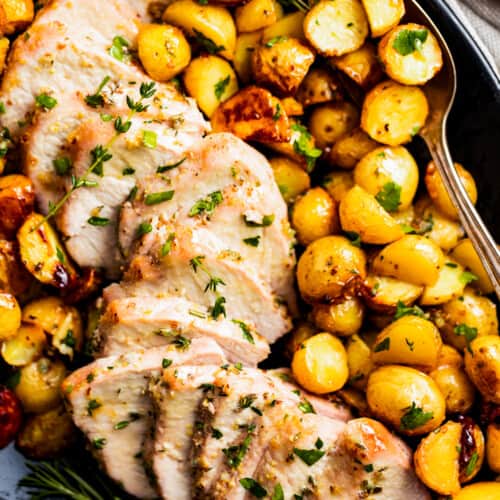 Honey Garlic Roast Pork Tenderloin
This juicy, glazed honey garlic pork tenderloin with roasted potatoes will be your star dish. Fresh herbs and garlic are the secret.
Ingredients
For the Potatoes:
2

pounds

gold baby potatoes,

quartered

2

tablespoons

olive oil

salt and fresh ground black pepper,

to taste
Instructions
Arrange potatoes in a 9×13 baking dish or pan.

Drizzle potatoes with 2 tablespoons olive oil and season with salt and pepper; toss to combine. Roast for 35 minutes, stirring halfway through cooking.

Season the tenderloin with salt and pepper.

Place the tenderloin in the center of the pre-cooked potatoes and set aside.

In a mixing bowl, whisk together the ¼ cup olive oil, honey, garlic, mustard, thyme, and rosemary.

Brush the tenderloin with the honey mixture and brush any extras over the potatoes.

Roast for 20 minutes, or until tenderloin is cooked through and potatoes are tender. Pork is cooked through when the internal temperature registers at 145˚F. Use an Instant Read Meat Thermometer to check for doneness.

Remove from oven and let rest 5 minutes.

Garnish with chopped fresh parsley; cut and serve.
Notes
Pork: In this recipe, we use pork tenderloin and NOT pork loin. They are two very different cuts and require different cooking times.
Veggies: If you prefer, definitely add in some vegetables, like broccoli florets or cherry tomatoes, at the same time as the pork. IF you're going to use root veggies, like chopped sweet potatoes or carrots, precook those with the potatoes.
Cooking Time: A 2-pound pork tenderloin does not need more than 20 to 22 minutes to cook through. To check for doneness, use an Instant Read Meat Thermometer, and pull out the pork once its internal temperature registers at 145˚F.
Cleanup: Line the baking dish with aluminum foil or parchment paper for less mess.
Nutrition
Serving:
6
people
|
Calories:
450
kcal
|
Carbohydrates:
39
g
|
Protein:
35
g
|
Fat:
17
g
|
Saturated Fat:
3
g
|
Polyunsaturated Fat:
2
g
|
Monounsaturated Fat:
11
g
|
Trans Fat:
0.03
g
|
Cholesterol:
98
mg
|
Sodium:
118
mg
|
Potassium:
1259
mg
|
Fiber:
4
g
|
Sugar:
13
g
|
Vitamin A:
5
IU
|
Vitamin C:
30
mg
|
Calcium:
32
mg
|
Iron:
3
mg
|
Net Carbs:
35
g
Nutritional info is an estimate and provided as courtesy. Values may vary according to the ingredients and tools used. Please use your preferred nutritional calculator for more detailed info.
Categories: