Are you ready for the best homemade Easy Apple Stuffing recipe to serve at your holiday or Thanksgiving dinner? Sensationally savory and buttery stuffing made with hearty bread chunks, crisp apples and fresh herbs. A delicious turkey dressing you don't want to miss out on this fall!
Sweet & Savory Apple Stuffing
If your family is anything like mine, we all know who the real star of the show is at Thanksgiving dinner. It's not the turkey – it's the stuffing! I know, I know; technically stuffing is stuffed inside the bird, while dressing is made in a baking dish. Whichever way you spin it, this easy homemade stuffing recipe is a winner!
Every year I make this perfect apple stuffing/turkey dressing and every year there's a battle for who gets the last serving. Luckily, it's just as easy enough to make for everyday dinners, too – someone needs to keep the peace around here!
This homemade apple stuffing recipe is so simple, and so very delicious. You really can't go wrong: savory and buttery, easy apple stuffing made with hearty bread chunks, crisp apples and fresh herbs. You can dress it up or leave it as is, serve it as a holiday side dish or alongside a weeknight roast, and this dressing never disappoints. Make way for the best ever recipe for Sweet & Savory Apple Stuffing!
What You'll Need
This recipe for apple stuffing is just loaded with the good stuff! The key ingredient besides the apples (obviously) is the dried bread cubes. These can be store bought or homemade, just make sure they're properly dry! The rest of the ingredients are fresh and seasonal. Here's the short list of what you'll need:
Bread Cubes: I use the Unseasoned Bread Cubes from Pepperidge Farms, but you can make your own homemade bread cubes for stuffing, too! See my Tips for Success section below.
Apples: Chopped and peeled, or with the skins left on for added texture (my preferred choice!)
Fresh Parsley: Finely chopped.
Butter: A few tablespoons of unsalted butter.
Onion: Diced yellow onions work best for this recipe.
Celery: Thinly sliced.
Salt & Pepper: To taste.
Chicken Broth: Low sodium chicken broth lets you control the amount of salt in the stuffing recipe.
Sage: Freshly chopped sage for extra flavor in the broth.
What Kind of Apples Should I Use?
What are the best apples to use for stuffing, you ask? First, you want some sweetness. Next, you need a crunchy, crisp texture. Both of these things combined are what bring a perfect balance to savory apple stuffing! For this reason my favorites are Honeycrisp, Pink Lady, or Granny Smith apples because of their sweet-tart flavor and firm texture.
How to Make Apple Stuffing
Are you ready for the easiest stuffing recipe ever? I don't think there's anything better than an apple stuffing that's simple to make and just as incredibly delicious at the same time! Follow these steps for 5-star Thanksgiving stuffing that you'll be inspired to make year-round.
Prep: First, preheat the oven to 350F.
Season the Apples & Bread Cubes: In a large, heat-resistant bowl, toss the bread cubes and apples with the chopped parsley. Set this aside for now.
Cook Off the Onions: In a large skillet, melt the butter and add in the onions and celery. Season with salt and pepper and cook over medium-high heat until the veggies are soft and tender.
Add the Broth: Pour in the chicken broth, add the chopped sage and let the mixture come to a boil before removing it from the heat.
Combine With the Bread Cube Mixture: Pour the hot mixture over the seasoned apples and bread cubes and mix everything together until the cubes are evenly coated and moist.
Divide the Stuffing & Bake: Set aside a few cups of the unbaked stuffing to use if you'll be stuffing the turkey. Transfer the rest of the stuffing to a greased baking dish and bake for about 30 minutes. Serve the dressing hot, fresh from the oven!
Tips for Success
The below are a handful of tips to maximize this stuffing recipe:
Use Stale Bread: Fresh bread will become soggy, so it's important to use stale bread that's been completely dried out for your stuffing bread cubes. To jumpstart the process, buy pre-cut bread cubes from the supermarket or ask your local bakery for a loaf of yesterday's bread.
Make Your Own Bread Cubes: Bread cubes for stuffing are actually so easy to make at home! (It's a super way to repurpose stale bread, too). Let a loaf of bread sit to dry out a few days before making the stuffing, otherwise cut the bread into cubes, arrange them in a single layer on a baking sheet, and toast the cubes in the oven at low heat until the bread is completely dried out. Tada, fresh bread cubes!
Make It Gluten Free: You can swap out traditional bread cubes for gluten-free cornbread, like my Light Skillet Cornbread. Just remember to let it dry out, too!
Cook Your Stuffing Add-Ins: Any additions to the stuffing recipe, including celery and onions, should be cooked in butter or a little oil before they're added into the stuffing, since they won't cook as thoroughly when baking.
Use Fresh Herbs: The best flavors and smells for this stuffing come from fresh herbs! Add them in later in the process to avoid overcooking.
Stuff Your Turkey After It's Cooked: Concerned about overcooked turkey and undercooked stuffing? Fill your bird after both are cooked completely in order to put your mind at ease.
Add-In Ideas
One of the many perks that makes this simple apple stuffing recipe the best is that it's the most wonderful base for adding all kinds of extras! I like to add them in when cooking the onions and celery so the flavors have a chance to really develop. Here are some suggestions for tasty stuffing add-ins:
Chopped pork sausage or bacon (name a better culinary pairing than apple and pork – I'll wait.)
Walnuts, pecans
Cranberries or raisins
Turkey giblets
Jalapeños and red peppers (for a South of the Border kick)
Cheddar, gouda, or Monterey Jack cheeses
Mushrooms, kale
Seasonal squash or pumpkin
Grated orange zest (trust me, it works!)
Serving Suggestions
This savory apple stuffing pairs just as great with a Thanksgiving turkey as it does with everyday dinners. Try these suggestions for meal pairings:
You can also serve this stuffing at your holiday table alongside other delicious Thanksgiving Side Dishes.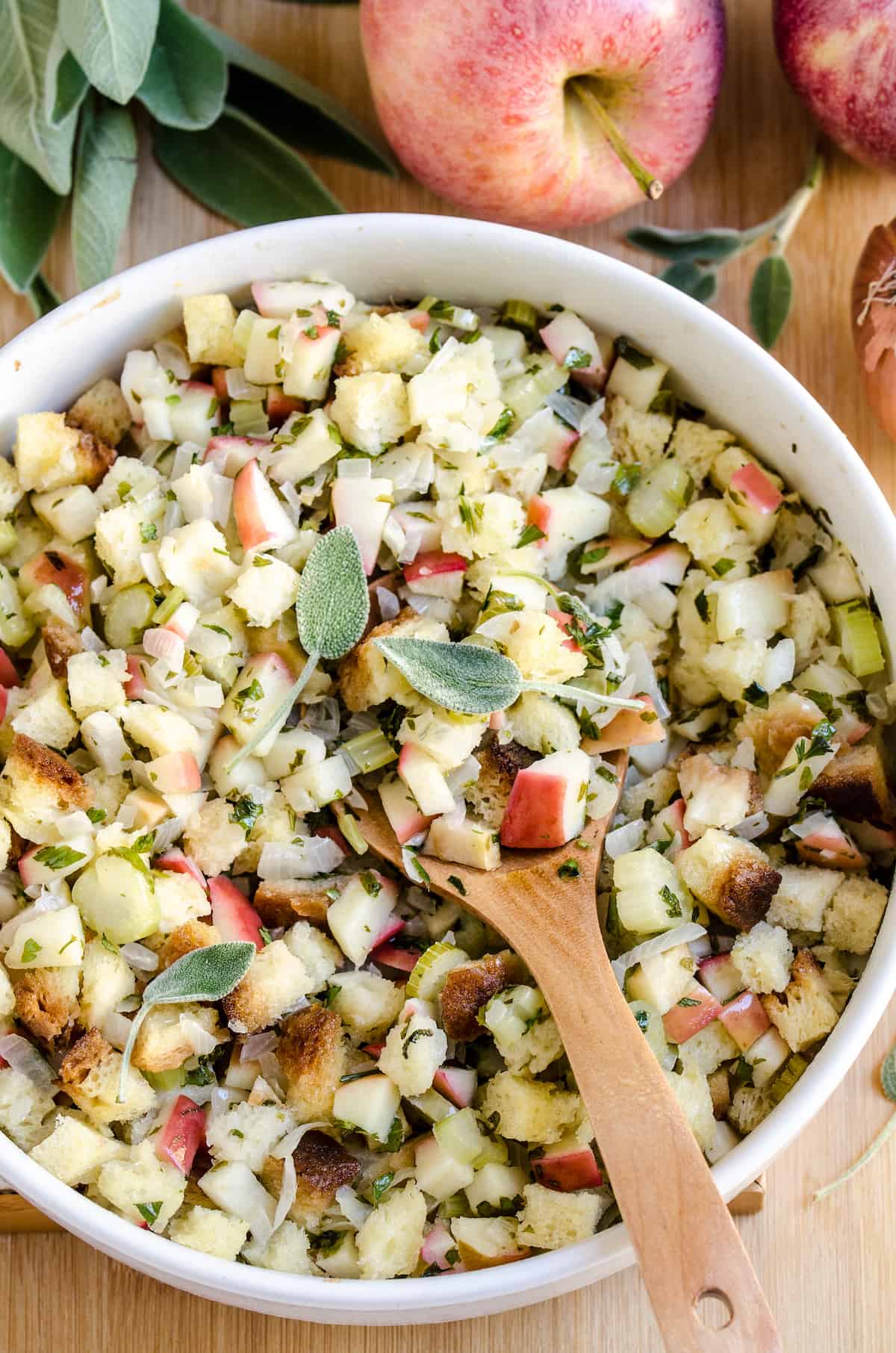 How to Store and Reheat Stuffing
The best way to store leftover, cooked stuffing is separate from the turkey, in airtight containers in the fridge for up to 4 days. Reheat the stuffing in the oven before serving, making sure the internal temperature reaches a safe 165F. Don't refrigerate uncooked stuffing!
Can I Freeze This?
If you really want to maximize the shelf life of your stuffing leftovers, freeze them in freezer-safe, airtight containers or resealable freezer bags. Stuffing can be frozen when cooked or uncooked, and can be kept frozen for up to 2 months.
More Easy Stuffing Recipes
If stuffing is the star of your holiday table also, here are more easy recipes to try:
CRAVING MORE? SIGN UP FOR THE DIETHOOD NEWSLETTER FOR FRESH NEW RECIPES DELIVERED TO YOUR INBOX! FOLLOW DIETHOOD ON FACEBOOK, TWITTER, PINTEREST AND INSTAGRAM FOR ALL OF THE LATEST CONTENT, RECIPES AND UPDATES.
Easy Apple Stuffing Recipe
The best homemade Easy Apple Stuffing recipe to serve at your Thanksgiving or holiday table! Deliciously savory and buttery stuffing made with hearty bread chunks, crisp apples and fresh herbs. This is a turkey dressing you don't want to miss out on this fall!
Ingredients
1

bag

(12-ounces) Unseasoned Bread Cubes (I use Pepperidge Farms)

3

cups

chopped red apples

(you may peel the apples, but I find it to taste better with the peel – it also adds to the texture)

1

tablespoon

chopped fresh parsley

4

tablespoons

butter

1

yellow onion

, diced

2

cups

sliced celery

salt and fresh ground pepper

, to taste

2

cups

low sodium chicken broth

1/2

tablespoon

chopped sage
Instructions
Preheat oven to 350F.

Lightly grease a 9×13 baking dish with cooking spray and set aside.

Combine bread cubes, apples and parsley in a large heat-resistant mixing bowl; set aside.

Melt butter in a large skillet over medium-high heat.

Add onions and celery; season with salt and pepper and continue to cook for 4 minutes, or until tender.

Add chicken broth and chopped sage; bring mixture to a boil.

Remove mixture from heat and add to bread cubes mixture; mix until thoroughly combined and evenly moist.

*Transfer the mixture to previously prepared baking dish. (see notes for stuffing the Turkey)

Bake for 30 minutes.

Remove from oven and serve.
Notes
*IF stuffing the turkey, set aside a few cups of the unbaked stuffing.
Nutrition
Calories:
94
kcal
|
Carbohydrates:
9
g
|
Protein:
1
g
|
Fat:
6
g
|
Saturated Fat:
3
g
|
Cholesterol:
15
mg
|
Sodium:
89
mg
|
Potassium:
186
mg
|
Fiber:
1
g
|
Sugar:
6
g
|
Vitamin A:
375
IU
|
Vitamin C:
4.6
mg
|
Calcium:
22
mg
|
Iron:
0.3
mg
|
Net Carbs:
8
g
Nutritional info is an estimate and provided as courtesy. Values may vary according to the ingredients and tools used. Please use your preferred nutritional calculator for more detailed info.
Categories: