Are you ready for the best homemade Easy Apple Stuffing recipe to serve at your holiday or Thanksgiving dinner? Sensationally savory and buttery stuffing made with hearty bread chunks, crisp apples and fresh herbs. A delicious turkey dressing you don't want to miss out on this fall!
Sweet And Savory Apple Stuffing Recipe
In my family, the spotlight at Thanksgiving dinner isn't on the turkey—it's all about the stuffing! Or is it dressing? I know – stuffing usually finds its home inside the turkey, while dressing bakes to perfection in a separate dish. But no matter how you serve it, my Apple Stuffing recipe steals the show every time. It's a blissful mix of savory, buttery goodness, hearty bread chunks, crisp apples, and aromatic herbs. This versatile dish is a hit, whether dressed up for the holidays or served simple with a weeknight roast.
Apple Stuffing Ingredients
Bread Cubes: I use the Unseasoned Bread Cubes from Pepperidge Farms, but you can make your own homemade bread cubes.
Apples: Chopped and peeled, or leave the skins on for added texture.
Fresh Parsley: Finely chopped.
Butter: A few tablespoons of unsalted butter.
Onion: Diced yellow onions work best for this recipe.
Celery: Thinly sliced.
Salt & Pepper: To taste.
Chicken Broth: Low sodium chicken broth lets you control the amount of salt in the stuffing recipe.
Sage: Freshly chopped sage for extra flavor in the broth.
How to Make Apple Stuffing
I don't know if there's anything better than an apple stuffing that's simple to make and is as delicious as this is. Follow these steps for a Thanksgiving stuffing that you'll be inspired to make year-round.
Prep: First, preheat the oven to 350˚F.
Season the Apples & Bread Cubes: In a large, heat-resistant bowl, toss the bread cubes and apples with the chopped parsley. Set this aside for now.
Cook Off the Onions: In a large skillet, melt the butter and add in the onions and celery. Season with salt and pepper and cook over medium-high heat until the veggies are soft and tender.
Add the Broth: Pour in the chicken broth, add the chopped sage and let the mixture come to a boil before removing it from the heat.
Combine With the Bread Cube Mixture: Pour the hot mixture over the seasoned apples and bread cubes and mix everything together until the cubes are evenly coated and moist.
Bake: Transfer the stuffing to a greased baking dish and bake for about 30 minutes.
Recipe Tips And Variations
Use Stale Bread: Fresh bread will get soggy, so it's important to use stale bread that's been completely dried out. To jumpstart the process, buy pre-cut bread cubes from the supermarket or ask your local bakery for a loaf of yesterday's bread.
Make Your Own Bread Cubes: Let a loaf of bread sit to dry out for a day or two before making the stuffing. Then cut the bread into cubes, arrange the cubes in a single layer on a baking sheet, and toast them in the oven at low heat until the bread is completely dried out.
Apples: The best apples for stuffing should be sweet, crunchy, and crisp. My favorites are Honeycrisp, Pink Lady, or Granny Smith apples because of their sweet-tart flavor and firm texture.
Make It Gluten Free: You can swap out traditional bread cubes for gluten-free cornbread, like my Light Skillet Cornbread. Just remember to let it dry out, too!
Cook Your Stuffing Add-Ins: Any additions to the stuffing recipe, including celery and onions, should be cooked in butter or a little oil before they're added into the stuffing, since they won't cook as thoroughly when baking.
Use Fresh Herbs: The best flavors and smells for this stuffing come from fresh herbs! Add them in later in the process to avoid overcooking.
Stuff Your Turkey After It's Cooked: Fill your bird after both, the turkey and the stuffing, are cooked.
Add Ins
One of the many perks that makes this simple apple stuffing recipe the best is that it's the most wonderful base for adding all kinds of extras! I like to add them in when cooking the onions and celery so the flavors have a chance to really develop. Here are some suggestions for tasty stuffing add-ins:
Chopped pork sausage or bacon
Walnuts, pecans
Cranberries or raisins
Turkey giblets
Jalapeños and red peppers
Cheddar, gouda, or Monterey Jack cheeses
Mushrooms, kale
Seasonal squash or pumpkin
Grated orange zest
Serving Suggestions
You can serve the apple stuffing at your holiday table alongside Roast Turkey with Maple Gravy and other delicious Thanksgiving Side Dishes. However, it also pairs great with everyday dinners like our Oven Baked Chicken Breasts, this Tender and Juicy Pork Loin Roast, or this fantastic Garlic and Rosemary Balsamic Roasted Pork Tenderloin.
Storage
To refrigerate: Store leftover stuffing in an airtight container and in the fridge for up to 4 days. Reheat the stuffing in the oven before serving.
To freeze: Transfer leftovers to an airtight container and freeze for up to 2 months. The stuffing can be frozen cooked or uncooked.
More Stuffing Recipes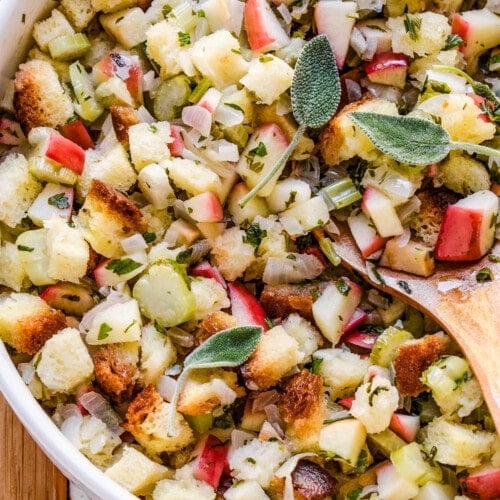 Easy Apple Stuffing Recipe
The best homemade Easy Apple Stuffing recipe to serve at your Thanksgiving or holiday table! Deliciously savory and buttery stuffing made with hearty bread chunks, crisp apples, and fresh herbs.
Ingredients
12

ounces

unseasoned bread cubes,

I use Pepperidge Farms

3

cups

chopped red apples,

you may peel the apples, but I find it to taste better with the peel – it also adds to the texture

1

tablespoon

chopped fresh parsley

4

tablespoons

butter

1

yellow onion,

diced

2

cups

sliced celery

salt and fresh ground black pepper,

to taste

2

cups

low sodium chicken broth

½

tablespoon

chopped sage
Instructions
Preheat oven to 350˚F and lightly grease a 9×13 baking dish with cooking spray; set aside.

Combine the bread cubes, apples, and parsley in a large heat-resistant mixing bowl; set aside.

Melt butter in a large skillet over medium-high heat. Add onions and celery; season with salt and pepper and continue to cook for 4 minutes or until tender. Add the chicken broth and chopped sage; bring the mixture to a boil.

Remove the mixture from the heat and add it to the bread cubes mixture; mix until thoroughly combined and evenly moist.

Transfer the mixture to the baking dish and bake for 30 minutes. (See notes for stuffing the Turkey)

Remove from oven and serve.
Notes
Use Dry Bread: Opt for stale, dried-out bread to avoid sogginess. Consider buying pre-cut cubes/croutons.
DIY Bread Cubes: Easily make your own by drying out a loaf and toasting the cubes in the oven at low heat until completely dry.
Gluten-Free Option: Replace regular bread with dried-out gluten-free cornbread for a delicious alternative.
Add-Ins: Sauté additions like bacon, pork sausage, nuts, dried fruits, and cheeses in butter or oil before mixing into the stuffing for thorough cooking.
Use Fresh Herbs: Incorporate fresh herbs later to retain vibrant flavors and aromas.
If stuffing the turkey with this apple stuffing, set aside a few cups of the unbaked stuffing for the bird.
Nutrition
Calories:
210
kcal
|
Carbohydrates:
30
g
|
Protein:
6
g
|
Fat:
8
g
|
Saturated Fat:
4
g
|
Polyunsaturated Fat:
1
g
|
Monounsaturated Fat:
2
g
|
Trans Fat:
0.2
g
|
Cholesterol:
15
mg
|
Sodium:
285
mg
|
Potassium:
252
mg
|
Fiber:
4
g
|
Sugar:
8
g
|
Vitamin A:
364
IU
|
Vitamin C:
5
mg
|
Calcium:
76
mg
|
Iron:
2
mg
Nutritional info is an estimate and provided as courtesy. Values may vary according to the ingredients and tools used. Please use your preferred nutritional calculator for more detailed info.
Categories: