This Light Skillet Cornbread is made from scratch and loaded with sharp cheddar cheese and fresh sweet corn – the definition of comfort food! A Southern favorite that's savory, healthy, and the perfect side to go with your next bowl of chilli or soup!
Healthy Homemade Skillet Cornbread
This homemade cornbread is so light, moist and packed with flavor, it's the perfect snack or side dish to a warm bowl of chili or soup, or even Thanksgiving dinner! The best cornbread recipe that's hearty and healthy, and just the right amount of sweet, lightened up by ditching unnecessary fats. Plus, it's sprinkled with fresh sweet corn kernels and cheese throughout. Serve it straight from the skillet for that classic Southern touch!
I love Southern food more than any other, and for the longest time I ran from it because of all the shortening and butter involved! Can I tell you, finding lighter workarounds for my favorite southern cooking has become a personal mission. And not to brag, but this light crumbly cornbread that's naturally sweetened with honey absolutely nails the healthy and tasty balance!
Why Use a Skillet?
What would Southern cooking be without a cast iron skillet? Making cornbread in a skillet means you get an even bake, golden crispy crust, and can serve the cornbread hot table side. It's the traditional way to make cornbread and you really can't beat that authenticity! On top of that, skillets are just the best ever for low-maintenance cooking – not to mention cleaning.
What You'll Need
This recipe is fluffy, cheesy, corn-filled, and naturally sweetened for a healthier, light cornbread. Totally free from butter, sugar, and egg yolks, but just as tasty! It sounds like a fairytale, y'all. But I promise you this cornbread is the real deal!
Cornmeal: The star ingredient in cornbread.
All-purpose Flour: The second key ingredient and a kitchen staple.
Egg Whites: Separate those whites from the yolks – we're keeping it light over here!
Sweet Corn: For this easy recipe, canned fresh sweet corn is great.
Honey: Can't forget the honey, hunny! This is what makes this cornbread just the right amount of sweet (naturally, to boot!).
Milk: Whole milk for a nice creamy texture, or buttermilk for an option that's lower in fat.
Baking Powder: Gives the bread some oomph!
Cheese: Shredded sharp cheddar gives the best cheesy flavor (especially paired with the sweetness of the corn and honey!).
How to Make Skillet Cornbread
This is one of the easiest homemade recipes I've ever made! All you need is one bowl and a skillet, a handful of ingredients, and a half an hour to bring it all together. If this is your first time making cornbread, you'll be amazed at how simple it is! Here's how to make cornbread from scratch:
Prep and Preheat: While you preheat the oven to 350F, grease a 9-inch cast iron skillet. Give the bottom of the skillet a good sprinkle of corn meal and set it aside.
Mix the Dry Ingredients: Whisk together the flour, corn meal, and baking powder in a large mixing bowl. Ask any cornbread purist and they'll insist that the perfect ratio of cornmeal to flour is 1:1! Add in the shredded cheese and continue to whisk until everything is well incorporated.
Add the Wet Ingredients: Add milk, eggs and corn and use a wooden spoon to stir until all the ingredients are combined.
Fill the Skillet: Transfer the cornbread batter to your prepared skillet and smooth out the top until it's one even layer.
Bake: Bake the cornbread in the skillet for 25 to 30 minutes. Insert a toothpick into the center, and if it comes out clean, it's done!
Once removed from the oven, allow your cornbread to cool in the skillet for 10 minutes. Cut it into wedges or squares and serve right from the skillet with a healthy drizzle of honey.
Tips for Success
Preheat the Skillet: To get your cornbread extra-crispy with golden edges, preheat the skillet so it's sizzling hot when you transfer the batter! Browning the edges means extra flavor.
Try Different Toppings: Play with different sweet and savory fixings and top your cornbread slices with jalapeños, garlic, onions, roasted apples, crumbled bacon, or a drizzle of maple syrup.
Use Gluten-free Flour: If you're avoiding gluten, you can easily make this cornbread recipe using a gluten-free flour substitute, with just as great results!
Don't Overcook: Keep in mind that your cornbread will continue to bake in the skillet after you've taken it out of the oven. It's best to do the toothpick test and be careful to not over-bake.
What Goes with this Healthy Cornbread?
You really can't go wrong with any sort of sweet/savory combo, and this skillet cornbread not only brings the sweetness, but also a healthy element to anything you pair it with!
Chili and Stews: As soon as cold weather arrives, I don't waste any time bringing out this cornbread recipe to go with my Beer Beef Stew or Slow Cooker Chili! The cornmeal texture just soaks up flavor.
Thanksgiving Dinner: The only thing on par with chili and cornbread? Turkey Gravy and cornbread! This recipe is light enough to serve guilt-free this Thanksgiving alongside my Sweet Potato and Cranberry Stuffing, or it can be made into an easy cornbread dressing. I for one love the idea of cheesy sweet cornbread next to all the turkey fixings!
Pork: I tell you, pork and cornbread are a match made in comfort food heaven. Try this cornbread alongside this Skillet Pork Chops Recipe with Apples and Onions.
Breakfast: Cornbread makes the ultimate side to any breakfast or brunch food; it's easy to make while the oven is hot for this Bacon and Eggs Breakfast Bake.
Butter: Ok, so we left it out of the recipe. That doesn't mean we can't indulge in a good old fashioned, classic topping that just works. Warm up your cornbread in the microwave and let the butter melt a bit for the most simple but delicious snack.
How to Store
Cornbread is easy to store! Once it's completely cooled off, cornbread can be stored the following ways, either in the fridge or at room temperature:
Wrapped: Use plastic wrap or aluminum foil to wrap leftover cornbread.
In a Storage Container: Keep your cornbread in an airtight container or breadbox.
In a Freezer Bag: Seal leftover cornbread in a freezer bag to keep it airtight and protected.
Cornbread will keep at room temperature for up to 2 days, and refrigerated for up to 1 week.
Can I Freeze This?
You can freeze cornbread by wrapping it well in plastic wrap, or storing it in a freezer bag or freezer-safe container. It can be kept frozen for up to 3 months; all you need to do is let it defrost overnight before serving!
More Thanksgiving Side Dish Ideas
On the hunt for more easy and delicious Thanksgiving sides? Check out my list of 30 Thanksgiving Side Dish Recipes or give these ones a try: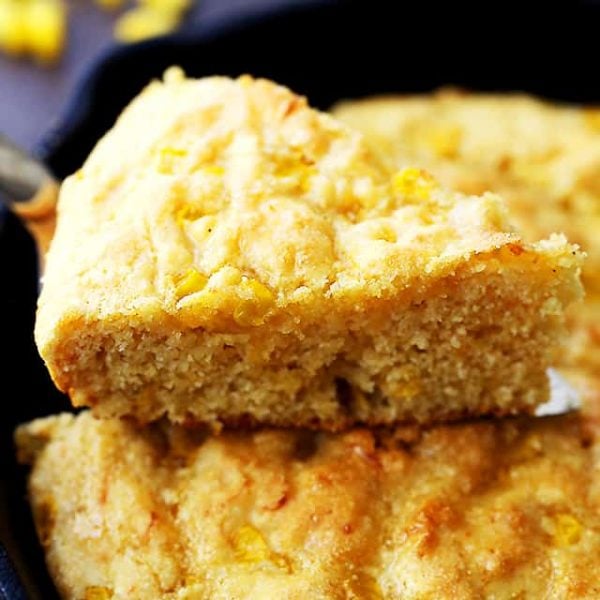 Light Skillet Cornbread
This Light Skillet Cornbread is made from scratch and loaded with sharp cheddar cheese and fresh sweet corn. Savory, healthy, and the perfect side to go with your next bowl of chilli or soup!
Ingredients
1

cup

all-purpose flour

1

cup

corn meal

1

tablespoon

baking powder

1/2-

cup

shredded sharp cheddar cheese

2/3

cup

milk

4

egg whites

1

can fresh sweet corn

, well rinsed

honey
Instructions
Preheat oven to 350F.

Lightly grease a 9-inch cast iron skillet and sprinkle the bottom of the skillet with a teaspoon of corn meal; set aside.

In a large mixing bowl, whisk together the flour, corn meal, baking powder and shredded cheese.

Add milk, eggs and corn; using a wooden spoon, stir until completely incorporated.

Transfer mixture to previously prepared skillet and smooth out the top.

Bake for 25 to 30 minutes, or until a toothpick inserted in the center comes out clean.

Allow to cool for 10 minutes.

Cut and serve with a drizzle of honey.
Nutrition
Serving:
1
g
|
Calories:
145
kcal
|
Carbohydrates:
26.4
g
|
Protein:
6.1
g
|
Fat:
1.6
g
|
Saturated Fat:
0.9
g
|
Cholesterol:
5.2
mg
|
Sodium:
129.2
mg
|
Fiber:
1.4
g
|
Sugar:
0.7
g
|
Net Carbs:
25
g
Nutritional info is an estimate and provided as courtesy. Values may vary according to the ingredients and tools used. Please use your preferred nutritional calculator for more detailed info.