Light Skillet Cornbread – Loaded with fresh corn and a handful of cheddar cheese, this flavorful, lightened-up cornbread is the perfect side for your soup or chili!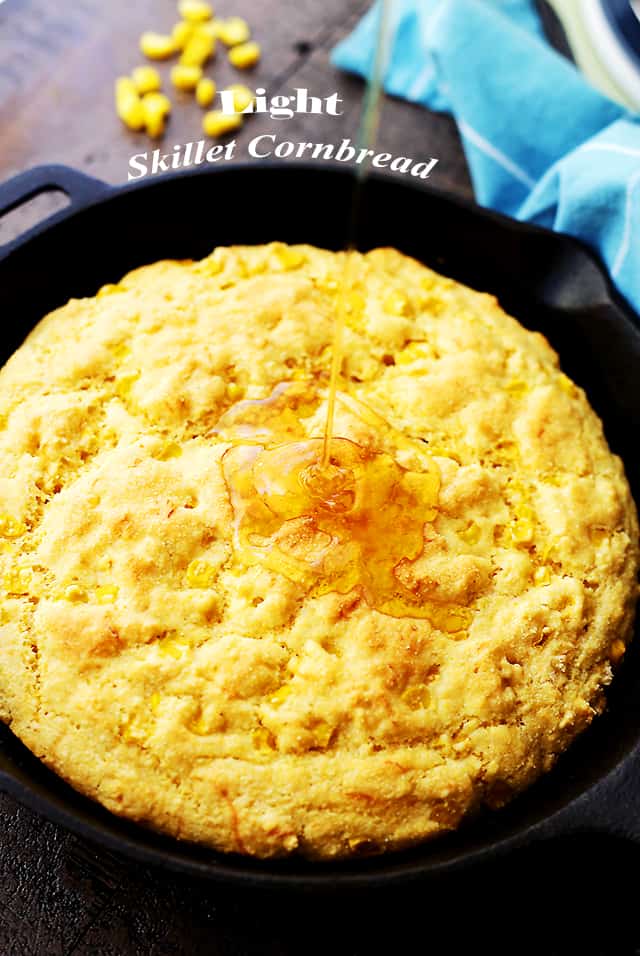 Hey y'all! ⬅I LOVE saying that! How's life? All is well? GOOD! Can I tell you that I've never been more tempted to reach through the screen as much as right now? That golden and fluffy thing up there is just so enticing.
Do you want to kick me for acting so ridiculous over cornbread? SORRY! I just like southern food more than any other. Darn butter and shortening make me run from it, but I always try to find a way around it all.
I probably don't even need to tell you, but this bread is kind of my jam right now because Beer Beef Stew and Slow Cooker Chili are finally on our dinner menu rotation, again. I don't care if it's 78 degrees outside and that I could probably get away with a Jack Daniel's Grilled Steak. It's still mid October, and that means cozy sweaters, comfort food, and tall boots.
If you are a cornbread (corn bread?) purist, you are going to want to throw me to the curb, I know, buuuut! This is the road we must take if we want to lighten up on those calories and fats. ALSO? This cornbread is very good! I promise you!
Best part is that you will need one mixing bowl + a cast iron skillet. That's all.
Step One: 1 to 1 ratio is the standard for corn bread – 1 part flour 1 part corn meal. That is what I've always heard and read. If I am wrong, talk to the America's Test Kitchen people.
Step Deux: Add cheese. Always.
Step Three: Milk + egg whites. No yolks. No butter. NO SUGAR. See where we're going here? LIGHT Skillet Cornbread.
Step Cetiri: FRESH sweet corn kernels… YUM! You won't appreciate this part until you get to bite into it. Best crunchy bite of ever.
Step Five: Bake.
Step Six: Do not forget the HONEY, hunny!
Step Siete: EAT.
Did you notice? I can count in 4 languages. And I can count alllll the way up to TEN!
Okay okay. I'm done. May this cornbread bring peace and joy to your dinner. ✌
ENJOY!
P.S. If ya wanna add some more fixins – garlic, onions, jalapeno slices, etc… – g'ahead!
TOOLS AND INGREDIENTS USED IN THIS RECIPE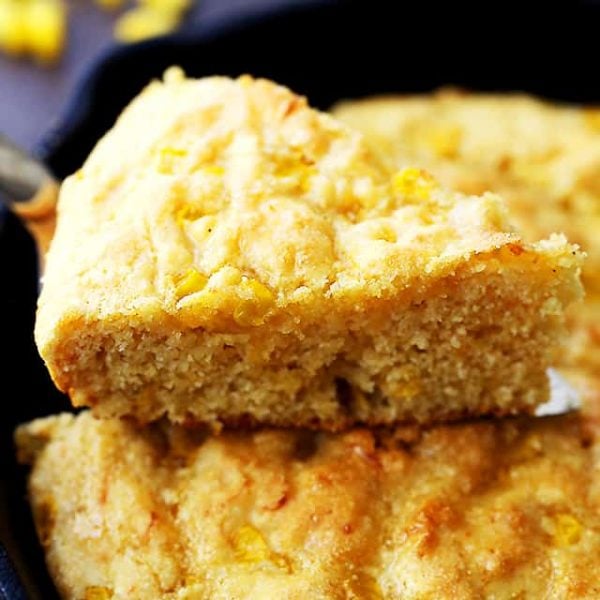 Print
Light Skillet Cornbread
Ingredients
1

cup

all-purpose flour

1

cup

corn meal

1

tablespoon

baking powder

1/2-

cup

shredded sharp cheddar cheese

2/3

cup

milk

4

egg whites

1

can fresh sweet corn

, well rinsed

honey
Instructions
Preheat oven to 350F.

Lightly grease a 9-inch cast iron skillet and sprinkle the bottom of the skillet with a teaspoon of corn meal; set aside.

In a large mixing bowl, whisk together the flour, corn meal, baking powder and shredded cheese.

Add milk, eggs and corn; using a wooden spoon, stir until completely incorporated.

Transfer mixture to previously prepared skillet and smooth out the top.

Bake for 25 to 30 minutes, or until a toothpick inserted in the center comes out clean.

Allow to cool for 10 minutes.

Cut and serve with a drizzle of honey.
Nutrition Facts
Light Skillet Cornbread
Amount Per Serving (1 g)
Calories 145
Calories from Fat 14
% Daily Value*
Fat 1.6g2%
Cholesterol 5.2mg2%
Sodium 129.2mg5%
Carbohydrates 26.4g9%
Protein 6.1g12%
* Percent Daily Values are based on a 2000 calorie diet.
Want To Save This Recipe?