Conveniently made with Jiffy corn muffin mix, this easy cornbread casserole is loaded with homemade creamed corn, whole kernel corn, and sour cream. It's creamy, tangy, savory, and sweet with just the right amount of crumble.
Once you sink your teeth into a forkful of this simple yet mighty cornbread casserole, you'll understand what all the fuss is about. This casserole combines the simplicity of store-bought mix with the rich flavors of homemade tweaks. It is a creamy, crumbly cornbread that perfectly blends home-cooked goodness with convenient preparation.
Why You'll Love This Cornbread Casserole Recipe
Very easy. This recipe literally only requires 10 minutes of prep time and is so easy to throw together. You just blend, mix, and bake.
Texture. I love that this casserole keeps some of the pleasant crumble of classic cornbread but introduces a wonderful creaminess that will have you asking for more.
Balanced flavors. This cornbread casserole is savory with the perfect amount of sweetness. Plus, the sour cream mixed into the batter contributes a fabulous tang.
What's The Difference Between Cornbread and Cornbread Casserole?
Classic cornbread is generally made of a mix of dry ingredients, including cornmeal (or corn muffin mix), eggs, oil or butter, and buttermilk or milk, and the batter is baked into a delicious, crumbly quick bread. Cornbread casserole combines a dry cornbread mix (homemade or packaged) with sour cream, butter, creamed corn, and whole-kernel corn. When baked, the batter yields a creamier and richer casserole than a typical cornbread.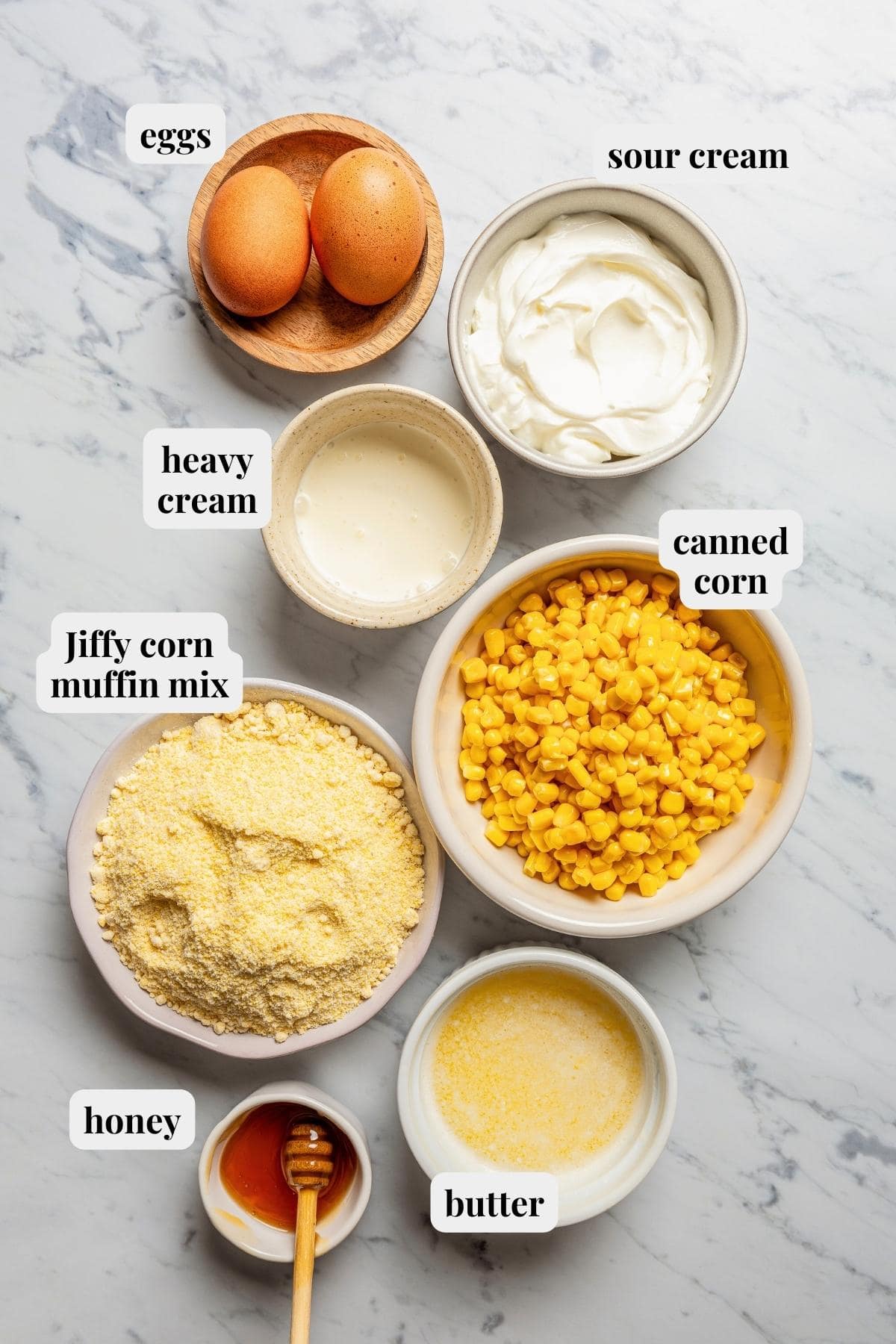 Ingredients You'll Need
Canned corn – Cooked corn off the cob will also work.
Heavy cream – Half and half or whole milk will also do the trick. Just note that the casserole will be a little less rich.
Jiffy Corn Muffin Mix – You could use another brand or even make your own corn muffin mix.
Butter – Salted or unsalted butter will do just fine. If you use unslated butter, add a pinch of salt to the batter as well.
Sour cream – You could use Greek yogurt instead.
Eggs
Honey – You don't have to add honey if you don't want to but I like the little bit of sweetness it brings.
How to Make Cornbread Casserole
Prep. Preheat the oven to 350˚F and grease a 9-inch baking pan.
Cream the corn. Blend 1 can of corn with the heavy cream until almost smooth.
Make the batter. Whisk together the butter, sour cream, eggs, and honey. Whisk in the blended corn. Fold in the Jiffy mix followed by the remaining corn.
Bake. Pour the batter into the prepared pan and bake for 45 minutes.
Recipe Tips And Variations
Adjust the sweetness. I added honey to the batter, but you don't need to. You could leave it out or add more if you're in a sweet mood.
Don't overmix. Once you add Jiffy to the batter, it is important not to over-mix as this can end you with an overly dense cornbread casserole.
Don't overbake. The casserole is done when the edges turn golden brown and start to pull away from the baking dish. A toothpick inserted into the center should come out clean with a few crumbs.
Make it your own. Fold some crumbled bacon, shredded cheese, and/or diced jalapenos into the batter for a kick of flavor.
Serving Suggestions
I love that a cornbread casserole goes with so many different things! Serve this Southern staple with classics such as my Onion Gravy Smothered Steak, Louisiana Red Beans and Rice, or my tasty Texas No Beans Chili. You could also serve it with a plate full of Roasted Turkey and other holiday sides. We also like it with this Juicy Grilled Pork Tenderloin, Grilled Honey Mustard Chicken, and my famous Spatchcock Grilled Chicken.
Proper Storage
Countertop: Store the slices of cornbread casserole in an airtight container with parchment paper between layers and keep them on the counter for up to 4 days. Avoid refrigerating to prevent drying it out.
Freezer: Cool, slice, and freeze the cornbread casserole in a freezer-safe container for up to 3 months. Thaw at room temperature.
Reheating: Microwave slices for 15-second intervals or bake at 350°F for 10 minutes or until warm.
Delicious Side Dishes to Try
Cornbread Casserole
This easy Cornbread Casserole is made with Jiffy mix and loaded with creamed corn, whole-kernel corn, and sour cream. It's creamy, tangy, sweet, and completely irresistible.
Instructions
Prep. Preheat the oven to 350˚F and grease a 9-inch baking pan (square or round) thoroughly with butter.

Cream the corn. Add half of the corn to a blender with the heavy cream and pulse until almost smooth. Set aside.

Combine the wet ingredients. Whisk together the butter, sour cream, eggs, and honey (if using). Whisk in the corn mixture from the blender.

Add the dry ingredients. Mix the Jiffy mix into the wet ingredients and then fold in the remaining corn kernels.

Bake. Pour the batter into the prepared pan and bake for 45 minutes or until a toothpick inserted into the center comes out clean.

Serve. Let cool for 10 minutes before cutting and serving.
Notes
Blending: For a creamy corn texture, opt for blending in either a food processor or blender.
Sweetness: While I've used honey in this recipe, feel free to adjust according to your preference. Skip it entirely, or perhaps add a bit more for a sweeter touch. Maple syrup or sugar are great alternatives, too.
Mixing: After incorporating Jiffy mix into your batter, mix gently. Overdoing it can lead to a heavy, dense result in your cornbread casserole.
Don't Overbake: The casserole is done when the edges are nicely browned and pull away from the sides of the baking pan.
Customize: Add your favorite additions like crumbled bacon, a handful of shredded cheese, or some diced jalapenos for extra flavor and texture.
Storage: Keep slices of cornbread casserole on the counter inside an airtight container for up to 4 days, or freeze for up to 3 months.
Nutrition
Serving:
1
slice
|
Calories:
375
kcal
|
Carbohydrates:
41
g
|
Protein:
7
g
|
Fat:
22
g
|
Saturated Fat:
11
g
|
Polyunsaturated Fat:
2
g
|
Monounsaturated Fat:
7
g
|
Trans Fat:
0.4
g
|
Cholesterol:
85
mg
|
Sodium:
311
mg
|
Potassium:
289
mg
|
Fiber:
4
g
|
Sugar:
12
g
|
Vitamin A:
878
IU
|
Vitamin C:
5
mg
|
Calcium:
55
mg
|
Iron:
1
mg
Nutritional info is an estimate and provided as courtesy. Values may vary according to the ingredients and tools used. Please use your preferred nutritional calculator for more detailed info.
Categories: