Juicy and tender, this tasty Oven Roasted Chicken Breast recipe comes out perfect each and every time! No more dry chicken with this easy recipe, using a quick soak in salt water and a delicious homemade mix of spices.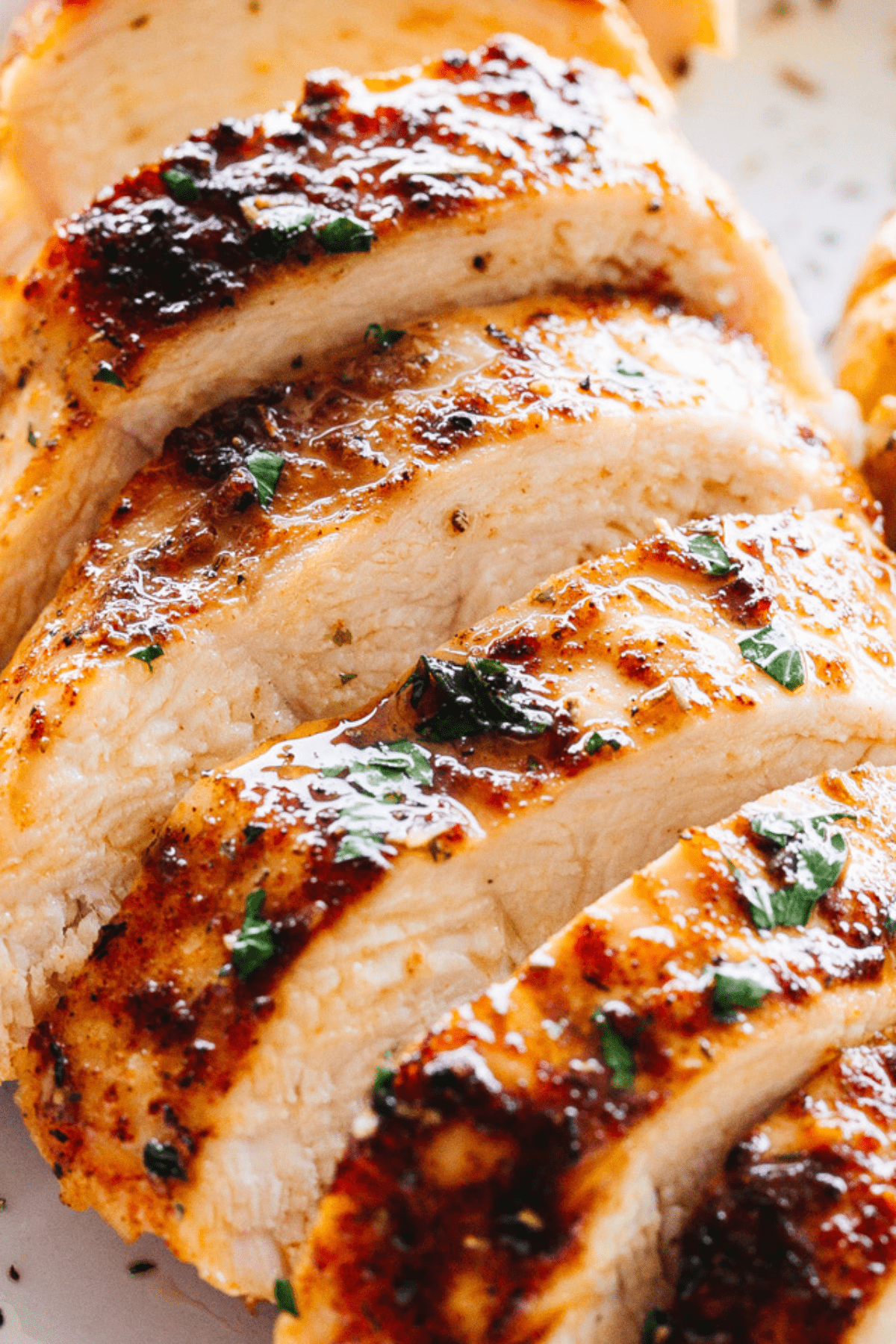 The Best Roasted Chicken Breast Recipe
Experience the most succulent oven roasted chicken breasts ever! Our simple yet incredible recipe calls for skinless, boneless chicken breasts baked until they're golden and beautifully caramelized. Over the years, I have tried countless recipes and methods to achieve a moist and juicy roasted chicken breast, only to be left chewing on dry, uninspired poultry. But I have found a solution! This recipe, brimming with moist and flavorful chicken, has practically reached perfection due to a quick, simple, and foolproof method involving brining chicken breasts. I was astounded to discover how a 20-minute soak in salted water could so dramatically transform chicken breasts into a culinary delight! The moist and tender result speaks volumes about this method.
Why You'll Love This Baked Chicken Recipe
Perfectly tender and juicy every time. This roasted chicken comes out perfect – every.single.time! No more dry or tough chicken for dinner.
Super easy. Not to mention how EASY it is. Just brine the chicken, add the seasoning mix, and pop it in the oven.
Versatile. There are so many things you can do with this recipe. It pairs well with almost any side and leftovers would be fantastic in a salad or wrap. Not to mention that you can easily switch up the seasoning too.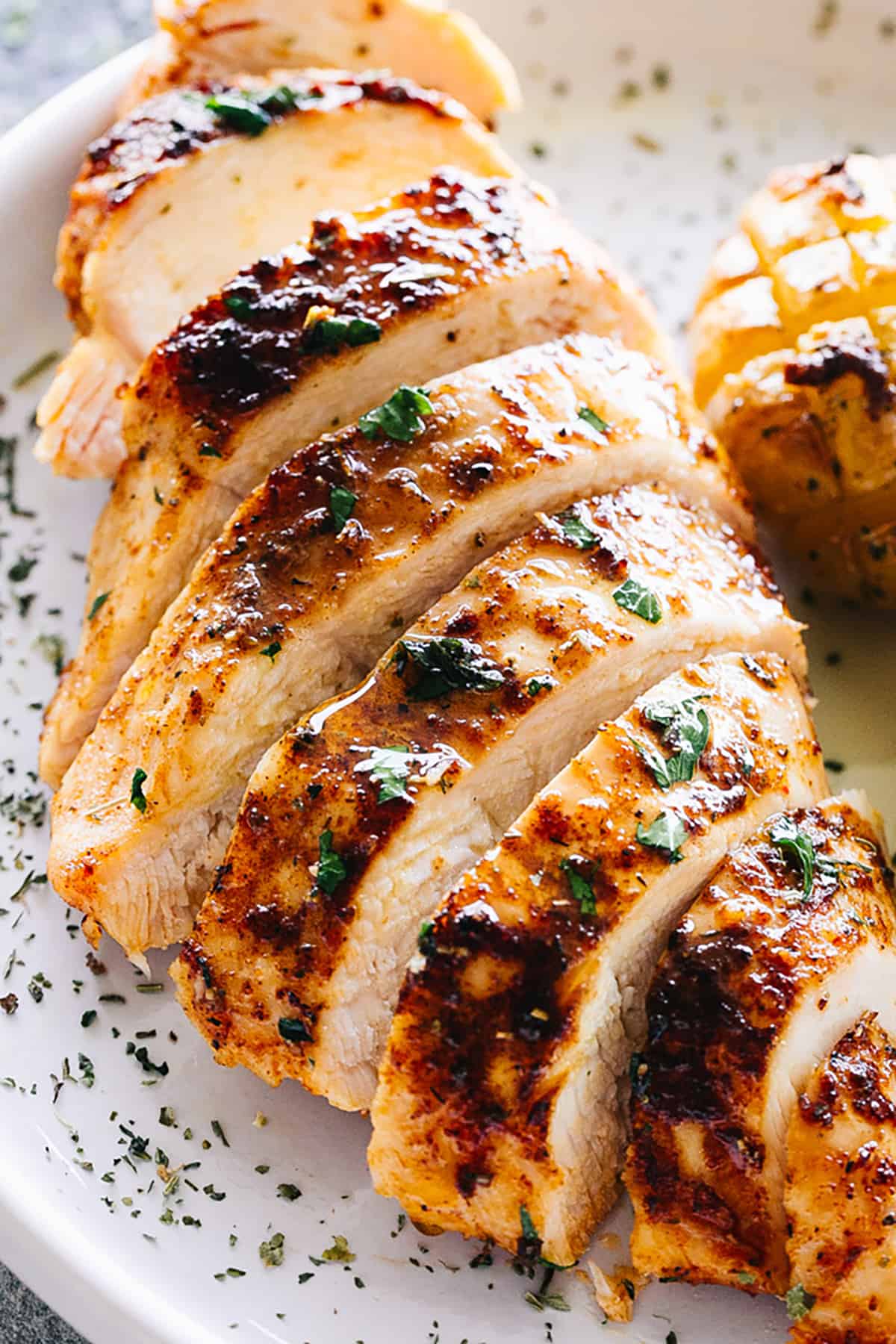 Ingredients You'll Need
Chicken – You'll want boneless, skinless chicken breasts for this recipe.
Lukewarm water – The base of the brine.
Salt – For brining the chicken
Olive oil
Seasonings – The seasoning mix calls for several ingredients, including salt, pepper, paprika, cayenne pepper, garlic, onion powders, thyme, basil, rosemary, and parsley. All these ingredients combined and generously applied to your chicken breasts create a symphony of flavors, striking the perfect balance.
How to Brine Chicken Breasts
Brining the chicken involves a mix of 1/4 cup of salt into 4 cups of warm water in a large bowl. Immerse the chicken breasts in the solution, cover, and let brine for 20 minutes to 2 hours before proceeding with the recipe.
Can You Brine The Chicken Ahead of Time?
Yes, you can also brine the chicken breasts and then freeze them to be cooked at a later time. Make sure to drain out the brine before storing the chicken breasts in the freezer.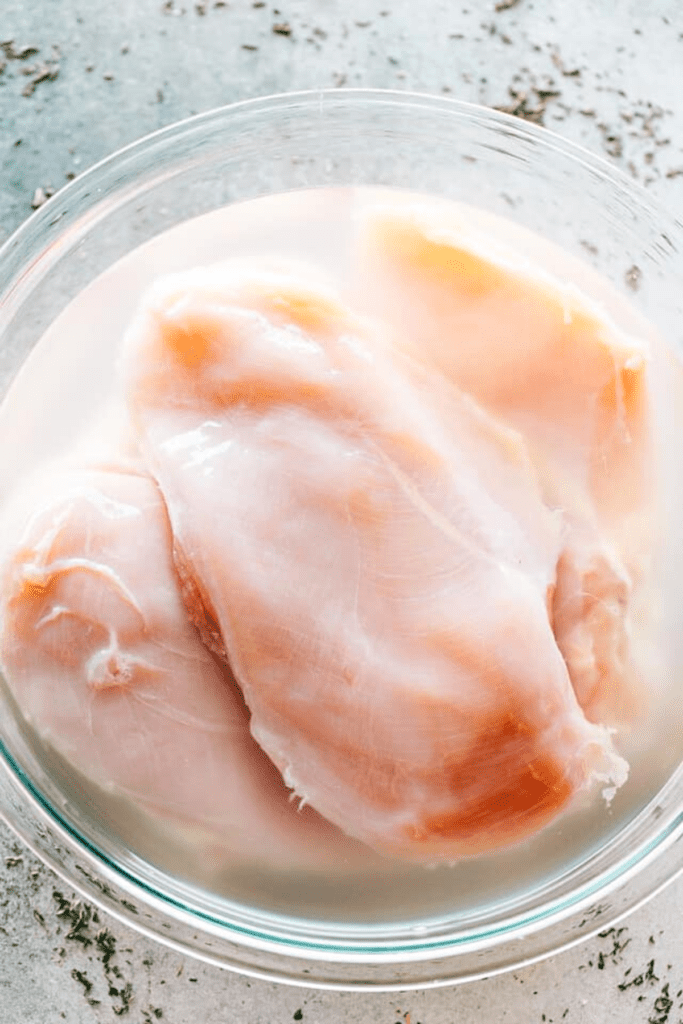 How to Make Roasted Chicken Breasts
Brine the chicken. Brine the chicken as directed above.
Season the chicken. Rinse the chicken under cold water to remove the salt, pat dry with paper towels, and rub with olive oil. Place in a baking dish. Combine all of the seasonings then rub it all over the chicken.
Bake. Bake for 20-22 minutes, until a meat thermometer reads 165˚F.
Let it rest. Pull the chicken out of the oven and transfer it to a cutting board. Let it rest before cutting into it.
Tips for Juicy Chicken
Practically perfect in every way, this is a flexible template for making your chicken your own way. Here are some easy tips for tweaking this baked boneless chicken breast recipe to make it fit your tastes and lifestyle.
Change the Seasoning: This dish will work with any seasoning you like, from Montreal chicken to basic lemon pepper, and beyond. So use what you love, or try something new!
Chicken Options: Substitute boneless, skinless thighs in place of the breast – it'll be just as delicious. Keep in mind that it may take a few minutes longer to cook than breast meat.
Rest the Chicken: I always recommend letting your chicken (or steak, or almost any protein) rest for 8 to 10 minutes after cooking and before slicing. This will help keep the juices in the meat, instead of letting them run out everywhere when you cut into it.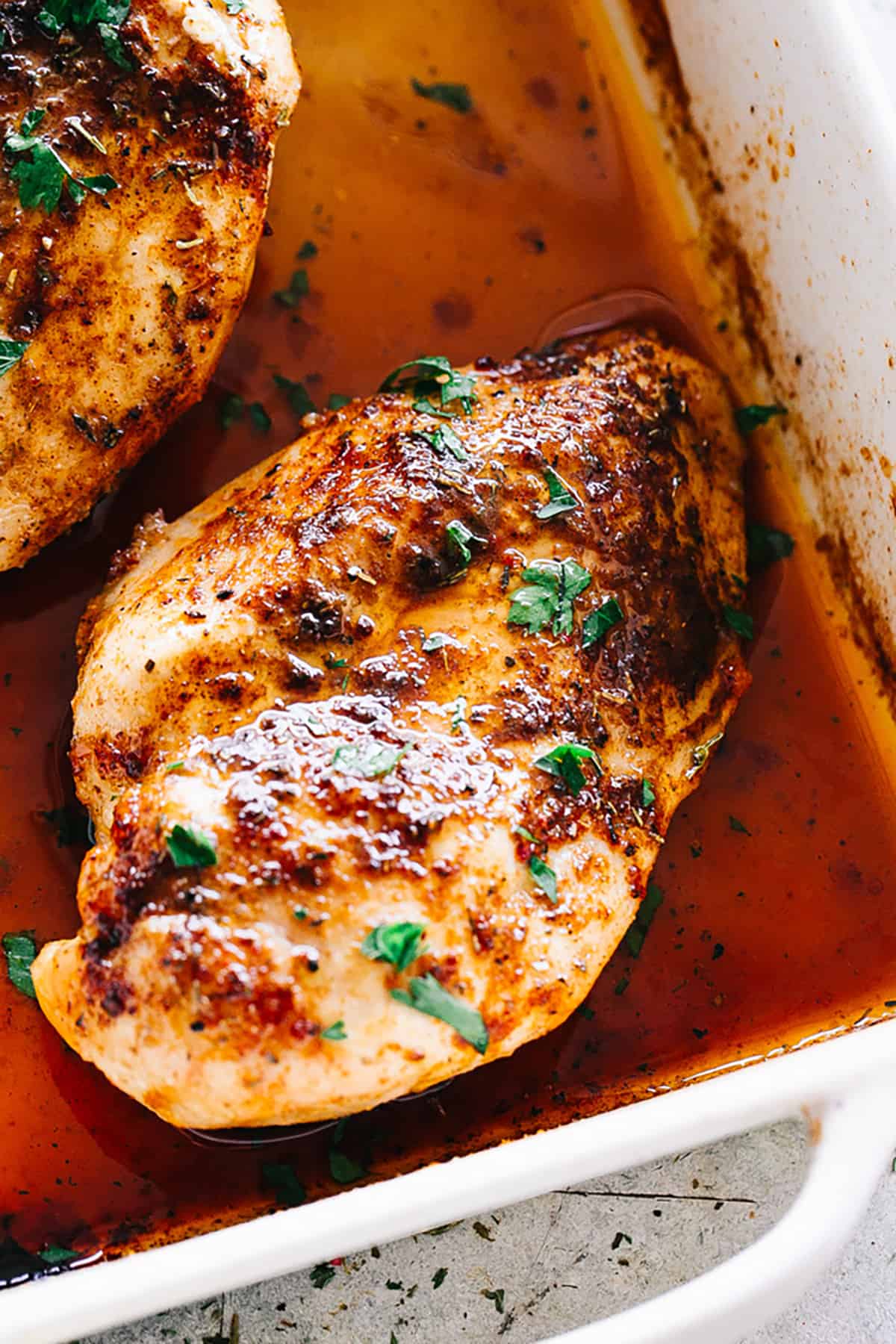 Serving Ideas For Chicken
Side dishes aren't just little add-ons to your main course, they are opportunities to bring in tons of extra flavor and texture.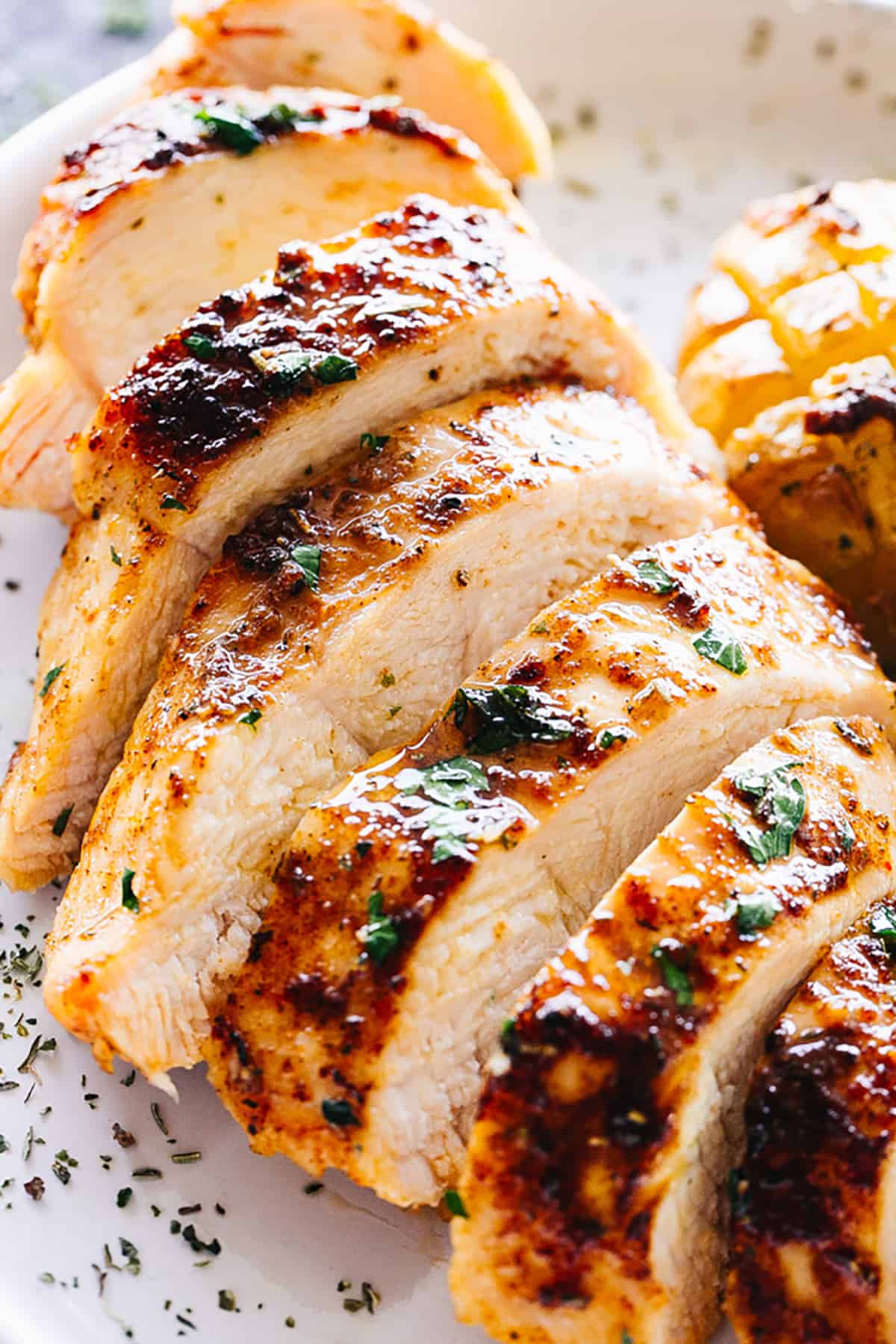 How to Store & Reheat Leftovers
One great thing about this recipe? The chicken stays juicy for days. Hello, leftovers!
Fridge. Store leftover roasted chicken in an airtight container in the fridge for up to 4 days.
Freeze. You can also freeze it for up to 4 months. Wrap it in plastic then again in foil or place it in a freezer bag. Be sure to remove as much as possible. Thaw in the fridge before reheating.
Reheat. To reheat your baked boneless chicken breast, add a bit of water or butter to the pan, cover, and heat it slowly. Be sure not to overheat it, as that will lead to dry chicken.
More Simple Chicken Recipes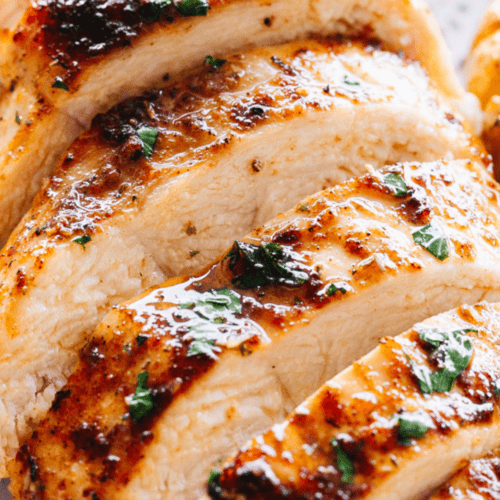 Juicy Oven Roasted Chicken Breasts
Juicy and tender, this tasty Oven Roasted Chicken Breast recipe comes out perfect each and every time! No more dry chicken with this easy recipe, using a quick soak in salt water and a delicious homemade mix of spices.
Ingredients
CHICKEN SEASONING BLEND
¼

teaspoon

salt,

(optional – chicken will have absorbed some of the salt from the salted water)

¼

teaspoon

fresh ground black pepper

½

teaspoon

smoked or sweet paprika

½

teaspoon

garlic powder

½

teaspoon

onion powder

½

teaspoon

dried thyme

½

teaspoon

dried basil

½

teaspoon

dried rosemary

¼

teaspoon

dried parsley

⅙

teaspoon

cayenne pepper

fresh chopped parsley,

for garnish
Instructions
Place chicken breasts in a large bowl and set aside.

In a large measuring cup, or a mixing bowl, combine lukewarm water and salt; stir, then pour over chicken breasts. Set aside for 20 to 30 minutes. You can also cover the bowl and refrigerate for 2 hours.

In the meantime, prepare the Chicken Seasoning Blend:

Combine salt, pepper, paprika, garlic powder, onion powder, dried thyme, dried basil, dried rosemary, dried parsley, and cayenne pepper in a small bowl; using a fork, stir around the seasonings until thoroughly incorporated. Set aside.

Pour out the salt water and rinse each chicken breast under cold water; pat dry with paper towels.

Place the chicken breasts in a baking dish and rub the olive oil all over each chicken breast.

Sprinkle seasoning blend evenly over the chicken breasts on all sides. You don't have to use the entire seasoning blend; use as much as you like.

Transfer to the oven and bake for 22 to 25 minutes, or until internal temperature reaches 165˚F. Use an Instant Read Meat Thermometer to check for doneness.

Thinner breasts will need less time, thicker breasts might need a little more time in the oven. Start checking for doneness around the 20-minute mark.

For a browned, crispy top, set your oven to broil on HIGH for the final 3 to 4 minutes and broil the chicken until golden on top.

Remove from oven and transfer chicken breasts to a serving plate.

Let chicken rest for 10 minutes before cutting.

Garnish with fresh chopped parsley and serve.
Notes
Chicken Thickness: If your chicken breasts are of different thickness, they may cook at different rates. Consider pounding them to an even thickness before cooking for more uniform results.
Seasoning: A good seasoning blend can make a significant difference in flavor. Don't be afraid to experiment with different herbs and spices.
Temperature Check: Use a meat thermometer to check the doneness of your chicken. It should read 165°F when inserted into the thickest part of the breast.
Resting: Allow your chicken to rest for several minutes after it comes out of the oven. This helps the juices to redistribute throughout the meat, keeping it juicy and flavorful.
To store baked chicken, put it in an airtight container or freezer bag and keep it in the fridge for up to four days.
To reheat, add a bit of butter or water to a pan, cover, and heat it slowly to keep it moist. Don't overcook, or it'll dry out.
You can freeze cooked chicken for up to four months. Wrap it well in plastic, then foil or a freezer bag. Remove as much air as you can to keep it fresh. Thaw in the fridge before reheating.
Nutrition
Serving:
1
Chicken Breast
|
Calories:
164
kcal
|
Carbohydrates:
1
g
|
Protein:
24
g
|
Fat:
7
g
|
Saturated Fat:
1
g
|
Polyunsaturated Fat:
1
g
|
Monounsaturated Fat:
3
g
|
Trans Fat:
0.01
g
|
Cholesterol:
73
mg
|
Sodium:
7351
mg
|
Potassium:
442
mg
|
Fiber:
0.3
g
|
Sugar:
0.1
g
|
Vitamin A:
199
IU
|
Vitamin C:
2
mg
|
Calcium:
18
mg
|
Iron:
1
mg
Nutritional info is an estimate and provided as courtesy. Values may vary according to the ingredients and tools used. Please use your preferred nutritional calculator for more detailed info.