These juicy Oven Baked Chicken Breasts come out perfect each and every time! Say goodbye to dry chicken with this easy recipe, featuring a quick brine and zesty homemade seasoning blend.
Perfectly Baked Chicken Breasts
Chicken breasts are a staple in many households, and for a good reason; they're versatile, healthy, easy to prepare, and packed with protein. One of the simplest and most delicious ways to cook chicken breasts is in the oven. With just a few seasonings and a little time, you can have juicy, tender, and flavorful chicken that is perfect for various meals.
Truthfully, I don't know if I'll ever stop searching for new ways to make amazing baked chicken, but I will say that this recipe for juicy chicken breasts is practically perfect. Slap me silly, but I had no idea that brining chicken breasts in salted water for 20 minutes results in over-the-top delicious chicken! The moist, tender chicken you get after brining speaks for itself. With this method, you will never eat another piece of dry, bland chicken breast!
Is Chicken Breast Better in the Oven or on the Stove?
You might wonder if you should be cooking your chicken on the stovetop or in the oven. After all, baking often involves a lot of dry heat, while stovetop methods can be quicker and less drying. My answer? The best cooking method is the one that works best for you. If you'd like to bake your chicken, this recipe will deliver perfectly moist and flavorful meat.
If you'd rather do the stovetop, grab this recipe for Juicy Stovetop Chicken Breasts. It's all good!
Ingredients You Will Need
As far as ingredients, this recipe couldn't be simpler. You will need chicken breasts; fresh or thawed from frozen is fine. Salt, water, a few seasonings, and oil, and you're good to go.
Chicken: This recipe is for boneless, skinless chicken breast. It's important for each piece to be roughly the same thickness, for even cooking.
Salt and Water: For brining.
Olive Oil: To rub onto the chicken and help the seasonings stick.
Spices: Salt, pepper, paprika, cayenne pepper, garlic and onion powders.
Dried Herbs: I add a combination of thyme, basil, rosemary, and parsley to my seasoning blend. So good!
Fresh Parsley: For garnish. This is optional, of course.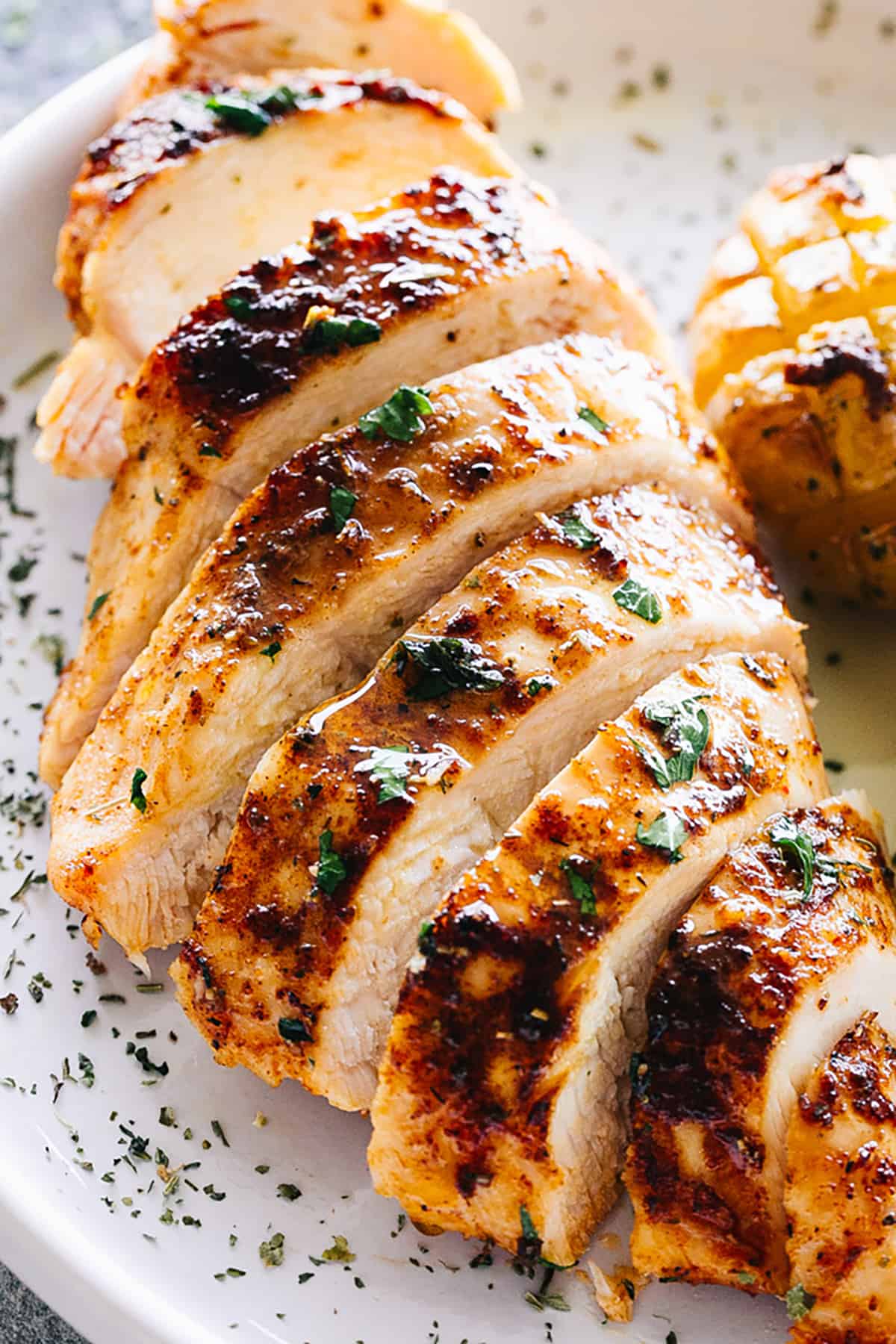 How to Brine Chicken Breasts
This recipe for oven-baked chicken breasts starts out with brined chicken.
Brining is a technique used to add flavor and moisture to chicken (or other meats) before cooking. It involves soaking the chicken in a solution of salt and water for a period of time. The salt in the brine solution helps break down the chicken's muscle fibers, making it more tender and flavorful.
Take four to six chicken breasts and place them in a large bowl.
Measure four cups of lukewarm water into a separate large cup or bowl, and add 1/4 cup salt. Give it a good stir to combine.
Pour the brine over the chicken breasts, cover, and set aside for 20 to 30 minutes or up to 2 hours.
You can also brine the chicken breasts and then freeze them to be cooked at a later time. Make sure to drain out the brine before storing the chicken breasts in the freezer.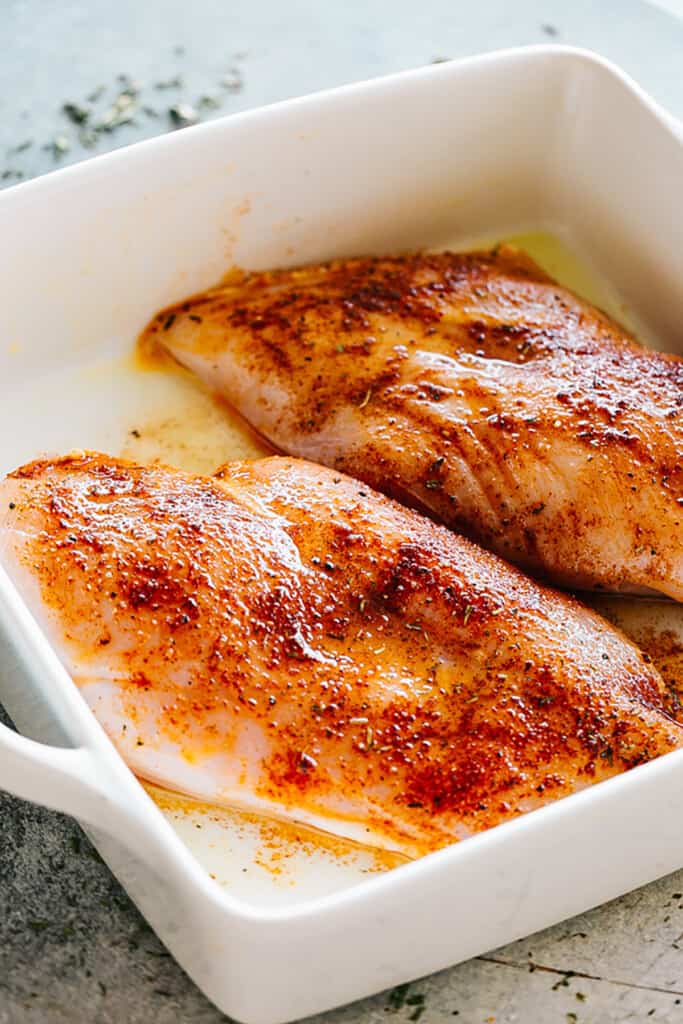 How to Bake Chicken Breasts
Now that your chicken is brined, how do you bake it for maximum flavor and juiciness? Simple: some olive oil, a flavorful homemade seasoning blend, and a preheated oven.
Preheat the Oven. For this recipe, we're cooking at a fairly high heat of 425˚F, in order to cook the chicken without drying it out with a long bake.
Rub the Chicken with Olive Oil. When you're ready to cook, drain off the brine (make sure to discard it, since it has had raw chicken in it). Take each chicken breast and rinse under cold water. Then pat them dry with paper towels, and rub with olive oil. Place the chicken pieces in a 9×13 baking dish.
Make the Seasoning. In a small bowl, combine the salt, pepper, paprika, cayenne, garlic powder, onion powder, thyme, basil, rosemary, and parsley. Stir it a few times with a spoon to distribute everything evenly.
Season the Chicken. Rub the seasoning all over each chicken breast, and lay each piece back in the dish as you go.
Bake! Place the baking dish in the oven, and let the chicken cook for about 22 minutes. You'll know it's done when a meat thermometer registers at 165˚F. If your chicken is on the thinner side, it will cook more quickly, while larger pieces might need more time. To keep from overcooking the chicken, start checking for doneness at around 20 minutes.
Enjoy! Serve your oven baked chicken breasts immediately, or cool them down to store for another time.
As you can see, this method requires the simplest, easiest way to bake moist and tender chicken breasts in the oven. What's even better is that the chicken is just as tender and juicy even after refrigerating for 3 to 4 days.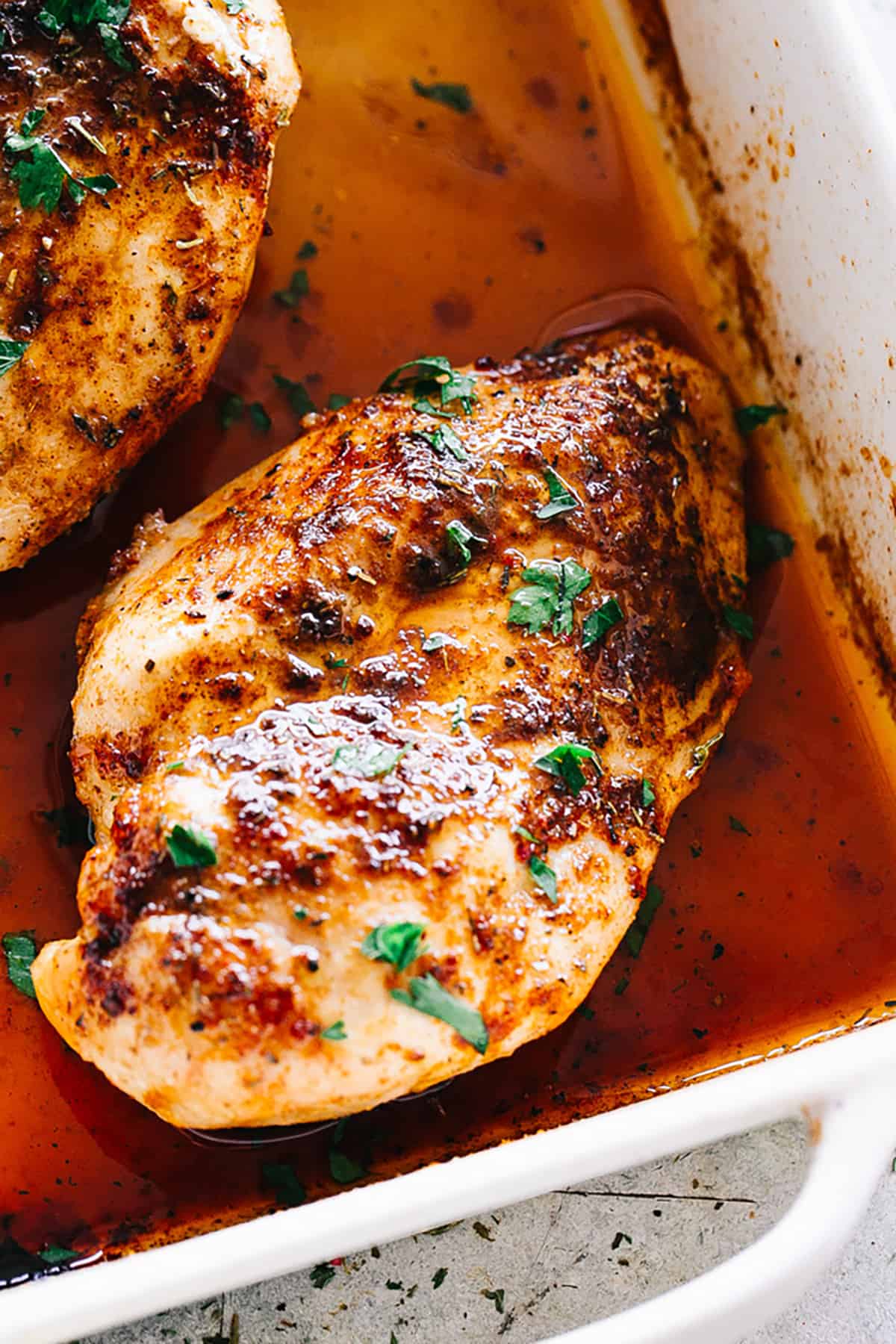 Easy Tips for Success
Practically perfect in every way – that's this chicken recipe. However, it's not only a great recipe, it's a flexible template for making your chicken your own way! Here are some easy tips for tweaking this to make it fit your tastes and lifestyle.
Change the Seasoning: This dish will work with any seasoning you like, from Montreal chicken to basic lemon pepper, and beyond. So use what you love, or try something new!
Chicken Options: Substitute boneless, skinless thighs in place of the breast – it'll be just as delicious. Keep in mind that it may take a few minutes longer to cook than breast meat.
Rest the Chicken: I always recommend letting your chicken (or steak, or almost any protein) rest for 8 to 10 minutes after cooking and before slicing. This will help keep the juices in the meat, instead of letting them run out everywhere when you cut into it.
What's a Good Side with Chicken?
Side dishes aren't just little add-ons to your main course, they are opportunities to bring in tons of extra flavor and texture. And with oven baked chicken breasts, you can make almost anything – it's so versatile and goes with practically any side dish.
Cucumber Salad: If you like creamy salads like potato or macaroni salad, you've got to try this Creamy Cucumber Salad. It's ultra-fresh, with a dill and yogurt vinaigrette that's so easy to make.
Cabbage "Steaks:" Balsamic Roasted Cabbage Steaks are low-carb and nutritious, with a mouthwatering umami taste from oven-roasting.
Potatoes: Potatoes any style are a natural partner for juicy chicken. Garlic Butter Hasselback Potatoes are a family favorite, so easy and so fun.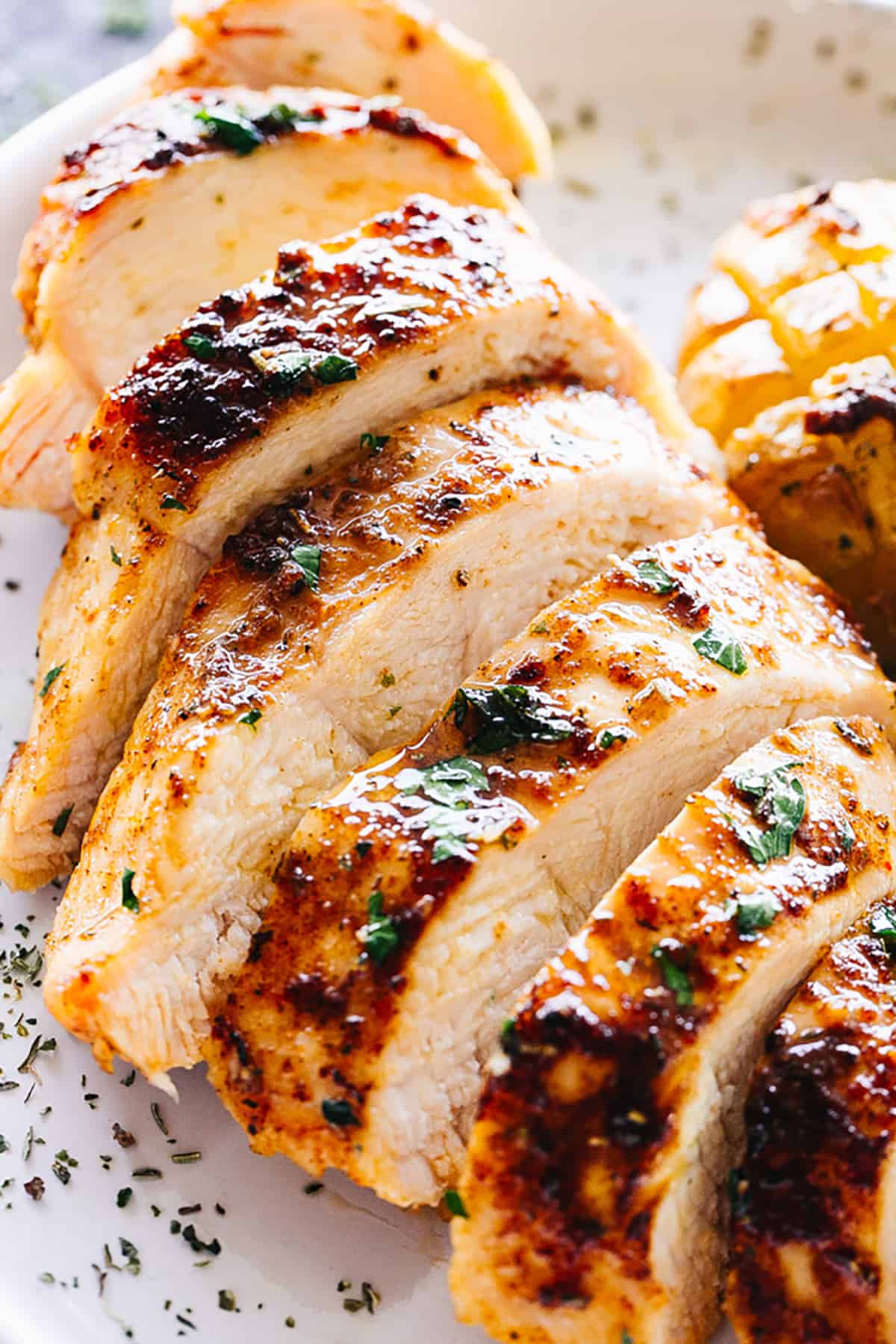 Storing and Reheating
To store oven baked chicken breast, just pop it into airtight containers or zip-top bags, and refrigerate for up to four days. This is also a good time to slice or chop it, if you would like to serve it over salads or in wraps, etc.
Eat the leftovers cold, or reheat on the stove in a covered skillet, with a splash of butter or water to keep things moist. Make sure to use low heat, and only cook the chicken until it's heated through. Overcooking will dry it out.
How to Freeze Oven Baked Chicken Breast
Cooked chicken is good frozen for about four months. I recommend wrapping it tightly in plastic wrap, followed by a layer of foil or a freezer bag. Try to squeeze out as much air as possible to keep the chicken fresh.
Thaw in the fridge before reheating.
ENJOY!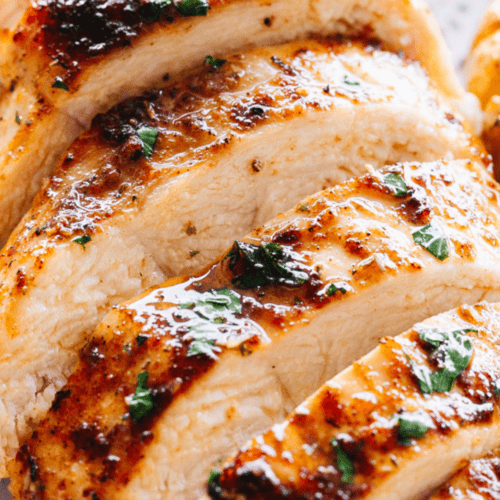 Juicy Oven Baked Chicken Breasts
Simple and easy method for how to cook perfectly juicy and deliciously seasoned oven baked chicken breasts.
Ingredients
CHICKEN SEASONING BLEND
¼

teaspoon

salt,

(optional – chicken will have absorbed some of the salt from the salted water)

¼

teaspoon

fresh ground black pepper

½

teaspoon

smoked or sweet paprika

½

teaspoon

garlic powder

½

teaspoon

onion powder

½

teaspoon

dried thyme

½

teaspoon

dried basil

½

teaspoon

dried rosemary

¼

teaspoon

dried parsley

⅙

teaspoon

cayenne pepper

fresh chopped parsley,

for garnish
Instructions
Place chicken breasts in a large bowl and set aside.

In a large measuring cup, or a mixing bowl, combine lukewarm water and salt; stir, then pour over chicken breasts. Set aside for 20 to 30 minutes. You can also cover the bowl and refrigerate for 2 hours.

In the meantime, prepare the Chicken Seasoning Blend:

Combine salt, pepper, paprika, garlic powder, onion powder, dried thyme, dried basil, dried rosemary, dried parsley, and cayenne pepper in a small bowl; using a fork, stir around the seasonings until thoroughly incorporated. Set aside.

Pour out the salt water and rinse each chicken breast under cold water; pat dry with paper towels.

Place the chicken breasts in a baking dish and rub the olive oil all over each chicken breast.

Sprinkle seasoning blend evenly over the chicken breasts on all sides. You don't have to use the entire seasoning blend; use as much as you like.

Transfer to the oven and bake for 22 to 25 minutes, or until internal temperature reaches 165˚F. Use an Instant Read Meat Thermometer to check for doneness.

Thinner breasts will need less time, thicker breasts might need a little more time in the oven. Start checking for doneness around the 20-minute mark.

For a browned, crispy top, set your oven to broil on HIGH for the final 3 to 4 minutes and broil the chicken until golden on top.

Remove from oven and transfer chicken breasts to a serving plate.

Let chicken rest for 10 minutes before cutting.

Garnish with fresh chopped parsley and serve.
Nutrition
Serving:
1
Chicken Breast
|
Calories:
164
kcal
|
Carbohydrates:
1
g
|
Protein:
24
g
|
Fat:
7
g
|
Saturated Fat:
1
g
|
Polyunsaturated Fat:
1
g
|
Monounsaturated Fat:
3
g
|
Trans Fat:
0.01
g
|
Cholesterol:
73
mg
|
Sodium:
7351
mg
|
Potassium:
442
mg
|
Fiber:
0.3
g
|
Sugar:
0.1
g
|
Vitamin A:
199
IU
|
Vitamin C:
2
mg
|
Calcium:
18
mg
|
Iron:
1
mg
|
Net Carbs:
1
g
Nutritional info is an estimate and provided as courtesy. Values may vary according to the ingredients and tools used. Please use your preferred nutritional calculator for more detailed info.
Categories:
You Might Also Like These Chicken Recipes