This easy Roasted Acorn Squash recipe is a flavorful, colorful, and nutritious side that goes with everything! You'll love how easy it is to make this attractive veggie option.
Perfect Roasted Squash Slices
Do you love winter squash? I do too! ✋ Butternut squash is great, especially in soup, casseroles, and other dishes with character. But, I also like simple roasted squash, and smaller squashes like delicata and acorn are perfect for that. This basic method for prepping and roasting acorn squash is a great example!
Acorn squash is not only a savory favorite, it's a gorgeous and easy side dish! With its dark green rind and pale yellow-gold flesh, acorn squash is a vibrant addition to any meal, especially when cut into scalloped slices and sprinkled with seasonings.
What Does Roasted Acorn Squash Taste Like?
Like butternut, delicata, and other winter squash, acorn squash has a wholesome, mildly sweet taste that goes really well with all kinds of flavors, from garlic to maple syrup.
Can You Eat the Skin of Acorn Squash?
It depends on who you ask! Acorn squash rind tends to be harder and less appetizing than delicata, and is not usually eaten. However, some acorn squash enthusiasts do eat the rind if it is cut small. It's up to you! I, personally, do not like the rind.
The Ingredients
This easy, basic recipe is essentially just acorn squash, butter, and seasonings! You'll love how simple it is to pull together roasted acorn squash on the fly.
Squash: Cut one squash in half lengthwise, and scoop out the seeds.
Butter: Melt the butter, or substitute your favorite oil.
Oregano and Thyme: Dried oregano and thyme are perfect with the natural sweetness of squash.
Garlic Powder: Garlic powder is an easy way to add intensity of flavor to this dish.
Paprika: Made from dried ground peppers, paprika is earthy and mild (not spicy!) and lends a beautiful color to the squash as it roasts.
Salt and Pepper: To taste.
Fresh Parsley: Chopped fresh parsley is an appetizing optional garnish.
How to Make Roasted Acorn Squash the Easy Way
Once you try this wholesome recipe, you'll make it again and again! It's also super easy to double if you need to make more servings.
Preheat the Oven and Cut the Squash. Before you start, make sure to preheat the oven to 400°F. Next, cut the acorn squash in half, lengthwise, stem end to pointed end. (For the easiest way to cut through squash rind see the "Tips" section below.) Then slice each squash half into ½ inch-thick slices.
Season the Squash. Arrange the squash slices on a baking sheet. Make the seasoned butter mixture by melting the butter and stirring in the herbs, garlic powder, paprika, salt, and pepper. Brush the squash slices with the butter mixture.
Roast. Roast the seasoned squash for 20 minutes or so, until the squash is tender.
Enjoy! Remove the baking sheet from the oven, and garnish the squash with parsley before serving warm.
Tips and Variations
So, that's it! Perfect roasted acorn squash, pretty enough for a holiday menu, but easy enough to make any time. Want to know more? Check out these easy tips!
Cutting Made Easy: A really simple way to soften the squash rind for cutting is to microwave it for a couple of minutes. Poke some holes in the rind, and then microwave for two to three minutes. Lift it out of the microwave with oven mitts, and carefully continue to cut the squash with a sharp knife.
Tweak the Seasonings: Feel free to play with the seasoning blend. Italian seasoning is delicious, or you could go with cracked black pepper with a hint of rosemary. Use what you love!
Make It Sweet: Add a bit of maple or brown sugar for a sweet twist! ❤️
Cut It Your Way: Half an acorn squash makes a perfect serving size for one, so feel free to cut the squash in halves rather than slices for easy prep. (The halves may need to bake longer than slices.)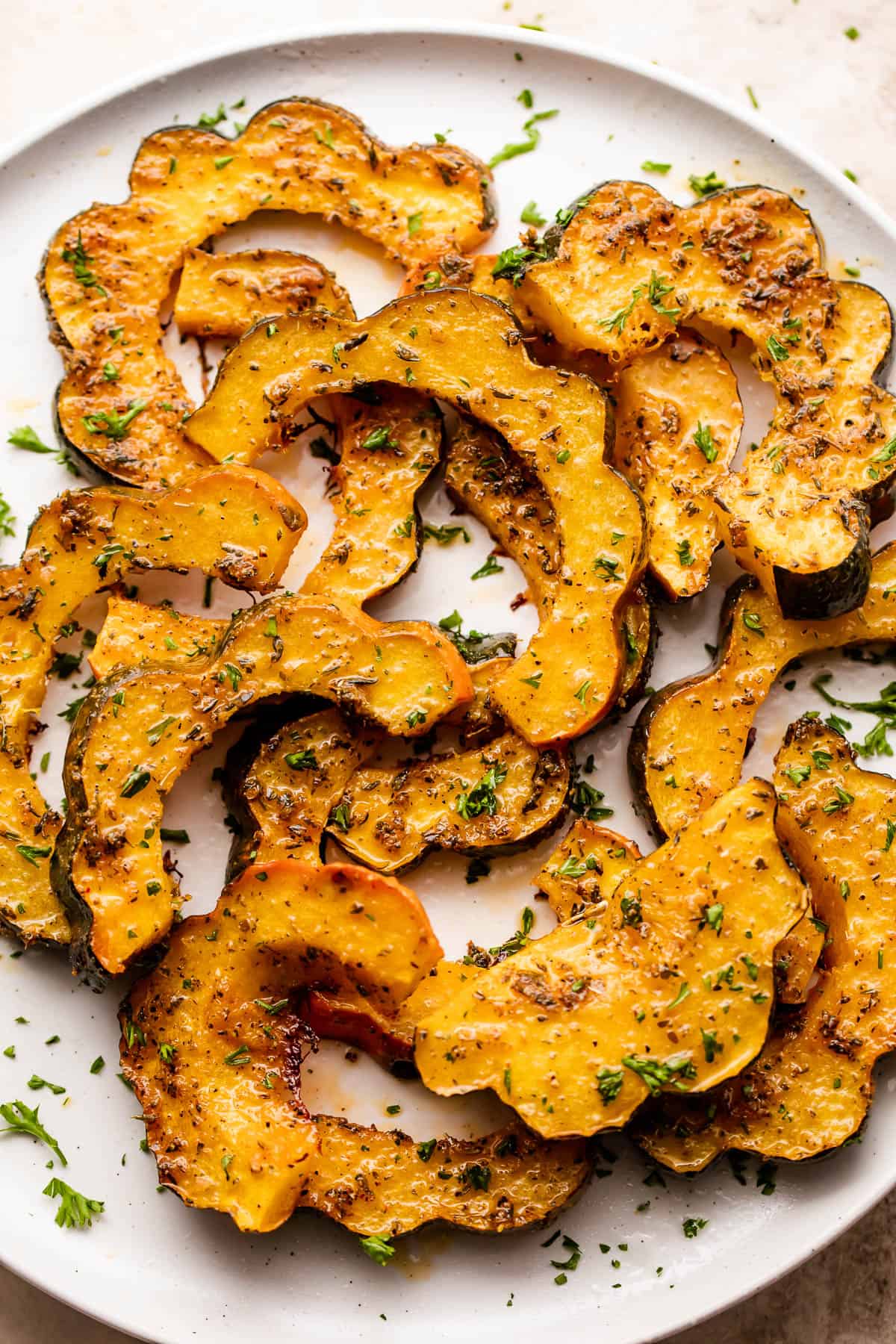 What Does Acorn Squash Pair Well With?
You can serve these with anything, from a green salad to a fried egg to a full Christmas dinner. Here are some of my favorite ideas for a holiday feast!
Storing and Reheating Leftovers
To refrigerate leftovers, place in airtight food storage containers or zip-top bags. Acorn squash will stay good in the refrigerator for up to four days.
To freeze, remove the squash from the rind using a sharp knife. Discard the rind and freeze the squash in freezer bags, pressing out as much air as possible before sealing. It will keep for several months. Thaw in the refrigerator before reheating.
To reheat, bake at 400°F until heated through. You can also microwave leftovers for a minute or so at a time, until hot.
ENJOY!
Roasted Acorn Squash
This easy Roasted Acorn Squash recipe is a flavorful, colorful, and nutritious side that goes with everything!
Instructions
Preheat the oven to 400°F.

Cut the acorn squash in half, lengthwise, and take out the seeds.

Slice each acorn squash half into ½-inch thick slices.

Transfer the squash slices to a parchment lined baking sheet.

Melt the butter.

Add the oregano, thyme, garlic powder, paprika, salt, and pepper to the butter, and stir well to combine.

Brush the squash slices with the butter mixture.

Roast in the preheated oven for 20 to 25 minutes, or until the squash is tender and cooked through.

Remove from oven. Taste for salt and pepper; adjust accordingly.

Garnish with parsley and serve.
Nutrition
Calories:
169
kcal
|
Carbohydrates:
24
g
|
Protein:
2
g
|
Fat:
9
g
|
Saturated Fat:
5
g
|
Polyunsaturated Fat:
1
g
|
Monounsaturated Fat:
2
g
|
Trans Fat:
1
g
|
Cholesterol:
23
mg
|
Sodium:
82
mg
|
Potassium:
801
mg
|
Fiber:
4
g
|
Sugar:
1
g
|
Vitamin A:
1165
IU
|
Vitamin C:
25
mg
|
Calcium:
84
mg
|
Iron:
2
mg
Nutritional info is an estimate and provided as courtesy. Values may vary according to the ingredients and tools used. Please use your preferred nutritional calculator for more detailed info.
Categories:
More Easy Veggie Sides