Garlic Parmesan Yellow Squash Chips are an incredibly flavorful, crispy, and absolutely delicious snack!
The Ultimate Squash Chips
Are you looking for a healthy and flavorful snack that packs a nutritious punch? Look no further than these crispy Garlic Parmesan Yellow Squash Chips. Bursting with flavor, these chips provide a scrumptious way to enjoy a vegetable snack that's not just good for you but also incredibly delicious.
Yellow squash is an excellent source of vitamins and minerals, making it an ideal base for our squash chips. Not only is this summer squash low in calories, but it also offers high levels of vitamin C, fiber, and potassium. But the true magic happens when these nutritious rounds are transformed into a crave-worthy, crispy treat.
Overall, people will love these Yellow Squash Chips for their balanced combination of health and taste, their versatility, and the simplicity of the recipe. It's a snack that proves eating well doesn't mean sacrificing flavor or satisfaction.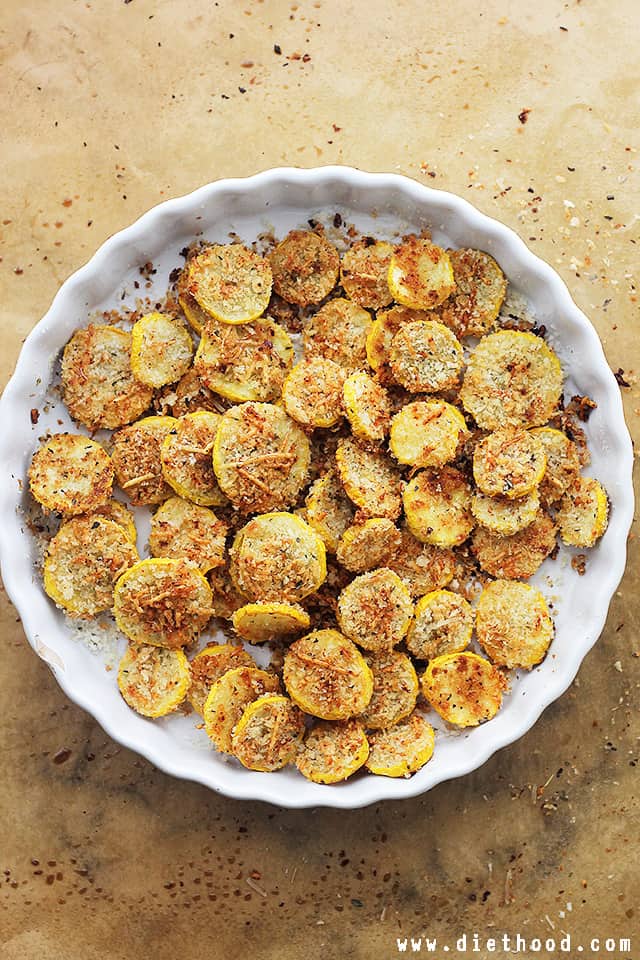 Why You'll Love This Recipe
One of the most appealing aspects of these yellow squash chips is that they offer a healthier alternative to traditional potato chips.
Despite their healthier profile, these chips don't compromise on taste or texture. The panko crumbs and Parmesan cheese create a crunchy coating, while the garlic and oregano lend a robust, savory flavor.
These chips can serve various roles, from a unique appetizer at a dinner party to a side dish for a family dinner, or simply as a guilt-free snack during a movie night.
Squash chips are also ideal for those following special diets. They're naturally vegetarian and can be made gluten-free by choosing a suitable type of breadcrumbs.
Ingredients You Will Need
The process of making these yellow squash chips is surprisingly straightforward and requires just a handful of simple ingredients. You'll need four small to medium yellow squashes, olive oil, salt, and pepper for the basic preparation.
How To Make Yellow Squash Chips
Start by slicing your squash into 1/4-inch to 1/2-inch rounds. Toss them in olive oil, salt, and pepper to ensure each slice is well-coated and ready to take on the topping that will give them their distinctive crunch and flavor.
Coat them with a mix of panko crumbs, Parmesan cheese, oregano, and garlic powder. Spray each slice with cooking oil for extra crispness.
Then, bake the squash at 450˚F for 18 minutes, flipping and spraying them again halfway through cooking.
Remove from oven and serve.
Whether you're hosting a party, looking for a delicious side dish, or simply craving a nutritious snack, these yellow squash chips will not disappoint. Their crispy texture and savory flavor make them a hit with both adults and kids alike.
For the last month or so, not only have we been living on squash, but along with that, we've OD'ed on Zucchini Fritters, Zucchini Chips, and Squash Chips. Obviously, vegetables and I are like *THIS*! With a side of gluten-free brownies, of course.
What To Serve With Yellow Squash Chips
Non-Fat Plain Yogurt: If you want to keep things light and healthy, nonfat plain yogurt is a great choice, and it provides a tangy contrast to the savory chips.
Sour Cream and Chive Dip: This dip's creamy texture and onion flavor would pair well with the crunchiness of the squash chips.
Fresh Salsa: A fresh tomato salsa could offer a good balance to the rich, cheesy chips.
Guacamole: The creamy, rich flavors of avocado, with its hint of lime and cilantro, would complement the squash chips beautifully.
Marinara Sauce: For a more Italian spin, a simple marinara sauce would work well with the Parmesan in the squash chips.
Hummus: This creamy chickpea-based dip can be flavored with various spices and herbs, making it a versatile partner for squash chips.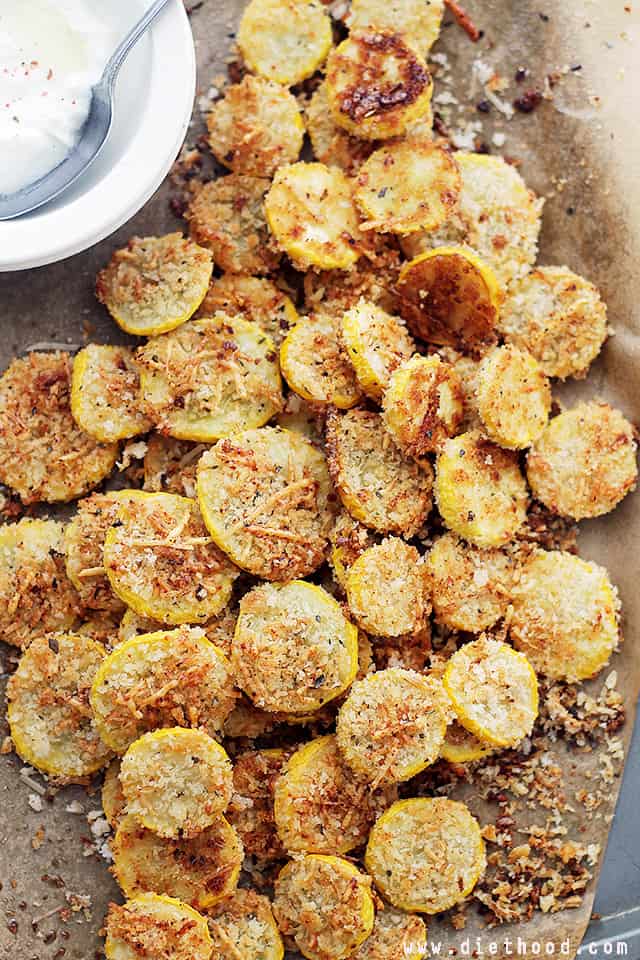 Storage
Due to the high moisture content in squash, these chips may not store as long or as well as traditional potato chips. Enjoy them soon after making them for the best taste.
ENJOY!
Garlic Parmesan Yellow Squash Chips
These yellow squash chips are an incredibly flavorful, crispy, and absolutely delicious snack!
Ingredients
4

medium

yellow squash,

sliced into 1/4-inch to 1/2-inch rounds

3

tablespoons

olive oil

salt and fresh ground black pepper,

to taste

1

cup

panko crumbs

1

cup

grated Parmesan cheese

1

teaspoon

dried oregano

1

teaspoon

garlic powder

cooking spray
Instructions
Line 3 baking sheets with parchment paper and set aside.

Gently mix the squash slices with olive oil, salt, and pepper in a bowl; mix until well combined.

In a separate bowl, combine panko crumbs, Parmesan cheese, oregano, and garlic powder.

Dip slices of squash in cheese mixture and coat on both sides, pressing on the coating to stick.

Arrange the squash in a single layer on the baking sheet.

Lightly spray each slice with cooking spray. This will help with achieving a crunchier texture.

Remove from oven; gently flip over all the slices, lightly spray with cooking oil and bake for 8 more minutes, or until chips are golden brown.

Remove from oven; transfer to a serving plate and let cool for a few minutes.

Serve with your favorite dipping sauce.
Notes
Slice Evenly: Make sure your slices of squash are consistent in thickness to ensure they bake evenly.
Don't Overlap: Allow space between the chips on the pan for even baking.
Watch Them: Keep a close eye to prevent burning.
Flip Them: Turn chips halfway for crispness on both sides.
Use Foil or Parchment to prevent the squash chips from sticking.
Season Generously to enhance the mild flavor of the squash.
Cool Down: Let chips cool to reach full crispness.
Try a Test Batch: Do a small batch first to find the perfect baking time.
Nutrition
Serving:
1
cup
|
Calories:
196
kcal
|
Carbohydrates:
12
g
|
Protein:
9
g
|
Fat:
12
g
|
Saturated Fat:
4
g
|
Cholesterol:
14
mg
|
Sodium:
331
mg
|
Potassium:
388
mg
|
Fiber:
2
g
|
Sugar:
3
g
|
Vitamin A:
405
IU
|
Vitamin C:
22.2
mg
|
Calcium:
228
mg
|
Iron:
1.3
mg
Nutritional info is an estimate and provided as courtesy. Values may vary according to the ingredients and tools used. Please use your preferred nutritional calculator for more detailed info.
Categories: