Homemade Baked Banana Chips – Deliciously sweet and guilt-free baked banana chips are so easy to make and are the perfect portable, healthy snack to have on hand.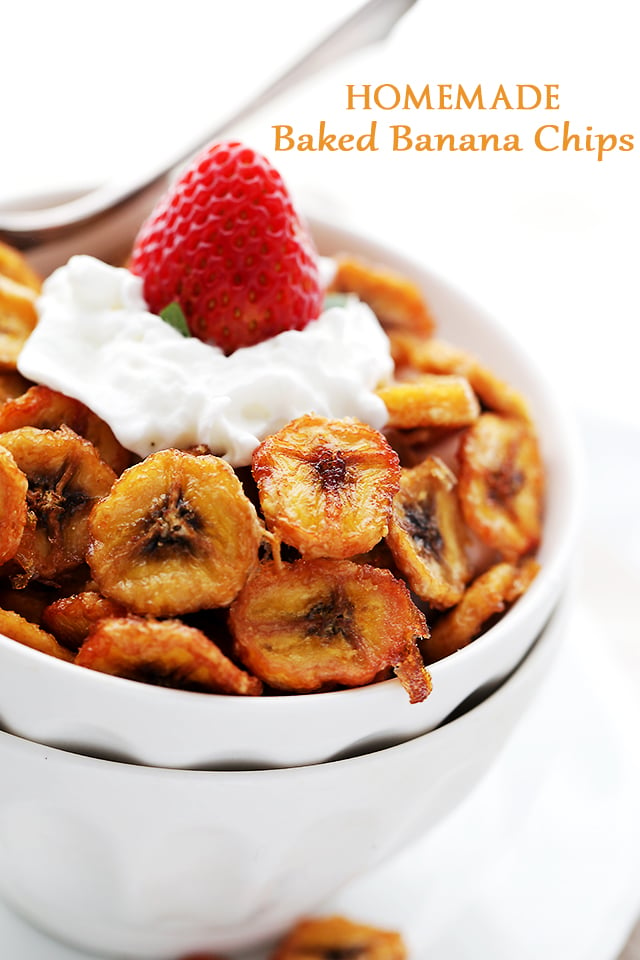 Can we be responsible adults for a second and drown these bananas in whipped cream with a splash of bourbon?!
AW! I like you.
Hey YOU! Happy Friday! I haven't been this excited about a Friday since last Friday! I have big plans for this weekend and they all involve wine; wine making, wine tasting, and wine dining.
I found some little shack in the back type of place in Chicago where they have you make your own wine AND drink it. I'm gonna be breathing and sleeping Chardonnay for dayz! High-Five!!
I also totally did something kind of random for us. I sliced up some bananas, had them swim in lemon juice and baked 'em. Then, I plopped 'em on top of my homemade chocolate granola and had myself a very homemade-ish breakfast. Brinner, too.
Sidenote? Breakfast for dinner is da bomb dot com.
BAKED BANANA CHIPS
A couple of weeks ago I was shopping at Walgreens for random things that I *think* I *might* need, and it was at that moment, during that meaningless shopping trip that I met up with my new love – dried mangoes. MANGOES! Lawwwwd, it had been a long time since I felt that kind of excitement. The best part? They were amazing. SO damn good!
What do dried mangoes have to do with dried bananas? Not much, really, except for the fact that since I couldn't find fresh mangoes in January to make my own dried mangoes, I opted for the bananas. Basically, that's how I ended up at the idea to make us Baked Banana Chips!
Next question; WHY would we need to make banana chips?! For all those out there that need to snack on something, right this very minute, and are trying really hard NOT to reach for the chocolate chips bag! (GUILTY!!!), these HEALTHIER CHIPS are a waist.saver. TRUST.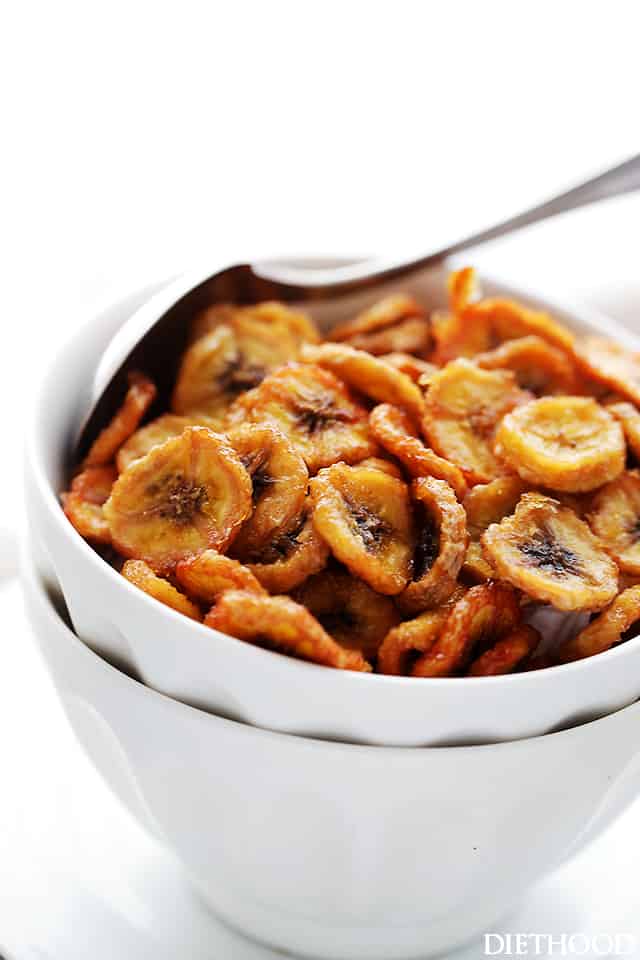 BANANAS
Also? Bananas are rich in vitamin C, potassium, and fiber. Plus? Let's just forget about freeze-dried or fried store-bought banana chips. That's for amateurs. You and I are making our own, sans sugar, salt, oil, fryer, dehydrator, etc… A few bananas, thinly sliced, and a squeeze of lemon juice is all we are going to use. A baking sheet, too. Time and patience, as well.
Few things to keep in mind. For best flavor, use bananas that are ripe, but firm, and not bruised. Also, the thinner you cut the slices, the crunchier they will be.
To keep things in perspective; IF you're expecting that SUPER duper crunch, this ain't it. That super duper crunch happens when you fry the banana slices in oil and then quickly dry them out in the oven. However, don't lose hope. This recipe produces a crunch, just not AS crunchy as those. M'kay? Understood? I hope!
Peace! ✌
ENJOY!

CRAVING MORE? SIGN UP FOR THE DIETHOOD NEWSLETTER FOR FRESH NEW RECIPES DELIVERED TO YOUR INBOX!
FOLLOW DIETHOOD ON FACEBOOK, TWITTER, PINTEREST AND INSTAGRAM FOR ALL OF THE LATEST CONTENT, RECIPES AND UPDATES.
TOOLS USED IN THIS RECIPE:
Homemade Baked Banana Chips Recipe
Deliciously sweet and guilt-free baked banana chips are so easy to make and are the perfect portable, healthy snack to have on hand.
Ingredients
10

ripe

, but firm bananas, thinly sliced

freshly squeezed lemon juice

(1 lemon is plenty)
Instructions
Preheat oven to 200F.

Cover a sheet pan with foil and lightly grease with cooking spray.

Toss the bananas in lemon juice.

Arrange the bananas in a single layer on prepared baking sheet.

Bake for 1 hour; check to see if the tops are firm and starting to turn color. If so, flip the slices with a metal spatula, and continue to bake for 1 hour longer, or until desired crispness. Check on the banana slices from time to time - oven temperatures do vary. The thickness of the slices also matters.

Also, if you find the bananas are sticking and not able to easily flip, keep baking for another 20 to 30 minutes before flipping.

Remove from oven and transfer the chips to a wire rack.

Cool completely. The longer they cool, the crunchier they will get.

Store in an airtight container.
Notes
Try to cut all the banana slices, evenly.

If you remove the banana chips from the oven too soon, they will not start to crisp; if this does happen, return chips to the oven for an additional 15 minutes.
Be sure to check on the banana chips often and pull any done banana chips as needed.
Nutrition
Serving:
1
g
|
Calories:
175
kcal
|
Carbohydrates:
44
g
|
Protein:
2
g
|
Fat:
0
g
|
Saturated Fat:
0
g
|
Cholesterol:
0
mg
|
Sodium:
1
mg
|
Potassium:
704
mg
|
Fiber:
5
g
|
Sugar:
24
g
|
Vitamin A:
125
IU
|
Vitamin C:
17.1
mg
|
Calcium:
10
mg
|
Iron:
0.5
mg
Nutritional info is an estimate and provided as courtesy. Values may vary according to the ingredients and tools used. Please use your preferred nutritional calculator for more detailed info.
SIMILAR RECIPES: