Easy, healthy, delicious, and even beautiful, that's Overnight Oats in a nutshell! Wholesome old-fashioned oats, yummy chia seeds, and your milk of choice are combined with yogurt, vanilla, and honey. You can top it however you like!
An Easy Overnight Oats Recipe
You might be an avid oatmeal fan, but have you gotten into overnight oats yet? This cold and refreshing breakfast is made of wholesome rolled oats, so it's perfect for anyone who's looking for a substitute for wheat and corn-based breakfast cereals. Overnight oats only take about five minutes to mix up the night before, and then all you have to do in the morning is grab a spoon!
The simplicity of overnight oats is extra-rewarding because there's a prepared breakfast in the fridge every day. Honestly, that's enough reason for me to make them. But, also, the result is so tasty, and the recipe is versatile because you can add various delicious toppings and mix-ins to create all kinds of amazing flavors. I especially like adding berries and chopped nuts to mine. Nutella, too.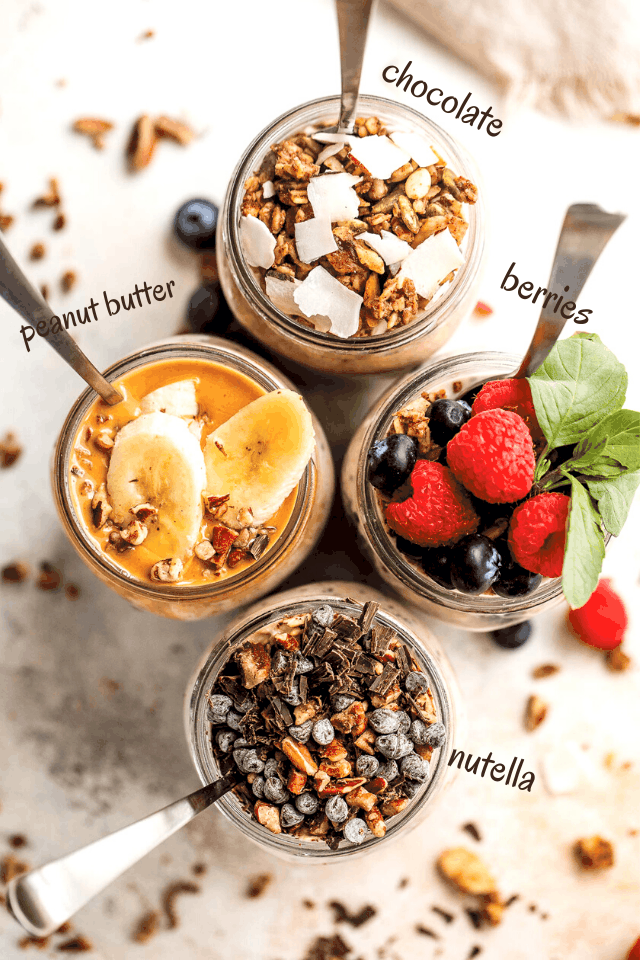 What Are Overnight Oats?
Overnight oats are prepared by soaking oats overnight, usually in a creamy milk mixture. They are raw, wholesome, and delicious! You can use any type of oats, including gluten-free oats. I usually use rolled oats (also called old-fashioned oats), and they come out super soft and tasty. Additionally, soaked oats may be better for your health than a traditional hot oatmeal. Hot oatmeal is definitely a healthy food when prepared properly, but the long soaking process may give overnight oats an edge in terms of digestibility, by breaking down the phytic acid in the grains.
Overnight Oats Ingredients
The basic recipe for these oats is simple and also very flexible! You can play with the ingredients and amounts to suit your own preferences, dietary restrictions, and available ingredients.
Oats: Any type of oats will work, including gluten-free. Old-fashioned rolled oats, which are flat, soften up faster than steel-cut oats, so that's what I usually use.
Milk: You can use any milk that you like! Whole milk tends to give the creamiest flavor of the milks that I have tried, but almond milk and cashew milk also work well.
Yogurt: I like to add some richness and extra nutrition to my oats with ¼ cup plain yogurt.
Salt: Just a pinch, to taste.
Honey: For sweetness, you can add a tablespoon of honey, or to taste. Other sweeteners, such as maple syrup, agave, and raw sugar, also work great! It's important to remember that different sweeteners vary in their intensity, so adjust the amount accordingly.
Chia Seeds: A tablespoon of chia seeds is an easy mix-in for both texture and health benefits! Chia seeds contain a powerful mix of fiber, protein, healthy fats, antioxidants, and more, all in a very small package!
Vanilla: This sweetens and deepens the flavor of the oatmeal. Use pure vanilla extract for the best flavor.
Fruit: Diced or sliced fresh fruit makes a lovely garnish.
Coconut Shavings: Another attractive and delicious garnish option.
How to Make Overnight Oats
Making overnight oats is straightforward and can be a fun and soothing part of your evening routine. It's not necessary to use jars for the oats, but it does make them a little more travel-friendly, and after all, how cute are little glass jars? Still, you can also use any cereal bowl or similar container to mix up this quick breakfast.
Combine the Main Ingredients. Place the oats, milk, yogurt, salt, and honey in a glass container, jar, or cereal bowl. Stir in the chia seeds and vanilla, as well as any dissolving mix-ins like cocoa powder. Avoid adding berries and other toppings at this point; they will lose their texture in the overnight soaking process.
Refrigerate Overnight. Cover the oats and place in the fridge for at least 4 hours, or overnight.
Add Toppings. After the oats have soaked, uncover them and check the texture. If they seem too thick, you can thin them out with a bit more milk. Add your berries, nuts, coconut shavings, and whatever other toppings or mix-ins that you like.
Variation Ideas For Overnight Oats
I must admit that coming up with fun and satisfying variations is one of my favorite parts of cooking and developing recipes! Those tweaks and customizations really fire my imagination and my appetite!
To Make A Berry Oatmeal: Add ½ cup fresh berries right before serving, and top with chopped nuts, if desired.
For Chocolate Oatmeal: Stir in 2 teaspoons of cocoa powder.
Peanut Butter Oatmeal: Stir in 1 tablespoon of smooth, natural peanut butter right before serving.
Nutella Oatmeal: Stir in 1 tablespoon of Nutella right before serving.
Banana Bread Oatmeal: Stir a pinch of cinnamon into the oatmeal, and top with sliced or chopped bananas and chopped pecans or walnuts.
Serving Suggestions
Egg Muffin Cups: Love eggs? Me too! And they go so perfectly as a make-ahead breakfast item to go with our make-ahead oats. Try my "American Breakfast" Egg Muffin Cups for a super tasty morning bite.
Chaffles: These amazing Chaffles (low-carb waffles) are made with cream cheese, egg, and almond flour and bake up light and fluffy in your waffle maker.
Hard-Boiled Eggs: The ultimate simple breakfast item, hard-boiled eggs are nutritious and are easy to take along if you need to get out the door in a hurry. Follow my tips for making Perfect Hard Boiled Eggs, and you'll have a delicious and healthy breakfast or snack option at your fingertips.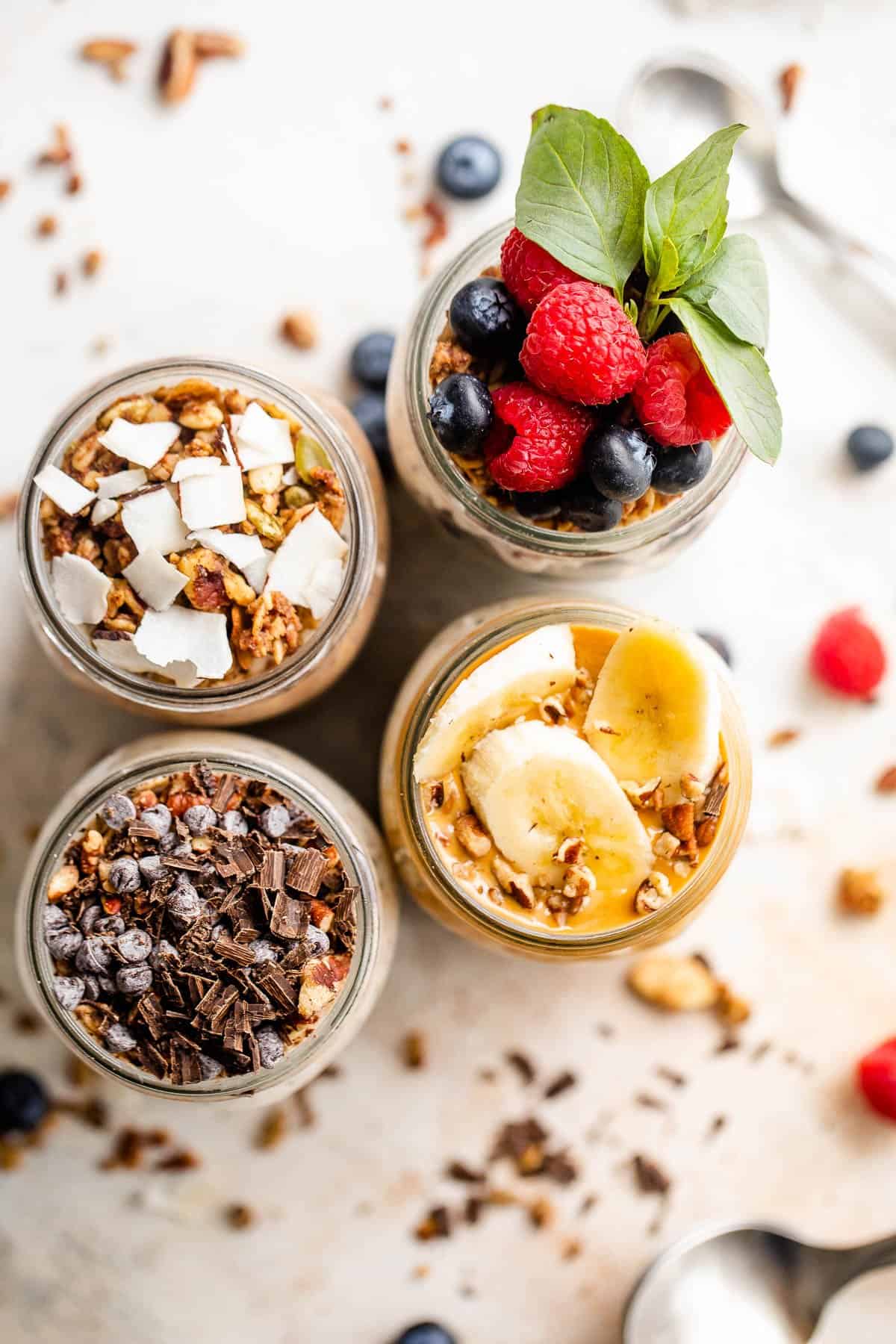 How to Store Leftover Oatmeal
You probably won't have leftovers per se because these oats are conveniently portioned into single servings. Still, you can refrigerate any leftovers you do happen to have, or better yet, make extra and prep for several days' worth of breakfasts! We do this, and I can't tell you how much easier it is to get the morning routine going.
To refrigerate, first assemble the overnight oats, NOT including toppings like berries and nuts, which will get soggy, in airtight containers. (If you're storing leftovers, just remove any stray fruit, nuts, etc.) Store the oats in the refrigerator for three to five days. Keep in mind that they will expire on the same day as the milk and/or yogurt in them expires.
You can also freeze overnight oats, but the texture will degrade over time. In general, frozen overnight oats are good for around 6 months, and can be thawed overnight in the refrigerator before using.
Stir refrigerated and/or thawed oats before serving.
ENJOY!
Healthy Overnight Oats
A healthy make-ahead breakfast of raw rolled oats and chia seeds soaked in milk, yogurt, honey, and vanilla and served with your favorite toppings.
Ingredients
BASE RECIPE
½

cup

old fashioned rolled oats,

you can also use gluten free oats

½

cup

milk,

any milk, including skim, soy, almond, etc.

¼

cup

plain yogurt

pinch

of salt

1

tablespoon

honey,

or to taste (you can also use maple syrup, or any other sweetener of choice)

1

tablespoon

chia seeds

¼

teaspoon

pure vanilla extract

diced or sliced fresh Fruit,

for garnish, optional

chopped nuts,

for garnish, optional

coconut shavings,

for garnish, optional
Instructions
Add rolled oats, milk, yogurt, salt, and honey to a glass container, glass jar, or a cereal bowl.

Stir in the chia seeds, vanilla (and dissolving mix-ins such as cocoa powder if using). You can also stir in Nutella or peanut butter or wait to add those right before serving. However, If using berries, nuts, and other toppings that will get soggy, don't add them until the next day, right before serving.

Cover the oats and refrigerate for at least 4 hours, or overnight.

To eat, remove the cover or lid, stir, and if the oatmeal is too thick, thin it out with more milk.

Top with fruits, nuts, coconut shavings, etc., and serve.
Berry Oatmeal Variation
Add ½ cup fresh berries right before serving, and top with chopped nuts, if desired.
Chocolate Oatmeal Variation
Stir in 2 teaspoons cocoa powder.
Peanut Butter Oatmeal Variation
Stir in 1 tablespoon smooth natural peanut butter right before serving.
Nutella Oatmeal Variation
Stir in 1 tablespoon Nutella right before serving.
Banana Bread Oatmeal Variation
Just before serving, stir a pinch of cinnamon into the oats, and top with sliced or chopped banana and chopped pecans or walnuts.
Notes
Liquid to Oats Ratio: Typically, the ratio is 1:1 of rolled oats to liquid (like milk or yogurt). However, you can adjust this based on your preference for a thicker or thinner consistency.
Use Rolled Oats: Rolled oats (or old-fashioned oats) absorb the liquid well and provide a creamy texture. Avoid quick oats, which can become too mushy, and steel-cut oats may remain too chewy.
Adding Sweeteners: Natural sweeteners like maple syrup, honey, or agave can be used, but add them sparingly. You can always add more later to taste.
Mix-ins and Toppings: Fresh fruits, dried fruits, nuts, seeds, and spices (like cinnamon or nutmeg) are great additions. However, if using ingredients that might get too soft (like certain fresh fruits or granola), consider adding them just before eating.
Consistency: Before you dig in the following day, give your oats a good stir. If they're too thick, you can add more milk or yogurt to loosen them up.
Temperature: While they're meant to be eaten cold and straight out of the fridge, if you prefer them warm, you can heat them up in the microwave for a minute or so.
Dairy-Free: If you're vegan or lactose intolerant, almond milk, coconut milk, oat milk, or any other plant-based milk works great in this recipe.
Containers: Mason jars or any airtight containers work best.
Storage: Overnight oats last up to 5 days in the fridge.
Nutrition
Calories:
194
kcal
|
Carbohydrates:
30
g
|
Protein:
7
g
|
Fat:
5
g
|
Saturated Fat:
2
g
|
Trans Fat:
1
g
|
Cholesterol:
7
mg
|
Sodium:
52
mg
|
Potassium:
263
mg
|
Fiber:
4
g
|
Sugar:
14
g
|
Vitamin A:
104
IU
|
Vitamin C:
1
mg
|
Calcium:
179
mg
|
Iron:
1
mg
|
Net Carbs:
26
g
Nutritional info is an estimate and provided as courtesy. Values may vary according to the ingredients and tools used. Please use your preferred nutritional calculator for more detailed info.
More Healthy Breakfast Ideas