Homemade Nutella – Did you know you can make Nutella at home with just hazelnuts and chocolate? It's easy and it tastes way better than the original!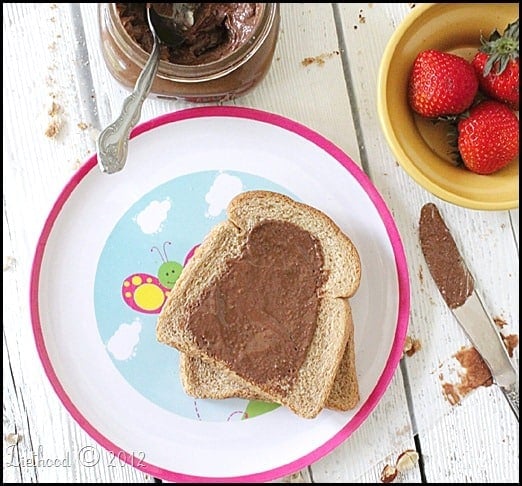 No, I'm not the one going to school. I did that for 20+ years of my life. I had enough. But, my 3 year old, Ana, is going to start preschool in about 10 days and I am freaking out.
When I set out to sign her up, I was 110% sure that this was the right thing to do. I mean, she needs to be around kids, she needs to socialize, she needs to learn how to share with others, she needs to… you get the point.
Also, I've been so busy with the baby that I don't have as much time as I used to have to devote to playtime with Ana. Before Aleksandra was born all I did was play with her and teach her. She's a bright girl; she can count in both, Macedonian and English, she knows both alphabets, she can write her name, she knows every color on the color chart … Okay, I just stepped into bragging territory. But you understand what I'm saying. I just want her to keep up with all of that, and then some.
Anyways. I now feel that I am making a big mistake! She just turned 3. She's only 3!! But then again, it's only two times a week for 3 hours at a time. That's not so bad. Is it? Even if she was 4, I would then say, oh she's only 4… oh she's only 15… This is tough.
Yesterday morning I asked her if she was looking forward to going to preschool and she yelled, "NO!". Ouch.
She then asked me to make her a toast with Mommy's Nutella. I was in a vulnerable place; she knew I wouldn't deny her wish.
We then proceeded with our conversation:
"Ana, do you think you would be happier to go to preschool if I served you Nutella every morning?".

"Like with a spoon??"

"NO! On toast."

"Oh, Mama… How about Nutella on toast and a Happy Meal for lunch?"

"Oh noooo, Ana. How about I give you the jar of Nutella and a spoon on the first day… Thereafter you'll have it spread on toast."

"No, Mom. I'll have it spread on a waffle! Like you!"

"Deal!"
Bribes – because they work.
I pray that she will be OK. Please tell me that she will be.
Have a jar with me…Nutella makes everything better. Homemade Nutella makes it that much better.
Adapted from Leite's Culinaria
Homemade Nutella
Ingredients
1

cup

hazelnuts

, toasted and skinned

1

bag

(12 ounces) milk chocolate chips

2

tablespoons

canola oil

3

tablespoons

powdered sugar

1/2

teaspoon

pure vanilla extract

1

teaspoon

salt
Instructions
Preheat oven to 350.

Spread the hazelnuts on a baking sheet and put them in the oven for 10 to 12 minutes, or until toasted.

Once they are done, put them in a kitchen towel and start rubbing them so to get all the skin off. If you can find skinned hazelnuts, don't hesitate, just buy them. But if you must skin them yourself, make sure that you have rubbed off most of the skin. You won't be able to get it all off, but give it your best, otherwise your Nutella will taste a bit bitter.

Melt the chocolate in a double boiler (saucepan placed over a pot with simmering water), or in the microwave.

Let completely cool.

In the meantime, put the hazelnuts in a food processor and process until they form a paste.

Add in the canola oil, powdered sugar, vanilla extract, and salt. Mix it all together.

Mix in the melted chocolate and continue to work it until smooth.

Pour the Nutella into a jar and let it cool. It will thicken as it cools.

Cover the jar or grab a spoon and dig in.
Nutrition
Calories:
69
kcal
|
Carbohydrates:
2
g
|
Protein:
1
g
|
Fat:
6
g
|
Sodium:
145
mg
|
Potassium:
51
mg
|
Sugar:
1
g
|
Vitamin C:
0.5
mg
|
Calcium:
9
mg
|
Iron:
0.4
mg
Nutritional info is an estimate and provided as courtesy. Values may vary according to the ingredients and tools used. Please use your preferred nutritional calculator for more detailed info.