Learn how to make a simple and delicious bowl of wholesome oatmeal in under 10 minutes! With just 3 main ingredients, you can make this beloved healthy breakfast staple day after day. WE sure DO!
EASY OATMEAL RECIPE
A creamy bowl of oatmeal is my go-to breakfast about two times a week. I love the taste, the texture, all the variety of mix-ins, and it keeps me full for hours.
Besides all of that, though, Oats are also a healthy grain, they are gluten free, and a great source of vitamins, fiber, and antioxidants. Numerous studies show that oatmeal has many health benefits, including weight loss and a reduced risk of heart disease. I'll take it!
Recently I was at a friend's house and her son asked for a bowl of Oatmeal. To my surprise, she whipped out a packet, popped it in a bowl and into the microwave it went. BUT, I can't judge – not everyone likes to cook. HOWEVER, I did ask if she ever tried making her own Oatmeal. 😆
Her answer was, "WHO has time for that?!". I said, "girl, it takes 5 minutes"… to which she said, "yeah, right!!".
So, to cut to the chase, this is WHY I decided to write a post about HOW TO MAKE OATMEAL. At home. On the stovetop. In five-ish minutes. 😃 Throw away those packets, m'kay?
HOW TO MAKE OATMEAL
Making delicious oatmeal doesn't take a lot; you need a saucepan, rolled oats (not quick-cooking oats!), milk, and water. Cinnamon, vanilla extract, and nutmeg, also help. Honey, sugar, or Maple syrup, too.
Grab a 2-quart saucepan and add in a cup of rolled oats, a cup of milk, a cup of water, and a bit of salt; bring to a boil.
Once boiling, lower heat to a simmer and continue to cook for 4 to 5 minutes, or until thickened. Make sure to stir it around frequently so it doesn't burn on the bottom of your pan.
Remove from heat; transfer to bowls and serve. That's it. That is all there is to it.
But now comes my favorite part; the toppings! 🙌 Oatmeal is like a blank canvas waiting for its pop of color.
First, I add a drizzle of honey.
Then, I add berries, bananas, nuts, chocolate chips, and whatever else I can find in my pantry. Most mornings I'm too frantic to get everyone up and about, so slicing and dicing fruits is out of the question. Berries and nuts is what they get. SOMETIMES I play nice and add a swirl of Nutella in it. SO GOOD!
Lastly, I take a spoon to my warm bowl of oats and gobble it all up in 2 minutes. 🤷‍♀️
Basically, you could eat this perfect oatmeal every day, each day with different toppings, and never get bored.
If you're looking for an even quicker take, try my Berry Baked Oatmeal. You can make it ahead of time and reheat it for a quick breakfast during the week.
HOW TO MAKE OATMEAL IN THE MICROWAVE
Don't want to deal with a saucepan? Cook the oats in your microwave.
First, combine 1/2 cup oats, 1 cup milk, and a pinch of salt in a microwave-safe bowl.
Microwave on HIGH for 2 1/2 to 3 minutes. Stir and serve.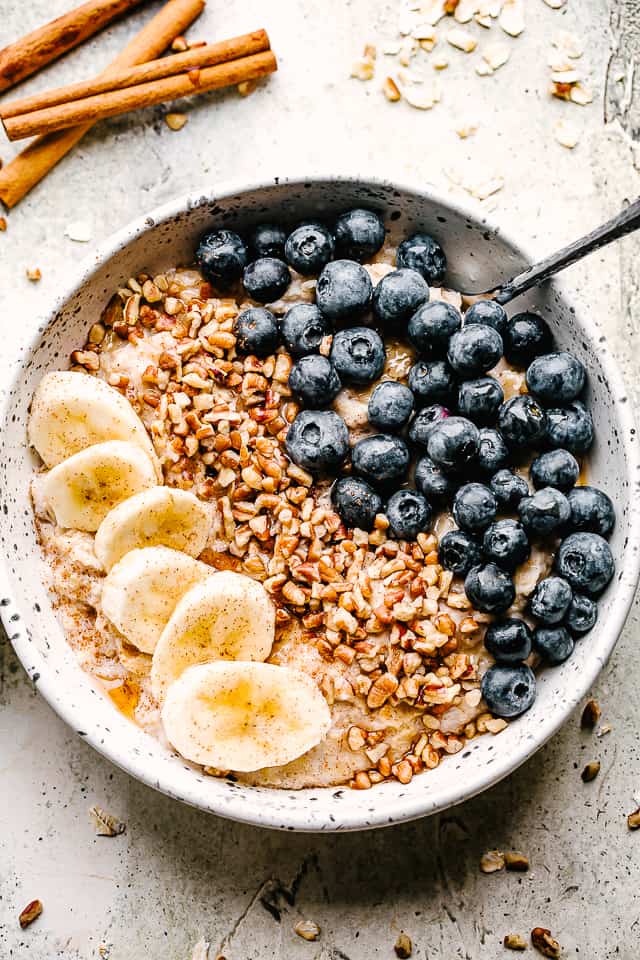 CAN I USE NON-DAIRY MILK?
Absolutely. I love my oats with Almond Milk. With any homemade oatmeal you can use non-dairy milk in place of milk.
CAN I DOUBLE THE RECIPE?
This recipe serves 2, but you can definitely double it to make more. Just use a 2-quart saucepan or bigger.
HOW TO STORE COOKED OATMEAL
Store oatmeal in an airtight container and keep in the fridge for 5 to 6 days.
MORE RECIPES WITH OATS
ENJOY!
TOOLS USED IN THIS RECIPE
How To Make Oatmeal
Learn how to make a simple and delicious bowl of wholesome oatmeal in under 10 minutes!
Ingredients
1

cup

old-fashioned rolled oats

1

cup

milk

1

cup

water

generous pinch of salt

1/2

teaspoon

pure vanilla extract

1/2

teaspoon

ground cinnamon

1/8

teaspoon

ground nutmeg

drizzle of honey or maple syrup

TOPPINGS: chopped pecans

sliced almonds, berries, raisins, bananas, etc...
Instructions
In a 2-quart saucepan combine oats, milk, water, salt, vanilla, cinnamon, and nutmeg; set over high heat and bring to a boil.

Reduce heat to low and simmer, uncovered, for 4 to 5 minutes, or until thickened, stirring occasionally.

Remove oatmeal from heat and pour into two individual bowls.

Add a drizzle of honey or maple syrup.

Add toppings.

Serve.
Notes
WW FREESTYLE POINTS: 7 (toppings not included)
Nutrition
Calories:
233
kcal
|
Carbohydrates:
34
g
|
Protein:
9
g
|
Fat:
7
g
|
Saturated Fat:
3
g
|
Cholesterol:
12
mg
|
Sodium:
61
mg
|
Potassium:
308
mg
|
Fiber:
4
g
|
Sugar:
7
g
|
Vitamin A:
198
IU
|
Calcium:
159
mg
|
Iron:
2
mg
|
Net Carbs:
30
g
Nutritional info is an estimate and provided as courtesy. Values may vary according to the ingredients and tools used. Please use your preferred nutritional calculator for more detailed info.
Categories: