Baked Pork Tenderloin with Apples balances the savory flavor of roasted pork with the bright sweetness of apples and the tangy zest of a mustard glaze. With only 5 minutes of prep time, this delicious and healthy dinner is quick and easy, too!
Baked Pork Tenderloin With Apples
Apple season is almost here, and you'll be glad to have this pork tenderloin with apples recipe in your back pocket when you return from the orchard with a bag of fresh-picked apples. This dish isn't just for the fall, though. Baked to tender perfection in the oven, this pork can be made any time of year and with any type of apple.
Pork tenderloin is lean and very tender, just like the name suggests. Its thinness makes it quick to cook but also quick to dry out, which is where the sumptuous glaze comes in. Packed with flavor, the sweet and tangy apple mustard glaze keeps the pork juicy and tender enough to fall apart in your mouth.
Looking for more ways to cook pork tenderloin? Try this Instant Pot Pork Tenderloin or my Juicy Grilled Pork Tenderloin. Honey Garlic Roast Pork Tenderloin is a great option too!
Why We Love This Honey Mustard Pork Tenderloin
Here are a few reasons this pork tenderloin recipe has become a favorite in our house.
Quick Cooking: Pork tenderloin's thinness ensures a swift cooking time.
Lean and Tender: Just as its name suggests, this cut is both low in fat and supremely tender.
Moisture Lock: The sweet and tangy apple mustard glaze not only infuses flavor but also keeps the pork from drying out, ensuring a juicy bite every time.
Melt-in-Your-Mouth: With the glaze's help, the pork becomes so tender it practically falls apart in your mouth.
What You'll Need
This honey mustard pork tenderloin recipe combines various fresh and healthy ingredients into one irresistible dish. See the recipe card below for specific amounts.
Pork Tenderloin: I do not recommend making a substitution here.
Salt & Pepper
Onion: Any bulb onion will work.
Apples: Sliced into wedges. Keep the vitamin-packed peels on for an added boost of fiber.
Apple Juice & Apple Cider Vinegar – Using both adds a balance of sweet and tangy apple flavor.
Dijon Mustard – Used to create the apple mustard glaze.
Sage: Chop the sage to bring out its flavor.
Can I Use A Different Cut of Pork?
Not all cuts of pork are created equal. Different cuts need to be cooked and prepared differently, so it's not a good idea to trade one for another. While pork loin and pork tenderloin might sound similar, they are not the same thing. Pork tenderloin is a much thinner cut of meat, so using pork loin in this recipe will lead to an undercooked dish.
How To Make Pork Tenderloin with Apples
This pork tenderloin recipe makes the perfect weeknight dinner but it's also fancy enough for special occasions too.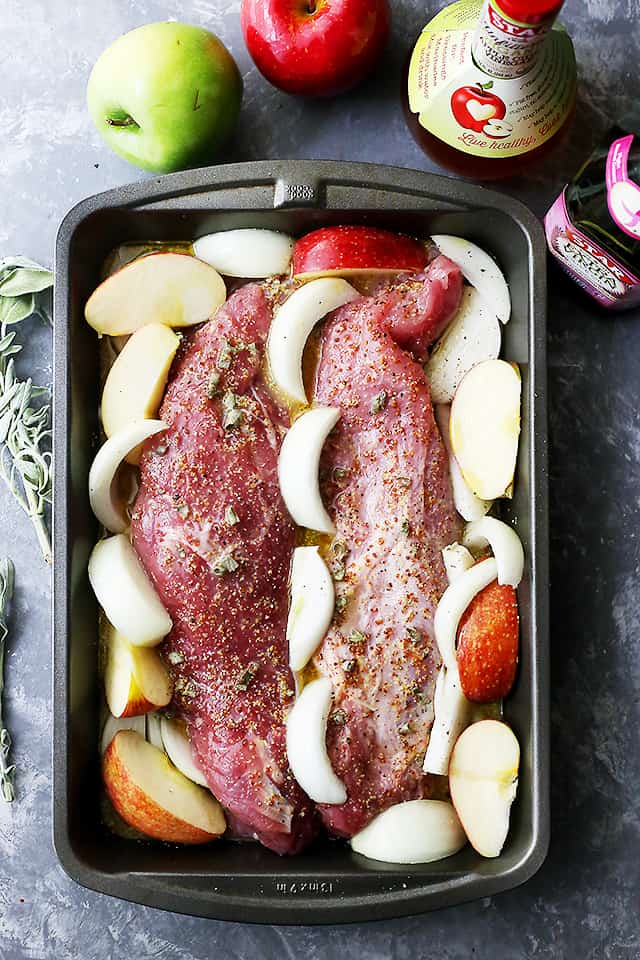 Preheat Oven: Preheat the oven to 350˚F.
Prep for Cooking: Chop the sage and cut the apples and onions both into 1-inch wedges. Grease a roasting pan with a thin layer of cooking spray.
Season the Pork: Sprinkle salt and freshly ground pepper over your pork tenderloin and then transfer it into the greased pan. Arrange the onion and apple wedges around the meat, then put the roasting pan aside.
Make the Glaze: Whisk the apple juice, apple cider vinegar and mustard together in a mixing bowl until combined. Stir in the chopped sage. Pour the mixture over the meat evenly.
Cook: Cover the roasting pan with aluminum foil. Roast it in the preheated oven for 20 minutes with the foil on, then remove the foil and put the pan back in the oven.
Baste the Pork: Over the next 15-20 minutes, use a long-handled spoon to baste the pork every 5 minutes. Do not remove the pan from the oven. Each time you baste the meat, check the internal temperature of the pork with a food thermometer. When the internal temperature gets up to 145˚F, the pork has cooked through.
Let It Rest: Take the pan out of the oven and move the meat onto a cutting board. The meat needs to rest for at least 10 minutes before it's cut to lock in the juices.
Serve: Cut the roasted pork tenderloin into half-inch slices. Serve it along with the apples and onions from the pan. Pour some of the glaze from the pan over each serving to maximize the flavor.
Tips & Tricks
This oven-roasted pork tenderloin with apples is a wholesome dinner that's easy enough for a hectic weeknight. These quick tips will help you get the best results every time.
Score the Pork: Creating scores, or small cuts, on the top of the tenderloin before putting it in the pan helps to tenderize the meat. It also helps the pork to absorb more flavor from the glaze.
Let It Rest: Not only is it important to let the meat rest for 10 minutes after you cook it, but it's also helpful to let it sit beforehand. The pork cooks better if it's not cold when it goes into the oven, and giving it time to soak in the marinade can give the meat a stronger flavor.
Make It Your Own: Choose to use green apples for more tartness or red apples for a sweeter flavor. Red onion will be a bit spicier, while white onion is usually milder. Whole grain dijon mustard will give the dish a sharper edge than the softer flavor of ground dijon. You can experiment with different ingredients until you find the perfect combination.
Serving Suggestions
Baked pork tenderloin with apple mustard glaze is great when paired with other autumn favorites like Sweet Potato Hash with Onions and Feta or this thick and creamy Butternut Squash Soup. A crisp and refreshing Broccoli Apple Salad would also tie in well, particularly if you're looking to use up that big bag of fresh-picked apples!
How to Store and Reheat Leftovers
Fridge: Pork tenderloin leftovers should be kept in the fridge for no more than 4 days. Any container that is used to store it should be airtight so that the meat doesn't dry out.
To Reheat: You can reheat the pork over the stove, in the oven, or in a covered container in the microwave. It's helpful to save some of the juices from the pan so you can drizzle them over the pork before reheating.
To Freeze: Pork tenderloin will keep its flavor and texture well for 3 months in the freezer. The trick to making it taste fresh again is to whip up some more of the glaze and pour it on the meat before you warm it up.
Baked Pork Tenderloin with Apples
Baked Pork Tenderloin and Apples balances the savory flavor of roasted pork with the bright sweetness of apples and the tangy zest of a mustard glaze. With only 5 minutes of prep time, this delicious and healthy dinner is quick and easy, too!
Instructions
Preheat the oven to 350˚F.

Lightly grease a roasting pan with cooking spray; season the pork tenderloin with salt and fresh ground pepper and transfer it to the roasting pan.

Arrange wedges of onions and apples around the meat and set aside.

In a mixing bowl, combine apple juice, apple cider vinegar, and mustard; whisk until thoroughly combined. Stir in the sage.

Pour the apple-dijon mixture over the meat. Cover with foil and roast for 20 minutes.

Remove the foil and put the pork back in the oven.

Continue to cook for 15 to 20 minutes, basting the meat every 5 minutes with the juices in the pan. Use an instant read meat thermometer to check for doneness – pork is cooked through when its internal temperature reaches 145˚F.

Remove from oven and transfer the pork to a cutting board; let rest for 5 to 10 minutes before cutting.

Cut and serve with the apples and onions.
Notes
Even Cooking: To ensure even cooking, allow the pork tenderloin to come to room temperature before baking.
Use a Meat Thermometer: To avoid overcooking, use a meat thermometer. Pork tenderloin is best when cooked to an internal temperature of 145°F (63°C) followed by a 5-minute rest.
Searing Before Baking: For added flavor, consider searing the tenderloin on all sides in a hot skillet before baking. This creates a flavorful crust.
Let it Rest: Once baked, let the pork tenderloin rest for at least 5 to 10 minutes before slicing. This allows the juices to redistribute, resulting in juicier meat.
Thin Slices: When serving, slice the pork tenderloin thinly against the grain for the most tender bite.
Reserve Some Glaze: If you can, set aside a portion of your glaze before cooking. This way, you can drizzle fresh glaze over the tenderloin when serving for added flavor.
To Store: Refrigerate pork in an airtight container for no more than 4 days.
To Freeze: Wrap pork tightly in plastic wrap or tin foil and freeze for up to 3 months.
Nutrition
Serving:
6
Ounces
|
Calories:
226
kcal
|
Carbohydrates:
11
g
|
Protein:
32
g
|
Fat:
6
g
|
Saturated Fat:
2
g
|
Polyunsaturated Fat:
1
g
|
Monounsaturated Fat:
2
g
|
Trans Fat:
0.1
g
|
Cholesterol:
98
mg
|
Sodium:
108
mg
|
Potassium:
691
mg
|
Fiber:
2
g
|
Sugar:
8
g
|
Vitamin A:
57
IU
|
Vitamin C:
3
mg
|
Calcium:
22
mg
|
Iron:
2
mg
|
Net Carbs:
9
g
Nutritional info is an estimate and provided as courtesy. Values may vary according to the ingredients and tools used. Please use your preferred nutritional calculator for more detailed info.
Categories:
More Hearty Dinner Ideas
Pork tenderloin isn't just an autumn dish. If you want the tender juiciness of this cut but don't have any apple products on hand, try one of the recipes below.