Experience corn on the cob like never before with our Air Fryer Corn on the Cob, perfectly roasted to capture its natural sweetness and tender deliciousness. Finished with a drizzle of zesty and garlicky lime butter sauce, every bite combines the creamy richness of butter with a tangy lime twist, making this corn an irresistible summer favorite!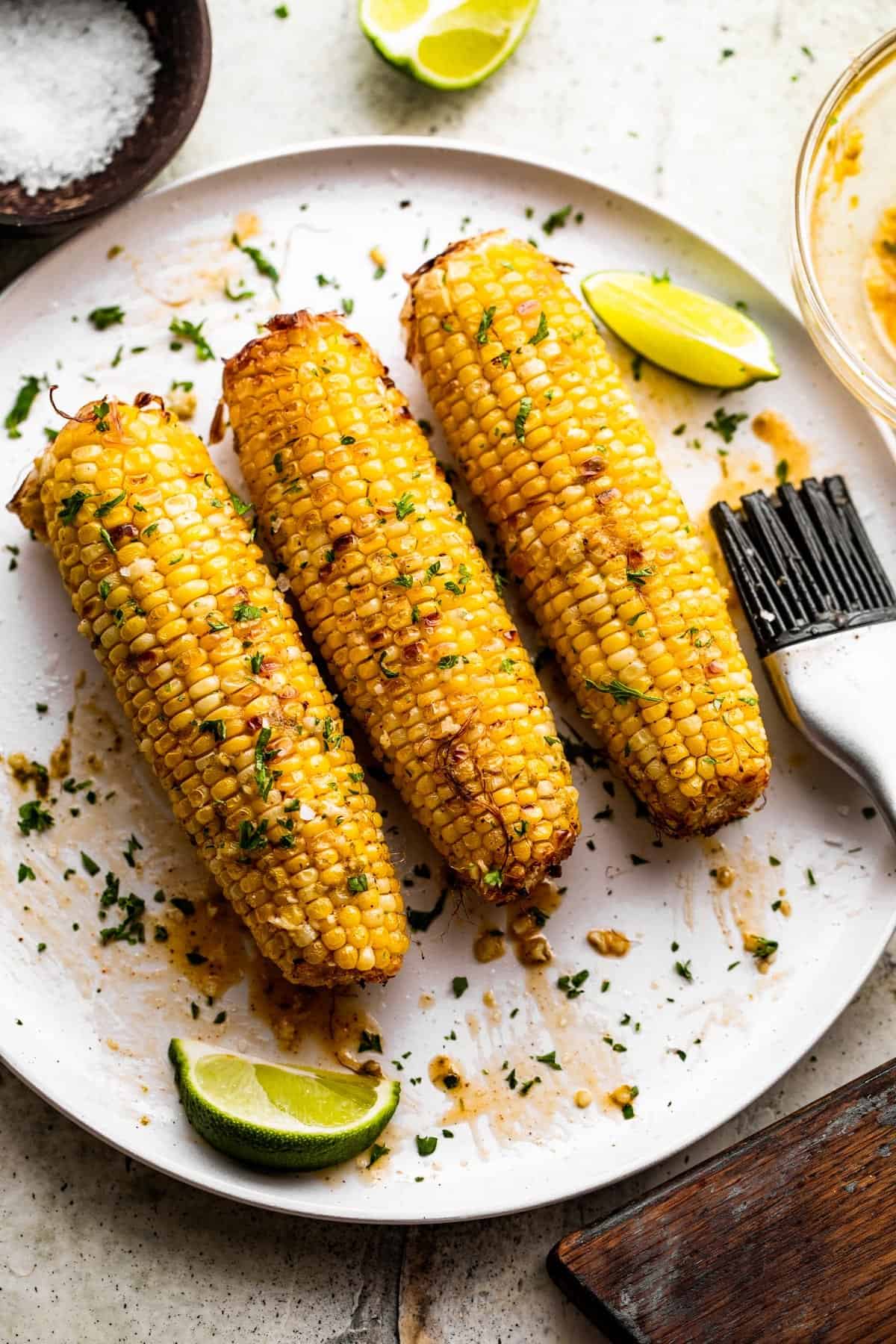 Buttery Air Fryer Corn on the Cob
What could be more perfect than fresh corn on the cob, especially when it's in season? Exactly! Very few things compare to corn on the cob during the hot summer days. Buttery, crunchy, sweet, yet salty, this wonderful summer treat makes for a perfect side dish or even a snack.
Typically, corn on the cob is cooked briefly in boiling water before serving with melted butter and a sprinkling of salt. It's truly great that way! But! This easy roasting method for air fryer corn on the cob is quite special, too. So is the fabulous lime-butter sauce that we'll brush on top, and, thanks to the incredible convection power of air-frying, this dish is incredibly quick and so, so simple to make. It's even simpler than my amazing Grilled Corn On The Cob!
Not a fan of eating corn off the cob? No worries! It can be a little messy, but air-fried corn doesn't have to stay on the cob. You can also just cut off the kernels and serve them as a side dish or in recipes – think Zucchini Corn Fritters, Fiesta Rice, or Shrimp Corn Chowder. Tender, caramelized corn will add an extra depth of flavor to any dish.
How To Cook Corn On The Cob In The Air Fryer
So, just how do you air-fry whole ears of corn? Here is my easy cooking method, and I guarantee that if you give it a shot, you'll find yourself making this repeatedly! You can choose to make just the corn or make the corn and the meltingly scrumptious butter sauce as well. Either way, this recipe will become a favorite!
Ingredients For Corn On The Cob
Corn: Prep your fresh corn by removing the husks and silks.
Oil: Any high-heat cooking oil is fine.
Salt: Half a teaspoon, or to taste.
Ingredients For the Butter Sauce
Butter: Melt the butter before using it.
Garlic: Mince the garlic cloves, or press them with a garlic press.
Lime Zest and Juice: Make sure not to get any of the bitter white pith in the lime zest – just the green part of the rind. If you prefer, you can just use juice and leave out the zest, but the flavor will be slightly less intense.
Seasonings: Chili powder, salt, and pepper add the perfect trio of flavors to the sauce.
Cilantro: Chopped cilantro is the perfect garnish – unless you don't like cilantro! In that case, feel free to leave it out, or substitute fresh parsley or chives.
Lime Wedges: For serving.
Directions
Prep the Air Fryer and the Corn. To begin, preheat your air fryer to 400˚F. Some cooks skip the preheating step, but I think it really helps with most air-fryer recipes. While it preheats, rub each husked and de-silked ear of corn with oil, and sprinkle all over with salt.
Air-Fry the Corn. Line up the corn in your air fryer basket. Depending on the size of the corn and the air fryer, you may be able to fit 2 to 4 ears at a time. Mine fits 3. Just don't crowd the corn, and be ready to cook in batches if needed. Cook the corn for about 14 minutes total, stopping halfway through to flip the corn over.
Make the Sauce. While the corn is cooking, make the butter sauce (if you're using it). Melt the butter and add the remaining sauce ingredients to the bowl. Whisk well to combine.
Serve. When the corn and butter sauce are ready, take the corn out of the air fryer and put it on a serving plate. Brush with the butter sauce, garnish with cilantro, and serve with lime wedges.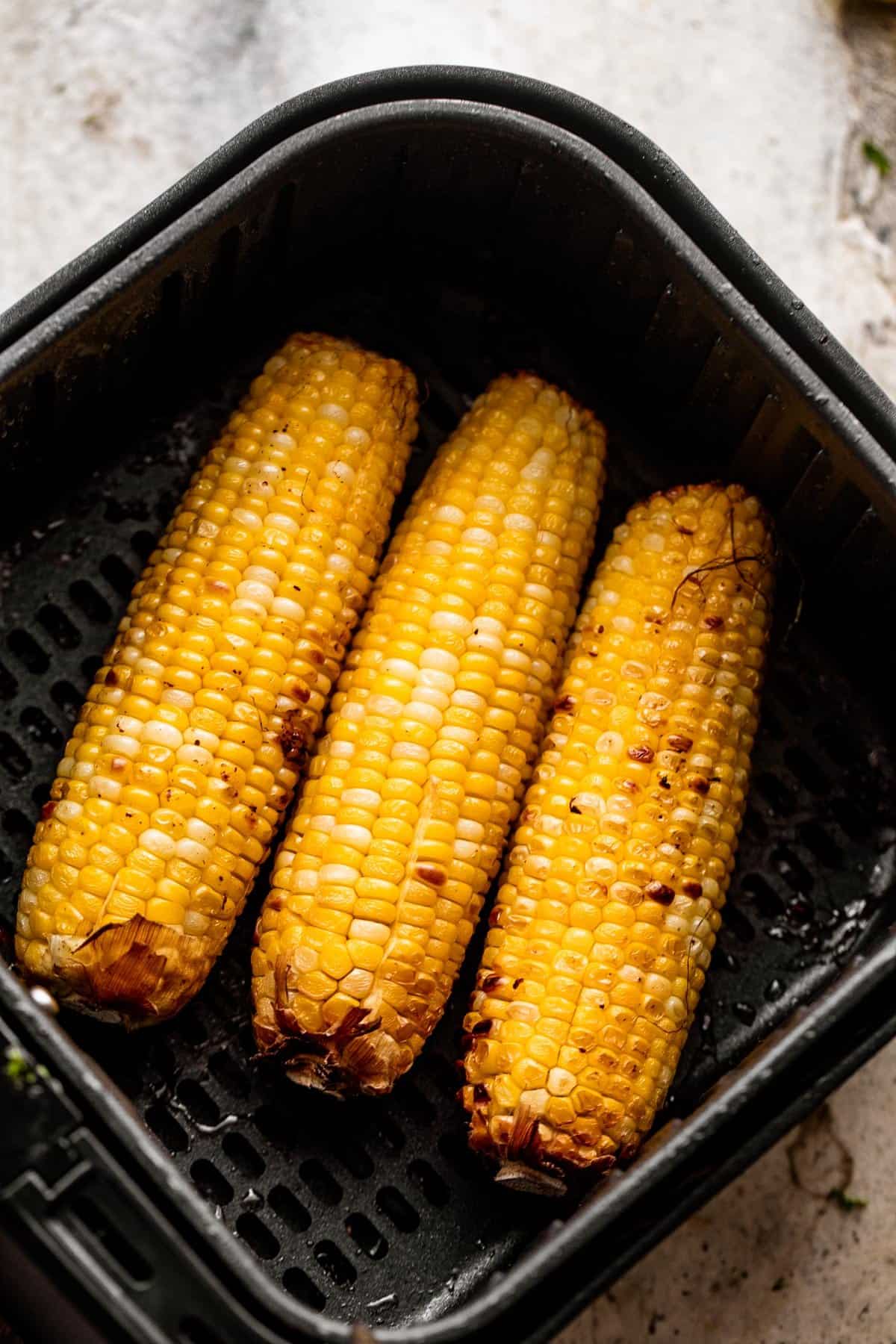 How Do You Pick the Best Corn?
Choosing fresh corn is very easy, once you understand what to look for. If buying fresh corn is new to you, check out these helpful tips for finding the best ears available.
The Husk: Also known as the "shuck," this is the outer, leafy "wrapping" around each ear of corn. The freshest corn will still have green husks tight against the ear itself. If the husk is yellowing, faded, spotted, or loosened, it's not as fresh.
The Tassel: The strands of cornsilk poking out of the tip of the corn should feel fresh and range in color from yellow to brown. Dry, black tassels are a signal that the corn is not very fresh. If the tassel seems spoiled (has a bad smell or squishy texture), avoid that ear of corn.
The Feel: A good ear of corn is firm, with no soft spots or vacant areas with missing kernels.
Can You Air Fry Frozen Corn on the Cob?
Definitely! Fresh corn will give the best result, but frozen is also good if you thaw the corn, pat it dry, and follow the recipe as written. If you cook it from frozen, you'll need to increase the cooking time.
Tips for the Best Air-Fried Corn
This easy side dish is a fantastic way to use fresh, in-season corn and get the most out of your air fryer. These handy tips will ensure that it turns out tip-top every time.
Non-Aerosol Oil: When you choose oil for your air-fryer recipes, some manufacturers recommend using non-aerosol options. Aerosol sprays can damage the air fryer basket over time.
Cook in Batches, as Needed: A good rule of thumb is to make sure the pieces of food in your air fryer aren't touching when they cook. They need a little space between them for even, crispy cooking. If you can't get everything into the basket without crowding, it's best to cook in two (or more) separate batches.
Check the Time: Since every air fryer is a little different, make sure to keep an eye on your corn (and anything else you cook in the air fryer). It may need a little extra time, or it may get done faster than the recipe suggests.
Serving Suggestions
Corn is always welcome at my house, and it goes with just about anything: pork chops, chicken, vegetarian dishes, even pasta. However, I truly love to serve corn with easy, summery, barbecue classics like these:
Ribs: Nothing beats a plate of sticky ribs, unless it's a plate of sticky ribs with fresh roasted sweet corn! Try these Easy Baby Back BBQ Ribs and watch your family devour them.
Pasta Salad: A colorful pasta salad is filling, healthy, and easy to put together. This Potluck Pasta Salad with Dijon Vinaigrette is a light, veggie-forward favorite.
Baked Beans: Love baked beans? Me too! Their sweet, syrupy sauce is just about irresistible. This Quick Baked Beans with Smoked Sausage recipe delivers a perfectly balanced version of classic baked beans in less time.
Storing and Reheating
To Store: Leftover corn can be stored on or off the cob. Either way, place it in an airtight container or food storage bag, and keep it in the fridge for 3 to 5 days.
To Reheat: Preheat your air fryer to 400˚F. Add in the corn, and cook it for three minutes or until heated through. You can also reheat in the microwave if desired.
To Freeze: Cut the kernels off the cob. Pro tip: place the corn on top of the hole of a Bundt pan, and cut all around with a sharp knife. The Bundt pan will catch the kernels as they fall. Place the corn kernels in a freezer bag and seal it. Freeze the corn for up to 3 months.
ENJOY!
Air Fryer Corn on the Cob
An easy and quick Air Fryer Corn on the Cob recipe coated with a delicious garlicky lime butter sauce.
Ingredients
For the Butter Sauce:
2

tablespoons

butter,

melted

1 to 2

cloves

garlic,

minced

1

teaspoon

lime zest

1

tablespoon

lime juice

¼

teaspoon

chili powder,

or to taste

fresh ground black pepper,

to taste

chopped fresh cilantro,

for garnish

lime wedges,

for serving
Instructions
Preheat air fryer to 400˚F.

Rub the ears of corn with oil and season with salt.

Place 2 to 4 ears of corn in the air fryer basket and cook for 14 minutes, rotating them halfway through cooking. Do not crowd the basket; cook in batches if your air fryer isn't big enough.

In the meantime, melt the butter; to the melted butter, add the garlic, lime zest, lime juice, chili powder, and black pepper; whisk to combine.

Remove corn from air fryer basket and transfer to a serving plate.

Brush with the butter sauce. Taste and add more salt if needed.

Garnish with cilantro and serve with lime wedges.
Notes
Preparation is Key: Before placing the corn in the air fryer, brush it with a little oil or melted butter. This not only prevents the corn from drying out but also helps in achieving a nice golden color.
No Overcrowding: Even if you're tempted to fit as many cobs as possible into the fryer, don't do it. Air circulation is vital for even cooking, and overcrowded cobs won't cook evenly.
Regularly Turn: Halfway through the cooking process, make sure to turn the corn. This ensures all sides get evenly crisped.
Adjust Temperature: If you notice the corn browning too quickly but still feeling undercooked in the center, reduce the temperature and extend the cooking time.
Freshness Matters: Always use fresh corn for the best results. Fresh corn will be sweet, juicy, and cook perfectly in the air fryer.
Reheating: If you have leftovers, the air fryer is excellent for reheating corn on the cob. It will get crispy again without becoming overly dry.
Nutrition
Calories:
148
kcal
|
Carbohydrates:
18
g
|
Protein:
3
g
|
Fat:
9
g
|
Saturated Fat:
4
g
|
Polyunsaturated Fat:
1
g
|
Monounsaturated Fat:
3
g
|
Trans Fat:
1
g
|
Cholesterol:
15
mg
|
Sodium:
351
mg
|
Potassium:
255
mg
|
Fiber:
2
g
|
Sugar:
6
g
|
Vitamin A:
382
IU
|
Vitamin C:
8
mg
|
Calcium:
6
mg
|
Iron:
1
mg
Nutritional info is an estimate and provided as courtesy. Values may vary according to the ingredients and tools used. Please use your preferred nutritional calculator for more detailed info.
Categories:
More Air Fryer Side Dishes