Simple stovetop baked beans are loaded with mouthwatering flavor, thanks to crispy bacon, andouille sausage, and a medley of brown sugar, molasses, spicy mustard, and apple cider vinegar. These Quick Baked Beans with Smoked Sausage are a guaranteed hit!
The Best Baked Beans Ever!
Baked beans are one of those classic American dishes that are crave-able, drool-worthy, and definitely worth making. The combination of tender white beans with a thick, barbecue-esque sauce and salty bacon can't be beat!
But, I have to admit, taking the time to slowly bake beans from scratch can be a challenge for busy cooks. That's why I adore this easy recipe for quick "baked" beans on the stove. They're so easy, and so good!
To get a head start on baking these beans, I use canned baked beans as a base for my recipe. ?‍♀️The beans are already cooked, tender, and seasoned, so all that's left to do is make a fantastic sauce mixture, brown some bacon and sausage, and let the flavors meld in a brief cooking time. ?
While you definitely can bake these in your oven, I find that simply heating them on the stove results in perfectly flavored, tender beans.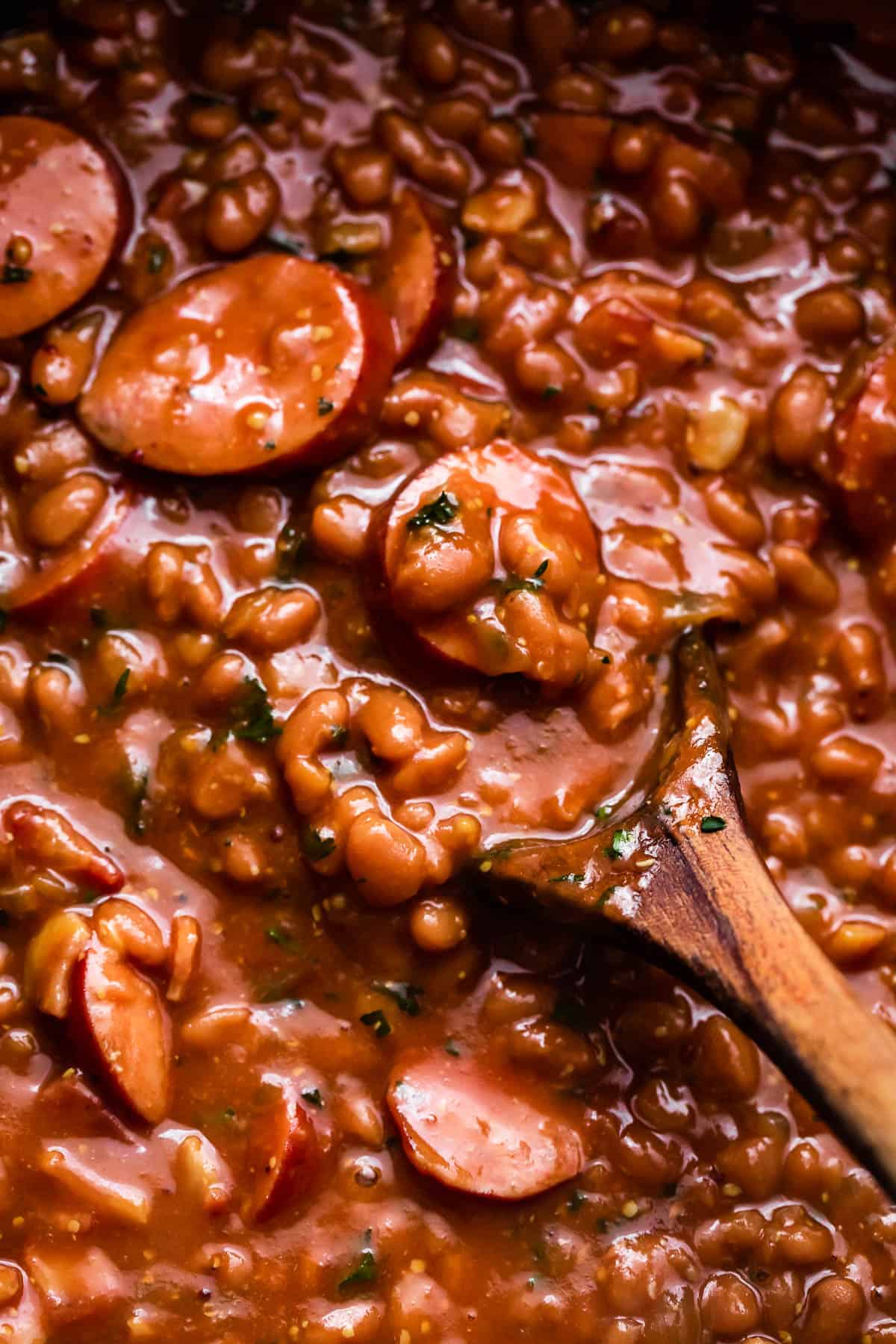 Recipe Ingredients
So what will you need to make the best baked beans ever? Let's take a closer look at our list of ingredients. Almost all of them are ordinary pantry staples that you probably have on hand. Told you guys this recipe was easy!
Bacon: Instead of laying the bacon across the top of the baked beans, we'll be dicing it and frying it crispy, to mix into the beans.
Onion: I usually use a large yellow onion, but you could substitute white, red, or sweet onion—whatever you have on hand.
Garlic: Minced fresh garlic is great, or you could substitute garlic powder for a quicker and easier recipe.
Sausage: Andouille sausage is my go-to, but you could use whatever pork sausage links you prefer.
Canned Baked Beans: I use original flavor baked beans, but you can use whichever flavor you like or have on hand!
Salt and Pepper
Ketchup: The base of the sauce mixture we'll be adding is plain ketchup. To keep the sugar content down, try using unsweetened or sugar-free ketchup.
Brown Sugar: Feel free to replace this with raw sugar, maple syrup, or even honey.
Tomato Paste: Make sure you use tomato paste and not sauce, which is thinner and less concentrated than tomato paste.
Molasses: Along with the brown sugar, molasses adds sweetness, but also complexity and depth.
Spicy Mustard: A little bit of spicy brown mustard goes perfectly with the other sauce ingredients and gives a tangy, flavorful edge.
Apple Cider Vinegar: To cut the richness, you'll need a little bit of apple cider vinegar.
Hot Sauce: This is optional, but if you'd like a hint of heat, add some of your favorite hot sauce!
What kind of beans should I use for baked beans?
Honestly, you can use whatever you like! This recipe is great with any flavor of canned baked beans, or you could use canned pork and beans, canned ranch beans, or even canned chili beans for a more Southwestern spin.
I prefer baked beans because the flavors tend to meld easily, and the soft white beans are already very tender, thus no need the whole day to cook 'em.
How to Make Quick Baked Beans with Smoked Sausage
Before simmering the beans in the sauce mixture, it's important to cook the bacon until it's good and crispy, and the sausage cooked just until it's nicely browned. This will keep the bacon and sausage from being too limp, fatty, and mushy in the finished dish!
Cook the Bacon and Onions. Set a Dutch oven or a large pot over medium heat, and let it warm up. When the pot is hot, add the diced bacon, and cook it until the bacon is crispy. Use a slotted spoon to take the bacon out of the pot and set it aside. Add the onions to the bacon grease in the pot, and cook for 2 minutes.
Add the Garlic and Sausage. After 2 minutes, stir in the garlic and cook it for about 15 seconds, to release the fragrance of the garlic. Add the sausage slices to the pot, and cook until browned on all sides, about 6 minutes.
Add the Remaining Ingredients. Stir in the beans, and season the mixture with salt and pepper. Add the ketchup, brown sugar, tomato paste, molasses, spicy mustard, apple cider vinegar, and hot sauce (if using).
Stir the mixture until everything is well-incorporated, and then add the bacon and stir again. Cook for 5 to 8 minutes more, or until the beans are hot and the sauce has thickened slightly.
Enjoy! Remove the beans from the heat, taste them, and adjust the seasonings if needed. Serve warm.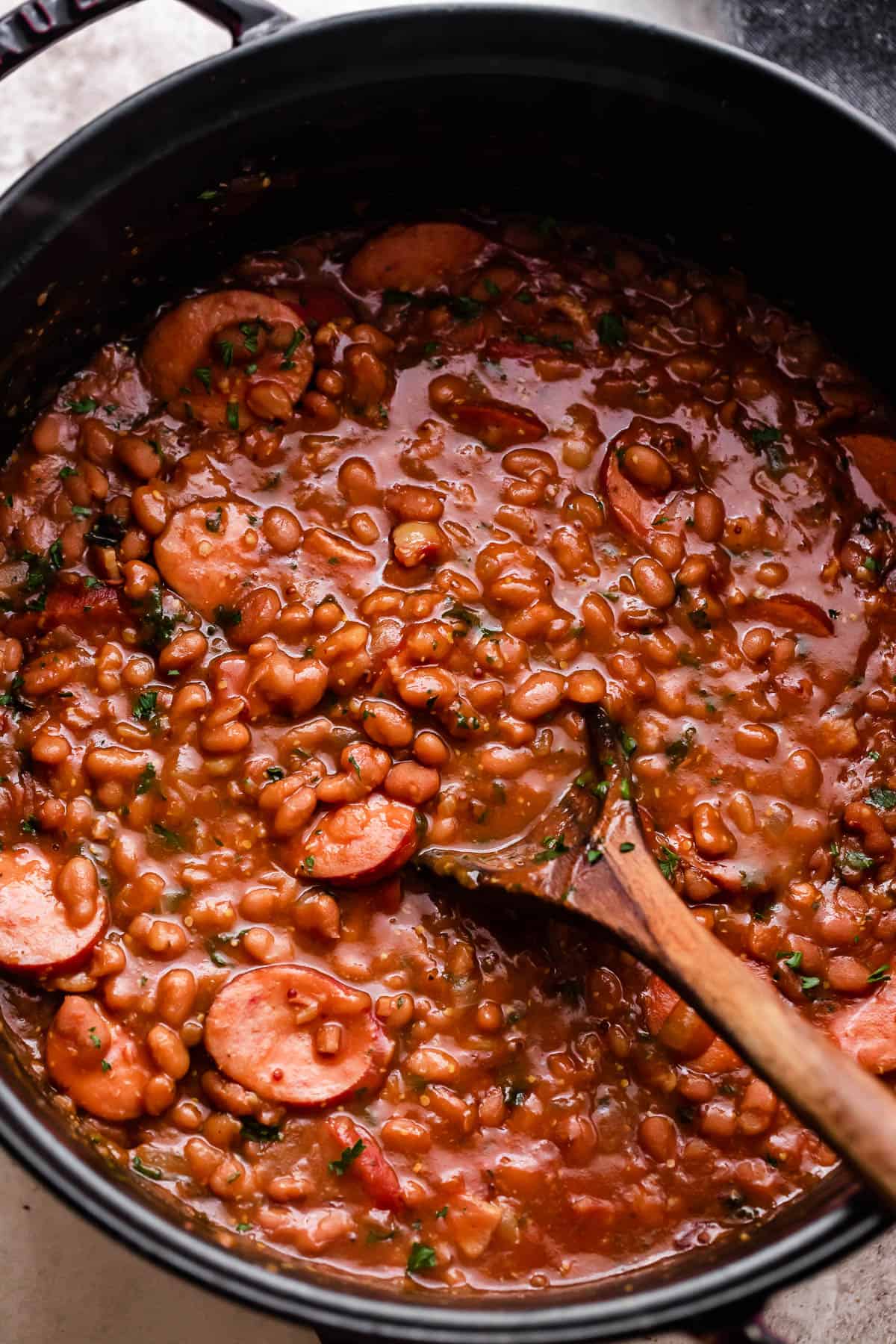 Tips for Success
To make these quick baked beans the best they can be, have a look at these helpful tips! You can use one or more of these easy ideas to tweak the recipe to your tastes. Enjoy!
Sweeter Beans: For a sweeter dish, omit the mustard from the recipe. You won't have to add any sugar, and the dish will be a little bit lighter and sweeter.
Bake the Beans: You can also fry the bacon, sausage, garlic, and onions lightly as directed, but then mix the baked beans together in a greased baking dish. Bake at 350°F until heated through and thickened, about 1 hour.
Mash Some of the Beans: To give the beans a heartier texture, try taking out one cup of the beans and mashing them well, and then stirring the mashed beans back into the rest.
Serving Suggestions
Quick baked beans with smoked sausage can be served as a main course, or you can make them as a side dish for a big meal. Here are some great, easy recipes to make along with baked beans that are sure to please!
How to Store and Reheat Leftover Beans
To refrigerate leftover baked beans, pack them into airtight containers and refrigerate for 3 to 4 days.
To freeze, pack into airtight freezer containers or freezer bags, and keep in the freezer for up to 2 months. Thaw in the refrigerator before reheating.
Reheat in a covered oven-proof dish in the oven, at 350°F, until hot. You can also microwave portions for 30 seconds at a time, stirring between each heating, until hot all the way through.
ENJOY!
Baked Beans with Smoked Sausage
Simple stovetop beans are loaded with amazing flavor, thanks to crispy bacon, andouille sausage, and a medley of brown sugar, molasses, spicy mustard, and apple cider vinegar.
Ingredients
6

slices

thick cut bacon,

diced

1

large

yellow onion,

diced

2

cloves

garlic

minced

1

(12 to 14 ounces)

smoked pork sausage, like Andouille, sliced

2

cans (28 ounces each)

Original Baked Beans

½

teaspoon

salt

½

teaspoon

fresh ground black pepper

3

tablespoons

light brown sugar

3

tablespoons

reduced sugar ketchup

2

tablespoons

tomato paste

1

tablespoon

molasses

1

tablespoon

stone ground mustard

1

tablespoon

apple cider vinegar

1

teaspoon

hot sauce,

optional
Instructions
Set a dutch oven or a large pot over medium heat and let it warm up.

When hot, add the diced bacon and cook until crispy.

Remove the bacon with a slotted spoon; do not discard bacon grease.

Add onions to the bacon grease and cook for 2 minutes.

Stir in garlic and cook for 15 seconds.

Add sliced sausage; continue to cook for 6 minutes, or until browned on all sides.

Stir in the beans and season with salt and pepper.

Add ketchup, brown sugar, tomato paste, molasses, mustard, vinegar, and hot sauce; mix and stir until well incorporated.

Add bacon back into the pot and continue cooking for 5 to 8 minutes, or until hot and thickened.

Remove from heat.

Taste for seasonings and adjust accordingly.

Serve.
Nutrition
Serving:
6
ounces
|
Calories:
407
kcal
|
Carbohydrates:
40
g
|
Protein:
18
g
|
Fat:
21
g
|
Saturated Fat:
7
g
|
Polyunsaturated Fat:
3
g
|
Monounsaturated Fat:
9
g
|
Trans Fat:
1
g
|
Cholesterol:
54
mg
|
Sodium:
1336
mg
|
Potassium:
729
mg
|
Fiber:
9
g
|
Sugar:
6
g
|
Vitamin A:
73
IU
|
Vitamin C:
6
mg
|
Calcium:
104
mg
|
Iron:
4
mg
|
Net Carbs:
31
g
Nutritional info is an estimate and provided as courtesy. Values may vary according to the ingredients and tools used. Please use your preferred nutritional calculator for more detailed info.
Categories:
More Homestyle Side Dishes