This simple White Bean Soup, packed with fresh vegetables, brings warmth and comfort throughout the cold season. It's also ideal for freezing, making it a convenient option to store for future cozy meals!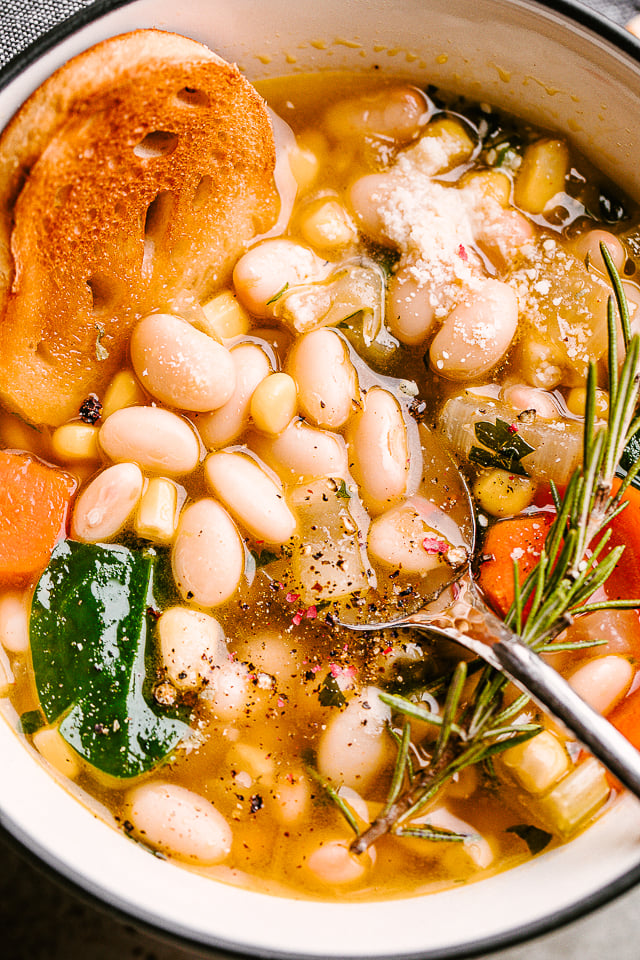 Bean Soup Recipe
There's nothing more satisfying than cozying up with a warm, hearty bowl of soup! If you have already made my Italian Sausage Soup with Kale and Beans, you'd know what I'm talking about. But today, I'm sharing one of my absolute favorite soup recipes that never fails to bring comfort and warmth – this wonderful Bean Soup. White Bean Soup, a classic dish, is incredibly delicious and versatile. It is a powerhouse of flavors and nutrients, packed with fresh vegetables, protein, fiber, and vitamins. The best part is that this is one of the easiest soups you can make. Quick and straightforward prep work makes this bean soup a perfect meal for any night of the week. I often make it in large portions and refrigerate it for easy leftovers. You can also freeze the soup for up to three months for quick dinners in the future.
Why You'll Love This Soup
Versatile: This classic comfort dish can be tailored to your tastes and is packed with good-for-you ingredients.
Nutritious: Filled with fresh vegetables and a tasty broth, it's a healthy option that doesn't skimp on flavor.
Easy to Make: The recipe is as simple to put together as it is tasty, making it accessible to cooks of all skill levels.
Great for Leftovers: You can make it in large portions to refrigerate or freeze it for later.
Vegetarian-Friendly: Made with ingredients that are suitable for vegetarians, it's a dish that can be enjoyed by all.
Hearty and Filling: With healthy add-ins like Great Northern Beans, corn, and fresh baby spinach, this soup will satisfy everyone at the table.
How To Make White Bean Soup
This easy White Bean Soup offers a warm and comforting treat for the winter months. Plus, it's perfect for freezing so that you can have convenient, cozy meals ready for later! Remember to scroll down to the recipe card to get complete recipe information.
Ingredients For Bean Soup
Olive Oil & Butter
Onions, Garlic, Carrots, and Celery
Fresh Parsley, Dried Oregano, & Bay Leaf
Vegetable or Chicken Broth
Great Northern Beans, Corn, & Fresh Baby Spinach
Grated parmesan cheese & Toasted Bread for serving
Directions
Sauté the Aromatics: Start by heating olive oil and butter in a large pot over medium heat. Add onions, carrots, celery, and garlic, sautéing until they are soft and fragrant.
Stir in the Ingredients and Cook: Add the broth, white beans, and herbs to the pot. Bring the mixture to a boil, then reduce the heat and let it simmer for about 10 minutes, allowing the flavors to meld together.
Add Greens: For a touch of green and a boost of nutrients, stir in fresh spinach or kale and cook until wilted.
Enjoy! Season with salt and pepper to taste. Serve hot, garnished with a sprinkle of Parmesan cheese.
What Beans To Use For This Soup
Great Northern Beans are best for this soup because they absorb the flavor of all the other ingredients. If you're in a pinch and need a different kind of bean, other white beans like cannellini beans or navy beans will work too. Also, to make things easier, I use canned beans for this recipe. Just drain and rinse the beans and add them to your soup.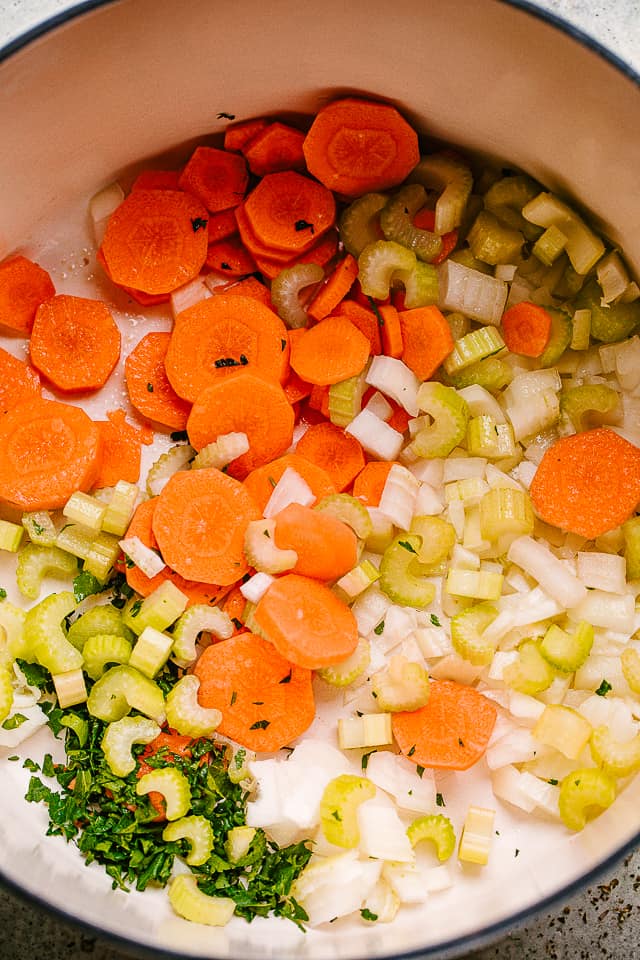 Tips And Variations For White Bean Soup
One of the things I love about this bean soup is how flexible it is. It can be easily customized to your liking or made to satisfy your current cravings. Here are some ideas you can use:
Bean Type: Start with the suggested Great Northern Beans but don't be afraid to experiment with different types of beans to find the flavor and texture you prefer. Canned beans are convenient, but dried beans can also work when properly soaked and cooked.
Herbs and Spices: Adjust herbs and spices to match your flavor preferences.
Avoid Overcooking: Be mindful of the cooking time, especially with vegetables and beans, to prevent them from getting mushy.
Broth Choice: Using homemade or good-quality broth can enhance the soup's flavor significantly.
Adjusting Thickness: Add a bit of water or more broth if the soup is too thick for you. For a creamy texture, blend half of the soup and mix it back in.
Adding Fresh Options: Include zucchini, mushrooms, tomatoes, or rosemary if you want something extra in the soup. If you have vegetables that have been in the refrigerator a bit too long and you don't want them to go to waste, add them to the soup.
Meat Options: This soup can easily include cooked air fryer chicken tenders, Italian sausage, or bacon crumbles if you want a meatier flavor.
What To Serve with Soups
These serving suggestions can elevate your dinner, making it a tastier, complete meal. Feel free to try different combinations to find what you like best!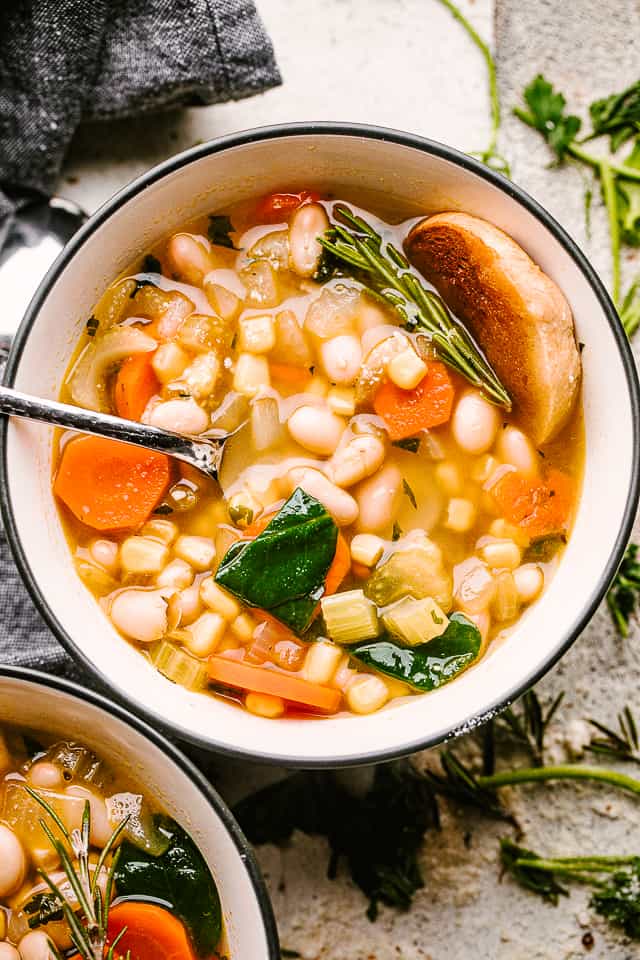 Storing Leftover Soup
To Refrigerate: Allow the soup to cool to room temperature before storing. Place the cooled soup in airtight containers or resealable plastic bags and refrigerate for 3 to 4 days.
To Freeze: Portion the cooled soup into freezer-safe containers or bags, leaving some space at the top for expansion, and freeze for up to 3 months. Thaw overnight in the refrigerator or gently reheat from frozen on the stove, stirring often to avoid uneven heating.
More Recipes with Beans
ENJOY!
White Bean Soup
This comforting White Bean Soup, packed with fresh veggies, is your perfect companion for the colder months. It's also freezer-friendly, so stow some away for those busy days!
Ingredients
1

tablespoon

olive oil

1

tablespoon

butter

1

small

yellow onion,

diced

1

large

carrot,

peeled and sliced into coins

3

stalks

celery,

sliced

¼

cup

chopped fresh parsley

4

cloves

garlic,

minced

6

cups

low sodium vegetable broth,

or chicken broth

1

teaspoon

kosher salt

½

teaspoon

fresh ground black pepper

½

teaspoon

dried oregano

1

bay leaf

2

cans (15.5 ounces, each)

Great Northern Beans,

rinsed and drained

1

cup

canned corn kernels,

rinsed and drained

2

cups

fresh baby spinach

grated parmesan cheese,

for serving, optional

toasted bread slices,

for serving, optional
Instructions
Heat olive oil and butter over medium-high heat in a 6-quart Dutch oven or stockpot.

Add onions, carrots, celery, and parsley to the heated oil; cook for 5 minutes or until just tender. Stir in garlic and cook for 30 seconds more.

Add vegetable broth; stir in salt, pepper, dried oregano and bay leaf.

Bring to a boil; reduce heat to a simmer and cook for 5 minutes.

Stir in the beans and corn kernels; continue to cook for 5 minutes. Taste for salt and pepper; adjust accordingly.

Add spinach and cook for 1 minute. Remove from heat.

Ladle soup into bowls; sprinkle with parmesan cheese and serve with toasted bread slices.
Notes
This recipe is prepared with canned beans; however, if you're using dried beans, remember to soak them overnight before use. (Follow the directions on the packaging). This reduces cooking time and makes the beans easier to digest.
Use Good-Quality Broth/Stock: This soup has only a handful of ingredients, so you want to use the good stuff – use a high-quality vegetable or chicken broth for the best flavor.
Season to Taste: I always say this, but it's important! Before serving, always taste your soup (or whatever else you've cooked), and adjust the seasoning(s) as needed. Also, remember that you can always add more salt, but you can't take it out.
Don't rush the cooking process. Allow the soup to simmer so that the flavors can fully develop.
Adding cooked sausage or smoked ham can give the soup a hearty and rich flavor.
Feel free to add more vegetables to your soup; zucchini and bell peppers add extra texture and flavor.
If you like a little heat, add some crushed red pepper flakes or a dash of cayenne.
For a creamier texture, you could blend part of the soup and mix it back in. Alternatively, stir in a bit of cream or coconut milk at the end of cooking.
Nutrition
Calories:
288
kcal
|
Carbohydrates:
43
g
|
Protein:
18
g
|
Fat:
7
g
|
Saturated Fat:
2
g
|
Cholesterol:
5
mg
|
Sodium:
548
mg
|
Potassium:
950
mg
|
Fiber:
12
g
|
Sugar:
3
g
|
Vitamin A:
2926
IU
|
Vitamin C:
11
mg
|
Calcium:
136
mg
|
Iron:
4
mg
Nutritional info is an estimate and provided as courtesy. Values may vary according to the ingredients and tools used. Please use your preferred nutritional calculator for more detailed info.
Categories: