Rosemary and Garlic No-Knead Skillet Bread – Warm, homemade and incredibly flavorful no-knead bread that is so easy to prepare, you'll want to make it again and again!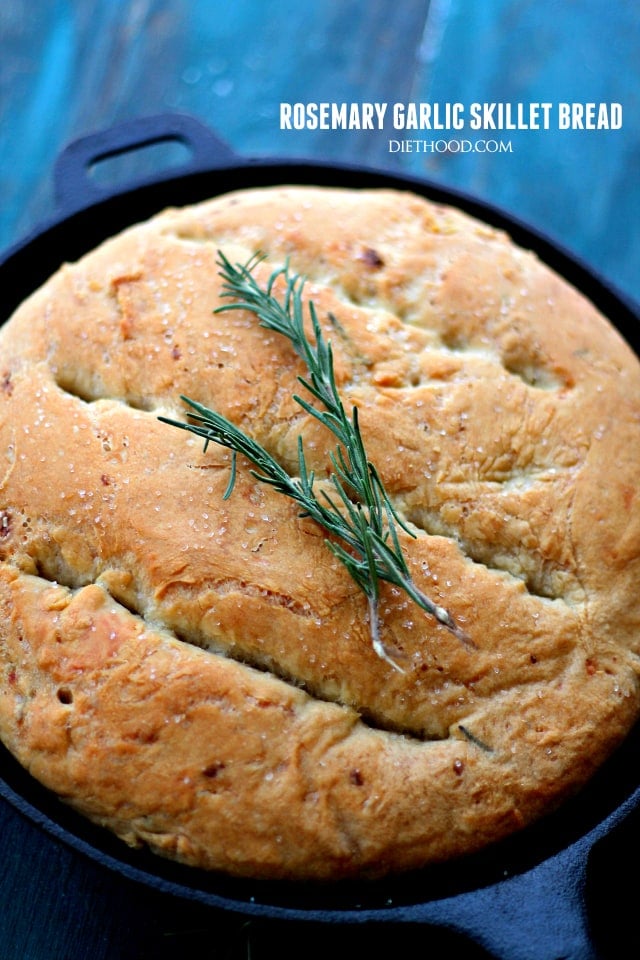 Looking at the picture above, just makes me want to leave all Monday responsibilities behind and go make at least one more loaf… and eat all of it before anyone gets home.
Sidenote: It's Monday?! Already?!? That was fast…
Hiya! It's been 24 hours since we last spoke! How have you been?
Judging by today's recipe, I, myself, am doing A-OKAY! Homemade bread is my ultimate comfort food.
I'm also comforted by baggy knit sweaters, "Three's Company" reruns and Chardonnay. Of course.
BUT, first and foremost, it's bread. Straight from the oven. Piping hot. Slathered with buttah and a sprinkle of sea salt on top.
This lovely recipe represents ME trying to juggle momhood, wifehood, diethood, and, well, sustenance.
In this castle of ours, we eat bread as if the world is going to run out of IT in .2 days. On the other hand, we're Macedonian and in the Macedonian Handbook it states; Must Eat Bread.
It's part of your Macedonianism. Period.
IN fact, for my bridal shower I received 4 bread machines. Four! 99% of attendees were Macedonian… that's not a coincidence.
Let me give you the nitty gritty on this comforting loaf.
It's crusty, soft, texture-perfect and full of flavor. You can enjoy this bread with any sort of flavor-combos that inspire you. Cheddar and thyme? Perfect! Parmesan + Basil? Why not!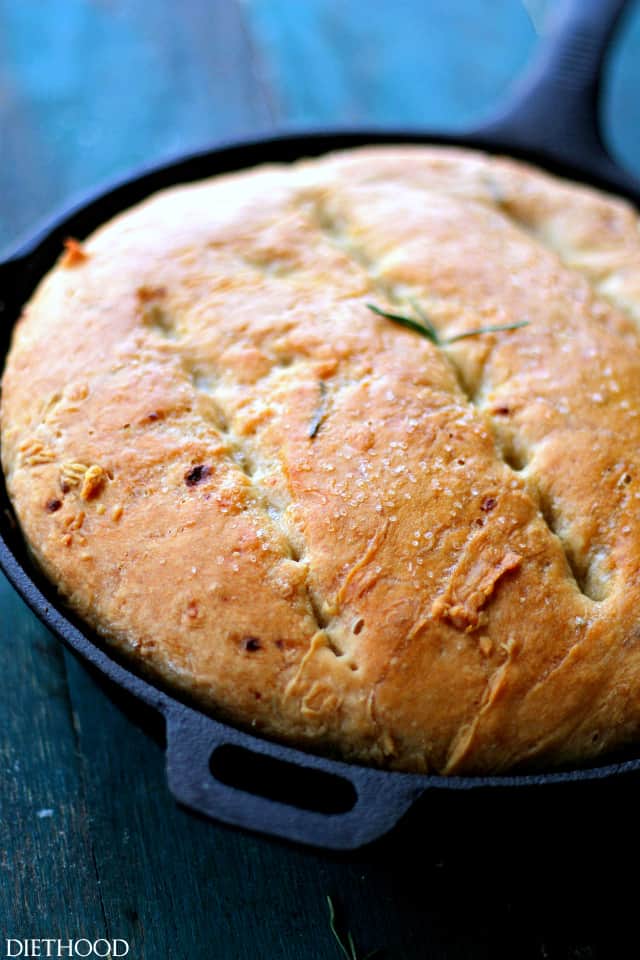 ENJOY!
Rosemary and Garlic No-Knead Skillet Bread
Warm, homemade and incredibly flavorful no-knead bread that is so easy to prepare, you'll want to make it again and again!
Prep Time
1
hour
30
minutes
Total Time
2
hours
5
minutes
Ingredients
2

cups

lukewarm water

(105-degrees Fahrenheit)

1

package active dry yeast

(2-1/4 teaspoons)

1/2

tablespoon

kosher salt

4-1/3

cups

all-purpose flour

, divided

2

tablespoons

fresh rosemary leaves

2

garlic cloves

, minced

2

tablespoons

olive oil

, divided

sea salt
Instructions
In a large mixing bowl, combine water and yeast.

Add 1 cup of flour and salt; stir with a wooden spoon until combined.

Stir in rosemary leaves and minced garlic.

Add remaining flour, one cup at a time, stirring until thoroughly combined.

Cover with plastic wrap and set in a warm spot to rise for 1 hour.

Add a tablespoon of olive oil in an 8 or 10-inch cast iron skillet; using a napkin or your fingers, coat bottom and sides of skillet with the olive oil.

Flour your hands; remove plastic wrap and using your hands, transfer dough to prepared skillet and shape into a disk.

Cover with a kitchen towel and let stand for 30 minutes.

Preheat oven to 400 Fahrenheit.

Drizzle remaining olive oil over the top and sprinkle with sea salt.

Score the top of the loaf with some shallow knife cuts.

Bake for 30 to 35 minutes, or until top is nicely browned.

Remove from oven and turn the bread out onto a wire cooling rack.

Leave to cool for a few minutes.

Serve.
SIMILAR RECIPES