Tandoori Chicken is a beautiful and easy dish prepared with flavorful bone-in chicken marinated in yogurt with a rainbow of classic Indian spices, and then roasted on a bed of chickpeas, sweet potato, and cauliflower. So delicious and so good for you!
Hey hey everyone! Today's Sheet Pan Tandoori Chicken recipe comes to you courtesy of my very talented friend, Erin Clarke, from her new cookbook, The Well Plated Cookbook. If you are looking for EASY, fast, unique, BUT approachable recipes, click over to her site, Well Plated by Erin.
AN EASY CHICKEN DINNER IDEA
Sheet pan meals are fun to assemble, and quick to cook, with very little cleanup! I love doing sheet pan chicken, seafood, and steak. This recipe is extra special, because it channels the intense and warming flavor of Tandoori Chicken in a totally achievable homemade recipe. Even picky eaters will appreciate this dish – it's just that good!
WHAT IS TANDOORI CHICKEN?
The name "Tandoori Chicken" comes from the word "tandoor," which is a clay oven. This super-popular Indian dish has its origins in the subcontinent of India, of course – and like most famous Indian foods, the deliciously fragrant, spicy sauce truly steals the show.
In this particular version, there's no tandoor and no grill or broiler (typical substitutes for an authentic tandoor). Instead, a simple sheet pan method makes the dish easy to fix up any night of the week.
Erin's cooking process to Tandoori Chicken is the perfect example of her approach to creating recipes; classic dishes made easy for the everyday homecook. In her cookbook, Erin shares over a hundred recipes that will enable you to put a healthy meal on the table each and every night.
From Sheet Pan Tandoori Chicken to One Pot Creamy Sundried Tomato Orzo, and her late Daddy's German Chocolate Cake, with The Well Plated Cookbook, Erin has made it easy for anyone with a busy lifestyle to enjoy homemade food. She invites you into her kitchen, sharing stories about her wonderful life, but also shares tips and tricks in getting around cooking in the easiest ways possible.
RECIPE INGREDIENTS
For the Chicken and Marinade:
Bone-in, Skin-on Chicken Pieces: You will need about 1 ¾ lbs total; any mix of breasts, drumsticks, and/or thighs is fine.
Nonfat Plain Yogurt
Fresh Garlic and Ginger: Peel and mince the garlic and ginger.
Cumin, Chili Powder, and Salt
For the Chickpeas and Vegetables:
Canned Chickpeas: I use reduced sodium; you could also use your own cooked chickpeas.
Fresh Cauliflower Florets: About 4 cups.
Sweet Potato: Cube a medium sweet potato (about 2 to 3 cups of cubes).
Extra Virgin Olive Oil
Chili Powder, Turmeric, and Salt
For Serving:
Lemon: Cut one lemon in half, for squeezing.
Freshly Chopped Cilantro
Naan or Brown Rice: Warm the Naan gently in the oven before serving, and/or prepare the rice according to the package directions.
Nonfat Plain Yogurt
HOW TO MAKE SHEET PAN TANDOORI CHICKEN
Word of advice before starting: Try to give yourself at least 2 hours prep time because this chicken recipe likes a bit of time to marinate. Tandoori Chicken is marinated in an amazing yogurt sauce which produces tender juicy chicken with tons of exotic flavor, and the longer it marinates, the better it tastes!
Prep and Marinate the Chicken: Remove the skin from the chicken pieces. If using bone-in breasts, cut each breast in half, so that you have two breast pieces for each one. Then combine the marinade ingredients in a large food storage bag, place the chicken in the bag with the marinade, and seal. Squeeze the bag to mix, and place in the fridge for at least 30 minutes. But, if you can marinate for 2 hours, and up to 24 hours, that is even better.
Heat the Oven and Prep the Veggies: When you're ready to cook the chicken, preheat the oven to 425˚F. Line a baking sheet with aluminum foil, and spray it lightly with cooking spray. Rinse and drain the chickpeas, and then dry between layers of paper towels. Season the chickpeas, sweet potato cubes, and cauliflower florets with oil, chili powder, turmeric, and salt; spread evenly across the prepared baking sheet.
Layer the Chicken over the Veggies: Remove the chicken pieces one by one from the bag, shaking gently to remove excess marinade. Arrange the chicken evenly over the vegetables on the sheet pan.
Bake, Turn, and Finish Baking: Bake the chicken and vegetables in the preheated oven for 15 minutes, and then turn any visible veggies to prevent scorching (no need to turn the chicken or the veggies underneath the chicken pieces). Bake 20 to 30 minutes longer, or until the chicken registers 165˚F.
Garnish and Serve: Remove the sheet pan from the oven and garnish with a squeeze of lemon and sprinkle of cilantro. Serve hot with fresh Naan or brown rice, and yogurt on the side.
TIPS FOR THE BEST TANDOORI CHICKEN
Check for doneness: Ovens can and do differ, so be careful with the cook time. With bone-in chicken, it's very possible for pieces to look done, but then still be undercooked close to the bone. Always use a meat thermometer, inserted into the thickest part of the meat but not touching the bone, to test for doneness. Chicken is done at 165F.
Prep in Advance: You can get a head start on this dish by prepping the chicken, veggies and sauce up to 24 hours beforehand! Store in separate containers in the fridge until it's time to cook.
Avoid wings for this dish: As tasty as they are, avoid using wings in this dish, because they are much smaller than other bone-in chicken pieces. They'll cook faster and dry out long before the other pieces of chicken have finished cooking!
SERVING SUGGESTIONS
Tandoori Chicken is a meal in itself, so I like to focus on appetizers, drinks, and dessert when it comes to serving suggestions!
HOW TO STORE AND REHEAT LEFTOVERS
Store the chicken and veggies separately in the refrigerator for up to 3 days. Be sure to use airtight containers or food storage bags. It is not recommended to freeze the sauce, as the dairy will have a different texture after thawing.
To reheat, place the veggies in an ovenproof dish and bake at 400˚F for 5-10 minutes, or until heated through. Meanwhile, remove the chicken from the bones and reheat in the microwave for 1 – 2 minutes, or in a covered skillet on the stovetop for 5 minutes or so, until heated through. Either way, add a splash of water to keep the chicken moist while it heats.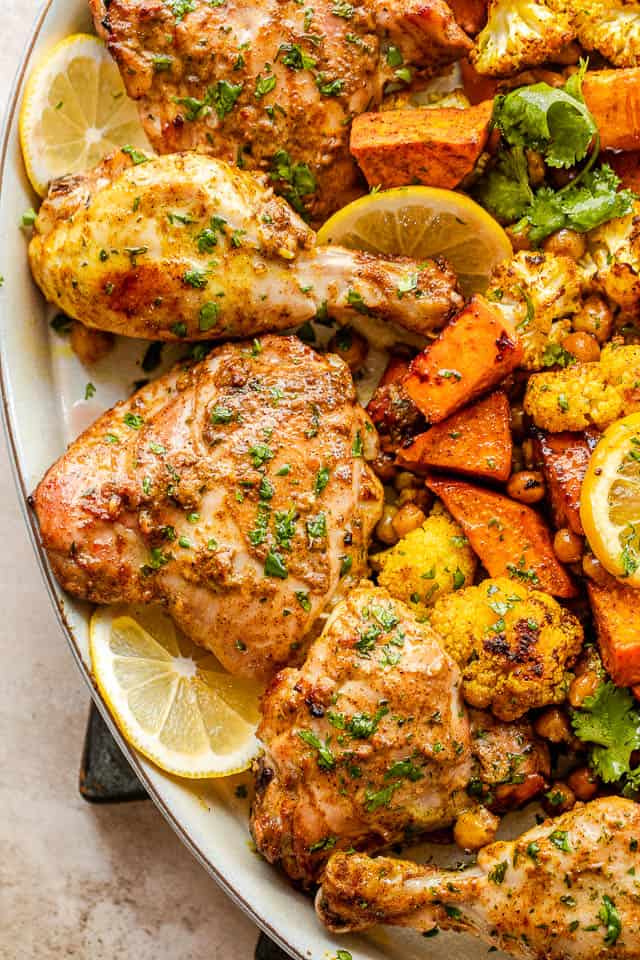 More Sheet Pan Chicken Recipes
ENJOY!
Sheet Pan Tandoori Chicken
A wonderful, easy dinner of bone-in chicken, chickpeas, sweet potato, and cauliflower - all in a fragrant Indian sauce of yogurt and spices.
Ingredients
For the Chicken:
1 ¾

pounds

bone-in, skin-on chicken parts ,

(any mix of thighs, drumsticks, or breasts; wings are not recommended)

½

cup

nonfat plain yogurt

4

cloves

garlic,

minced

1

tablespoon

minced fresh ginger

1

tablespoon

ground cumin

1

teaspoon

chili powder

1

teaspoon

kosher salt
For the Chickpeas and Veggies:
1

can (15 ounces)

reduced sodium chickpeas or garbanzo beans

1

small or ½ large head cauliflower,

(about 1 ½ pounds) cut into ¾-inch-wide florets

1

small-medium sweet potato,

(about 8 to 10 ounces) scrubbed, peel on, and cut into ¾-inch cubes (about 2 cups)

1 ½

tablespoons

extra virgin olive oil

1½

teaspoons

chili powder

1

teaspoon

ground turmeric

½

teaspoon

kosher salt
For Serving:
1

large lemon,

halved

Freshly chopped cilantro

Naan or prepared brown rice

Nonfat plain yogurt
Instructions
Prepare the chicken: Remove the skin from the chicken by pulling it with your fingers, then cutting away any stubborn pieces with a knife.

If using bone-in chicken breasts, with a very sharp knife, cut them in half crosswise, placing the knife on top of the breast and cutting straight down through the bone.

For each breast, you should be left with 2 pieces of chicken that are roughly the same size (this will help the pieces all cook in the same amount of time).

For thighs and drumsticks, remove the skin but leave them whole.

In a large ziptop bag, add the yogurt, garlic, ginger, cumin, chili powder, and salt. Seal the bag, removing any air. Mix the ingredients around until they are evenly combined.

Open the bag, add the chicken pieces, reseal, then gently turn the bag to coat the pieces evenly with the yogurt mixture. Refrigerate for 30 minutes, and up to 24 hours. The longer it marinates, the better it will taste.

When ready to make the chicken, place a rack in the center of the oven and preheat the oven to 425˚F.

Line a large rimmed baking sheet with aluminum foil or parchment paper and coat generously with nonstick spray.

Remove the chicken from the refrigerator and set on the counter.

In the meantime, rinse and drain the chickpeas, then spread them onto a double layer of paper towels. Place more paper towels on top and pat them as dry as you can. Remove any chickpea skins that come loose.

Place chickpeas in a large mixing bowl.

To the bowl, add the cauliflower and sweet potato.

Drizzle the vegetables and chickpeas with the oil and sprinkle with chili powder, turmeric, and salt. Toss to evenly coat, then spread into a single layer on the prepared baking sheet.

Remove the chicken from the marinade, shaking off any excess, then arrange the chicken pieces on top of the vegetables and chickpeas.

Bake for 15 minutes, remove the pan from the oven, and with a spatula or large spoon, gently turn any vegetables and chickpeas that are visible and not covered by the chicken.

Return the baking sheet to the oven and continue to cook for an additional 20 to 30 minutes, or until the chicken reaches an internal temperature of 165˚F at the thickest part, and the juices run clear when sliced. Please use an Instant Read Thermometer to check for doneness.

If some of the chicken pieces finish earlier than others, remove the done pieces to a plate and cover to keep warm, then return the pan to the oven and continue baking until the remaining chicken is cooked through.

Remove from oven when done.

Return any chicken pieces you removed earlier back to the baking sheet, then squeeze the lemon over the top.

Sprinkle with cilantro. Serve hot with naan or brown rice, and yogurt as desired.
Nutrition
Calories:
496
kcal
|
Carbohydrates:
57
g
|
Protein:
39
g
|
Fat:
14
g
|
Saturated Fat:
2
g
|
Cholesterol:
114
mg
|
Sodium:
1116
mg
|
Potassium:
1492
mg
|
Fiber:
15
g
|
Sugar:
14
g
|
Vitamin A:
8491
IU
|
Vitamin C:
100
mg
|
Calcium:
205
mg
|
Iron:
7
mg
|
Net Carbs:
42
g
Nutritional info is an estimate and provided as courtesy. Values may vary according to the ingredients and tools used. Please use your preferred nutritional calculator for more detailed info.
Categories:
MORE INDIAN INSPIRED RECIPES: